UCLA Had 3 Barrier-Breaking Athletes Who Formed the 'Gold Dust Trio' in 1939
The sports world looked much different than it did a century ago. Black players were barred from joining many sports leagues simply because of race. Things were slightly different in college, as Black players could play on the school's team. In UCLA's case, they had a magnificent trio of African American running backs on their team in 1939.
The trifecta they had was so great it earned them a sweet nickname. However, that wasn't the claim to fame that stuck with them forever. The trio went on to be pioneers in their respective fields, breaking barriers for the generations behind them.
The Gold Dust Trio's humble beginnings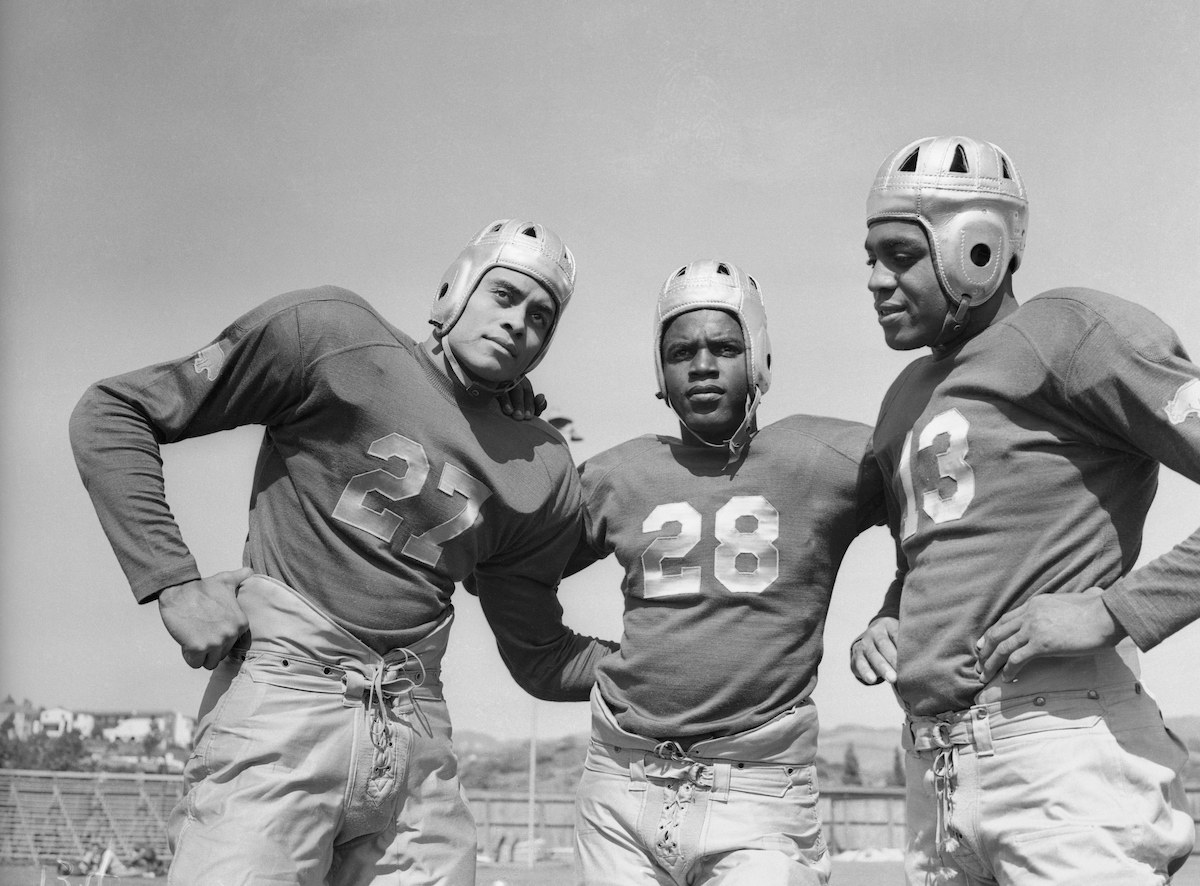 Before the trio met up at UCLA, they all were living their separate lives. Kenny Washington was from Los Angeles, being born in 1918. As a kid, he loved baseball, becoming a shag for a semi-white pro team. Despite baseball being his first love, Washington was an exceptional football player. He helped lead his Lincoln High School team to a city championship, according to Geoff Graser.
Jackie Robinson was born in Cairo, Georgia. He loved to play baseball also, but that wasn't all he did. He played football, basketball and ran track as well. After moving to Pasadena, California, Robinson would excel in all four sports at John Muir High School. His superstar athleticism didn't save him from the hate, discrimination, and violence he had to endure at a young age.
Woody Strode was also a California native, being born in LA. Much like Washington and Robinson, Strode's athletic abilities were sensational. He was a decathlon specialist, nearly beating world records in the shot put and high jump. Strode excelled at football and track and field at Thomas Jefferson High School.
Washington and Strode were given scholarships to attend UCLA for their football skills. Robinson initially went to Pasadena Junior College before being offered a scholarship to attend UCLA. When Robinson joined the Bruins, he, Strode, and Washington formed a game-changing and historic trio.
UCLA's Gold Dust Trio
RELATED: Why Did Jackie Robinson Wear No. 42?
When Robinson transferred to UCLA in 1939, Washington and Strode were seniors. The two have already established themselves as talented backs in the Bruins offense. The head coach at the time, Edwin C. Horrell, ran the Wing T offense. It isn't popular nowadays, but it was a favorite amongst coaches in the 1900s. The formation has a tailback, fullback, and wing-back, using their speed and pre-snap motion to defeat opponents.
Washington, Strode, and Robinson filled all three running back spots, quickly making a name for themselves. Famously known as the "Gold Dust Trio," the three players proceeded to have phenomenal seasons at UCLA. According to Classic UCLA Bruins Rediscovered, both Robinson and Washington ranked in the top-12 in rushing yards that season out of the entire nation.
Washington and Robinson combined for 1,325 yards during the 1939 season. Strode's stats, however, have been lost to history. The Bruins only played nine games that year, finishing with a 6-0-3 record. That was UCLA's first undefeated season in school history. Washington also won the Douglas Fairbanks Trophy that year, honoring college's most outstanding player.
The trio faced racism and discrimination during their time at UCLA. According to Gretchen Atwood's book Lost Champions, one of their teammates showed blatant racism, saying he faced disownment from his family by merely sharing the same field as them. The trio would become great friends, eventually becoming barrier breakers in the respective professions.
The Gold Dust Trio break barriers after UCLA
After their Gold Dust Trio days, Washington, Strode, and Robinson went on to have historic careers. Washington was the first Black player to sign an NFL contract. He, along with Strode, signed with the Los Angeles Rams in 1946. Washington had multiple knee surgeries before breaking the NFL's color barrier, hampering his skills. He played three seasons for the Rams before retiring from the NFL.
Strode played one season for LA before moving to Canada to play football. After his career on the gridiron ended, Strode went into acting. He appeared in numerous films, many made by the Ford motion picture company. Strode shined in significant roles, being a part of Spartacus (1960), The Ten Commandments (1956), and Sergeant Rutledge. He was nominated for a Golden Globe for his role in Sparticus and won two more movie awards.
Although Robinson was good at football, that isn't where he played professionally. Robinson became a baseball legend for what he did on and off the diamond. In 1947, he broke baseball's color barrier playing for the Brooklyn Dodgers. Despite the countless racist attacks he faced, Robinson thrived in the majors. His perseverance through adversity is what is most commendable about his career.
The Gold Dust Trio of Kenny Washington, Jackie Robinson, and Woody Strode are among the most forgotten sports groups. The amount of star power in UCLA's backfield in 1939 was incredible, but that isn't what made them historical figures. It was how these men persevered through racism and went on to break down barriers for the individuals after them.
Stats courtesy of Classic UCLA Bruins Rediscovered