Ancient Udonis Haslem Is Picking up a $2.6 Million Check Not to Play and the Miami Heat Are Happy to Pay the OG for What He Brings to the Culture
With 2:49 remaining in a blowout victory at FedEx Forum in Memphis, Udonis Haslem got a step closer to an NBA record. When he checked for his first action of the season, the Miami Heat veteran had played in his 19th season with the club. Haslem finished with two points on a putback of his miss, a fitting stat line for the man who is the Heat, for all intents and purposes.
Now 41 years old, Haslem is one year shy of the NBA record of 20 seasons with one franchise held by legends Kobe Bryant and Dirk Nowitzki. U.D. isn't on that level; a Hall of Fame call won't be waiting for him four years after he hangs up his kicks for the last time. But the Miami native took charge of something along the way with the Heat and is now both the ambassador and sergeant-at-arms representing and defending the franchise's vaunted culture.
Udonis Haslem's pro basketball journey began nearly 5,000 miles from Miami
After starring at Miami High School, Udonis Haslem was a top-100 recruit and enrolled at Florida, playing under current Chicago Bulls coach Billy Donovan. Haslem had a solid career for the Gators, a three-time All-SEC selection who started 125 games in four years.
But as a 6-foot-8, 230-pound college center, NBA scouts weren't exactly blowing up his telephone. Instead, his professional basketball journey began an ocean away from his home state of Florida. He signed with Chalon-sur-Saône, France, with Élan Chalon in France's top league, the LNB Pro A. In 30 domestic games and 10 EuroCup contests, Haslem averaged 15.4 points and 8.7 rebounds a game.
That earned him a training camp look the following year with the Miami Heat, who signed the undrafted free agent in August 2003. He's still there. Only Haslem and future Hall of Famer Dwyane Wade played for all three of Miami's championship squads. Haslem stands alone as a member of all six Heat teams that have gone to the NBA Finals, though he didn't get any playing time in their loss to the Los Angeles Lakers in 2020.
Haslem hasn't been a part of Miami's rotation since 2014–15. Last season, he logged three minutes before he was ejected from his lone appearance of the year on May 13. But the Heat didn't hesitate to bring the free agent back on another veteran's minimum deal, $2.6 million and change. He has the collective bargaining agreement to thank for some of that.
Older players used to get squeezed off the end of rosters in favor of cheaper, younger players. But the cap hit for a minimum deal is only $1.7 million, equivalent to the minimum salary for a two-year veteran. He is still an essential piece for Miami, in a role uniquely his.
Haslem is the enforcer of the Miami Heat culture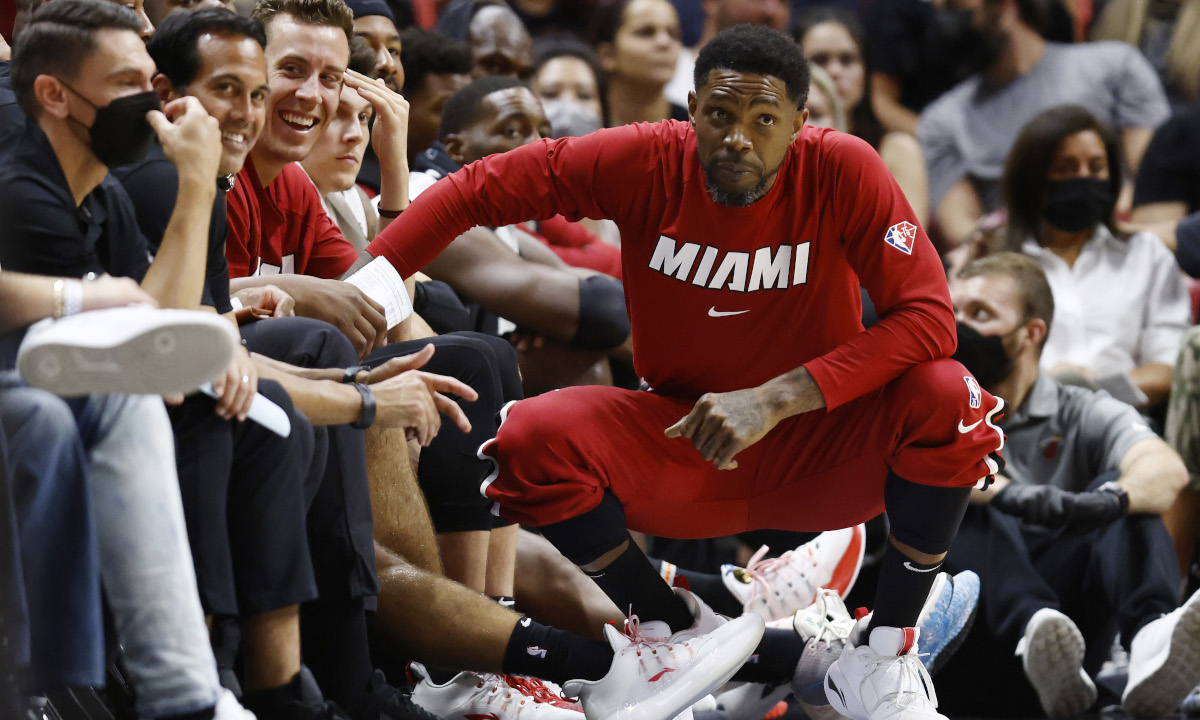 Udonis Haslem spoke recently to Tyler R. Tynes of GQ about his role with the Miami Heat. His motives for staying with the team in uniform are admittedly selfish.
"I coulda quit a long time ago," Haslem said. "But there's been another guy that comes in that reminds me of me: that wants an opportunity, that needs an opportunity, that deserves an opportunity. Every year I can find another Udonis Haslem that walks into that locker room. And I'm re-inspired and re-energized."
Haslem is the glue that holds the Miami locker room together. No one is exempt from his watchful eyes. He'll call out the rawest rookie or the veteran superstar; it doesn't matter. As he put it, everything in the Heat dressing room runs through him:
"I hold that standard. I'm the OG. I control the locker room, Pretty much, [coach Erik Spoelstra] gives me the reins to run [the team]. He trusts me; it's a trust we've built over the years. He leads, and I bring up the rear. Everything in between, we handle: Weights, body fat, conditioning, extra shots, two-on-two games upstairs, we have a standard."
It's a standard that Haslem defends with pride and passion.
Udonis Haslem learned his place during the Miami Heat's Big 3 era
There is a ritual for the Miami Heat on game day: Udonis Haslem and superstar Jimmy Butler play one-on-one in the training facility. The players not in the rotation play two-on-two or three-on-three to stay sharp. Haslem said it's a tradition that began when LeBron James, Chris Bosh, and Wade were the main attraction.
"If you think about them, they were the Big Three for a reason," Haslem said. "The Little 12 were expendable. Our asses get moved around like dominoes. It's hard to get in a rhythm, even for veteran guys who have been in a system where they played 20 or 30 minutes a night. So we started these games upstairs for the rejects [punctuated with a laugh] on game days, and it kept going."
The most important rule in Haslem's locker room is accountability. As he puts it, respect for teammates is paramount. And he's the enforcer. He's there because he wants a fourth ring and thinks he can play a part in getting one.
"It's very weird how it happens, but I impact winning," Haslem said. "My job is to impact winning; just because it ain't the way you like it or understand it on the basketball court doesn't matter. All those guys who haven't got [a ring] that deserve one, I want to get 'em one."
Udonis Haslem is the keeper of the culture for the Miami Heat. It's a role he takes very seriously. It's all but certain Haslem will have a position with the organization after taking off the No. 40 for the last time. But for now, he's content to keep it real and keep the troops in line.
Statistics courtesy of Basketball Reference.
RELATED: Jimmy Butler Reveals How the Heat's Acquisition of Kyle Lowry Is Helping to Unlock His MVP Potential: 'I Get to Go Back and Score the Ball a Lot More'