UFC: 10 Fights Everyone is Waiting to Watch in January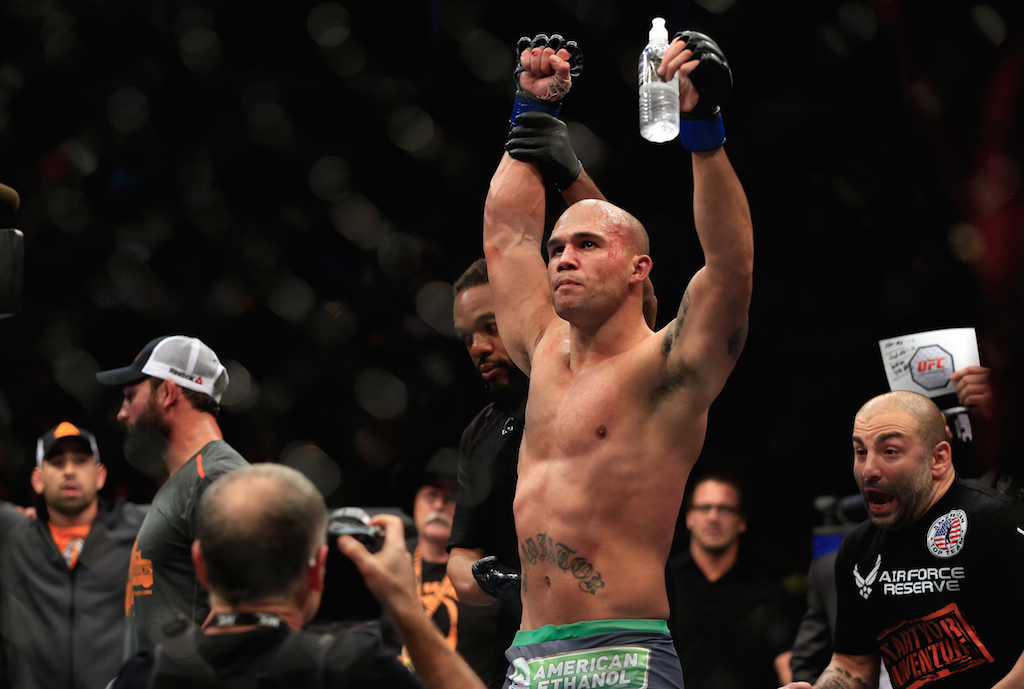 The UFC did not wait to present its first card of 2016, with plans to kick off the new year in a big way with an event on January 2, the pay-per-view UFC 195. This 12-fight promotion will take place at the MGM Grand Garden Arena in Las Vegas, Nevada. That card, headlined by a welterweight title fight between champion Robbie Lawler and former interim champ, Carlos Condit, is the first of three cards for the promotion in January.
The UFC will then head across the country for its next card, presenting UFC Fight Night 81 from TD Garden in Boston, Massachusetts. A bantamweight title fight between champion T.J. Dillashaw and former champion Dominick Cruz will headline Fight Night 81. There will be 13 total fights on this card, taking place on January 18.
On January 30, the final UFC event of the month, UFC on FOX 18 (which is not fully finalized yet) will take place at the Prudential Center in Newark, New Jersey. The main event of this card is a light heavyweight contest between Anthony Johnson and Ryan Bader. With more than 35 fights on the UFC calendar in January, you may wonder which matchups are essential viewing. Read on to discover the 10 UFC fights you can't miss during the first month of 2016.
UFC 195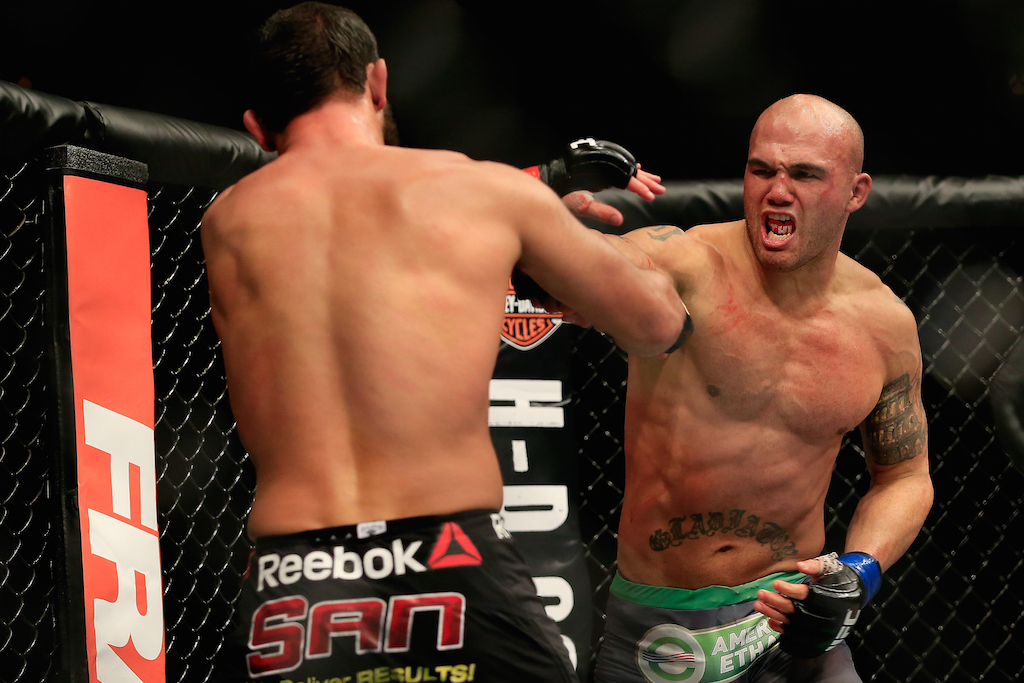 1. Robbie Lawler vs. Carlos Condit
If you look at Condit's record over his past five fights without knowing his background, you may wonder why he is fighting for Lawler's UFC welterweight title in the main event of UFC 195. After all, Condit is 2-3 over the course of those fights. But that record is deceiving. One of Condit's losses was to then-welterweight champion Georges St-Pierre and another was to Johny Hendricks, who went on to win the welterweight title in his next fight. Both of those fights won "Fight of the Night" bonus awards. Condit's other loss came to Tyron Woodley via TKO when Woodley blew out Condit's ACL with a kick.
In his comeback fight after that injury, Condit defeated Thiago Alves via doctor stoppage after destroying Alves's nose with a vicious elbow. Since returning to the UFC in early 2013, Lawler has won seven fights and lost one. The fight he lost was a "Fight of the Year" contender. That one, against Johny Hendricks, went five full rounds and saw Hendricks capture the then-vacant welterweight title.
Lawler would win two more fights before getting another shot at Hendricks and his title, winning the belt in that rematch. In his first defense of the title, Lawler bloodied Rory MacDonald on his way to a fifth round TKO win and a "Fight of the Night" bonus. Hardcore fight fans have been salivating about this fight since it was announced. It's very possible that this fight could be a contender for 2016's "Fight of the Year."
2. Andrei Arlovski vs. Stipe Miocic
The UFC's heavyweight division is busy right now. Many of the top heavyweights will fight between now and early February when Fabricio Werdum defends his title against former champion Cain Velasquez. The goal for the fighters competing before that title fight is to put themselves in a position to compete against the winner of that fight.
Andrei Arlovski, a former UFC champion, is on a six-fight winning streak entering this fight, winning three of those fights by decision and three by way of knockout. Stipe Miocic is 7-2 in the UFC with his most recent win being a TKO over the always tough Mark Hunt. These two have some pressure on them. Alistair Overeem may have the inside track on that heavyweight title fight after his December 19 knockout of former champion, Junior dos Santos
3. Dustin Poirier vs. Joseph Duffy
This lightweight fight was supposed to headline UFC Fight Night 76, but a training camp concussion forced Joseph Duffy from the bout three days before the event. These two will give it a second go on the preliminary card of UFC 195. Dustin Poirier moved up from featherweight to lightweight after losing to current featherweight champion Conor McGregor at UFC 178.
Since that fight, Poirier has torn up the lightweight division, winning two fights by first-round knockout. Duffy, the last fighter to defeat McGregor — stopping him in a mere 38 seconds via an arm triangle choke in November 2010 — is also doing well in the UFC. Duffy joined the promotion in March 2015; since then he has a first-round TKO win and a first-round submission win to his name.
UFC Fight Night 81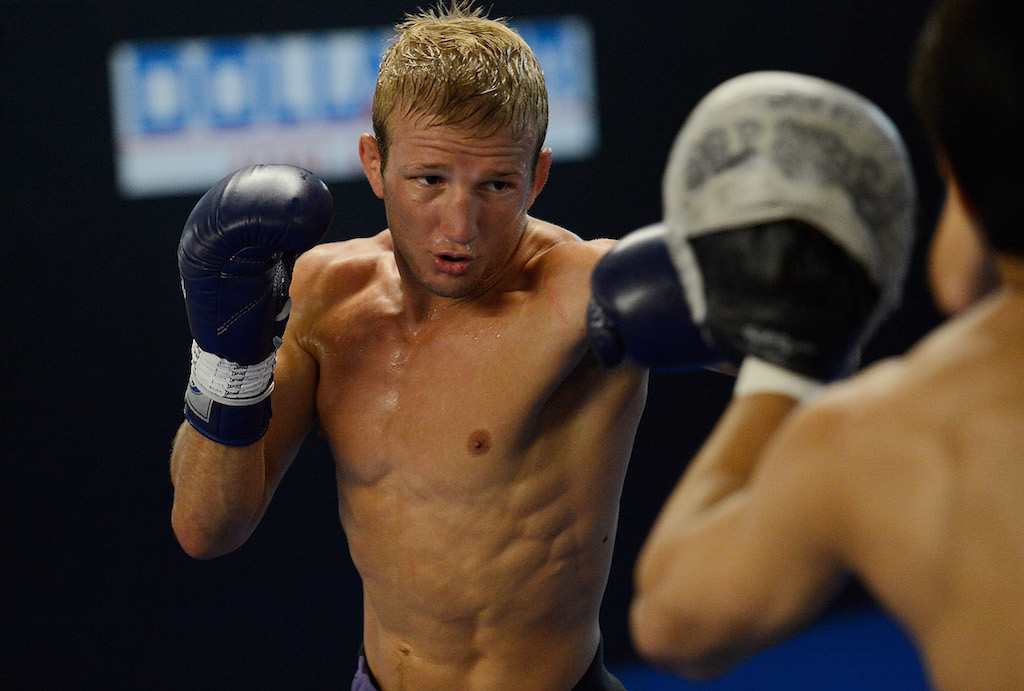 4. T.J. Dillashaw vs. Dominick Cruz
This is a good one. Former UFC bantamweight champion Cruz, who never lost the title in the Octagon, will face current champion Dillashaw in the main event of this fight card. Cruz was stripped of his title in January 2014 after knee injuries and a groin tear kept him from defending the title for more than two years. An interim belt was created for the division in 2012, and Renan Barao held that title. Barao removed the interim tag from his reign when Cruz was stripped.
Cruz's last defense of that title was an October 2011 win over current UFC flyweight champion Demetrious Johnson. Cruz was able to return from injuries and fight at UFC 178 in September 2014. Cruz knocked out Takeya Mizugaki in 61 seconds on that card, earning a "Performance of the Night" bonus, but after that win, Cruz suffered another knee injury that prevented him from fighting again. The fight against Dillashaw will be his return to the Octagon.
Dillashaw captured the title in May 2014, defeating Barao by knockout. He has since defended the title twice, winning both fights by knockout. This will be a great stylistic matchup. These two use a nearly identical fighting style full of footwork, movement, and feints, and both fighters come equipped with bottomless gas tanks. Even if you're one of those people who claims to dislike the lower weight classes, this is a fight you should watch.
5. Anthony Pettis vs. Eddie Alvarez
This is a huge fight for the lightweight division. Anthony Pettis, the former champion, lost his title to current champion Rafael dos Anjos in March. The fight was Pettis's first defeat since 2011, and it was a one-sided loss — Pettis did not win a single round on any of the judge's scorecards. Eddie Alvarez, the former Bellator lightweight champion, enters the fight coming off a split decision win over former Strikeforce lightweight champion Gilbert Melendez.
This fight promises to be exciting and could very well end in a finish, as both fighters are capable of a knockout or submission win. With dos Anjos knocking out Donald Cerrone in 66 seconds at UFC on Fox 17, this fight could determine the next man to face dos Anjos or set the winner up for a big fight with the likes of Nate Diaz or the winner of the Dustin Poirer versus Joseph Duffy fight.
6. Travis Browne vs. Matt Mitrione
Travis Browne is more than former UFC women's bantamweight champion Ronda Rousey's boyfriend; he's also a top 10-ranked UFC heavyweight. Out of 21 fights as a professional, Browne has only gone the distance on four occasions. Matt Mitrione may currently be outside the heavyweight top 10, but that doesn't mean he isn't a threat. In his 13 fights, all with the UFC, Mitrione has gone the distance twice. Both of these large men will enter this fight coming off losses, which means they will not only be looking for a win, but looking to show that they belong among the top heavyweights in the division. This fight will likely end early and violently.
UFC on FOX 18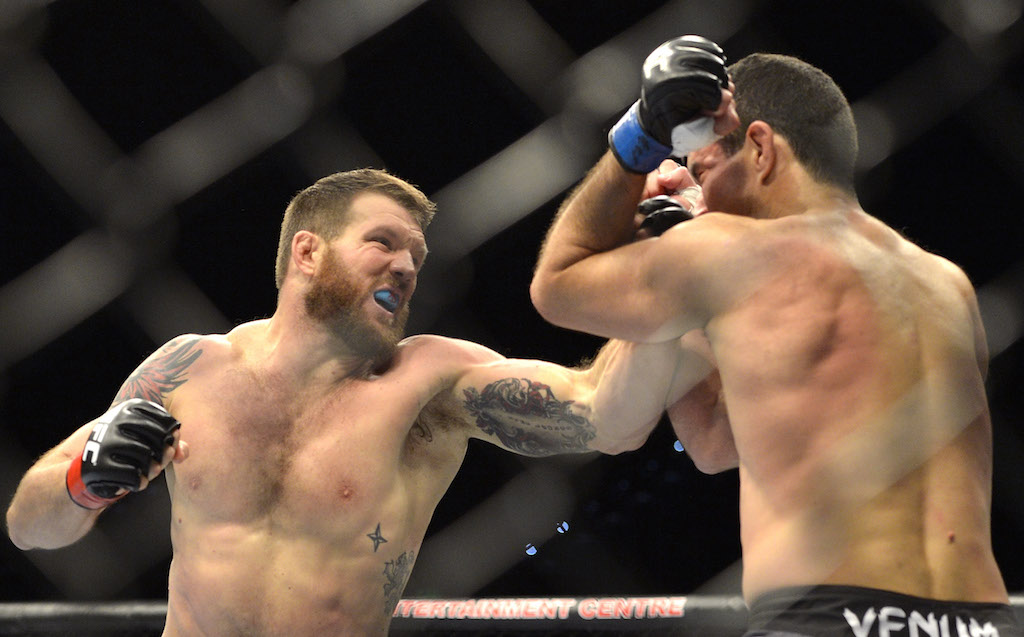 7. Anthony Johnson vs. Ryan Bader
Two top-five light heavyweights will headline this event. Johnson recently saw his nine-fight winning streak come to a close when Daniel Cormier submitted him in a fight for the then-vacant UFC light heavyweight title. Johnson bounced back from that loss by knocking out Jimi Manuwa at UFC 191. That win was Johnson's 14th knockout victory in 25 career fights. Heading into this fight, Bader is on a five-fight winning streak. His most recent win was a unanimous decision over former UFC light heavyweight champion Rashad Evans.
This will be an interesting bout; Johnson is dangerous early, and if he can put his hands on Bader in the first round it may turn out the lights of his opponent. On the other hand, Johnson's cardio and confidence tend to wane when a fight gets past the first round. It would serve Bader well to work from a distance early on. When he feels Johnson start to break, up the pressure. One drawback for Bader: He has not won a fight by knockout since 2011 and he has not won via submission since 2013.
8. Josh Barnett vs. Ben Rothwell
This is another heavyweight battle between two top-10 fighters who hope to position themselves for a possible title fight. Josh Barnett is coming off a "Performance of the Night" winning victory over Roy Nelson in his last fight, while Ben Rothwell enters the bout on a three-fight winning streak, most recently defeating Mitrione by first-round submission. Prior to this win, Rothwell knocked out Overeem in the first round of their bout. Like most heavyweights, these two do not go to decision often; between them they have 85 professional fights and have only gone the distance on 14 occasions.
9. Tarec Saffiedine vs. Jake Ellenberger
This welterweight bout probably won't get the attention it deserves leading into this fight card, but by no means is this a fight you should miss. Tarec Saffiedine, the former Strikeforce welterweight champion, has not fought since he lost to MacDonald in October 2014. Injuries have kept him out of the Octagon since that defeat, yet he remains ranked in the top 10 in the division. Jake Ellenberger, once thought to be a title contender, has gone 1-4 in his last five fights and desperately needs a win to not just stay relevant in the division but to stay employed by the UFC. There's a lot at stake in this fight, which could make for some enjoyable viewing.
10. Sage Northcutt vs. Andrew Holbrook
Sage Northcutt is the UFC's latest handpicked star. It's glaringly obvious that the promotion wants the unbeaten 19-year-old to succeed, which has led to the predictable backlash from a large segment of the promotion's fans who are now eager to see Northcutt, and by proxy, the UFC, fail. The man who will face Northcutt is also undefeated entering this fight, and while Andrew Holbrook may not have the UFC behind him, he will have a fair number of fans pulling for him.