UFC 194: Review of Jose Aldo vs. Conor McGregor Fight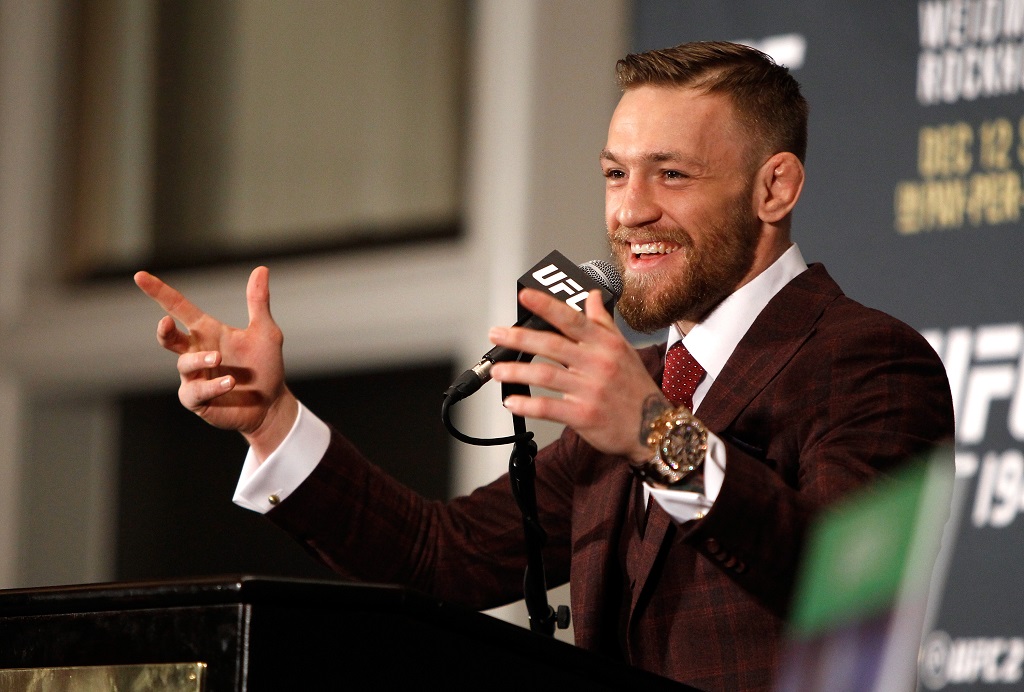 Jose Aldo became the former UFC featherweight champion on Saturday night when Conor McGregor overcame him early in the first round of their fight, the main event at UFC 194. The loss was Aldo's first defeat since November 2005 and ended his 18-fight winning streak. McGregor's victory not only gave him the UFC featherweight title, but a $50,000 "Performance of the Night" bonus and a place in the UFC record books, as his stoppage win was the fastest in UFC title fight history.
McGregor was not the only new champion crowned on Saturday. Luke Rockhold became the new middleweight champion when he stopped Chris Weidman in the fourth round of their battle. The loss was the first in Weidman's career, ending a title run that began with a knockout win over Anderson Silva in 2013. Read on to discover our biggest takeaways from the fight card.
1. Just 13 seconds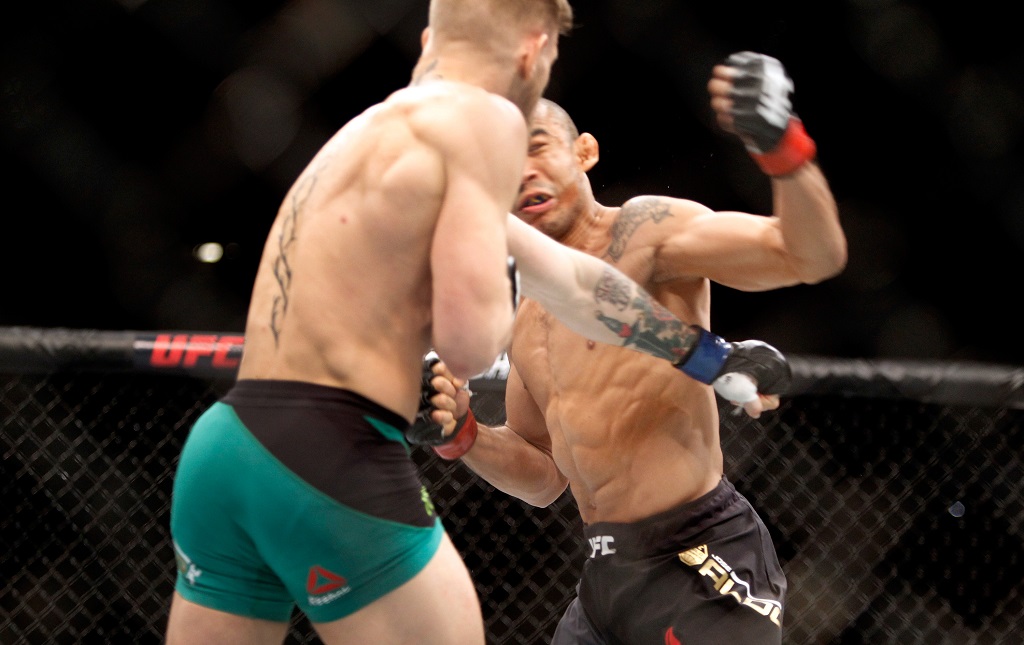 There's an old line, "Two hits. Me hitting you, you hitting the floor," that's essentially what happened in UFC 194's main event. When the fight began between Jose Aldo and Conor McGregor, Aldo was the only featherweight champion the UFC knew. Holding the belt since the UFC absorbed the WEC in late 2010, Aldo defended the title seven times and was widely recognized as one of the best pound-for-pound fighters in UFC history. Aldo's MMA record was 23-1, with his last loss coming in 2005 in his eighth professional fight.
At the same time, McGregor was the interim featherweight champion with a record of 18-2. His first professional fight came in 2008, one year before Aldo became the WEC champion. However, all of the above became ancient history almost as soon as the bell rang to start the fight; 13 seconds in, McGregor landed a left that put Aldo on the canvas. A couple of unnecessary strikes on the ground later, and it was all over. McGregor removed the interim tag from his featherweight title, becoming the undisputed champion. After the fight, Aldo, red-eyed from tears, asked for a rematch, saying, "I think we need a rematch, it wasn't a fight."
2. What's next for the new champion?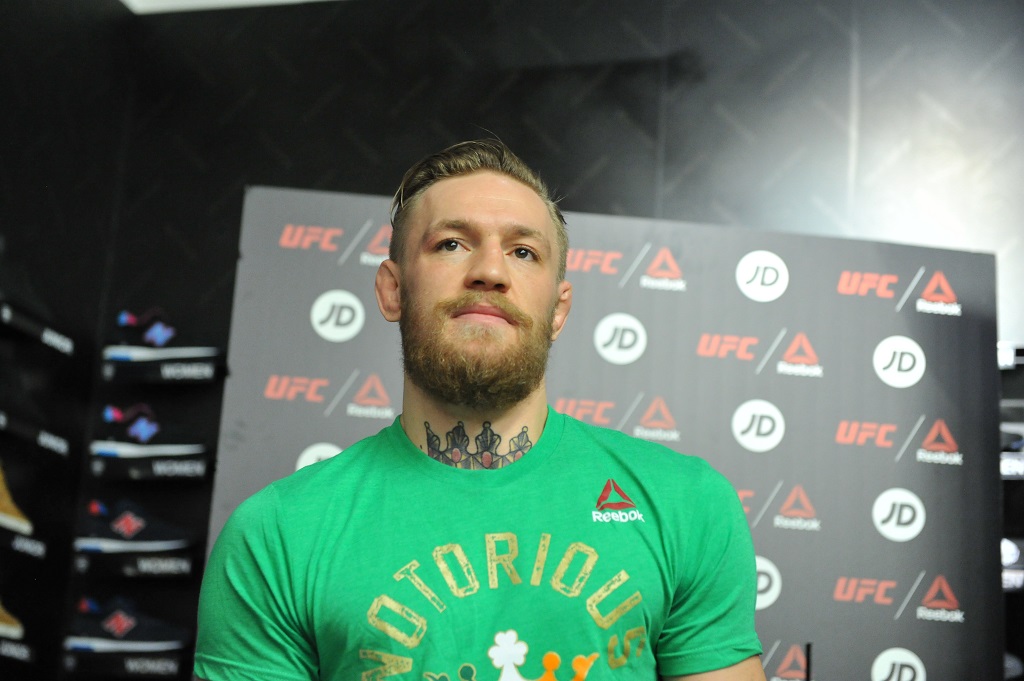 How about whatever he wants? Seriously, any doubts that lingered about new featherweight champion Conor McGregor have been put to rest, and he has become the preeminent UFC superstar. During the post-fight press conference, UFC Vice President of Public Relations, Dave Sholler, said that UFC President, Dana White, believes the UFC has two options on the table after McGregor's win. The first was a featherweight title fight against Frankie Edgar; the second was that McGregor would vacate the featherweight title and move up to lightweight for a title shot against the winner of the fight between current champion Rafael dos Anjos and Donald Cerrone, scheduled for December 19.
For his part, McGregor seemed open to both fights, but he declared that he would not vacate the featherweight title if he decided to fight for the lightweight title. "I'll tell you one thing that won't be happening," he said. "If I go to that lightweight division, there's no way in hell that I'm vacating my belt. That's not happening. There'll be a belt on one shoulder, and a belt on the other shoulder." McGregor also said he would be receptive to an offer to fight in the 80,000-seat Croke Park Stadium in Dublin, Ireland. Whatever he decides, 2016 will be very interesting for McGregor and the UFC.
3. A Rockhold beatdown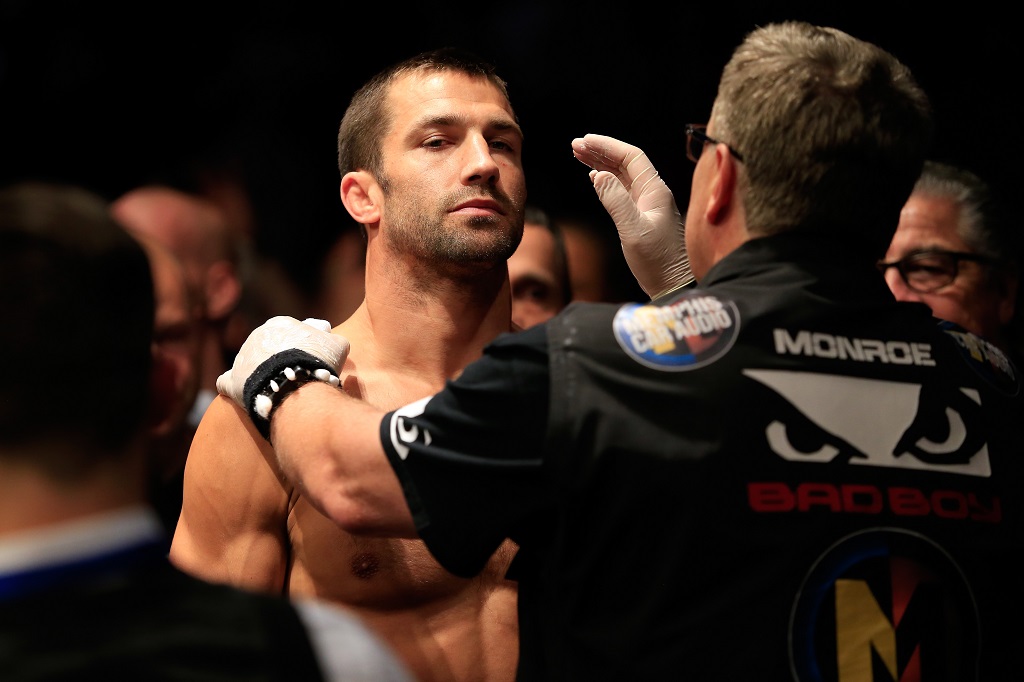 Luke Rockhold brimmed with confidence as he entered his middleweight fight against UFC champion Chris Weidman. He left that same fight with the UFC middleweight title around his waist and the blood of his opponent on his hands, shorts, and face. Everything Weidman offered during the fight, Rockhold had an answer for, and those answers were definitive.
In the first round, Weidman took Rockhold to the mat, only to find himself caught in a choke that Rockhold held for a prolonged period before the referee stood him up. In the second round, Rockhold used his kicks to put Weidman on the defensive, while also defending his opponent's takedown attempts. In the third, both fighters looked like they were running out of gas, but when Rockhold gained the takedown, he found a second wind, bloodying Weidman from full mount. Rockhold's punches and elbows from top position were relentless, coming at a furious pace.
Rockhold took Weidman to the mat early in the fourth round and once again peppered Weidman with strikes on the ground. Referee Herb Dean didn't let Weidman do much more damage during this exchange, and he waved the fight off, giving Rockhold the title. After the win, Rockhold celebrated in the cage with his family and teammates from the American Kickboxing Academy, while a bloody, bruised Weidman waited for the final results to be announced, watching through swollen eyes as the belt he owned less than 30 minutes prior was strapped around Rockhold's waist.
4. Be careful what you ask for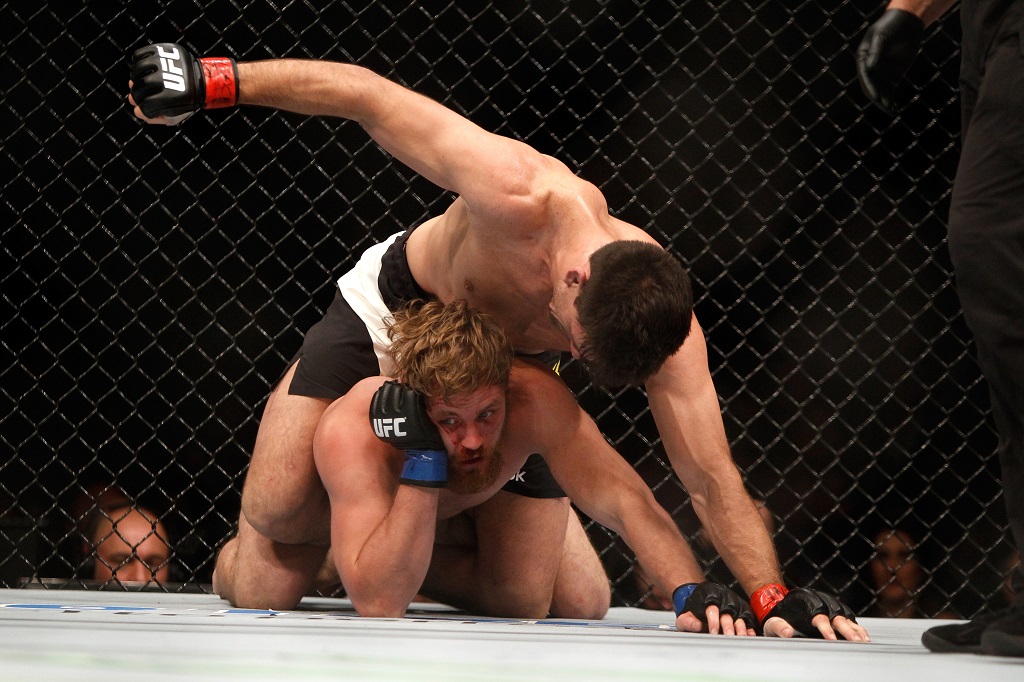 Prior to this fight, Gunnar Nelson more or less said he wanted to fight Demain Maia before Maia got too old — and this proved to be a huge mistake. At 27 years old, Nelson, a black belt in Brazilian jiu-jitsu, was no match for the 38-year-old black belt Maia. He struggled throughout the entire fight, landing seven strikes to Maia's 193.
Most of Maia's strikes came from either back control or full mount, showing that his jiu-jitsu pedigree is lightyears ahead of Nelson's — or anyone else's in the welterweight division for that matter — in the unanimous decision victory. After the fight, Maia, who has won four straight fights, called for a title fight against the winner of UFC 195's main event, where Robbie Lawler will defend his title against Carlos Condit.
5. Looking for a rematch
Only one man has gone the distance with newly crowned UFC featherweight champion Conor McGregor, and that man also fought, and won, on the UFC 194 fight card. At 24 years old, Max Holloway earned a unanimous decision win over Jeremy Stephens on Saturday night, extending his winning streak to eight consecutive fights. The last time he lost was to McGregor in August 2013. After the fight, Holloway was disappointed with his performance, but that didn't prevent him from calling for a rematch with McGregor.
6. A coming out party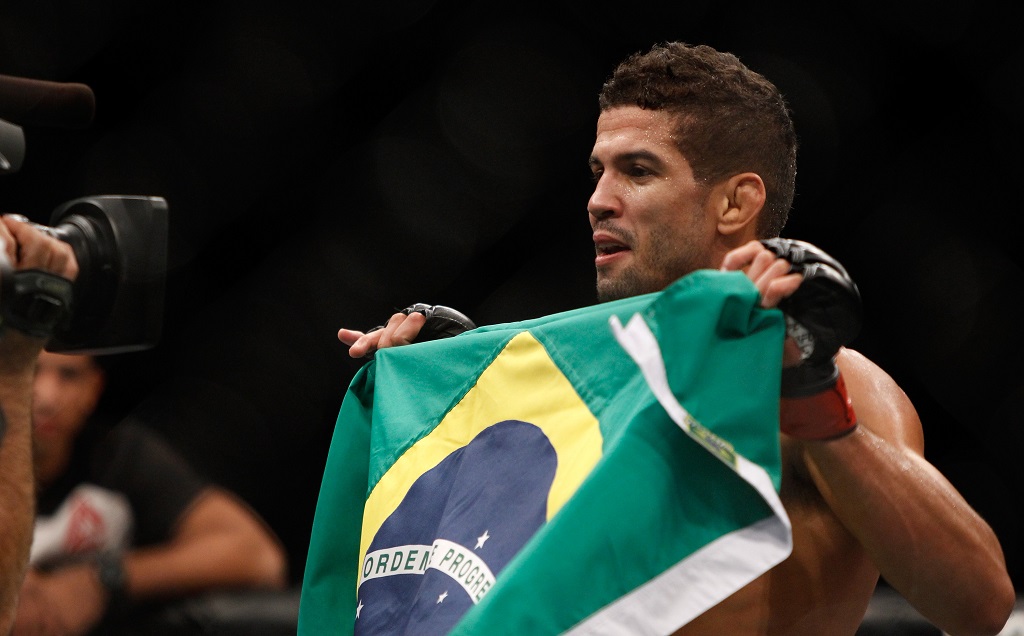 There were three fighters who used UFC 194 to announce that they were planning on sticking around the UFC for a while.
Magomed Mustafaev
On the preliminary card, Magomed Mustafaev improved his record to 2-0 in the UFC while extending his winning streak to 12 straight with a first-round TKO win over Joe Proctor. Mustafaev showed that his striking is no joke. The 27-year-old Russian softened his opponent with kicks to the body before forcing him to the fence and dropping him with knees to the head, and then finishing him with strikes on the ground. As Mustafaev teed off on Proctor, UFC commentator Joe Rogan seemed to be in awe of Mustafaev as he said, "Oh my God, the power of Mustafaev." The first-round TKO didn't earn Mustafaev a fight night bonus, but it surely got the attention of the UFC matchmakers. He is a fighter to watch.
Leonardo Santos
Kevin Lee was the biggest favorite on the UFC 194 fight card. He was on a four-fight winning streak heading into his fight against Leonardo Santos (pictured above), an accomplished Brazilian jiu-jitsu player. Early in the fight, Rogan mentioned that Santos had been working on his striking game. Shortly after that proclamation, Santos caught Lee with a right hand that dropped him to the ground. Santos finished the fight with ground and pound.
Then, things got weird. Santos jumped atop the cage and sprinted back toward the dressing rooms, only returning minutes later when UFC employees brought him back into the cage. When asked about his actions, Santos, clearly overjoyed, told Rogan, "I was so excited. I didn't know what to do. I'm just going crazy. I just want to have fun." The win extended Santos's unbeaten streak to 10 fights, and he earned a "Performance of the Night" bonus.
Warlley Alves
Warlley Alves was a slight underdog to Colby Covington going into UFC 194, but you wouldn't have known it by his performance. Alves pushed Covington into the cage, where Covington was able to land an early takedown, but Alves was quick to get back on his feet. Once there, with his back against the cage, he jumped into a standing guillotine choke, which he used to quickly submit Covington. The win advanced Alves' record to 10-0 and gave him his fourth guillotine choke victory.