UFC 195: Robbie Lawler vs. Carlos Condit Fight Results and Highlights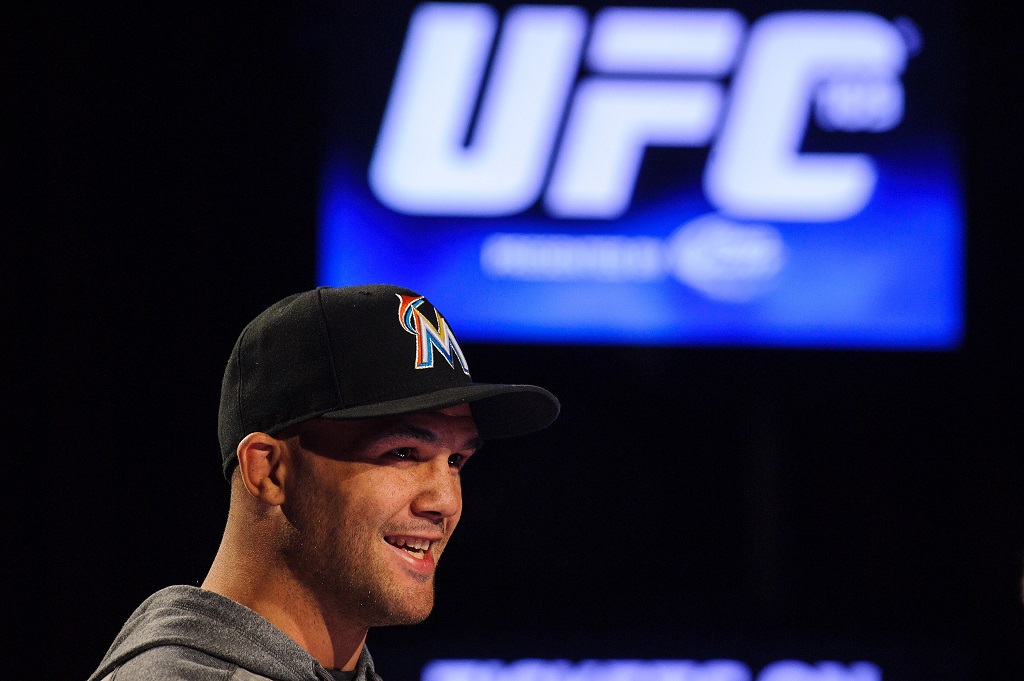 The UFC delivered a great card for its first event of 2016. In the main event, Robbie Lawler successfully defended his UFC welterweight crown for a second time, defeating highly touted contender and former interim champion Carlos Condit. While in the co-main event, Stipe Miocic punched his ticket for a heavyweight title fight by knocking out former UFC heavyweight champion Andrei Arlovski in the first round. In other news, Albert Tumenov extended his unbeaten streak and Michael McDonald returned to the Octagon for the first time in more than two years. We've rounded up these and the other most memorable moments from UFC 195, which took place on January 2 at the MGM Grand Garden Arena in Las Vegas.
1. Fight of the Year candidate
Well, the main event of UFC 195 set the bar high for the rest of 2016. Any fighters who think they can deliver a match worthy of "Fight of the Year" in 2016 have to deliver a performance better than the fight Lawler and Condit put together. Expectations were high when the fight between UFC welterweight champion Lawler and former interim champion Condit was announced in September. The fight delivered on those expectations, and then some.
Condit was the busier of the two throughout the fight, mixing up his strikes, using kicks, elbows, and punches while pushing forward throughout the entire five-round contest. When the fight ended, Condit had attempted 497 strikes, landing 177 of those attempts. Lawler wasn't as busy as Condit, landing 93 of 178 strikes, but he was more effective when his powerful strikes landed. One of Lawler's strikes earned him a knockdown in the second round. When the fifth round came around, Condit's corner seemed to think he was ahead, while Lawler's corner sent their fighter out looking for the finish.
If this full fight doesn't win an award, fans will surely remember the fifth round as one of the best single rounds in MMA history. Lawler threw 92 of his 178 strikes in that round, landing 53 of them. As is the norm for Lawler, all of those strikes were delivered in hopes that they would end the fight. The fifth round was also Condit's busiest stanza; he threw 173 strikes, landing 62 of them. In the end, the fight went to the judges, who scored it a split decision in favor of Lawler (47-48, 48-47, 48-47). After the fight, Lawler said that he wanted to offer Condit a rematch while Condit said that he was contemplating retirement.
2. Miocic earns the title shot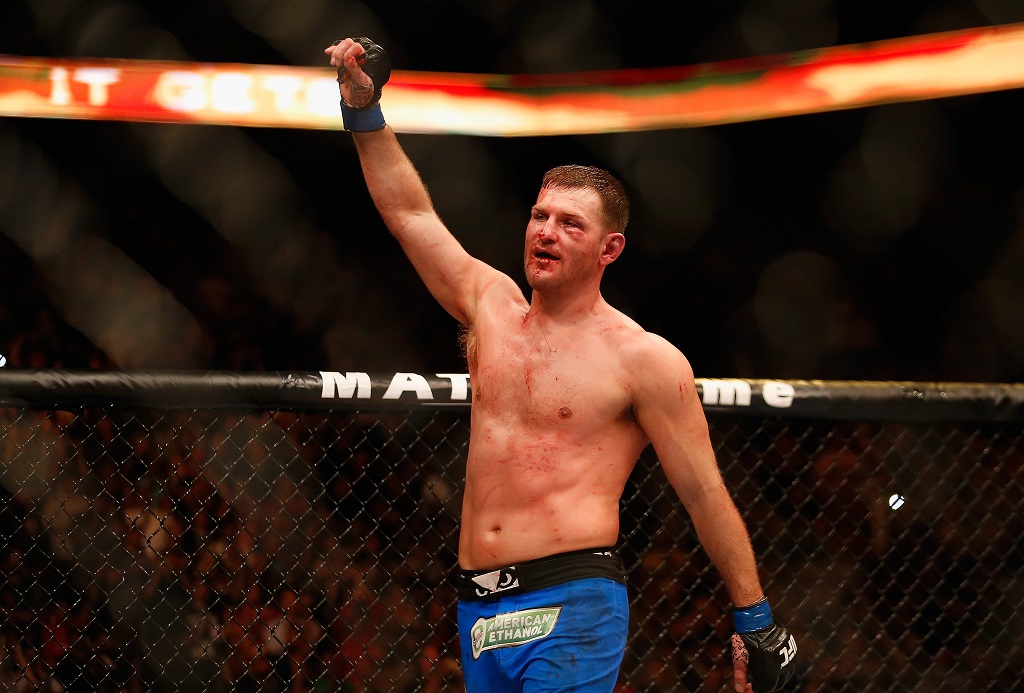 Almost every top-10 fighter in the UFC's heavyweight division will fight between late December 2015 and early February 2016, hoping to earn a shot at the winner of the upcoming fight between current UFC heavyweight champion Fabricio Werdum and former heavyweight champ Cain Velasquez on February 6. Well, after UFC 195, it looks like the fighters who were in the running are no longer contenders. According to UFC president Dana White, that title shot is now reserved for Miocic, following his knockout of Arlovski at UFC 195.
Miocic kept his distance early in this fight, but when he did land a punch, he made it count. Miocic staggered Arlovski with a right, and as Arlovski walked back to the fence, Miocic landed a few more punches that put the big man to the mat and brought referee Herb Dean in to wave it off at 54 seconds into the first round. After the knockout, Miocic ran directly to the cage and screamed at UFC president Dana White, informing him that he wanted his title shot, which White, seemingly afraid to deny Miocic, awarded to him at the post-fight press conference.
3. Tumenov takes another step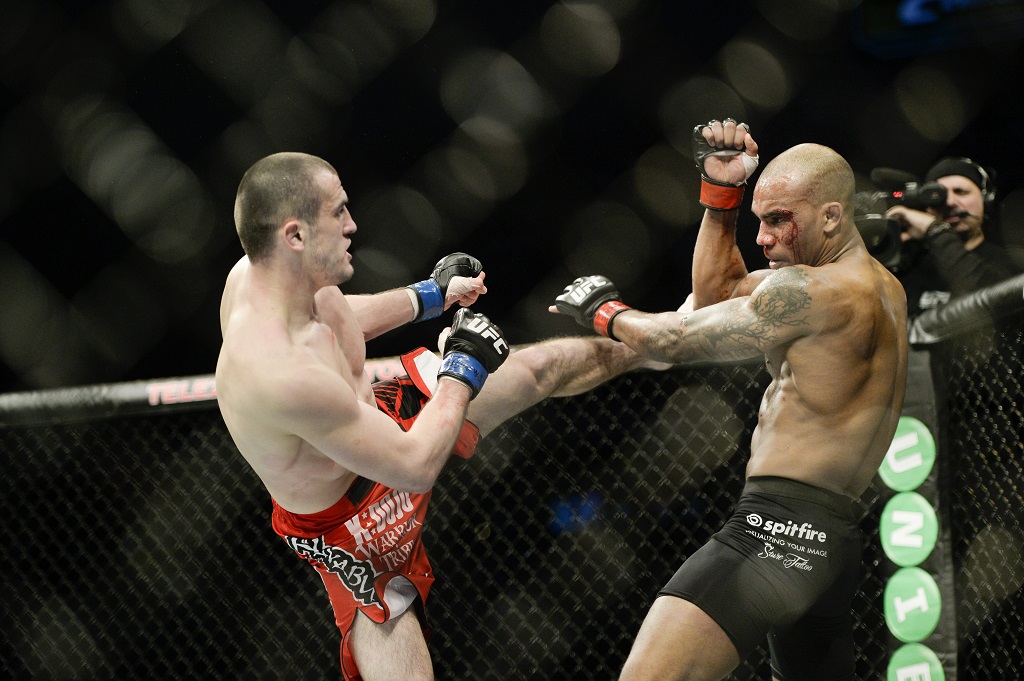 Tumenov entered his UFC 195 welterweight fight against Lorenz Larkin on a four-fight UFC winning streak, finishing three of those fights by first-round knockout. With this one, Tumenov went the distance for the third time in his UFC career, moving his winning streak to five in a row. The fight was not without its tests for Tumenov, however, as he absorbed a number of kicks to the legs from Larkin. But Tumenov did more damage with his punches to the body. Tumenov also controlled the location of the fight as he continuously walked Larkin down. The fight probably could have gone either way, but in the end, Tumenov got the nod in a split decision.
4. Come-from-behind win
Diego Brandao appeared to be on his way to a victory against Brian Ortega in this main card fight at UFC 195. Brandao used his striking skills to hold Ortega at bay throughout the first two rounds. Ortega, a black belt in Brazilian jiu-jitsu, looked like he would lose the first fight of his MMA career as the third round began. However, his combination of fatigue and jiu-jitsu skills allowed Ortega to move to 10-0-0-1. Heading into the final round, Ortega's coach, Rener Gracie, called for a takedown.
Ortega did not get that takedown, but he was able to take the fight to the ground by pulling guard. Brandao didn't seem too anxious to stay on the ground with Ortega in the third, but that didn't matter to Ortega, who was able to work a choke during a standing scramble. With Ortega looking for a submission, Brandao went to the ground to try and work free, but Ortega stayed with him, transitioning from an arm in choke to a guillotine choke to a triangle choke, which forced the tap from Brandao. The win gave Ortega his fifth win by submission.
5. Welcome back kid
McDonald had gone 749 days between UFC fights as he recovered from hand and wrist injuries. The 24-year-old's opponent at UFC 195 was the veteran Masanori Kanehara. Kanehara had the advantage most of the fight, using his striking to rack up 77 total strikes, and coming close to landing an arm triangle choke in the second round. However, despite only landing six strikes in total, it was McDonald who got the win, pulling off a slick transition to force Kanehara to tap.
After taking McDonald to the mat and landing knees to the body, Kanehara transitioned to full mount and worked for the aforementioned choke. It looked like he would get the tap from McDonald until McDonald slipped out from underneath Kanehara and quickly transitioned to back control and a rear-naked choke the forced Kanehara to tap. It was an impressive win for McDonald, which let the rest of the bantamweight division know he is back in the mix.
6. Best fight-pass fight ever
If you balked at subscribing to UFC Fight Pass, well, you missed one hell of a fight; in fact, you may have missed the best fight ever to stream on UFC Fight Pass. Dustin Poirier and Joseph Duffy were originally scheduled to meet in the main event of October's UFC Fight Night 76, but a training camp concussion knocked Duffy out of the fight. The bout was rebooked for UFC 195, and it was worth the wait.
Poirier entered the fight 2-0 since going up to lightweight, while Duffy was also 2-0 in the UFC's lightweight division since he moved to the promotion in March 2015. It has to be noted that Duffy was also the last man to defeat current UFC featherweight champion, Conor McGregor, submitting McGregor in 38 seconds in 2010. Early on, it looked like this fight would be competitive. Duffy's boxing-style stance gave Poirier problems, but Poirier quickly used his takedowns to negate any advantage Duffy had.
Once on the ground, Poirier used his strikes, especially his elbows, to take over the fight. Duffy was able to break Poirier's nose in two places during the fight, but that never slowed Poirier, who lost a lot of blood on his way to a unanimous decision win (30-27, 30-27, 30-26). With a record of 3-0 in the lightweight division, Poirier's confidence is surging as he heads into his next fight.
7. Nice work, Sheldon
Sheldon Westcott's job may have been on the line at UFC 195. The 31-year-old Canadian was 0-2 in the UFC and fighting in the opening fight of the card. A loss, and Westcott almost assuredly would have been handed his walking papers. Well, Westcott did more than enough to save his job on Saturday night at the MGM Grand Arena. Westcott took the fight to the ground early with a nice trip takedown against his opponent, Edgar Garcia. He then gained mount and transitioned to back control.
Once Westcott obtained that position he unleashed a torrent of unanswered strikes, and eventually gained the stoppage at the 3:12 mark of the first round. This performance by Westcott was nearly flawless; he went one for one in takedowns and landed 60 strikes during the fight. Garcia's total offense was one strike. As a plus, Westcott thanked his mom, who was in attendance for her son's first UFC win.
Robbie Lawler def. Carlos Condit via split decision (47-48, 48-47, 48-47)
Stipe Miocic def. Andrei Arlovski via first-round TKO  (0:54)
Albert Tumenov def. Lorenz Larkin via split decision (29-28, 28-29, 29-28)
Brian Ortega def. Diego Brandao via third-round triangle submission  (1:37)
Abel Trujillo def. Tony Sims via first-round guillotine choke submission  (3:18)
Michael McDonald def. Masanori Kanehara via second-round rear-naked choke submission (2:09)
Alex Morono def. Kyle Noke via split decision (29-28, 27-30, 29-28)
Justine Kish def. Nina Ansaroff via unanimous decision (29-28, 30-27, 30-27)
Drew Dober def. Scott Holtzman via unanimous decision (29-28, 29-28, 29-28)
Dustin Poirier def. Joseph Duffy via unanimous decision (3026, 30-27, 30-27)
Michinori Tanaka def. Joe Soto via split decision (29-28, 28-29, 29-28)
Sheldon Westcott def. Edgar Garcia via first-round TKO (3:12)
Statistics courtesy of FightMetric.