UFC 196: 9 Things You May Not Know About Holly Holm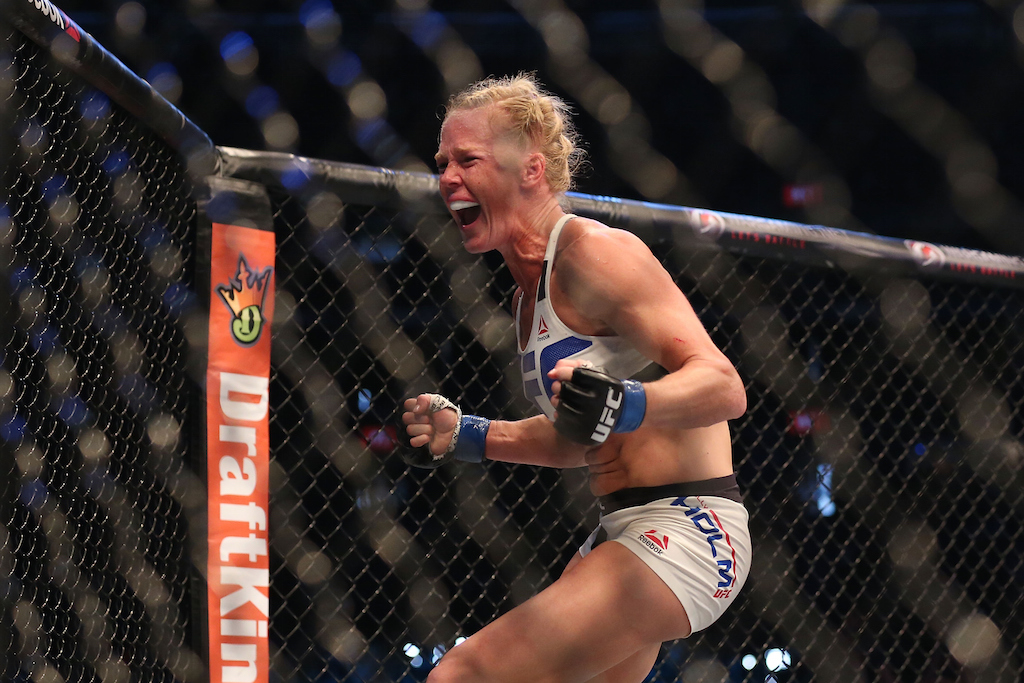 When Holly Holm stepped into the cage to face Ronda Rousey in the main event at UFC 193, many fight fans didn't know much about her. The general feeling was that Holm would just be another opponent that Rousey rolled over with little difficulty on the way to solidifying her grasp on the UFC women's bantamweight title. That was not the case. In front of a crowd of 56,214 in Melbourne, Australia, Holm accomplished what no other fighter had done before — she defeated Rousey.
Not only did she defeat her, but she dominated her, knocking out Rousey with a head kick early in the second round of their fight. Now, with Holm's first title defense on the horizon, let's get to know some things about the 34-year-old champion from Albuquerque, N.M. The undefeated Holm (10-0) will face former Strikeforce women's bantamweight champion Miesha Tate (17-5) in the co-main event of Saturday's UFC 196 fight card.
For Tate, this is her second attempt at the UFC belt. She fell short in her first attempt, losing to Rousey via an armbar submission at UFC 168 in December 2013. The main event at UFC 196 will be a welterweight contest between UFC featherweight champion Conor McGregor and Nate Diaz. The latter fighter is a late replacement for the injured Rafael dos Anjos, who was originally scheduled to defend his UFC lightweight title against McGregor before a broken foot knocked him out of the fight.
1. Her nickname
It's rare for an MMA fighter not to have a nickname, and Holm is no exception. The UFC women's bantamweight champion's nickname is "The Preacher's Daughter." There's no hyperbole in that nickname; Holm really is a preacher's daughter. Her father, Roger Holm, is a preacher at Edgewood Church of Christ in Edgewood, N.M.
2. Holm has her day
Following her UFC 193 win over Ronda Rousey, the city of Albuquerque held a "Holly Holm Day." On December 6, 2015, there was a parade through the streets, and then a crowd of close to 20,000 people stood and cheered for Holm as she addressed them from a stage.
3. Her striking
Since joining the UFC, Holm has outstruck all three of her opponents. In her first fight with the promotion, Holm landed 44 significant strikes to Raquel Pennington's 40. In her second bout, Holm landed 65 of 178 significant strikes while Marion Reneau landed 26 of 75 and finally, in her win over Ronda Rousey, Holm landed 38 of 53 significant strikes while Rousey landed 17 of 65. Holm's percentage of strikes landed in the Rousey fight was 71%, far higher than her average of 28%.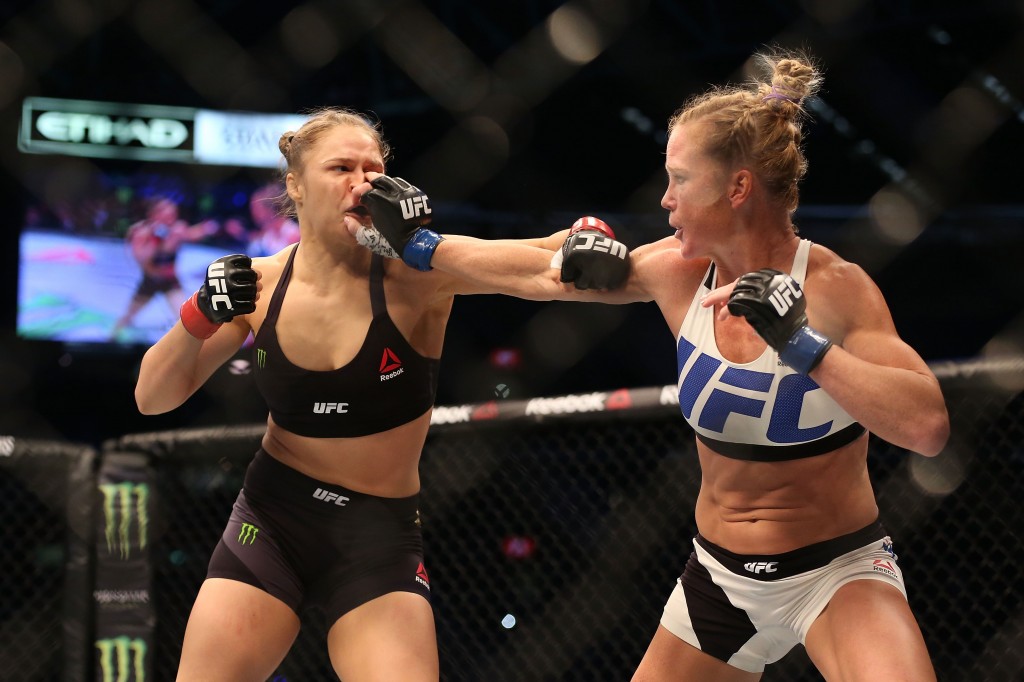 4. Her gym and trainer
Holm has been with the same trainer since 1998. That's when a 17-year-old Holm met Mike Winkeljohn, who taught cardio kickboxing classes to supplement his income as a trainer. From there Holm's interest in kickboxing and boxing grew, and she went on to become a world champion boxer. Now that she's involved in MMA, Holm still works with Winkeljohn, but she also trains with Greg Jackson at the Jackson Wink MMA Academy. Other fighters who work out of that gym include former UFC champions Jon Jones, Andrei Arlovski, and former interim champ, Carlos Condit.
5. Holm gets a bump
Holm was not originally scheduled to face Rousey at UFC 193. In fact, Rousey was not even scheduled to fight at UFC 193. No, Rousey was first booked to face Tate at UFC 195, but the promotion decided to change things up and inserted Holm into the fight before moving the bout to UFC 193.
6. She has a supporter in Laila Ali
Speaking to Chael Sonnen, Laila Ali said of Holm, "I personally do not think that she'll [Rousey] beat Holly Holm. I think that if she fought her again, then the same thing and worse will happen. Holly Holm was just getting warmed up. You know what I'm saying? She was just getting warmed up. She had nerves, too. This was her big moment."
7. Not chasing paper
After defeating Rousey in November, Holm could have played it safe and waited for a rematch against Rousey, collecting a huge guaranteed payday. Instead, Holm opted to defend her title against Tate at UFC 196, as she explained to Yahoo:
I told myself I would never fight for money or for fame. I would fight for passion. This is the next opportunity. My mind doesn't function like, "If I wait for this, it will be more money." That's just not how my brain functions. There's never a dollar sign in my mind when I'm thinking about my fighting career. I want the passion.
8. She held back
When it was announced that Holm would face Rousey at UFC 193, many thought Rousey would roll over Holm with little difficulty. As we now know, that was not the case. One reason for that assumption was that Holm looked good, but not great in her previous UFC bouts. After Holm's knockout win over Rousey, we learned that was somewhat intentional. Holm's trainer, Mike Winkeljohn said, "Footwork is always the key for Holly Holm in her fights and Holly has held back a bit in the past and that was all part of the plan. We knew we would fight Ronda one day and Holly showed why she is now the best in the world."
9. She thinks Tate could be a tougher fight than Rousey
Holm experienced less pressure when she faced Rousey at UFC 193. She was a huge underdog to the champion, and few people expected her to win the fight. Now that Holm is the champion, she faces the intense expectations of defending that title, which is one of the reasons Holm feels her fight against Tate at UFC 196 will be a tough contest. "Now there's pressure that I don't want to be this one-hit wonder," Holm told MMAFighting. "I want to be able to show another performance. And in a lot of ways, this is a tougher fight for me. A different fight, just tougher in different areas, obviously."