UFC 196: Conor McGregor vs. Nate Diaz Fight Results and Highlights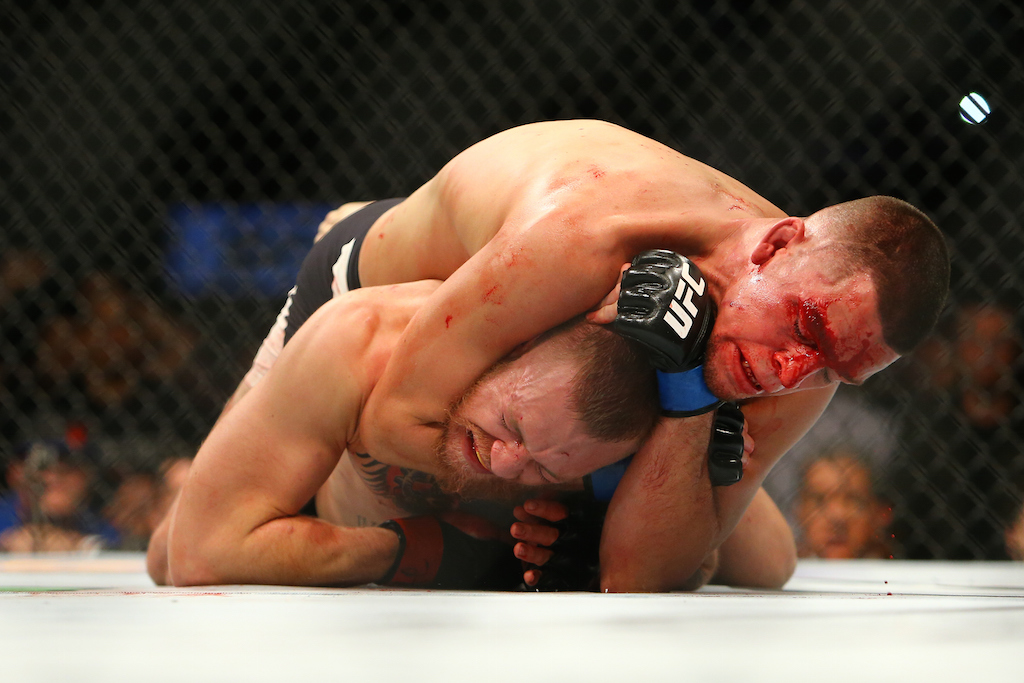 UFC 196 took place on Saturday at the MGM Grand Garden Arena in Las Vegas, and to say there were some surprises during the event would be a significant understatement. The two biggest upsets occurred in the main event and co-main event. In the main event, Nate Diaz shocked fans and pundits when he forced Conor McGregor to tap to a rear-naked choke in the second round of their bout. In the co-main event, Miesha Tate took the UFC women's bantamweight title from Holly Holm when she choked Holm unconscious in the fifth and final round. Here are the full fight-card results:
Nate Diaz def. Conor McGregor via submission (rear-naked choke – Round 2, 4:12)
Miesha Tate def. Holly Holm via submission (rear-naked choke – Round 5, 3:30)
Ilir Latifi def. Gian Villante via unanimous decision
Corey Anderson def. Tom Lawlor via unanimous decision
Amanda Nunes def. Valentina Shevchenko via unanimous decision
Siyar Bahadurzada def. Brandon Thatch via submission (arm triangle choke – Round 3, 4:11)
Nordine Taleb def. Erick Silva via second-round KO (1:34)
Vitor Miranda def. Marcelo Guimaraes via second-round TKO (1:09)
Darren Elkins def. Chas Skelly via unanimous decision
Diego Sanchez def. Jim Miller via unanimous decision
Jason Saggo def. Justin Salas via first-round TKO (4:31)
Teruto Ishihara def. Julian Erosa via second-round KO (0:34)
Let's dig deeper into what actually happened during some of those contests. Here are the results and highlights from UFC 196.
Diaz with the upset

The fight was weird before it even started. Almost as soon as he won the UFC featherweight title, McGregor asked to face UFC lightweight champion Rafael dos Anjos. McGregor's wish was granted, and the fight was booked for UFC 196. Unfortunately, as fight night neared, dos Anjos broke his foot and was forced from the fight. The UFC reached out to Diaz, who took the fight on short notice.
With less than two weeks to prepare, the UFC adjusted the weight limit and declared that McGregor and Diaz would fight at the welterweight limit of 170 pounds. That meant McGregor would fight a full 25 pounds heavier than he had when he won the belt from Jose Aldo in December. Despite that fact, McGregor entered the fight as a heavy favorite.
Early in the fight, it looked like McGregor would beat Diaz, but midway through the second round, the tide turned. Diaz became more aggressive while McGregor seemed to run out of gas. When Diaz hurt McGregor with strikes, McGregor was unable to recover, and, perhaps in desperation, he shot for a takedown. That move proved to be a mistake as Diaz looked to clamp on a choke.
Unable to secure the choke, Diaz moved to mount and teed off with punches before McGregor tried to roll out. Unfortunately, all McGregor did was give up his back to Diaz, who quickly locked on the choke and forced the tap from McGregor. Diaz's win earned him $100,000 in bonus money, as he took home both "Fight of the Night" honors and "Performance of the Night."
A new champion

As the fifth round of her fight against UFC women's bantamweight champion Holm began, Tate knew that if she was going to dethrone the champion she needed to end the fight. With that in mind, she fought aggressively in the final round. Tate got the takedown she needed with two minutes left in the fight and did her best to keep Holm on the mat. As Holm tried to get to the cage, Tate transitioned to Holm's back and locked on a rear-naked choke as Holm got to her feet.
Holm reached back to hand fight Tate, but Tate kept her hands well away from Holm and cinched up the choke. Holm, in desperation, tried to flip Tate off her back, but Tate only locked up the choke tighter when they went back to the mat. Within seconds, Holm fell unconscious, and the UFC women's bantamweight division had a new champion. The win was by far Tate's most complete performance, and it earned her a UFC title.
How to lose

Despite crushing losses, both Holm and McGregor showed up at the post-fight press conference and answered every question they were asked. They didn't shy away from the media at all, and for that, they should be commended. For her part, Holm said:
It isn't easy, but it's a growing experience. There's always these odds on paper, I always say, but for me it's always 50-50 when you get in there. There's a winner and a loser and that's all there is to it. Tonight I do feel like I was doing enough to win the fight. She had a great second round. I had 1, 3 and 4 and event 5 until I slipped up there.

It's a learning experience for me. I should've been fighting those hands right away. I should've just so not gotten so complacent. I kinda let my guard down a little too soon and it cost me the fight. I want to fight Miesha tomorrow. She'd want the same thing. She's been around the sport a long time. I'm more anxious to get in and train right now than I have been in a long time.
As for McGregor, he said of his loss:
It's a bitter pill to swallow. I took a shot. I went at it. I feel that I was simply inefficient with my energy. Usually, I fight a man in the division I am champion in and they crumble under those shots, but Nate took them very well. This is the game. We win some; we lose some. I will never shy away from a challenge. I will never shy away from defeat. This is part of the game.

I know there are a lot of people celebrating this in the featherweight division. There are many people celebrating another man's victory. It's something I cannot understand how somebody not involved can celebrate another man's victory. At the end of the day, I am the featherweight world champion. I feel that it's right to go back down, remind them of what I achieved and what I done to that division.
Sweet revenge

Taleb was not supposed to beat Silva at UFC 196. Not only did he beat him, but he also knocked him out cold and was probably in the running for a performance bonus up until the final two fights of the night. What made Taleb's knockout victory sweet was that, with 1:30 left in the first round, Silva initiated a touch of gloves after he got to his feet following a Taleb takedown, but instead of showing respect for his opponent, Silva used that move to quickly throw a left hook.
The move brought a negative response from the crowd. Taleb kept his cool after that and closed out the round without getting into any trouble. The end came in the second round when Taleb caught a Silva kick and, while holding his opponent's leg, unloaded a right hand that put Silva out cold. After the fight, Taleb said of the fake glove touch, "I know he's a dirty fighter. I did it on purpose. I knew he would do something, and I wanted to counter him back. I knew it." The win was Taleb's first knockout victory in five UFC bouts.
Three in a row

Miranda has fought three times as a middleweight in the UFC, and he ended each of those fights by TKO, most recently stopping Guimaraes in the second round of UFC 196. In the first round, Guimaraes ate some elbows to the head when he put Miranda against the cage. Those elbows looked like they hurt Guimaraes, so it was not a surprise that he returned to those elbows when Guimaraes put Miranda against the cage in the second round.
This time, the strikes hurt Guimaraes badly. With Guimaraes stunned, Miranda worked his way away from the cage and delivered several punches before separating and landing a head kick that brought the referee in for the stoppage. It was an impressive victory for Miranda. After the fight, Miranda said, "I'm trying to show everyone that I'm not done [growing as a fighter]. I'm getting better and each fight I get [more] comfortable, and I'm going to keep knocking people out until I get my belt."
The veteran moves

Heading into the featherweight bout between Elkins and Skelly, many people thought this fight would let the UFC know where Skelly stood in the division. The answer was probably not what people expected as the up-and-coming fighter was thoroughly dominated by the veteran Elkins. Elkins, who has been with the UFC since 2010, had alternated wins and losses in his seven UFC bouts before UFC 196, going 4-3 while Skelly had been on a four-fight winning streak.
Elkins dominated the fight, wearing Skelly down and damaging with his grinding attack. After the fight, Elkins gave high praise to his new team after the fight, "I want to evolve my game," said Elkins. "That's the most important thing to me, and I'm really enjoying the energy and the atmosphere at Team Alpha Male. I really clicked with these guys. It's just getting my games to the next level. I needed to fix something, and I feel Team Alpha Male was the solution."
The ladies' man

Ishihara fought in the first fight of the evening, but he delivered one of the most memorable performances of the evening. The featherweight was competing in his second UFC fight, his first ending in a draw, and he made the most of the opportunity. Ishihara came out aggressive and did well with his inside leg kicks. He set the pace, pushing his opponent, Erosa into some uncomfortable situations throughout the fight.
Early in the second round, Ishihara dropped Erosa with a left and quickly swooped in to finish the fight on the ground with hammerfists. It was an impressive finish, but what really put Ishihara over the top was his post-fight performance. While being interviewed by Joe Rogan, Ishihara ignored the first question posed by Rogan; instead, he asked Rogan what he thought of the fight.
When Rogan answered, "It was excellent," Ishihara let out a scream. Ishihara's parting shot, the only line he spoke in English, got a big cheer from the crowd, "I love you, my bi––hes." After the fight, the Japanese fighter added via his translator, "As long as I can KO someone and get girls, I'll do it all day. That's the reason I started fighting; I wanted to get more girls."