UFC 197: Preview and Predictions
The UFC will be in Las Vegas this Saturday for UFC 197. Although we won't get one of the title fights we wanted, we still get two title fights on the card, and fighting in those title fights will be the two best pound-for-pound fighters in the sport today. The original main event of UFC 197 was UFC light heavyweight champion Daniel Cormier against former UFC light heavyweight champion Jon Jones. However, a training camp leg injury forced Cormier to withdraw from the fight.
Instead, Jones, the best pound-for-pound fighter in MMA, will face Ovince Saint Preux in a fight for the interim light heavyweight title. In the co-main event, the second-best pound-for-pound fighter in the sport, UFC flyweight champion Demetrious Johnson, will put his title on the line against unbeaten Olympic gold medal-winning wrestler Henry Cejudo.
If that's not enough, former UFC lightweight champion Anthony Pettis, who has lost two straight fights, will look to get off the snide when he faces Edson Barboza in a fight that promises to feature some high-level striking. If you want some tips on how we think the main card fights will play out, read on. UFC 197 takes place on Saturday, April 23 at the MGM Grand Garden Arena in Las Vegas.
Andre Fili vs. Yair Rodriguez
This featherweight fight between two talented young prospects could be a sleeper pick for "Fight of the Night." Yair Rodriguez is a highly skilled fighter who the UFC is clearly pushing as a potential star. His style is exciting, fast-paced, and risky. If we had to pick one fighter who he reminds us of, that fighter would be Pettis.
Andre Fili, a product of Team Alpha Male, has struggled with consistency during his run in the UFC. If his last fight (a first-round TKO win) is any indication, he has found the right mix to make a move in the division. These two fighters will look for the finish in a fight that could steal the show. At the very least it will be an excellent opening bout for the pay-per-view card. We pick Rodriguez by decision here.
Edson Barboza vs. Anthony Pettis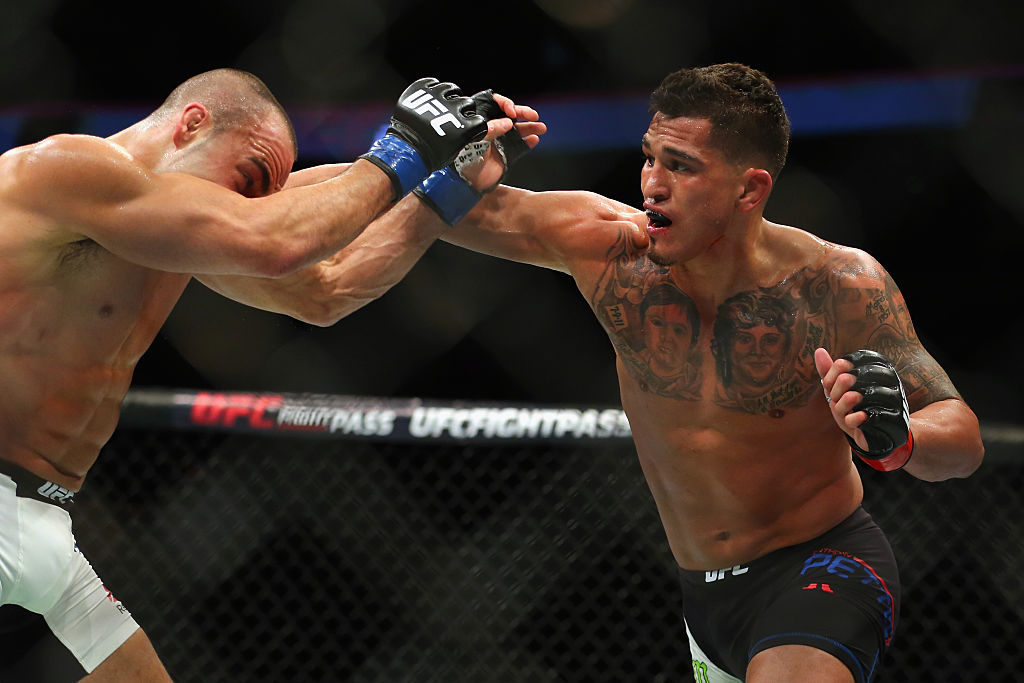 If you like seeing dudes get kicked in the head and body, then we have a fight for you. The lightweight bout between former UFC champion Pettis and Edson Barboza promises to feature some spectacular kicks. Pettis has delivered some of the best kicks in MMA history. His "Showtime" knockdown of Benson Henderson in 2010 still appears on highlight reels, as do the first-round knockout kicks he delivered to Joe Lauzon (head) and Donald Cerrone (body).
The problem for Pettis is that those stoppages all happened more than three years ago. He enters his fight against Barboza on a two-fight losing streak, and that's a bad thing in the talent-rich lightweight division. Barboza's most memorable kick was his 2012 head-kick knockout of Terry Etim, which left Etim unconscious before he even hit the mat.
Since then, Barboza has experienced an up-and-down run, going 3-3 in his last six fights. Pettis has shown that he struggles in fights against opponents who pressure him and leave him no space to get his kicks and punches off, don't expect Barboza to follow that blueprint in this fight. Look for Pettis to take the decision in this contest.
Rafael Natal vs. Robert Whittaker
This is a battle between two top-15 middleweights. Robert Whittaker, a former welterweight, moved up to middleweight three fights ago and since then he has gone unbeaten. Rafael Natal has competed in the UFC's 185-pound division for almost six years, and he's currently riding a four-fight winning streak.
Whittaker is the younger fighter at 25 and someone who is on the rise in the promotion. Natal, at 33, is more of a gatekeeper in the division. Whittaker is a dangerous striker with quick and heavy hands; he can also use kicks to set up his punches, which he can deliver with little windup. Natal is a distance striker who possesses a smothering ground game.
If Whittaker can control the Octagon in this fight, then it should be an exciting striking battle. If Natal can close the distance and take the fight to the ground, then this one may be long and tedious. Whittaker is the favorite here, and it's hard to bet against him; he just too explosive for a fighter like Natal. The expectation is that Whittaker will take a unanimous decision in this one.
Demetrious Johnson vs. Henry Cejudo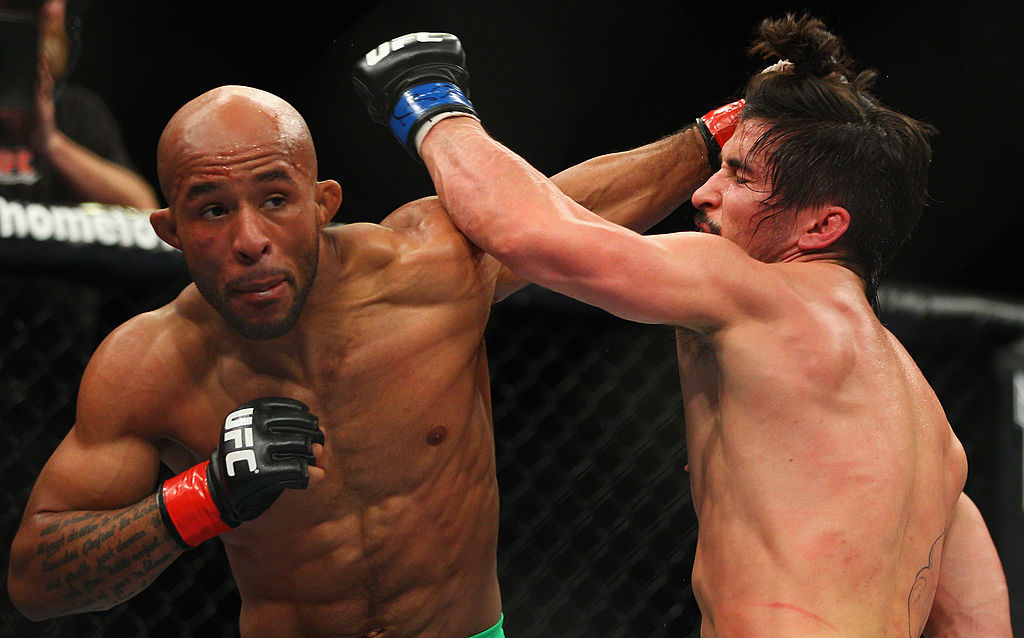 Johnson is the second-best pound-for-pound fighter in the UFC. The only fighter who is more well-rounded and dominating than Johnson is the man fighting in the main event, Jones. Johnson is unbeaten as a flyweight — his only losses have come as a bantamweight. He's also the only fighter ever to hold the UFC flyweight title, winning the belt in September 2012 and defending it seven times since then.
Johnson is the fastest fighter in the UFC; his footwork and cardio are second to none. He never quits, he never cruises, and he's always looking to show his dominance. If you need evidence of that fact, look to his UFC 186 submission win over Kyoji Horiguchi. Johnson finished that fight at the 4:59 mark of the fifth and final round.
Cejudo does not have Johnson's experience, speed, or talent, but he does have confidence and a history of winning. Cejudo is an accomplished wrestler with a 2008 Olympic gold medal and a perfect MMA record of 10-0 to his name. That confidence is what will keep him in this fight. He won't win it, but he won't quit either, and that should make for an exciting scrap. Look for Johnson to defend his title for an eighth time in this fight, earning a unanimous decision.
Jon Jones vs. Ovince Saint Preux
Jon Jones, the former UFC light heavyweight champion has one loss on his official record, but if you ask, most people will say of that loss, "Eh, not so much." You see, Jones' loss was a disqualification defeat for landing illegal elbows on Matt Hamill back in 2009. Without that loss, Jones' record would be a perfect 22-0. As it stands, he is 21-1.
Jones is the former UFC champion because he was stripped of the title in April 2015 after his involvement in a hit-and-run accident. While he was suspended, Daniel Cormier captured the vacant title. UFC 197 will mark the first time Jones has fought since he defeated Cormier in January 2015. Jones has been through a lot outside the cage in the past year, so he has a lot to prove in this fight.
Expect him to come into this fight with a lot of motivation, focus, and a desire to prove that he is the true light heavyweight champion. Jones is better than Saint Preux in every possible way except one; Saint Preux has one-punch knockout power, and honestly that's the only way he is going to beat Jones, catching him with that one big punch.
The odds of this happening are slim, as Jones has never been knocked down. Jones, recognized by many as the best fighter ever, will win this fight, and he will do so in an impressive fashion. We're going with a second-round stoppage in this one, probably a submission, but a knockout isn't out of the question.
Statistics via UFC.com.