UFC 254: Justin Gaethje Knows Exactly How He'll Beat Khabib Nurmagomedov
Justin Gaethje is set to fight Khabib Nurmagomedov at UFC 254 on Fight Island. Although this isn't the fight that many UFC fans wanted for the champ, it's still an exciting fight nonetheless. Here's a look at how Justin Gaethje plans on beating the undefeated champ, Khabib Nurmagomedov. 
A recap of Justin Gaethje's exciting UFC career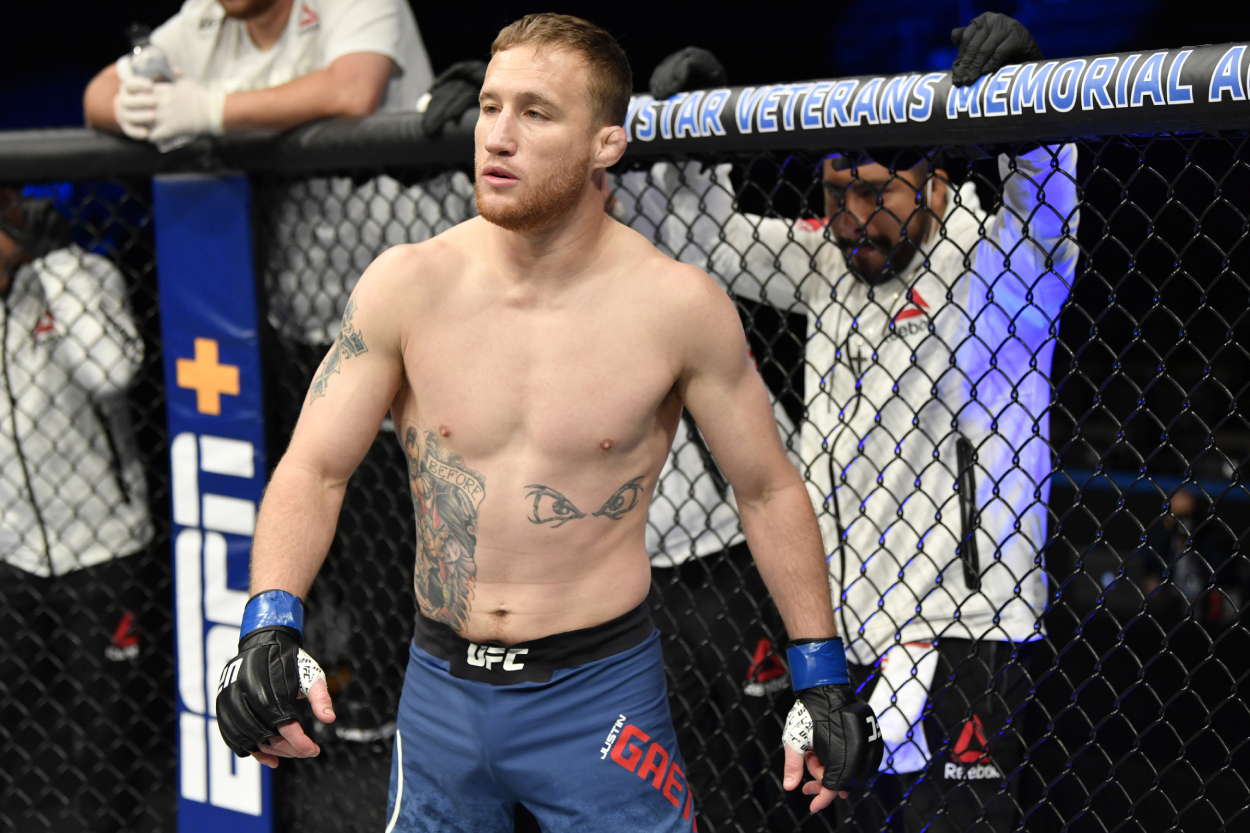 Like many UFC fighters before they joined the UFC, Gaethje fought in other MMA organizations. He always dominated his opponents, and he had a record of 17-0, but many people wondered how'd he do against UFC-level fighters. In 2017, he finally joined the UFC, and as it turns out, Gaethje could hang with the best fighters that the UFC had to offer.
In an exciting back and forth fight, Gaethje knocked Michael Johnson out and won his UFC debut. The UFC then gave him the former champ, Eddie Alvarez, and again, it was an exciting and close fight.
However, Gaethje lost this bout in the third round. The UFC gave him another high-level opponent, Dustin Poirier, and in another close fight, Gaethje lost by knockout in the fourth round. 
At this point, many UFC fans thought that Gaethje's reckless style of fighting wouldn't get him far, as his two knockout losses showed. However, he rebounded and knocked his next four opponents out.
His opponents weren't slouches either, and he knocked out great fighters like Edson Barboza, Donald Cerrone, and Tony Ferguson. With these wins, Gaethje earned himself a title shot against the champ. 
UFC 254: why Justin Gaethje is so exciting
RELATED: Khabib Nurmagomedov's Dad and Longtime Trainer Suffers Tragic Death After Brutal COVID-19 Battle
Wrestling is one of the most effective fighting styles in the UFC, and it's how Nurmagomedov dominates his opponents. While wrestling can be used to hold people down and beat them up, wrestling can also be used to force people to stand and fight.
Wrestling dictates where the fight takes place, and because Gaethje is such a good wrestler, he can force his opponents to fight him on their feet. 
This is where Gaethje excels at. On the feet, Gaethje throws a lot of powerful shots, and although he's well-known for his knockout blows, he's also known for his leg kicks. Leg kicks rarely knock an opponent out, but they can change a fight by making a fighter unable to move very much, and as a result, it makes them an easier target for punches.
And of course, Gaethje is tough as nails. He has been knocked out before, but in general, he can take a lot of punches. That's why he's such an exciting fighter for UFC fans. His wrestling allows him to force his opponent to stand and fight with him, and due to his toughness and power, he can take punishment and deal it back.
Nurmagomedov has rarely fought an opponent who can wrestle like Gaethje can, so this could be a challenge for him.
How Justin Gaethje can beat Khabib Nurmagomedov at UFC 254
RELATED: UFC Referee Herb Dean Revealed Khabib Nurmagomedov Trash Talks the Entire Time He's Fighting
Because Gaethje knows how to wrestle, he's confident that the can stop Nurmagomedov from wrestling him. Like MMAjunkie reported, Gaethje said that he'll force the champ to fight him in the center of the octagon, where it'll be harder for Nurmagomedov to get a takedown.
Then, Gaethje said, "I'm going to take chances, throw knees, and if he takes me down that's fine." If the champ takes him down, Gaethje plans to get back up as fast as he can.
Former UFC champ and UFC Hall of Famer, Georges St-Pierre also had some advice for Gaethje. According to EssentiallySports, St-Pierre, who is still betting on Nurmagomedov to win, said that he thinks Gaethje should try to attack the champ early.
St-Pierre noticed that Nurmagomedov is a slow-starter, and Gaethje can exploit that by going fast and hard early on. Regardless, Gaethje is still the underdog in this bout.