UFC: 3 Reasons Why Nate Diaz vs. Jorge Masvidal Fight Has to Happen
Nate Diaz showed no signs of rust at UFC 241 in his first bout since 2016. Diaz defeated Conor McGregor at UFC 196 with a second-round submission and then lost to him by split decision in a rematch that took place at UFC 206. The 34-year-old had been out of action since that last fight, believing that he got cheated on that decision.
The California native had the home crowd in Anaheim firmly behind him for his fight against Anthony Pettis on Saturday. He put on a dominant three-round performance, shaking off a slow start to the second round to finish strong and earn a unanimous decision victory. After the fight, he called out Jorge Masvidal as a potential next opponent; here are three reasons why Dana White needs to make that fight happen.
1. Nate Diaz wants the fight
After his win over Pettis, Nate Diaz was asked by UFC commentator Joe Rogan whether we'd be seeing Diaz fight on a more regular basis now. The welterweight was quick to respond:
"The reason I was off was because everybody sucks. There was nobody to fight," Diaz explained. "With this belt, I want to defend it against… Jorge Masvidal had a good last fight, good last fight. All respect to the man, but there ain't no gangsters in this game anymore. There ain't nobody who does it right but me and him. So I know my man's a gangster, but he ain't no West Coast gangster."
The "belt" that Nate Diaz is referring to is the "baddest mother f—er" belt, which currently only exists in Diaz's mind and he is the self-appointed title holder. Speaking to the press after the fight, he pointed out that longevity is what makes guys like him and Masvidal so special.
"You've got to recognize who is the best and who the best in the game is. And it's not who they're saying it is, it's who I'm saying it is," Diaz explained. "Who's the real baddest in the 170 division? They were trying to pump up [Ben Askren] and then Masvidal goes in there and knocks his ass out. I started fighting in 2004 … and then he's been around since then and maybe a little longer. He just did that and I just did that, so that's the best fighter to me; the best martial artist that's still on top of the game."
2. Jorge Masvidal wants the fight
In an interview with TheMacLife on the Thursday before UFC 241, Jorge Masvidal had nothing but the highest praise for Nate Diaz and a potential fight between the two.
"In a heartbeat, we're signing," Masvidal said when asked what he'd do if offered a Diaz fight. "I've been chasing the belt for 16 years, but that's such a fight for me, for the fans, for the sport, and it's two Latin dogs just going at it. We haven't seen that in the sport too much. We need to see it. You're just going to lock up two dogs in the cage and let them go. Let's find out what happens. That's a fight I would love. If that fight gets offered, we're taking it."
Masvidal took it a step further, suggesting he had more respect for Nate Diaz than the current welterweight champion, Kamaru Usman. "I want the fights that will push me over the top. The title for me means everything because I don't have it, but Kamaru's not like a dangerous dude. It's not a fight that I'm scared to get hurt in. A guy like Nate, I know he's going to try to rip my head off. He's going to try to take my soul. So those big fights like that motivate me to work out, to get in there."
3. The fans want the fight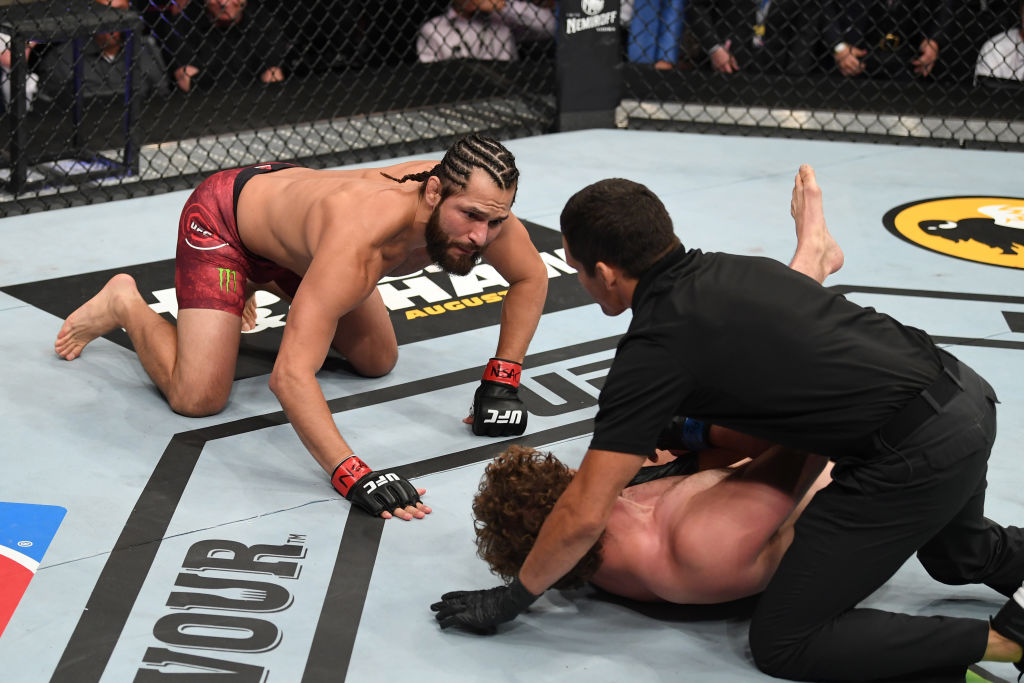 Nate Diaz and Jorge Masvidal are both fan favorites for the way that they approach the sport. Both are always on the attack and looking to end the fight on their terms instead of letting it go to the cards.
The fans at the Honda Center in Anaheim erupted in cheers when Diaz called for his next fight to be against Masvidal. UFC fans on Twitter are clamoring for the fight as well; many want to see this potential bout booked as the main event on a card so that these two warriors will have a full five rounds to go at it.
Both Diaz and Masvidal would love the payday that would come with fighting Conor McGregor next. But both of these fighters know that a match between them would be a higher-quality fight, and it's one the fans would love to see.