Sports
UFC: The 5 Biggest Title Fight Upsets in History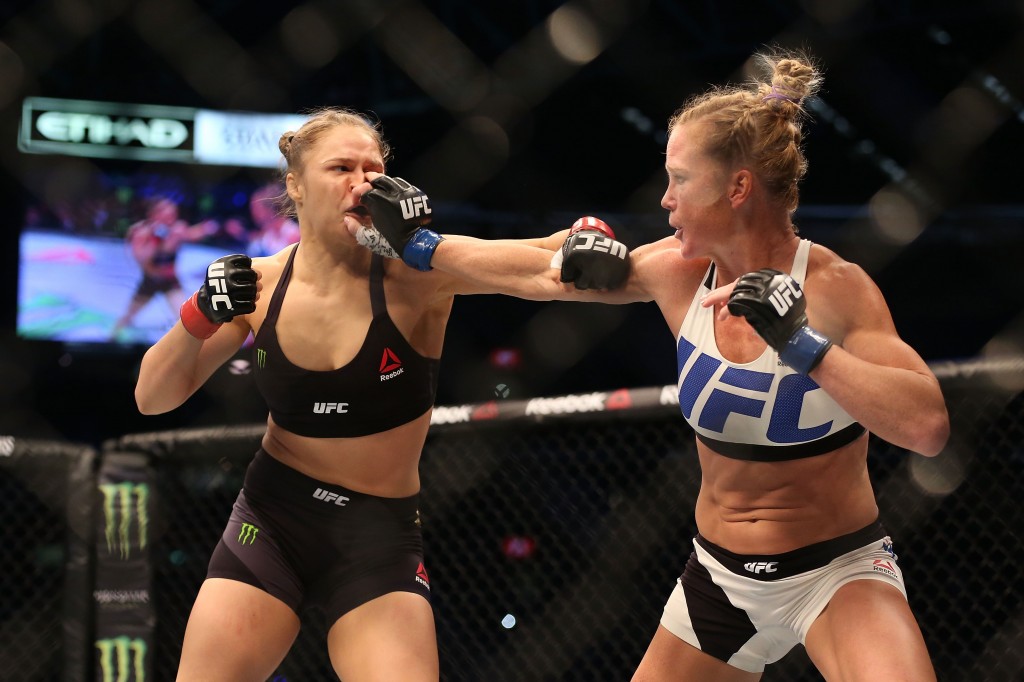 When Holly Holm knocked out Ronda Rousey at UFC 193, there was a lot of talk suggesting it was the biggest upset in UFC history. Some went so far as to call Holm's win the biggest upset in sports history. It was easy to get caught up in those thoughts as Rousey fell to her back, eyes closed, and hit the mat milliseconds after Holm kicked her in the head.
The problem is while Holm's win was spectacular and shocking, it wasn't the biggest upset in MMA, UFC, or sports history. In fact, strictly speaking, it wasn't even the biggest upset in UFC title fight history. As shocking as that may seem, it's true. If you remove emotion from the equation, if you don't get caught up in the hype that built Rousey into some unstoppable force, if you look at just the numbers, the fight remains a big upset — just not the biggest.
The numbers we will consider to determine the biggest upset in UFC title fight history are the closing odds for the underdog fighter. When the final odds came in on Rousey versus Holm, the latter competitor was a +525 underdog. Meaning, if you bet $100, you would get your $100 back plus an additional $525. Now that we have a concrete way to look at the fight, we can determine how big of an upset Holm's knockout was. To find out where UFC 193's main event ranks among the biggest title fight upsets in UFC history, read on.
5. UFC 59: Andrei Arlovski vs. Tim Sylvia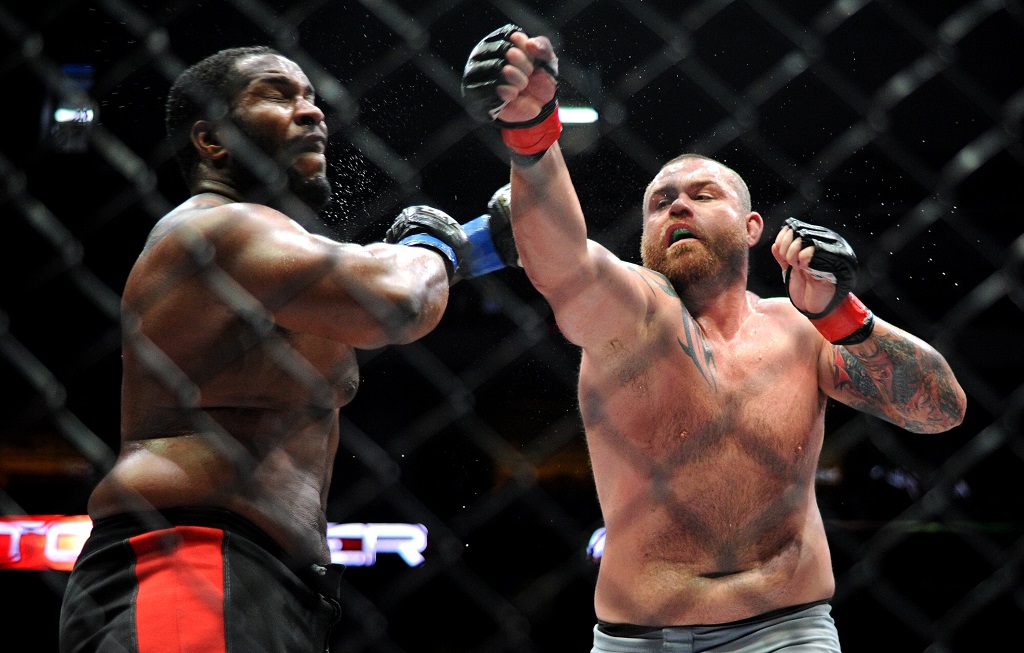 When the final odds closed for this fight, UFC heavyweight challenger Tim Sylvia was a +335 underdog to champion Andrei Arlovski. Going by the eye test, Arlovski should have been a bigger favorite. The Belarusian fighter had a chiseled, well-muscled physique compared to his dad bod-looking opponent. Arlovski also had a 47-second submission win over Sylvia in their first meeting. The two exchanged punches early, and it looked like Arlovski hurt Sylvia in that exchange, but he was unable to capitalize.
A little later in the first stanza, a right dropped Sylvia, and it looked like Arlovski was seconds away from ending the fight on the ground. However, Sylvia was able to regain his feet. Sylvia was still wobbly, and his eyes unfocused when he threw a right of his own, catching Arlovski on the chin. Arlovski dropped to the mat, and Sylvia followed up with strikes on the ground, ending the fight at 2:43 of Round 1. Sylvia would defend the title twice before losing a decision to Randy Couture at UFC 68.
4. UFC 193: Ronda Rousey vs. Holly Holm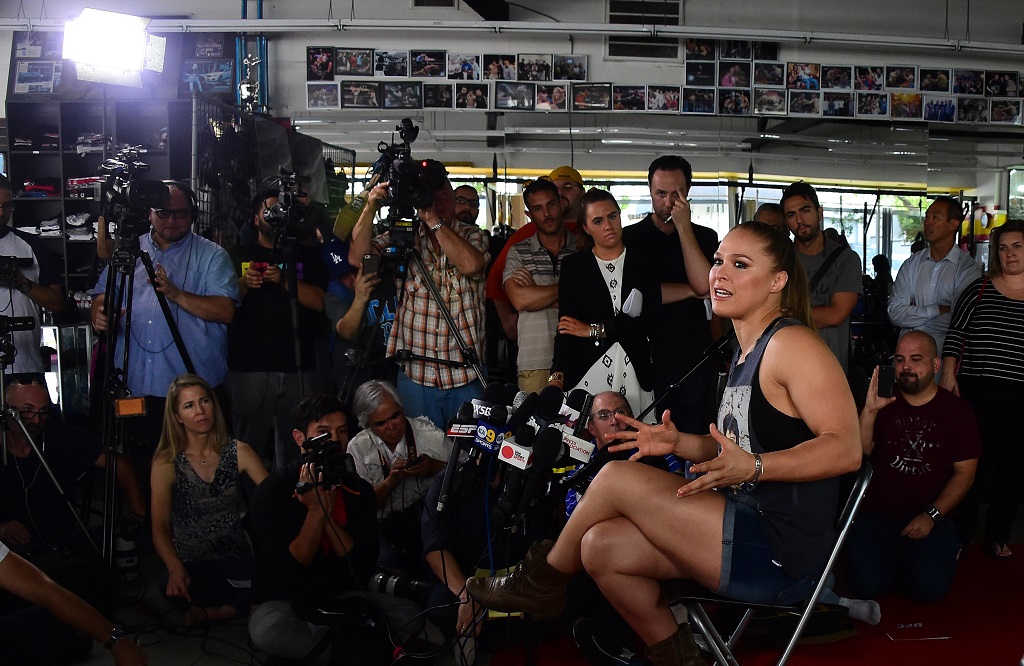 When UFC 193 came around, unbeaten and seemingly unbeatable women's bantamweight champion Rousey was a huge favorite over also unbeaten Holm. When the fight was first announced, Holm was a +1000 underdog; when the odds closed, Holm was a +525 underdog. Those odds did not matter at all once the fight started. Rousey, respecting the boxing pedigree of her challenger, did not rush right in on Holm, which allowed Holm to fight from a distance — her strong suit.
Holm used a perfect game plan throughout the first round, keeping Rousey at a distance, striking from that distance, and remaining calm when the champion was able to get her hands on her. By the end of the first round, Rousey was bloodied and looked winded and confused. The champion did not adjust between rounds and Holm took advantage. The fight came to a close with Holm delivering a head kick that had Rousey falling to the ground unconscious, and just like that, the unbeatable was beaten.
3. UFC 69: Georges St-Pierre vs. Matt Serra
When UFC 69 rolled around, Matt Serra was 5-4 in the UFC. He earned his shot at UFC welterweight champion Georges St-Pierre when he won season four of "The Ultimate Fighter," a season that was deemed "The Comeback." The concept behind the season was to put 16 fighters on the show who had fought in the UFC before without great success and give them a chance to earn a title shot. Serra defeated Chris Lyle to earn that shot.
Early in UFC 69's title fight, Serra and St-Pierre kept their distance. Each fighter got some strikes in, but there was nothing significant until the +550 underdog Serra clipped St-Pierre with a right with little more than two minutes left in the fight. St-Pierre tried to regain his feet, but he was badly hurt, and Serra kept pressing, throwing punch after punch until St-Pierre fell. Once St-Pierre hit the mat, Serra gained full mount and rained down punches, and the fight was waved off. Serra would lose his title in his next fight, a rematch with St-Pierre, falling by TKO in the second round.
2. UFC 112: B.J. Penn vs. Frankie Edgar
By the time UFC 112 was announced, B.J. Penn had established himself as the greatest lightweight fighter in UFC history. He had won the title at UFC 80 and defended it three times before meeting Edgar, who was a +620 underdog to the champion. When the five-round fight concluded, Edgar was awarded the unanimous decision victory by scores of 50-45, 49-46 and 48-47. The fighters' striking totals were almost even; Penn landed 72 strikes to Edgar's 63. But Edgar had a distinct advantage with his movement and pace. He dictated that throughout the fight, while Penn faded down the stretch. Edgar later defeated Penn in a rematch at UFC 118 and held the title until losing to Benson Henderson at UFC 144 in 2012.
1. UFC 173: Renan Barao vs. TJ Dillashaw
When UFC bantamweight champion Renan Barao stepped into the Octagon at UFC 173, he boasted an impressive 32-fight winning streak. Barao had lost his first professional fight in 2005 and had not lost again heading into his fight against Dillashaw, who entered the fight as a +710 underdog. But Dillashaw dominated the fight. The challenger's movement was excellent early in the fight. He feinted, he switched stances, presented difficult angles, and struck from difficult angles.
When Dillashaw dropped Barao with a big punch near the end of Round 1, the fight reached the point of no return for Barao. Dillashaw kept up his attack through the next three rounds. He slowed a bit as the fight progressed, but he did not slow nearly as much as Barao. Dillashaw could have coasted in the fifth round, but he did not. He kept going after Barao, and with less than three minutes left in the fight he found his opening. A head kick wobbled Barao. Dillashaw then used his hands to drop Barao to the mat, where he finished him with strikes on the ground.