UFC Champ Ronda Rousey Sounds Off Before Her UFC 193 Fight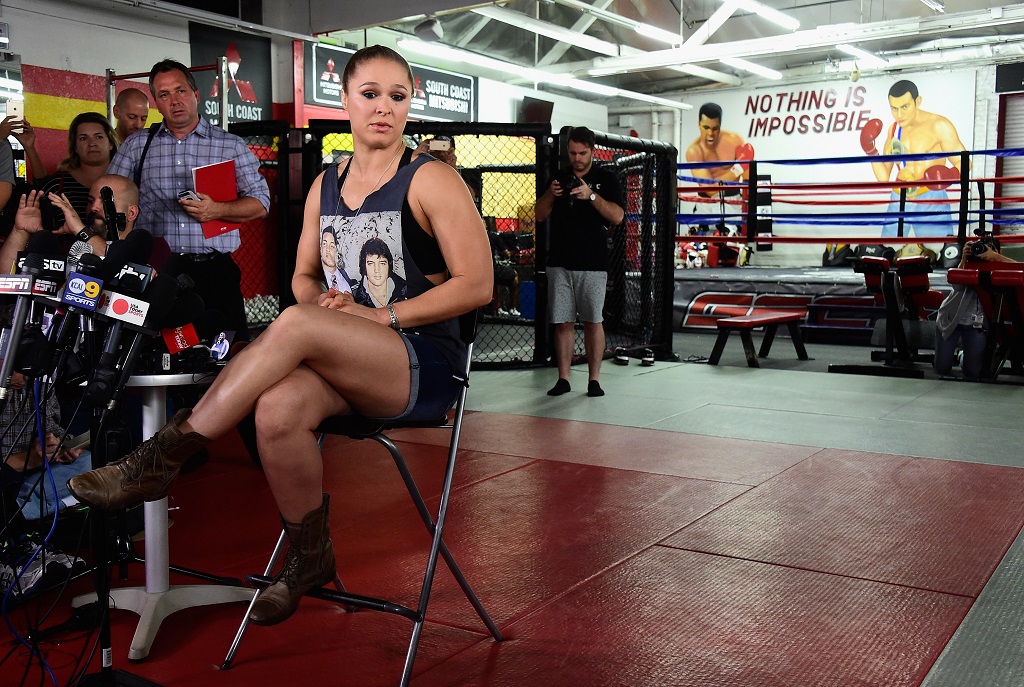 UFC women's bantamweight champion Ronda Rousey will put her title on the line against multiple-time world boxing champion turned MMA fighter, Holly Holm, at UFC 193.
The event will take place on November 14 at Etihad Stadium in Melbourne, Australia, and the UFC is expecting it to be the most attended fight card in the promotion's history. Seating at the outdoor stadium will be arranged to accommodate 70,000 fans. The current attendance record for a UFC event is 55,724 for UFC 129. That event, held at Rogers Centre in Toronto, Canada, featured then-UFC welterweight champion Georges St-Pierre versus Jake Shields as the main event.
Rousey (12-0) is the only fighter to hold the UFC women's title, a title she has defended a total of six times. Rousey, a bronze medal winner in judo at the 2008 Olympics, has won each of her title fights by stoppage, winning three by submission and three by knockout. In fact, Rousey has never gone the distance in her MMA career. The longest fight she had was a 2013 contest against Miesha Tate. That fight lasted 58 seconds into the third round. Rousey's other 11 fights ended in the first round.
Holm is also unbeaten at 9-0, and while she has gone the distance in three of her fights, she has ended the other six by knockout. Rousey recently sat down at the gym she trains at, Glendale Fighting Club, to speak to a large group of media on a variety of topics, including her upcoming fight against Holm. What follows are the key takeaways from that event.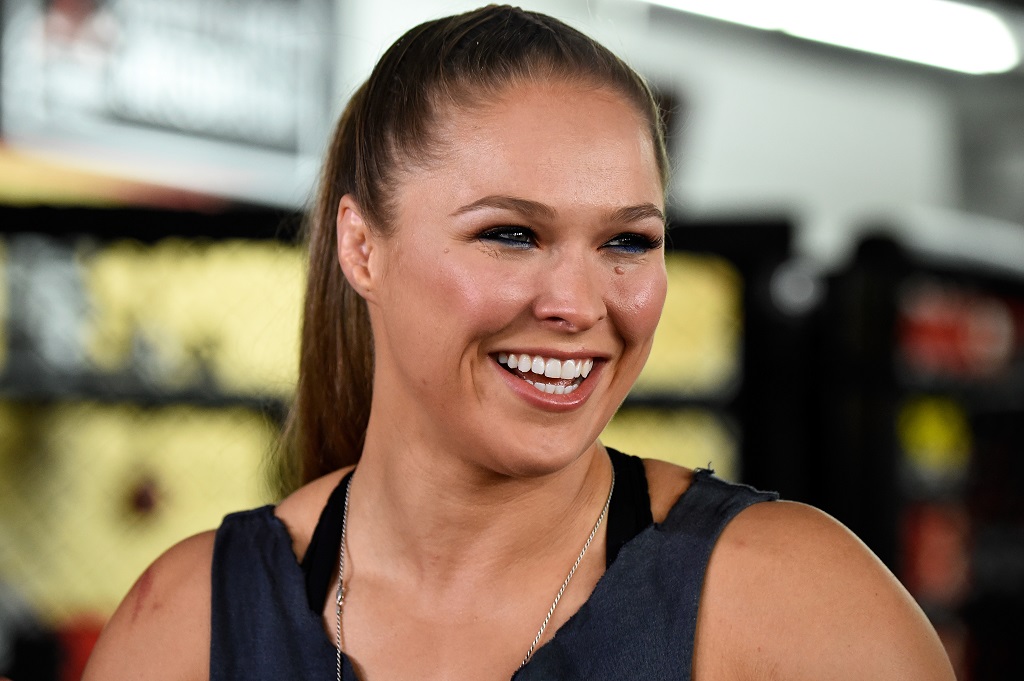 On finding motivation
"I still get it from never winning the Olympics. That was my childhood dream."
"I spent my whole life in pursuit of that, and I had to give that up and I had to really come to terms that it wasn't for me, and I've always been really heartbroken from that in a way. In a way that I'm still very grateful for, because if I did win the Olympics I wouldn't have this never-ending resource of motivation that I have."
"Every single time I go out there to defend my title it's like another chance to redeem myself, but it's never quite an Olympic gold medal."
On being a role model
"It's very flattering. I try and do my best. Sometimes I think I'm not infallible enough to be the perfect role model for little girls. I try my best, and that's the best that I can do.
"I'm sure some mothers are happy about it, and some of them don't approve, and that's up to them and how they chose to parent and whether they would want to encourage them or not."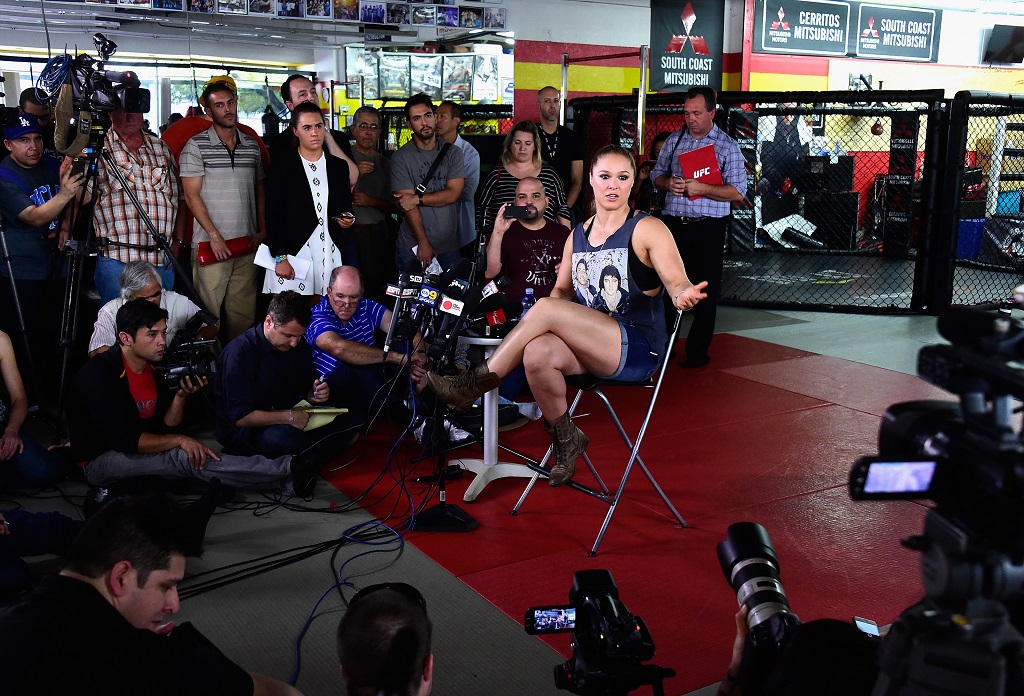 On her goals
"I want to be remembered as one of the greatest fighters of all time."
"What I would love to do, I got an Olympic medal, I would want to retire from MMA as one of the greatest of all time. I would love the chance to be the boxing world champion. I would love to have the chance to be a jiu-jitsu world champion, and I would love to have the chance to be the [WWE] Divas world champion and just be the best at everything at one point… How that is possible to do, I'm going to have to figure that out, but I'm trying to figure that out."
On Nick Diaz's five-year marijuana-related suspension
"You know what it reminded me of? It reminded me of, say you got a parking ticket and you didn't pay for it and you got another one and didn't pay for it. No matter how many tickets you got you never deserve life in prison."
"Yeah, you could be a repeat offender, and you could not be paying it. You could do all of the worst things that could ever be associated with parking tickets, but at the end of the day it's a parking ticket, but you don't deserve life in jail, and they are pretty much trying to keep him from fighting ever again. Five years is really the rest of the shelf life that he has, and I think that punishment is cruel."
"I don't think they should be testing for weed at all. It has nothing to do with sports. They keep saying it is for the safety of the fighter, so they don't go out there and get injured. So why aren't they testing us to make sure we are not drunk? Why are they testing for one thing and not the other? You should test for performance-enhancing drugs only."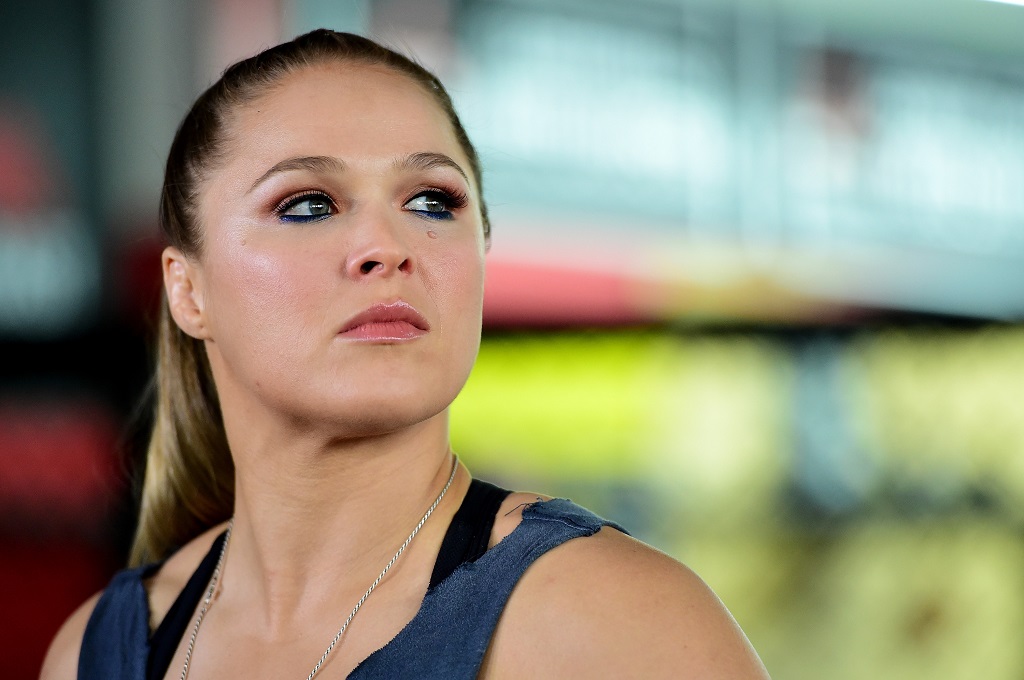 On turmoil
"It's kind of weird. It's like the more chaotic everything is outside, the better I do in fights. You know the best performances I've ever had, I was in the most emotional turmoil beforehand. It's like, this is what I do to be able to fix myself."
On accomplishments in UFC
"I don't feel it until right after I win. I feel like it's all in peril right now. Until I beat Holly, I can't revel in anything. I have to beat Holly first, and then I'll have that moment where I finally get away from everybody, and I'll have to take a shower, and I'll finally be alone, and I'll be looking in the mirror like, 'What the hell did you just do today? What happened?'"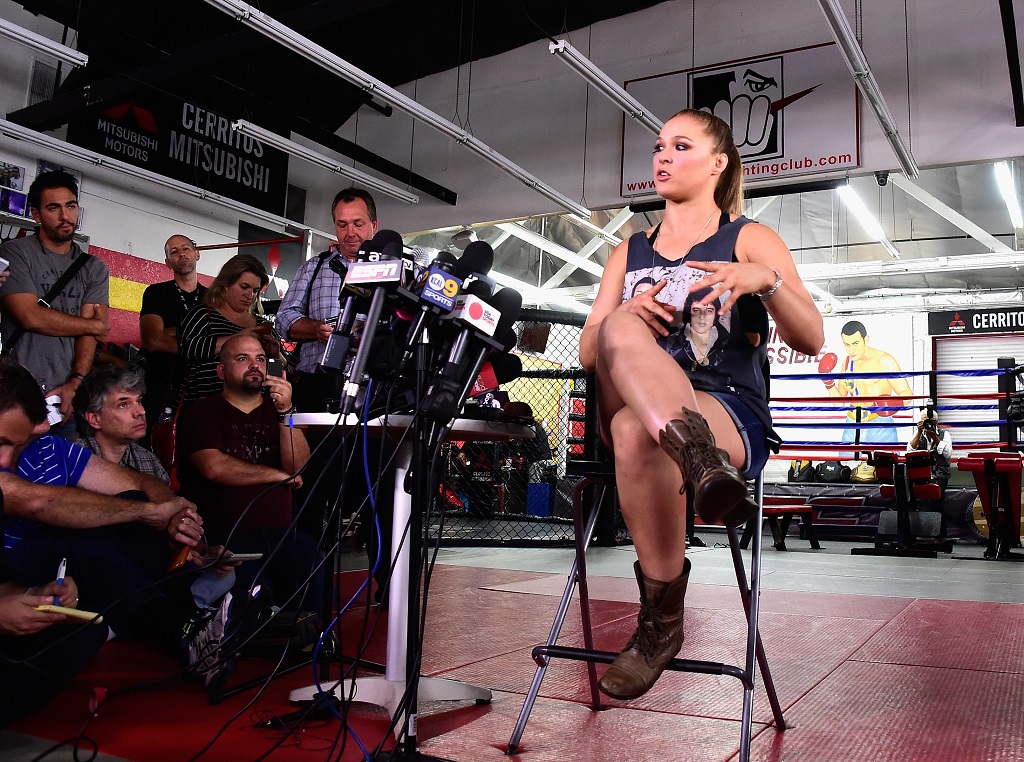 On Roadhouse
"It's a lot of pressure. It's not something I took, it's something that I pursued for two years. For two years I was like, 'I want to do Roadhouse, Roadhouse.'"
"There's a lot of pressure because it's such a beloved movie, and a cult classic and everybody loves it, but that's one reason I wanted to do it so much. I don't think anybody else would care as much as I do about it and want to do a good job as much as I do."
Her favorite UFC fighter
"Mighty Mouse [UFC flyweight champion Demetrious Johnson] is my favorite right now because he's so well-rounded and so fast. He kind of reminds me of those scenes in Dragon Ball Z where they're moving so fast that you see a blur, and then you'd see them still for a second and then they'd blur again."
"I think he's awesome. I think he's cool to watch fight, and I get a lot of good ideas from him, when I watch him."
On Holly Holm's training
"I think that one of Holly's greatest strengths is the camp that she's with and the coaching she receives, and she's very good at staying disciplined and staying to a game plan. They're amazing at coming up with game plans and so that's one reason I'm going to be at the top of my game at this fight. She's going to be a bigger challenge than ever."
"Everybody tries to come at me in different ways, and I think their approach is going to be the most strategic and well-thought-out, but no amount of strategy can beat me, and I'm going to show them that."