UFC: Does Thiago Santos Deserve a No. 1 Contender Fight When He Returns From Injury?
Ever since Jon Jones won the UFC's light heavyweight title in 2011, he's been the baddest man in the division. He's fought everyone who dared to challenge him, and he's beaten them all comfortably. That was until he faced Thiago Santos in July of 2019. Santos is one of the top fighters in the division, but should he be a top contender when he returns from a recent knee injury? Let's find out.

Who is Thiago Santos?
Unlike Jon Jones, who is practically undefeated, Thiago Santos has had a lot of ups and downs in his career. Santos joined the UFC in 2013, and in his first fight, he was choked out by his opponent. He won his very next fight, but then he lost the one after that. That is a recurring trend in Santos's early UFC career.

Anytime that Santos gets in his groove and starts knocking people out, the UFC gives him a highly skilled opponent, and Santos usually loses that fight. The most recent example of that trend was when Santos knocked out four men in a row in brutal fashion, including future title contender Anthony Smith. But then the UFC paired him up with David Branch, who was ranked at the time, and Branch knocked Santos out in the first round.

That set a fire in Santos, and he decided to move up in weight class to light heavyweight. Once again, he started knocking people out. Unlike before, however, when the UFC gave him a highly skilled opponent, Santos didn't lose. Instead, Santos won, and once again, he won by knockout. That's how he got a shot at Jones.
Jon Jones vs. Thiago Santos
Although Santos had knocked out other highly skilled men, many people doubted him. Jones was legendary in the UFC, and he's had only had one close fight in his entire career. Santos had the odds stacked against him, and many people expected him to lose easily. However, when the two men fought, that wasn't exactly what happened.

Thiago Santos was competent and strong in every area of the game. The fight was very even, but unfortunately, Santos hurt both of his knees in the middle of the fight. He didn't quit, though, and he kept giving Jones everything that he had. Despite having two good knees, Jones couldn't capitalize on anything.

The fight ended after five rounds. Jones won, but it was by a very close and very controversial split decision. Many fans and many media outlets scored the fight in Santos' favor. While Santos takes a break and recovers from his knee surgeries, that close decision will be one of the main reasons why he wants to fight a dangerous opponent when he returns in 2020.

Does Santos deserve to be a contender when he returns?
Fortunately for Thiago Santos, the light heavyweight division doesn't have too many great fighters. Jan Blachowicz, whom Santos knocked out before, will fight Corey Anderson for the next title shot. Anderson shocked the world and knocked Johnny Walker out at UFC 244, and that's why he's so close to fighting for a title.

The only other person who could be fighting for the title soon is Aleksandar Rakic, and he has a fight scheduled in late December 2019. That said, other than these four names — Anderson, Blachowicz, Rakic, and Santos — there aren't many people at light heavyweight for Jones to fight in the future.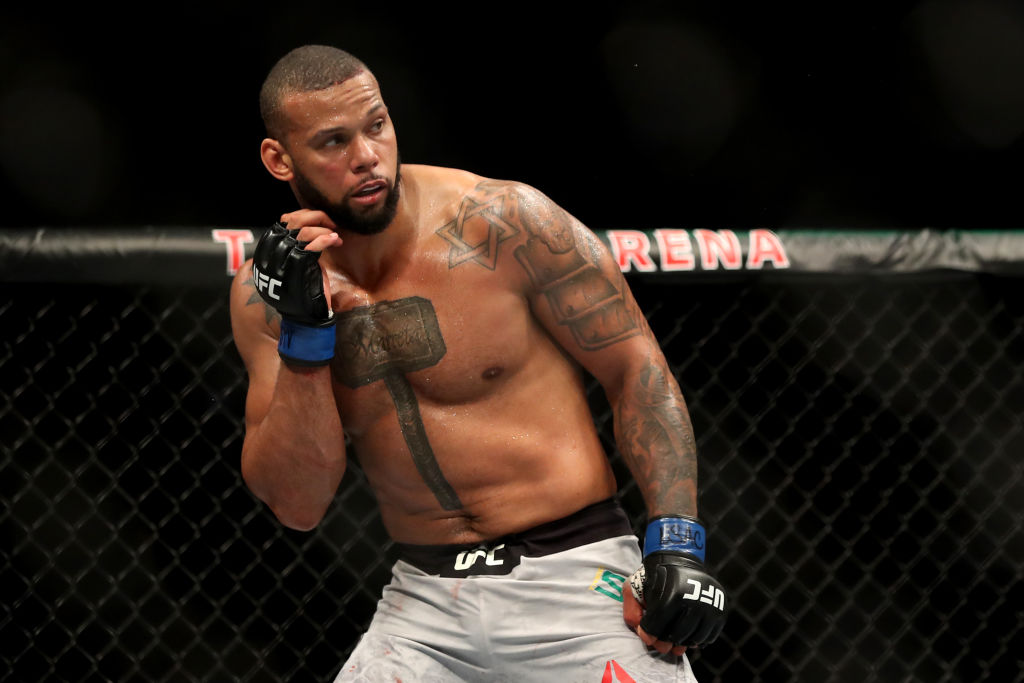 That's why Thiago Santos is asking for a fight against the No. 1 contender when he returns in 2020. He knows that with the way the division is going, there aren't many men left to fight Jones. By beating any one of them, Santos can secure a rematch against Jones, assuming Jones keeps winning.

That said, there is some danger there. Santos is recovering from double knee surgery, and he doesn't want to permanently damage his knees. And, there's also the issue of ring rust. Santos probably won't be fighting for a while, so all of that could mean that he becomes a worse fighter when he does. Either way, Santos, if he fully recovers, won't be far from a title shot.