'UFC Godfather' John McCarthy Has a Surprisingly Low Net Worth After Refereeing Hundreds of MMA Fights
While the two UFC fighters who face each other in the octagon get all of the attention, there's always a third person with them at all times. MMA referees are as important as the fighters themselves. "Big John" McCarthy is one of the most recognizable officials. As the godfather of UFC refereeing, you'd think his net worth would be substantial. But this isn't quite the case.
'Big' John McCarthy's fight record
RELATED: This Crazy UFC Fight Would Never Happen Today
As ESPN reports, McCarthy is a legendary figure for MMA fans and may be a future Hall of Famer. He's had a long, influential history in MMA. McCarthy has trained in several forms of self-defense. He was hired to be a bodyguard for Royce Gracie, and at UFC 1, Gracie fought in the tournament to become the eventual winner.
McCarthy watched from the sidelines. After that, he became a referee for the UFC. He started reffing fights at UFC 2. Since this was back in the wild days, there weren't many rules. The sport seemed too brutal for mainstream audiences. But McCarthy suggested rules, and eventually, those guidelines became part of the rules still in use today. 
That said, McCarthy was not tied to the UFC at the hip. Just like other referees, He worked on fights in other organizations, including organizations that competed with the UFC. While that's helpful for his bank account, he didn't retire as a rich man.
John McCarthy's net worth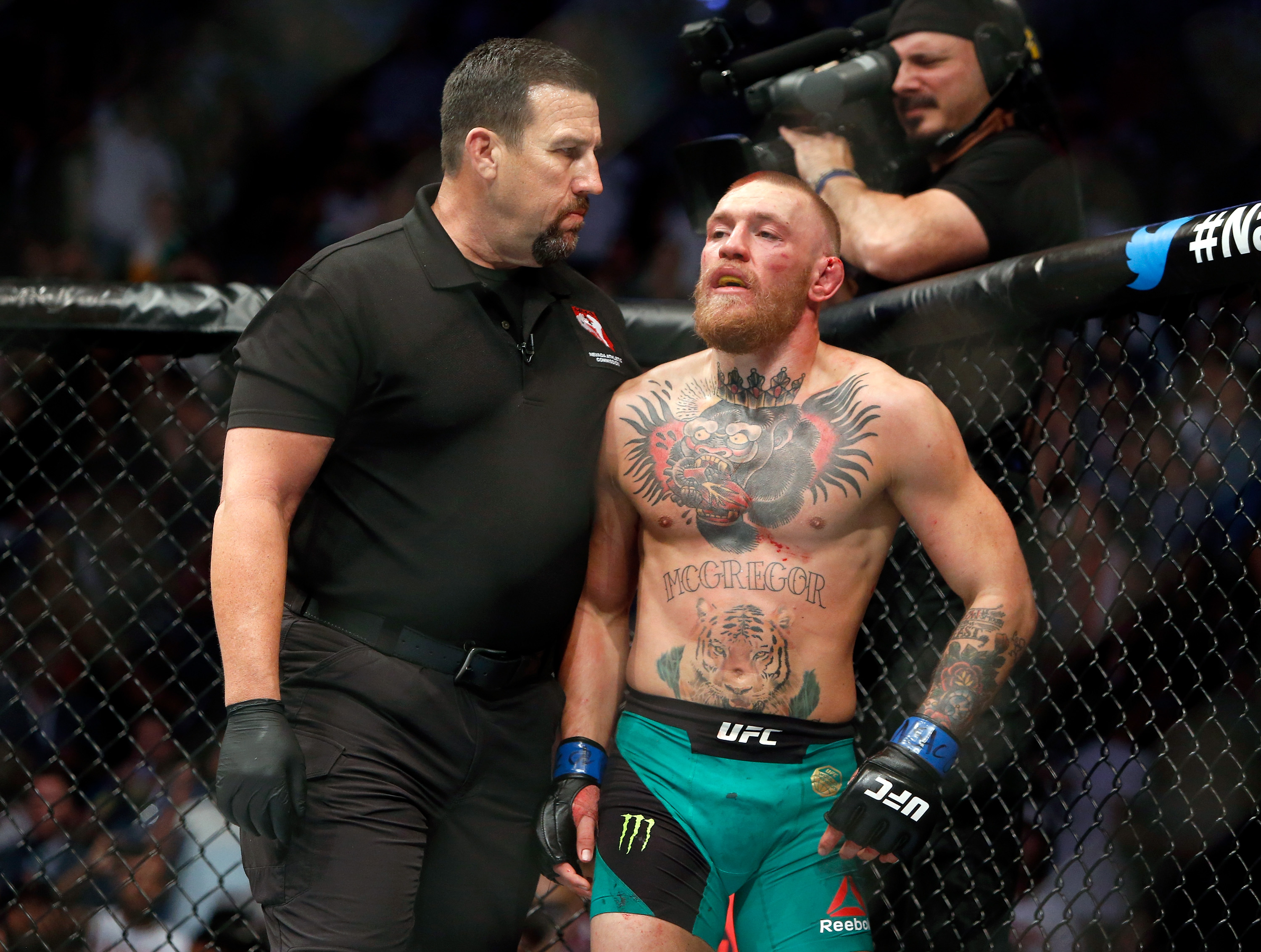 RELATED: Why the UFC Chose Denver for Its 1st Ever Fight: 'Colorado Had a Loophole in the Law'
While referees are essential to the sport, their paychecks don't always reflect this. Like with any other job, the pay varies based on several factors. For more amateur and low-level work, Celebrity Net Worth reports that a ref can expect to make just a few hundred bucks. Of course, since McCarthy has so much experience, he probably got paid more than other refs.
Plus, for big events like a UFC card, McCarthy made more money than usual. However, even with high-profile fights, McCarthy and other refs don't actually make that much. In fact, according to Celebrity Net Worth, when McCarthy reffed the championship fight between Conor McGregor and Jose Aldo, he was only paid $1,900. By comparison, even the lowest-paid UFC fighters make at least $10,000 a fight.
McCarthy's net worth is surprisingly low despite how long he's worked in MMA. Indeed, Celebrity Net Worth reports that he has a net worth of just $1 million.
Why did John McCarthy leave the UFC?
However, the difference between reffing a fight and fighting a fight is volume. As ESPN reports, McCarthy estimated that he reffed about 100 events a year, and these events were probably at different places around the world. So, while he wasn't hurting financially, he was hurting in other ways.
As McCarthy told ESPN, "Look, I'm getting older. I have a bad neck. I'm all messed up and it's giving me problems." On top of that, his grueling schedule meant that he had to spend a lot of time away from his family, which he naturally didn't want to do anymore.
Although he didn't plan to retire in 2018, the Bellator president called him one day asking if he wanted to audition for the role of being a commentator for Bellator. He surprisingly won the role and, due to the fact that the organization competes with the UFC, McCarthy has essentially cut ties with the UFC. Regardless, this new gig is much easier than reffing, and McCarthy seems to be enjoying it so far.