UFC Heavyweight Champ Francis Ngannou Punches So Hard He Generates the Same Horsepower as a Car
Heavyweights, whether in boxing or the UFC, hit hard. There's a lot of debate about just how hard they hit, but some people are going out of their way to measure exactly how hard a heavyweight hits. That's how people discovered that the UFC heavyweight champ, Francis Ngannou, punches with the same horsepower as a small sedan.
Francis Ngannou's rise to the top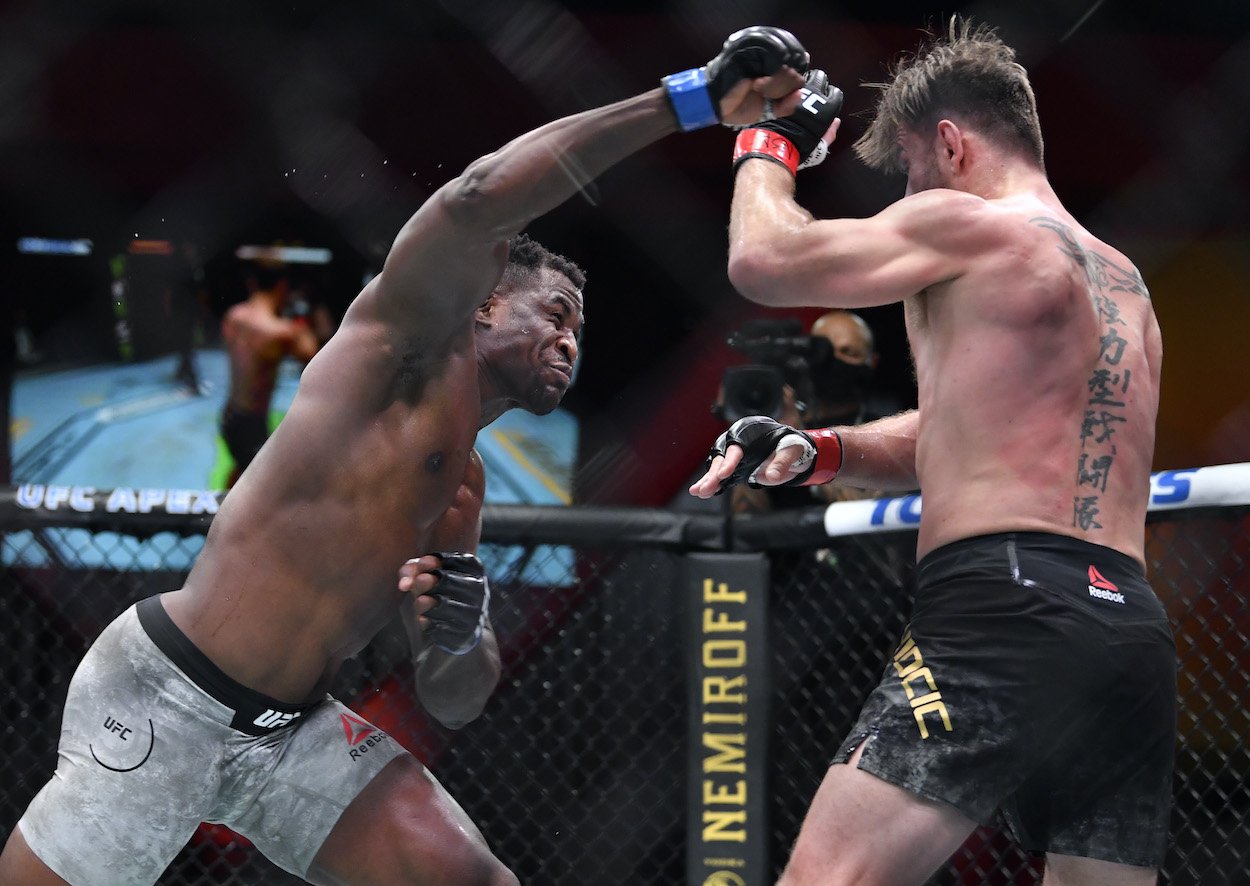 Ngannou made his UFC debut in late 2015, and at the time he had a 5-1 record, reports UFC Stats. However, he quickly proved himself as a knockout artist, In two years, Ngannou won six fights in a row, including five knockouts. That impressive record earned him a title shot against the champ, Stipe Miocic, in 2018. But this title shot proved to be premature. 
Miocic, who's a pretty good wrestler, avoided striking with Ngannou and instead took him down to the ground. Their gap in wrestling skills earned Miocic an easy decision win. However, despite fans expecting a rebound, Ngannou lost his next fight. This time, he lost in a very boring decision against Derrick Lewis. 
With two losses in a row, Ngannou seemed to be at a slump. But he made the necessary changes soon enough. After four wins in a row, all of them by first-round knockout, he earned a rematch against Miocic. This time, Ngannou proved his doubters wrong, and he actually was able to wrestle with Miocic. Not only that, but he fought smartly, and he was able to knock out Miocic in the second round. 
Just how powerful is Ngannou?
Many of Ngannou's opponents have multiple knockouts on their resumes. But Ngannou was able to knock almost all of them out. Many of his knockouts are true knockouts. Ngannou's opponents often stay unconscious for a minute or two after the blow. That type of power is impressive. Just to find out how impressive it really is, the UFC measured exactly how hard Ngannou punches. 
As talkSPORT reports, the UFC had Ngannou throw two punches so scientists could record and measure the power of those punches. The first punch, an overhand right, generated 129,161 units, and that broke the UFC's records. The second punch, an uppercut, generated 122,000 units. Both punches broke the UFC's record and translated to horsepower, it's equivalent to about 93-hp. That's roughly the same amount of power as a small car.
Ngannou was a fan of Mike Tyson growing up, so it's no surprise that both men have the touch of death with their hands. While Ngannou is almost definitely the harder hitter now, Tyson in his prime would give Ngannou a run for his money. However, Tyson never had his punch measured like Ngannou; it's impossible to give the two men a fair comparison.
Francis Ngannou's future in the UFC
Thanks to Ngannou's devastating UFC career, he's fought and knocked out almost every heavyweight in the division already. As such, there are really only three options for him. The first is a rematch against Lewis. Lewis does deserve a title shot, and Lewis did beat Ngannou the first time, so Ngannou may want to avenge that loss. 
The second possibility is a trilogy fight with Miocic. Both men have won one fight against each other so far, and both fights were pretty decisive. As such, the UFC may want to do it a third time to see who's the better of the two.
However, another possibility is Jon Jones. Recently, Jones relinquished his light heavyweight belt so that he could move up to heavyweight. That being said, nobody has fought him at heavyweight yet, and many believe that Jones deserves a shot at the title already. If Jones wins, then he can cement his legacy of being the GOAT.