UFC Heel Colby Covington Isn't Worth as Much as He'd Like You To Believe
Not a lot of people like Colby Covington, but in fairness, that's exactly his goal. He likes to play the heel, which is another way of saying that he acts like a villain, but this act hasn't earned him a lot of friends, nor has it earned him a lot of money. Here's a look at much Colby Covington is really worth.
Colby Covington was a good, but boring fighter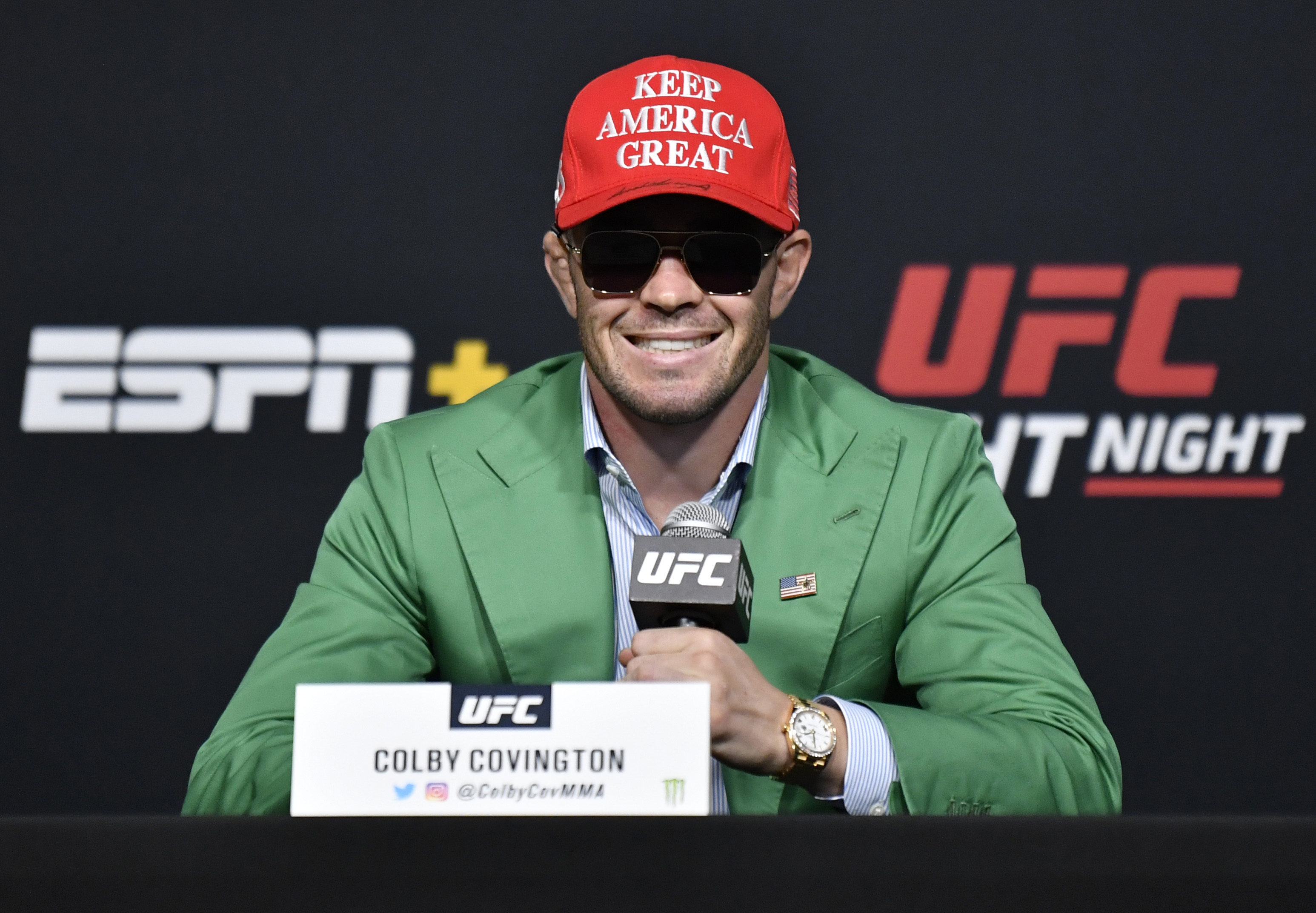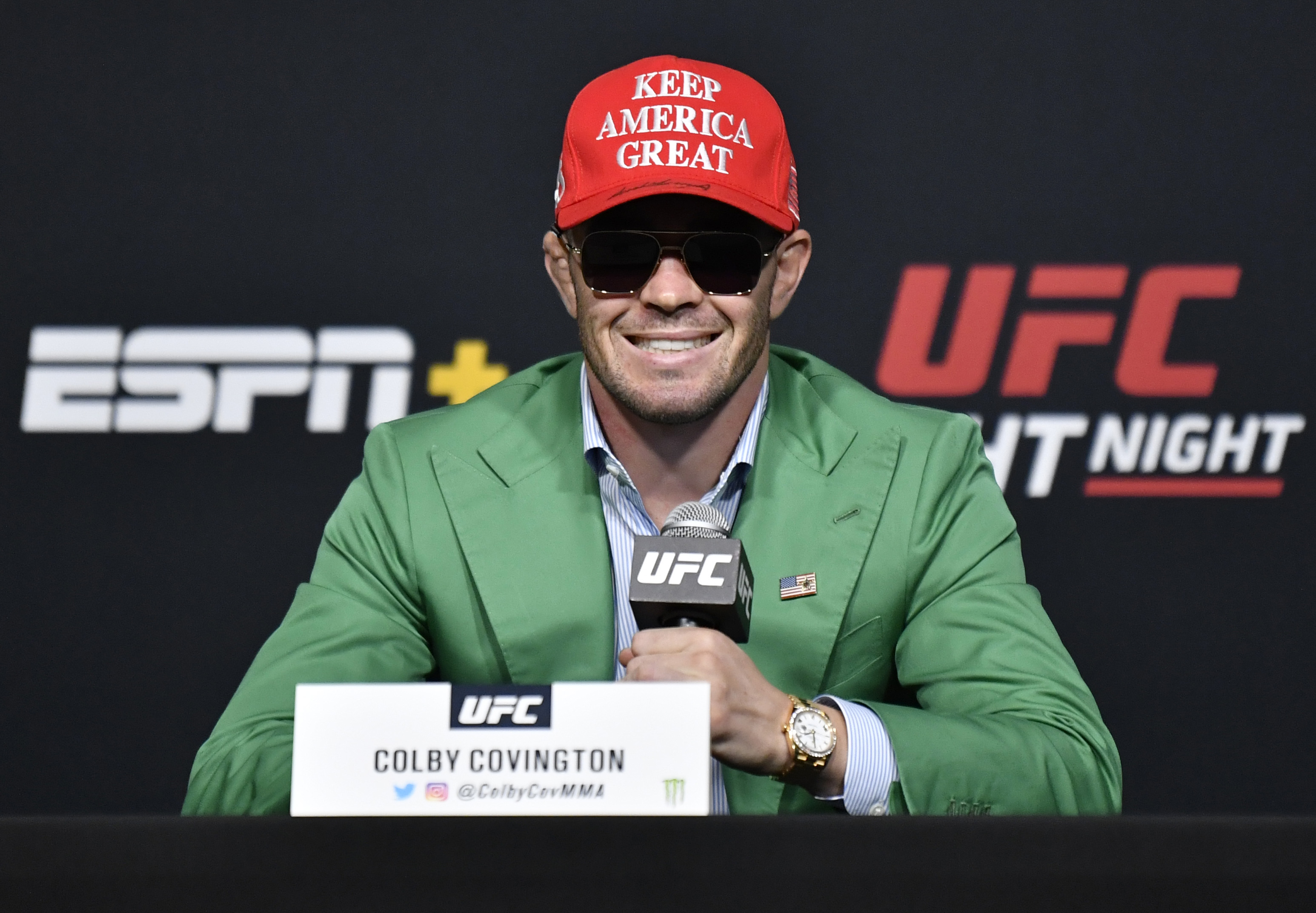 Like many of the best fighters in the UFC, Covington had a wrestling background, and unsurprisingly, he uses his wrestling a lot in his fights. While some of the best wrestlers in the UFC, such as Henry Cejudo or Khabib Nurmagomedov, will use their wrestling in exciting ways to finish the fight, some wrestlers will use their wrestling in more boring ways that don't really excite fans. 
That was Covington's strategy, and he was very successful with it. By 2017, he had a record of 12-1, and he won most of his fights due to his wrestling abilities. That said, he was a boring fighter, and he didn't have much of a personality at the time.
In fact, according to MMAFighting, at that point in time, despite having so many wins to his name, the UFC told his manager that they weren't going to re-sign him after he fought Demian Maia in late 2017.
Becoming the UFC's heel
After he beat Maia in Brazil, which is Maia's home country, Colby Covington said some really provocative things to the Brazilian crowd. That's when Covington, the heel, became a real thing.
Brazilians hated him from then on, and Brazilian fighters in the UFC from all weight classes wanted a piece of him. The UFC couldn't fire him anymore, since he instantly made a name for himself with his actions. 
That was the start of Covington's heel character, but he's been building it ever since. He started trash-talking everyone, including UFC fans, on social media, he started posing with models and bragging about his sex life, and among other things, he also started praising Donald Trump's administration. After he won the interim title in 2018, he visited the White House to pose for some pictures with the president. 
Although he was stripped of his title not long after, in his next fight, Trump's sons had ringside seats to watch Covington fight Robbie Lawler. That said, in his very next fight against Kamaru Usman, Covington was knocked out in the fifth and final round.
Despite this loss, Covington continued building his character, this time taking shots at the UFC as well at his fellow fighters. That's currently where Covington is at today, but he can continue evolving. 
How much Colby Covington is worth?
On social media, Covington likes to show off his lifestyle, but when his net worth is compared to actually wealthy fighters, it's clear that he isn't as rich as he'd like his fans to believe.
In fact, Celebrity Net Worth said that Covington is only worth about $2 million. This isn't actually that surprising, since he wasn't really well-paid in his fights before he became a heel.
On top of that, even after he became a heel, he didn't actually fight that many times. As a result, he didn't make that much money in total. For example, after beating Maia and becoming a heel, he's only had about four fights afterwards.
That said, at the very least, he was well-paid in those handful of fights. MMAJunkie reported that when he fought Usman, he was paid about $500,000 flat. But of course, Covington isn't retired yet, and he still has time to make more money.