UFC: Is Joseph Benavidez's Career Over With His 0-4 Title Record?
The flyweight division is one of the most competitive divisions in the UFC. Now, it has a new champion. On Fight Island, Deiveson Figueiredo fought and defeated Joseph Benavidez for the second time to become the flyweight champ. While this may be the fourth time Benavidez has lost a title fight, it's likely not his last chance at winning gold.
Joseph Benavidez's recent fight
RELATED: A Breakdown of How UFC Fighters Get Paid
Like MMAJunkie wrote, Benavidez recently rematched with Figueiredo on Fight Island. In their first outing, which happened in late February, the two men fought for the vacant title, but since Figueiredo missed weight, he was not eligible for winning the title. In that fight, Figueiredo's power shined and he was able to knock Benavidez out in the second round. 
But, since Figueiredo missed weight, he didn't get the title despite the win. And so, the two men had a rematch, and this time, Figueiredo made weight. And once again, Figueiredo's power was too much for Benavidez, as he was able to knock Benavidez down and then choke him out in the first round. 
This isn't the first time Benavidez has lost a title fight. He's currently 0-4 when it comes to his title fights in the UFC. However, despite that poor track record, he's still regarded as one of the best fighters to never win the belt.
Benavidez is a beast in non-title fights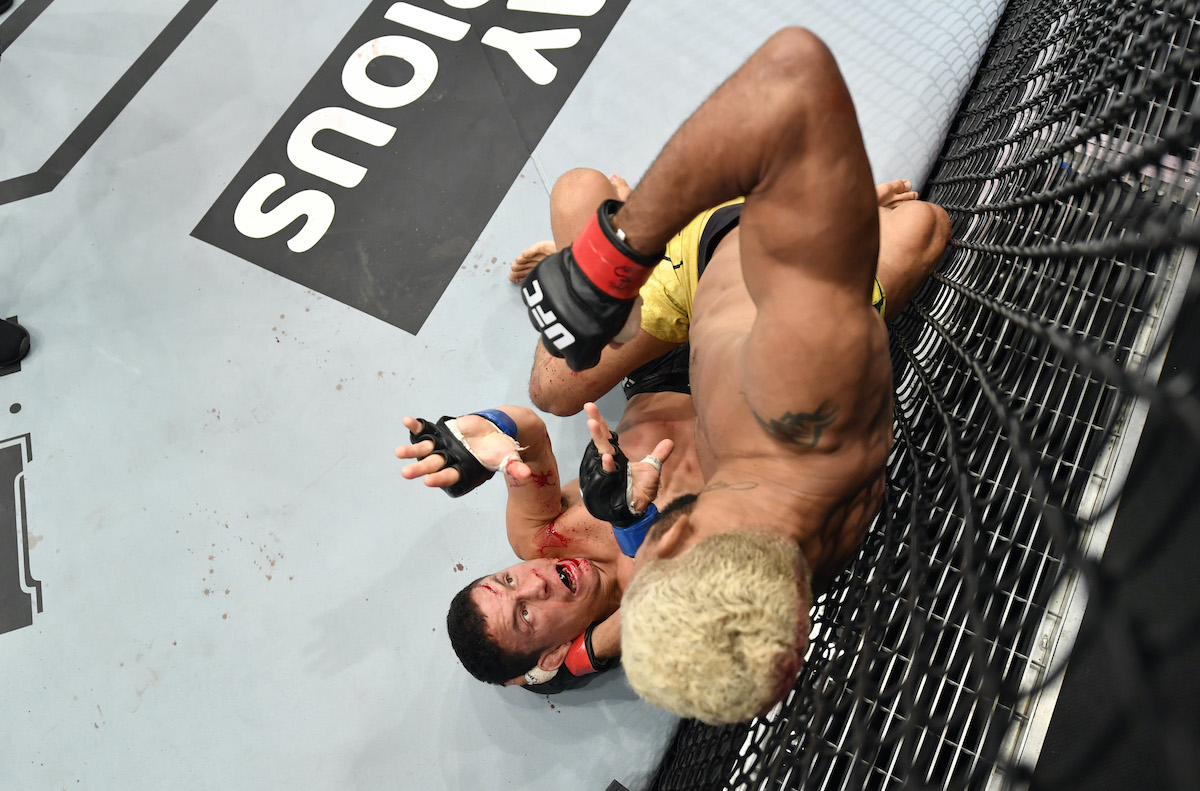 RELATED: What Are the Most Well-Paid Weight Classes in the UFC?
Benavidez has been fighting for a long time. He's one of the many fighters who joined the UFC after the UFC merged with the WEC in 2010. He joined the UFC with a 13-2 record, with his two losses coming from the future UFC champ, Dominick Cruz. As proof of how highly skilled he was, he fought Demetrious Johnson for the inaugural flyweight belt. 
But of course, he'd lose that fight. He made a rebound by winning his next three fights in a row, and the UFC thought that he deserved another title shot. This time, Johnson knocked him out in about two minutes. After this loss, it was clear that Benavidez probably wouldn't get another shot at the belt as long as Johnson remained as the champ.
Soon enough, Henry Cejudo beat Johnson in a close fight, and after defending his belt once, Cejudo vacated the belt, leaving it open for Benavidez to claim. Unfortunately for Benavidez, he fought Figueiredo twice for the belt, and he came up short both times.
With that said, Benavidez fought 10 more times between his second title shot against Johnson and his most recent ones against Figueiredo, and he won 9 of those fights. This means that, in the UFC, Benavidez has a 15-1 record in non-title fights. In fact, he even beat Cejudo once, but that fight wasn't for the title.
Joseph Benavidez isn't retiring just yet
After his second loss to Figueiredo, Insider reports he was very emotional. However, his wife, Megan Olivi, who also works for the UFC, was there to support and console him. But, despite the fact that he lost in another title fight, he's still in good spirits. Insider reported that he said, "I've died freaking 100 times, what's another death."
Furthermore, like MMAJunkie wrote, he has no plans to retire just yet. Many commentators and fans think that he should retire, but his record in non-title fights prove that he's still one of the best in the world in his weight class.
On top of that, Figueiredo has only one loss on his record, and that was to Jussier Formiga. Interestingly, Benavidez has fought and beat Formiga twice. This fact shows that Benavidez may eventually learn how to beat Figueiredo and finally win the belt.