UFC: Jorge Masvidal's Next Career Move Could Come Straight From the Conor McGregor Playbook
After winning the inaugural BMF belt, Jorge Masvidal is at the top of the UFC ladder. Everyone's wondering who he'll fight next, and Masvidal's answer is somewhat surprising. In fact, his answer is straight from Conor McGregor's playbook. Before we find out what Masvidal has planned, let's look at his UFC rise and the skills that might lead to a slight career change.

Jorge Masvidal's career so far
From boxing in the backyard to fighting in the biggest arenas on Earth, Masvidal's career has always been about two things, his left hand and his right hand. Masvidal has always been a striker, and he always liked to throw his combinations of punches at his opponents.

Sometimes it wouldn't work, and he'd get wrestled and held on the mat by opponents. Other times, the other man would have better punches and kicks, and Masvidal would get beat up that way instead. Regardless, Masvidal has, for most of his career, not gone anywhere. He'd win some, but he'd lose some, and many fans thought that he was just going to be a nobody.

That was until 2019, when he brutally knocked out two of the best fighters in the world, including when he knocked Ben Askren out in the fastest knockout in UFC history. At that point, Masvidal became something else. And when he won that BMF belt by beating Nate Diaz, Masvidal became as big a deal as Conor McGregor or Khabib Nurmagomedov.

Becoming a real boxer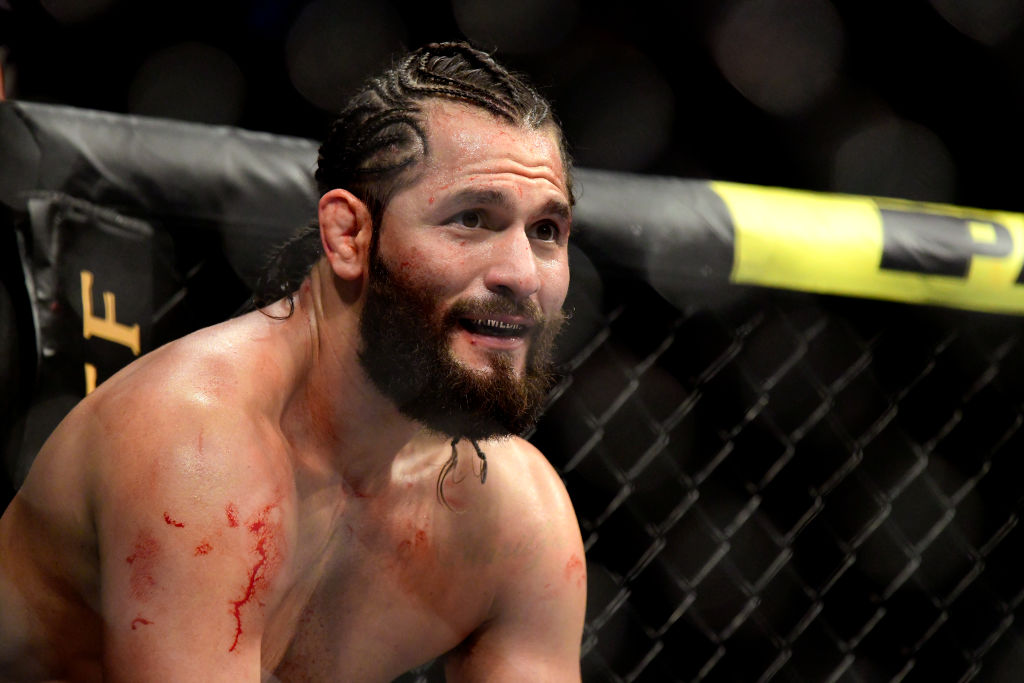 Although Masvidal has always loved to box, he never was a true professional. Technically speaking, Masvidal boxed professionally in 2005. He beat his opponent, a man named Joseph Benjamin, in a four-round majority decision. That was Masvidal's only professional boxing bout, but he wants to have a second one, this time, against Canelo Alvarez, a boxing champion in four weight classes.

Jorge Masvidal is serious about wanting to box Alvarez. Masvidal says that he brings a lot of things to the table that are reasons why he may win that fight. He admits that Alvarez is definitely a better boxer than he is, but still, Masvidal claims that he has some cards up his sleeve.

For example, Masvidal says that he's a bigger man than Alvarez is, and that's true. Masvidal also says that, after watching Conor McGregor fight Floyd Mayweather, he realized that boxers can't predict MMA fighters as well as they can predict boxers. Because of that, Masvidal thinks that he can surprise Alvarez and knock him out.

Why Canelo Alvarez isn't interested in fighting Masvidal
In response to Masvidal, Alvarez said that a fight with Masvidal wouldn't be a challenge for him, according to Yahoo News, and so, he wasn't interested in the fight at all. Alvarez also says that he knows that Masvidal only wants to fight him for the money, and that's likely very true.

As the McGregor-Mayweather fight and other similar fights showed, MMA fighters who try boxing usually lose, and boxers who go into MMA lose. If Masvidal goes into a boxing match with Alvarez, then Masvidal will likely lose. So in terms of competition, Alvarez doesn't have a good reason to be interested in the fight, as he knows he'll probably beat Masvidal.

On the other hand, a fight between those two men will make them millions. Boxers are paid much better than UFC fighters are, and Alvarez isn't an exception. Alvarez has already made millions of dollars in his career, whereas Masvidal is only just starting to make good money. It makes sense for Masvidal to pursue the fight as it'll make him millions more, but Alvarez already has his millions.

That's probably why the fight will never happen. Unless Masvidal wins a boxing title, Alvarez probably won't accept a fight with him.