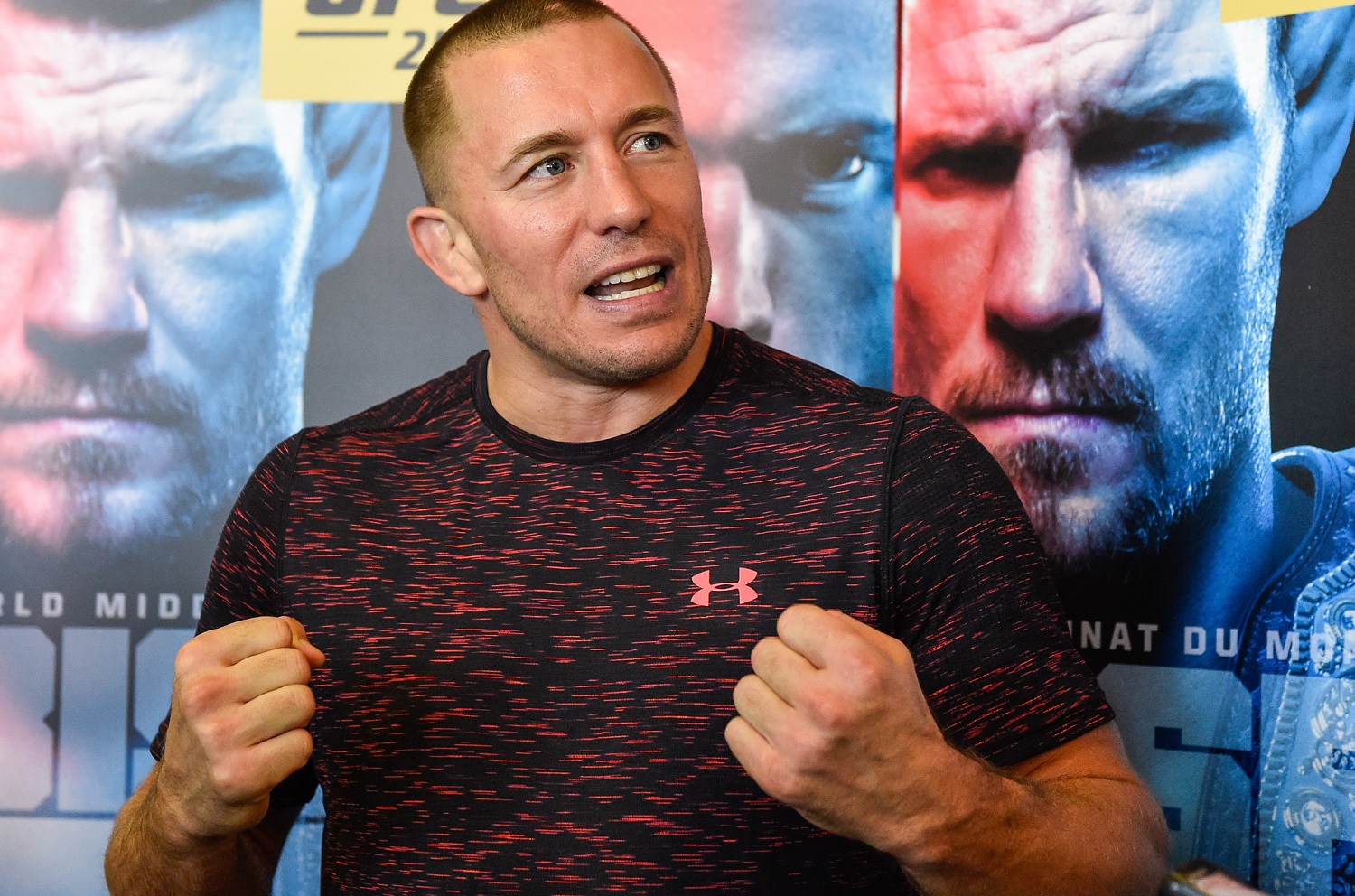 UFC Legend Georges St-Pierre Hates Fighting Other Than in the Marvel Universe
UFC legend Georges St-Pierre dislikes fighting other than in the Marvel Universe. He's currently starring in 'The Falcon and the Winter Soldier.'
Georges St-Pierre was a true master of the UFC fighters universe, winning championship belts three times – including in his farewell bout. His latest gig has been in the Marvel Universe, where he doesn't win all the time, but he's having more fun. St-Pierre is back on the screen in The Falcon and the Winter Soldier, the new Marvel series on Disney+.
Georges St-Pierre is back in 'The Falcon and the Winter Soldier'
Even at 39 years old, Georges St-Pierre could make a boatload of money by returning to the UFC octagon against any of several opponents. Alas, it's not going to happen. The effects of ulcerative colitis sent St-Pierre into retirement, and he has not fought since taking the UFC middleweight championship from Michael Bisping in November 2017.
That fight, his 13th straight victory, came four years after his most recent previous bout in 2013. That spring and summer, St-Pierre completed primary filming for Captain America: The Winter Soldier, his fourth big-screen role.
Now, St-Pierre is playing French mercenary Georges Batroc in reprising his role from Captain America: The Winter Soldier, which drops on Disney+ on March 19.
Speaking on Complex's Load Management podcast, St-Pierre wasn't spilling details of the Marvel series.
"I only know what I needed to know," he claimed. "I don't know the whole story, to tell you the truth. And even if I wanted to tell you stuff, I couldn't. They're very good at hiding stuff."
He has given up a great UFC career for Marvel roles
Georges St-Pierre, announced last year as an inductee into the UFC Hall of Fame, was one of the first great fighters of the modern UFC, where he went 20-2 from 2004 to 2017.
St-Pierre came up short in October 2004 against Matt Hughes, losing his bid for the welterweight championship via armbar submission. He earned a rematch with Hughes two years later at UFC 65 and won by TKO, scoring Knockout of the Night honors in the process. He surrendered his title to Matt Serra six months later, but that would be St-Pierre's last loss in the octagon.
On Dec. 29, 2007, St-Pierre beat Hughes for the interim welterweight belt, and life in the octagon was perfect from that point on. He won the unified title the next time out by scoring a second-round TKO against Serra.
A staggering nine successful title defenses followed, including victories against the likes of Thiago Alves and Nick Diaz. The farewell bout in 2017 was St-Pierre's middleweight debut in which he captured Michael Bisping's crown.
UFC legend Georges St-Pierre hates fighting other than in the Marvel Universe
The irony of his 20-2 record with the UFC (26-2 overall) is that the ultra-violent sport doesn't appeal to Georges St-Pierre.
"I don't like the fighting. I hate it," St-Pierre, who makes his home in Montreal, said on the Complex podcast. "It's unbearable, the feeling of stress (and ) not knowing if you will be humiliated or you might get hurt. It's so hard. But when you win a fight, it's really worth it. The bigger the risk, the bigger the reward.
"So that's why I did it. Not because I love to fight. I love to win."
There is a symmetry between UFC fighting and the choreography of fight scenes in his Marvel roles because getting the moves exactly right requires repetition. The stakes are higher in the octagon.
"It's very dangerous. You'll say, 'I play basketball, I play hockey.' But you don't play fighting. It's not a game. It's a sport but it's more than a game."

Georges St-Pierre
Like Sportscasting on Facebook. Follow us on Twitter @sportscasting19.