UFC: The Best of Ultimate Fighting in 2015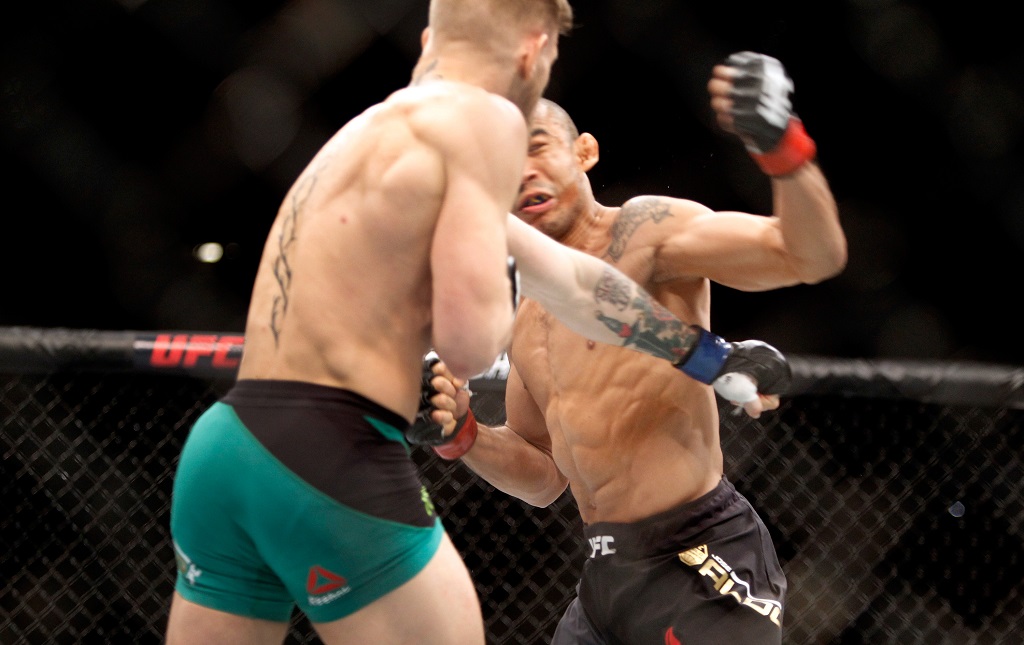 By all accounts, 2015 was the most successful year the UFC has experienced in quite a while. Sure, the promotion still lacked one of its biggest stars in former UFC welterweight champion Georges St-Pierre, and it did lose two of its biggest stars, Jon Jones and Anderson Silva, for prolonged periods of time, but those losses didn't affect the promotion's bottom line.
Yes, injuries were still a major concern in 2015, but those injuries didn't seem to hurt events quite as much as they did in 2013 and 2014. Even when then-UFC featherweight champion Jose Aldo was forced from what was expected to be the biggest fight of the year, the promotion still put on one of its best events with UFC 189. If you want to know how good 2015 was for the UFC, just consider that Ronda Rousey lost her UFC women's bantamweight title in a devastating fashion, and it didn't cause the promotion all that much duress.
One reason the UFC didn't stress too much over Rousey's defeat may be thanks to a 27-year-old Irish fighter named Conor McGregor, who emerged as a fit-for-superstardom fighter. The UFC should also thank the woman who beat Rousey, Holly Holm, who emerged as a quiet media darling in the wake of her win. With the UFC returning on January 2, 2016, now is a good time to reflect on the promotion's best moments in 2015.
Fight of the year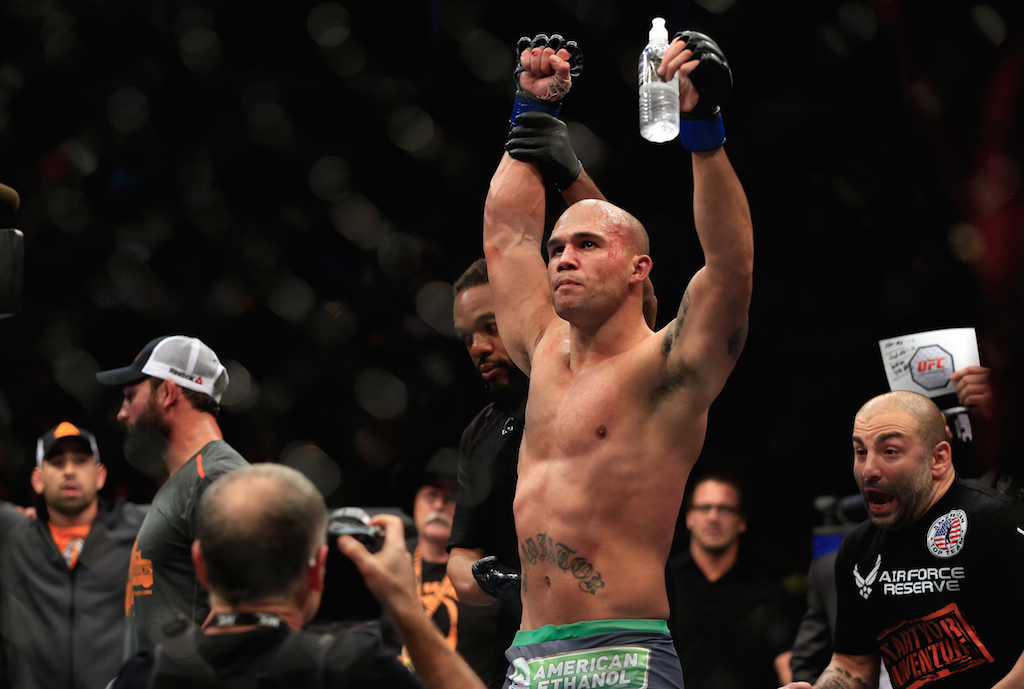 3. Andrei Arlovski vs. Travis Browne — UFC 191
If you wanted to see two extremely large men try to knock each other out, then this was the fight for you in 2015. Early in the first round, Travis Browne survived a vicious onslaught from Andrei Arlovski. As the round progressed, Arlovski threatened the KO a second time. Again, he was unable to finish the fight. With 90 seconds left in the first round, Arlovski again had Browne wobbled, but a right from Browne put Arlovski to the mat.
When Arlovski returned to his feet he put more punishment on Browne, who struggled to stay on his feet. An uppercut and a right from Arlovski ended the night for Browne. After his win, Dana White, UFC president, revealed that Arlovski was almost pulled from the fight in the days leading up to the event due to an injured calf.
2. Jon Jones vs. Daniel Cormier — UFC 182
The buildup to this fight was long and often ugly; even after it was over, the victor, Jon Jones couldn't help but get on the microphone and tell the crowd at the MGM Grand Garden Arena that he didn't like his vanquished opponent. The fight lasted all five rounds, but the reality was that Daniel Cormier was only in it for the first three.
In the fourth round, Jones let everyone know why he may one day go down as the greatest fighter in the history of mixed martial arts. Cormier was supposed to be Jones' equal. He was supposed to give Jones a tough test, and he was supposed to have a chance to win. But he did and was none of those things. It was a great performance by Jones, the then-UFC light heavyweight champion.
1. Robbie Lawler vs. Rory MacDonald 2 — UFC 189
Things started slow in this one. For the first five minutes, UFC welterweight champion Robbie Lawler (pictured above) and top-ranked challenger Rory MacDonald did little but figure out range and show each other the respect their skills deserved. In the second round, Lawler opened up and bloodied MacDonald's nose, using effective striking in the pocket. Round three was more of the same — until about 30 seconds left.
That's when MacDonald wobbled Lawler with a headkick and moved in for the kill, throwing everything he had, but Lawler took the onslaught and survived the round. Round four was also MacDonald's round, and Lawler's corner seemed a little worried between the fourth and fifth. Lawler turned it on in the final round, finishing the fight when he connected with MacDonald's already crushed nose, and MacDonald collapsed in pain, unable to continue. This was the kind of fight that fans will talk about for years to come.
Submission of the year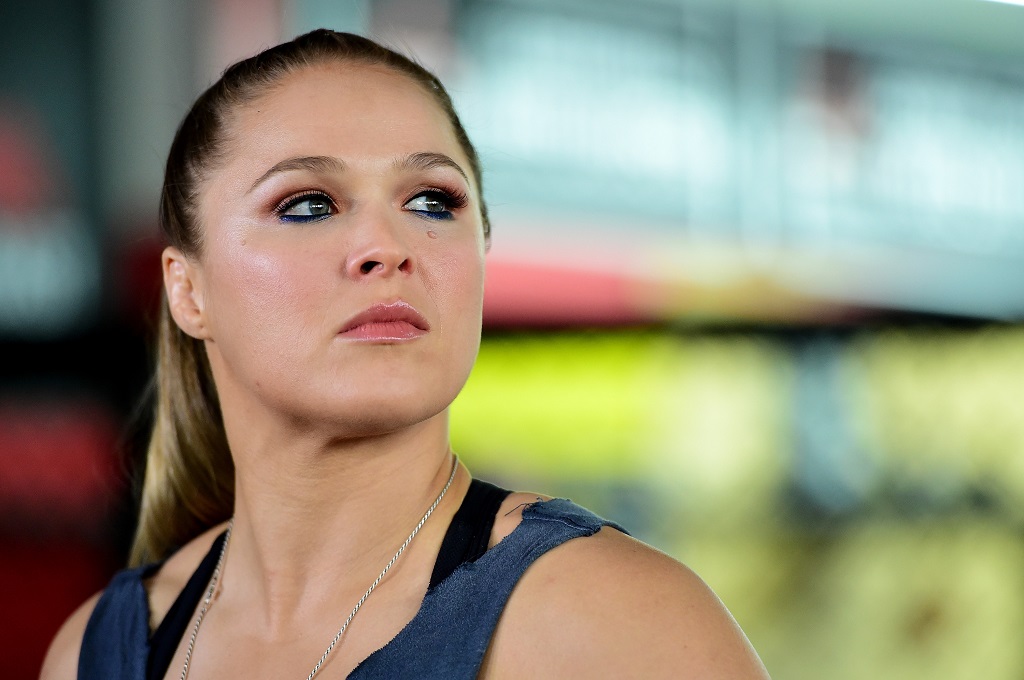 3. Benson Henderson vs. Brandon Thatch — UFC Fight Night 60
Benson Henderson, a former UFC lightweight champion, looked to have three strikes against him entering this fight. First, he took the fight on short notice. Second, he moved up to welterweight for the first time. Third, he fought in Brandon Thatch's hometown in the main event of this card. Halfway through the fourth round, Henderson nailed a takedown and easily passed from half guard to side control to back control. The position change was a mixture of Henderson's experience and Thatch's inexperience. Henderson then softened Thatch up with strikes, put in the hooks, and sank in the rear naked choke, forcing the tap.
2. Takeya Mizugaki vs. Aljamain Sterling — UFC on FOX 15
Entering this fight, Takeya Mizugaki was the No. 6-ranked fighter in the bantamweight division, while Aljamain Sterling was a 10-0 fighter on his way up. With four minutes left in the third round, Sterling took down Mizugaki against the cage. Sterling then transitioned to Mizugaki's back, and Mizugaki did his best to escape the grasp of Sterling. When the clock showed three minutes left in the round, Mizugaki spun and took top position, but in the transition Sterling was able to secure an arm-triangle choke from the bottom, forcing Mizugaki to tap.
1. Ronda Rousey vs. Cat Zingano — UFC 184
It was quick, it was brutal and it was the best submission of 2015. At UFC 184, then-women's bantamweight champion, Rousey (pictured above), met No. 1 Cat Zingano in the main event and made things look too easy. When the fight started, the two were a combined 19-0 in MMA, but 14 seconds into the fight, Zingano was handed her first defeat via a Rousey armbar. It was a thing of beauty, and if you have a minute or two, you should watch the submission a few times.
Knockout of the year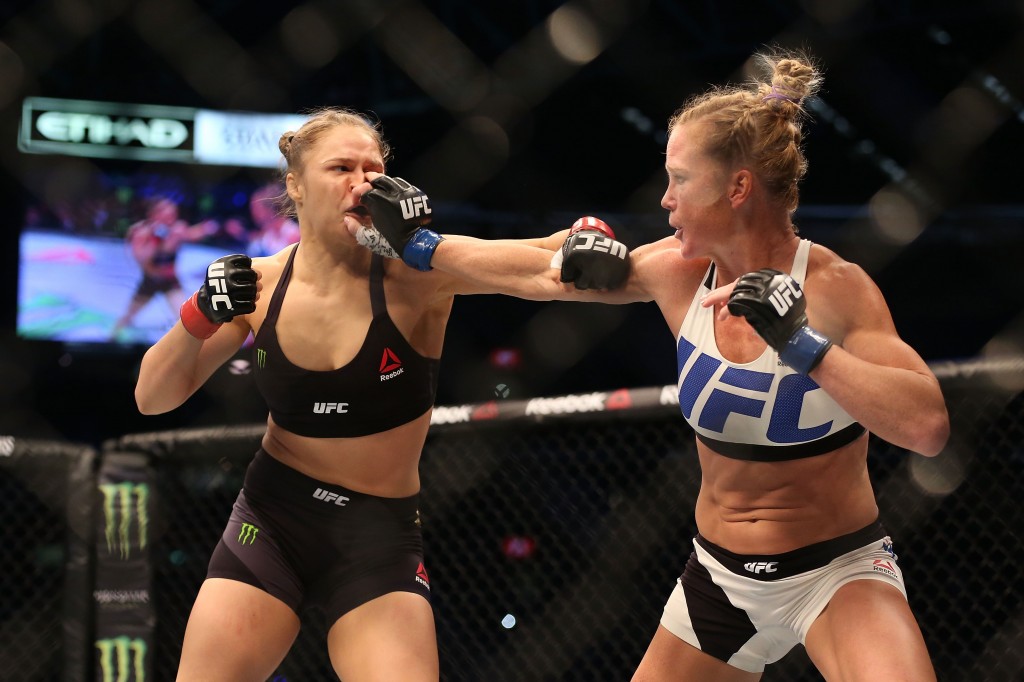 3. Jeremy Stephens vs. Dennis Bermudez — UFC 189
One day after missing weight for his featherweight fight, Jeremy Stephens delivered a stunning knockout of Dennis Bermudez. In the third round, Bermudez walked Stephens back toward the cage, and a second after he touched the cage with his right hand, Stephens landed a perfect flying knee that dropped Bermudez. Immediately after the knockout, Stephens jumped out of the cage and shook the hand of UFC CEO Lorenzo Fertitta.
2. Thomas Almeida vs. Brad Pickett — UFC 189
Thomas Almeida may not be a household name for UFC fans, but the 20-0 Brazilian is a fighter you should keep on your radar. In his four fights in the UFC, Almeida has won one "Fight of the Night" bonus and three "Performance of the Night" bonuses, with his last three fights ending by knockout. His UFC 189 knockout of Brad Pickett is his most spectacular UFC finish to date.
The first round saw each fighter stagger the other, with the round ending with Almeida smiling and covered in blood. The end came quickly in the second round when, seconds after Pickett missed a flying knee, Almeida delivered a flying knee of his own and Pickett fell to the mat with his arms outstretched over his head. The fight ended 29 seconds into the round.
1. Ronda Rousey vs. Holly Holm — UFC 193
This may have been the most unexpected knockout of the year. Sure, we all knew that Holm had the background and skills to knock out Rousey; after all, Holm was a multiple-time boxing champion, but c'mon, this was Ronda Rousey, the unbeatable UFC women's bantamweight champion. Holm seemed to dominate the fight (pictured above), but everyone watching knew that one mistake could have ended her night early, allowing Rousey to retain the title. That slip never came, and when Holm put her shin across the face of Rousey to end the fight, she took the title and stamped her name on best knockout of the year.
Fighter of the year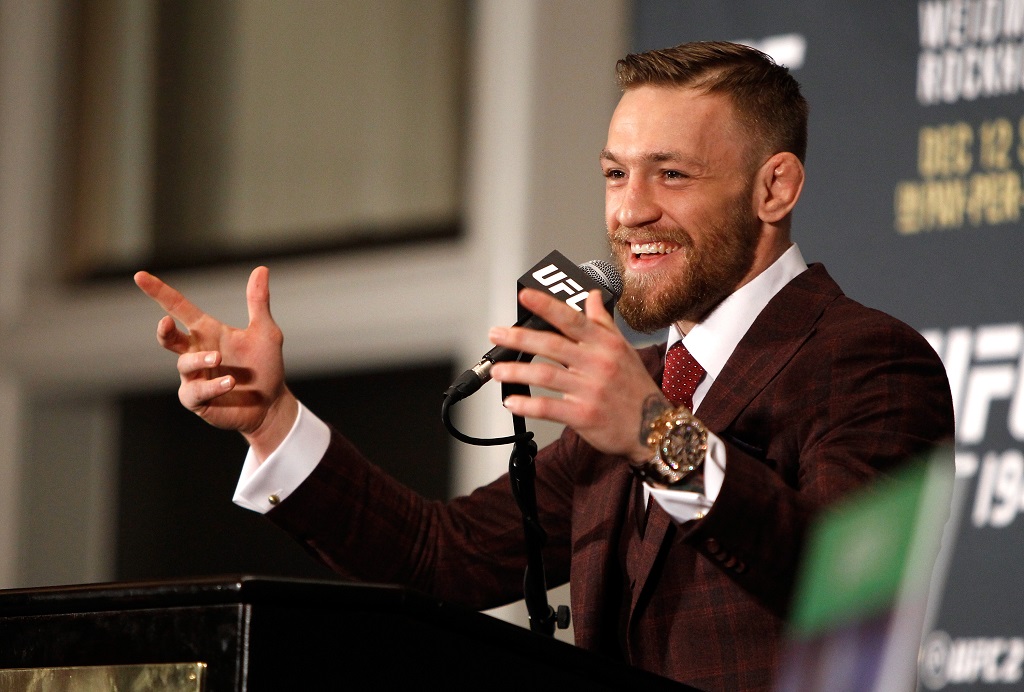 3. Rafael dos Anjos
When Rafael dos Anjos fought Anthony Pettis in March, not many people expected dos Anjos to dethrone the UFC lightweight champion, but he did, earning a unanimous decision victory in a fight where he was never in any danger. Dos Anjos dominated Pettis from start to finish, winning each of the five rounds on the scorecards. When he faced Donald Cerrone in December, dos Anjos still hadn't made believers out of all MMA fans. A lot of people thought that Cerrone would walk out of the cage that night as the new champion. But he didn't. In fact, Cerrone didn't even make it out of the first round, getting knocked out at the 66-second mark of Round 1.
2. Holly Holm
Holm started 2015 as a good MMA fighter, but one who many thought needed a lot more time to develop. In her first fight of the year, Holm earned a split decision over Raquel Pennington. In her next fight, she took a unanimous decision over Marion Reneau. In her last fight, she knocked out Rousey. Wait, what was that last one? Yes, Holm knocked out Rousey. But she did more than that; she made the woman who had been the only UFC women's bantamweight champion look lost in the cage. Rousey had no answer for Holm's game plan throughout the entire fight, which ended with Holm turning out the lights on Rousey in the second round with a head kick.
1. Conor McGregor
All McGregor (pictured above) did was exactly what he said he was going to do: Knock out each of his opponents and win the UFC featherweight title. McGregor started his year with a second-round TKO of Dennis Siver. He followed that with a second-round TKO over Chad Mendes, and he finished the year by capturing the UFC featherweight title with a 13-second knockout of Jose Aldo. During that time, he became the only fighter to rival Rousey in popularity. McGregor's goals for 2016 include defending his featherweight title and moving up to lightweight to capture that title.
Upset of the year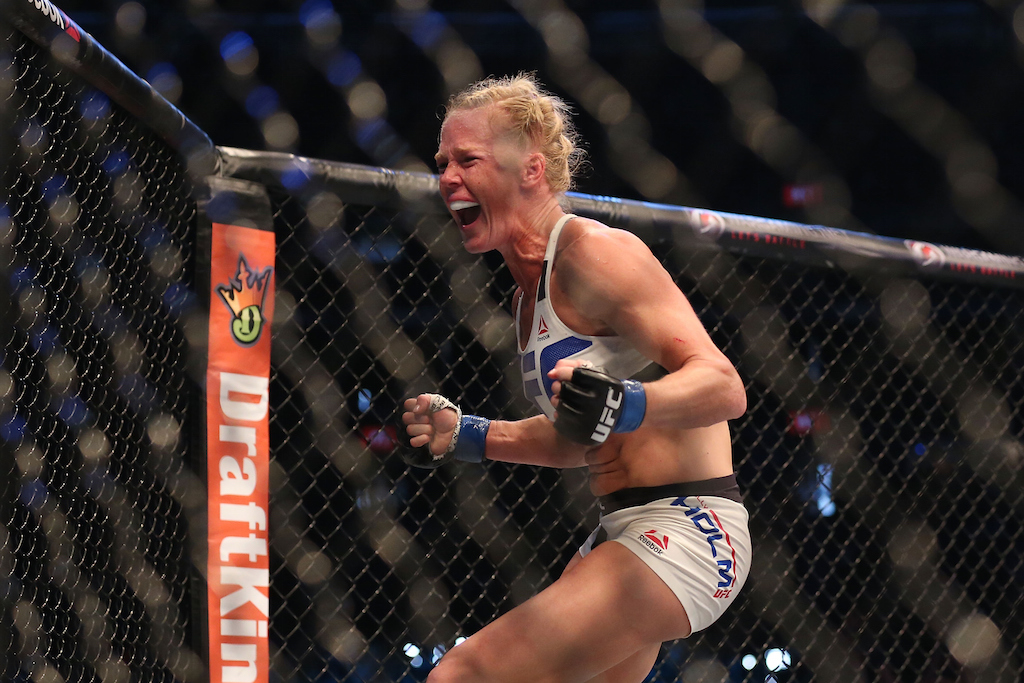 3. Gegard Mousasi vs. Uriah Hall
This fight would have been tough for Uriah Hall even if he hadn't taken it on short notice, but he did, and many in the MMA world saw Gegard Mousasi earning a win over Hall with little effort. For most of the first round it appeared that Mousasi would do just that. He controlled almost the entirety of the round, forcing Hall to avoid his strikes and submission attempts. The tables turned almost immediately at the start of the second round, as Hall landed a jumping spinning back kick and followed it with a flying knee. Mousasi dropped to the mat where Hall finished him with punches. It was a memorable performance and a stunning upset for Hall.
2. Rafael dos Anjos vs. Anthony Pettis
Pettis was poised for a long reign atop the UFC's lightweight division. He hadn't lost since 2011, and he was heavily favored over dos Anjos. However, 25 minutes after their fight began, not only did Pettis lose, but he lost every round — none were even close. Dos Anjos captured the title with the win and sent Pettis crashing back down to the land of the mortals.
1. Ronda Rousey vs. Holly Holm
Rousey was portrayed as a nearly mythical beast; a fighter who couldn't lose; and a fighter who wouldn't lose. Fans were led to believe that she had the skills, toughness, and mental fortitude to face any test head on and plow right through it — and she did, at least for a while. Holm (pictured above) reminded us that there is always someone out there just a little better and that with one mistake, mental or physical, that person can take everything you worked for.
News of the year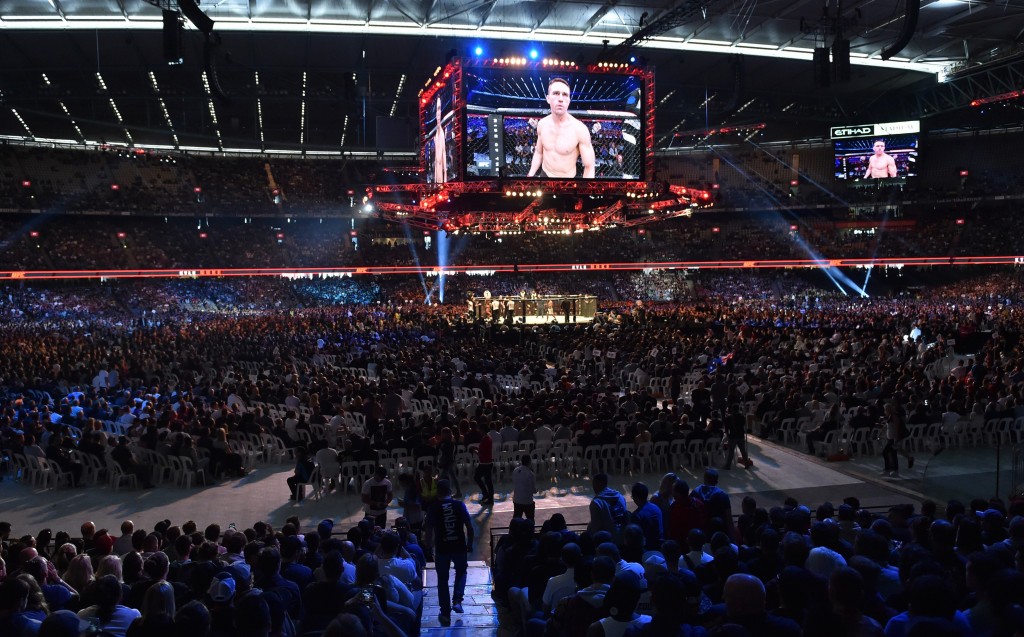 3. Nick Diaz suspension
When the Nevada State Athletic Commission handed Nick Diaz a five-year suspension for a failed drug test following UFC 183, the responses involved shock, amazement, and anger. The NSAC justified the suspension by saying it was the third time Diaz had failed a marijuana test. However, many felt that the punishment's severity had a lot to do with the fact that Diaz had the audacity to actually stand up to the Commission and fight the test, instead of just falling on his sword and begging for forgiveness. The uproar over the suspension continues, and right now the two sides are discussing a settlement.
2. Drug tests
On July 1, the UFC and the United States Anti-Doping Agency began a partnership that set up a drug-testing program for all UFC fighters. The move was applauded by many who claimed that the UFC's drug testing program was far below what was required for the sport. The program is still in its early stages, but it has already caught fighters doping.
1. Free agency
The UFC is the biggest player in mixed martial arts, but it's not the only one. The two other big MMA agencies are Bellator and World Series of Fighting. Right now, big-name UFC fighters who have fought out their contracts are paying attention to these two promotions. In the past, fighters tended to re-sign with the UFC before their contracts expired, but with the possibility of becoming free agents and getting the best financial deals, they are opting to fight out those contracts and listen to offers from other promotions.
This is a huge deal for the sport, and the possibility exists that it will raise fighter salaries as promotions realize that they don't want fighters hitting free agency. The biggest free agents at this time are former UFC lightweight champion Henderson, former Strikeforce heavyweight champion Alistair Overeem, and young, up-and-coming bantamweight Sterling.
Fighters we missed
2. Nate Diaz
Diaz's first fight in 2015 was on the last UFC fight card of the year. It was his first fight with the promotion since he put in a lackluster performance against dos Anjos in December 2014. Diaz was up to his usual antics in his most recent fight against Michael Johnson. He taunted his opponent, postured, posed, talked trash, and actually open hand slapped Johnson during the three-round fight.
Diaz won the fight easily and took home a "Fight of the Night" bonus for his efforts, but he really showed us why we miss having him around when he took the microphone for his post-fight interview and gave the FOX production team fits, tearing into UFC featherweight champion Conor McGregor with a, shall we say, colorful interview.
1. Khabib Nurmagomedov
Khabib Nurmagomedov has not fought since he defeated current UFC lightweight champion dos Anjos in April 2014. Injuries have kept the 22-0 fighter from the Octagon since then, yet he remains ranked No. 2 in the division, behind only former champion Pettis. Nurmagomedov is still young, 27 years old, so there is hope that he will put his injuries behind him and get back in the cage to fight again. If the past is any indicator, that fight will be spectacular.