UFC: 6 Things You Didn't Know About Khabib Nurmagomedov
Born in Dagestan, Russia, Khabib Nurmagomedov has taken the UFC by storm. After submitting Conor McGregor, he then infamously jump-kicked one of McGregor's friends, and that ignited a brawl between the two teams. Still undefeated in the UFC at 27-0, Nurmagomedov has led an interesting life, to say the least. Here are six things that you may not know about one of the UFC's brightest stars.

1. He wrestles bears
Fans of Nurmagomedov probably know this, but many others don't. As a kid, Khabib Nurmagomedov had a tough training regimen, but it helped shape him as an adult. In the UFC, he is one of the best wrestlers in the sport, and he developed that skill early by wrestling bears.

His trainers, which included his father, weren't stupid. They didn't make him wrestle a full-sized bear, but rather bears his size. The bears were also chained up, so they could restrain them if things got too crazy. But still, it's pretty insane to have a kid wrestle a bear, and that's exactly what Nurmagomedov did as a kid. He still does it nowadays from time to time, but mostly for fun.

2. He's not truly undefeated
Yes, Nurmagomedov has never been beaten in professional MMA nor in the UFC. However, he's tasted defeat before. Nurmagomedov competed in the sport of Combat Sambo, which is very popular in Russia, before he started MMA.

In Combat Sambo, he suffered one loss, and that loss brought him to tears. So while he's undefeated in MMA, at the very least, he knows what it's like to lose.

3. He changed a game
EA Games, which creates the official UFC games, made a mistake when it came to how the game portrayed Khabib Nurmagomedov. As a devout Muslim, he took offense when his character in the game made a sign of the cross, which is a Christian symbol. EA Games quickly changed the game to fix this inaccuracy after some public outcry from Nurmagomedov and his fans.

4. Tiramisu may have made him miss weight
At UFC 209, Nurmagomedov was expected to fight Tony Ferguson finally. Fans anticipated that fight as the two men were expected to face each other multiple times, but each fight was canceled. Both men were very close to fighting at UFC 209, but alas, the fight was canceled again because Nurmagomedov had an issue with his weight cut.

During a vlog series leading up to the event, Nurmagomedov seemingly ate some tiramisu while cutting weight. It's not known exactly what happened that made him mess up his weight cut, but fans and commentators speculated that the tiramisu was the culprit. His team denies it, but Tiramisu-gate has since become a running joke among UFC fans for when a fighter misses weight.

5. He had seizures while making weight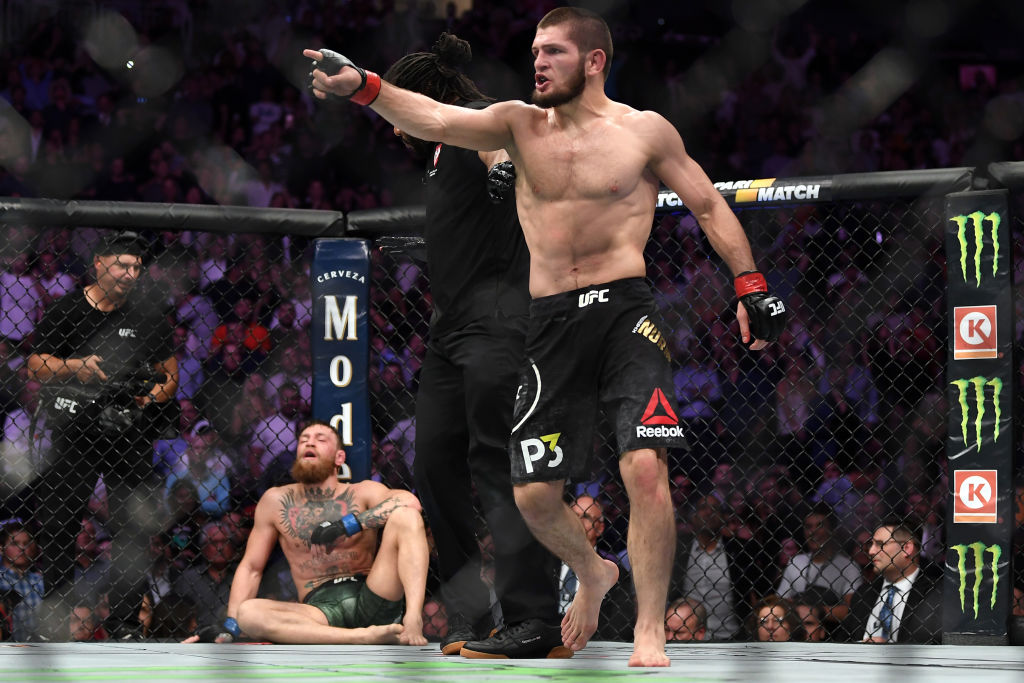 Weight cutting can be a dangerous thing, and while cutting weight to fight McGregor, Nurmagomedov reportedly had seizures from his weight cut. If that is accurate, then it shows three things.

First and foremost, weight cutting is seriously dangerous. Also, it's irresponsible for the UFC to let that fight happen if Nurmagomedov was having seizures while cutting weight.

Finally, it also shows just how determined and insane Khabib Nurmagomedov is if he fought through it and still beat McGregor. If the report is true, then we still shouldn't glorify toughing out those types of medical issues, but it shows what type of person Nurmagomedov is.

6. He's multi-lingual
With almost 16 million Instagram followers, Nurmagomedov knows how to translate his skills as a fighter to popularity as a celebrity. According to him, he speaks five languages fluently, and he frequently communicates with his fans in Russian, English, and Arabic. That allows him to have fans from across the world, such as his home country as well as in North America.