UFC: 1 Training Exercise Helps Explain why Khabib Nurmagomedov is Such a Tough Fighter
UFC champion Khabib Nurmagomedov is a truly unique fighter. With an undefeated record of 28-0, he's wrestled his way to the top of the world. But he's only human, and he's become as strong and skilled as he is today through hard work and pure dedication.

Insane exercises don't scare Khabib Nurmagomedov
Many UFC fans know Khabib Nurmagomedov grew up wrestling and that he, among other things, wrestled bears when he was a child. However, that's not the only insane exercise that he does to stay strong. He also swims against the current of a cold river. He doesn't beat the current, but he doesn't care. This routine perfectly describes how and why he's been able to dominate every single one of his opponents.

There are multiple reasons why this exercise works for him. It may not work for everyone, and it can be dangerous as it is a real river, but Nurmagomedov was supervised when he does this exercise. The first reason why that routine works is because swimming is simply a great method for developing his cardio.

Nurmagomedov has fought many fights where he's had to keep going strong for 15 to 25 minutes. Wrestling is a very tiring skill too, so Nurmagomedov really needs to dig deep and keep going in those fights. Swimming is great for cardio, and swimming against the current is even better.

Tough training toughens up Nurmagomedov
Another way that exercise embodies Nurmagomedov is the fact that Nurmagomedov has faced a lot of issues, both inside and outside the octagon. But despite those problems, he's never given up, and he continues to fight onwards. In 2014, after he dominated Rafael dos Anjos, who later went on to become the champion, Nurmagomedov suffered injury after injury.

These injuries were so severe that they threatened to end his career. Nurmagomedov was 22-0 at the time, but he didn't quit. He healed up and finally returned in 2016. From then on, he remained relatively injury-free as he fought over and over again until he eventually became the champion and defeated Conor McGregor.

Nurmagomedov's dedication to his goals applies inside the octagon, too. In his second fight in the UFC, which was against Gleison Tibau, Nurmagomedov failed to take Tibau down a single time. But Nurmagomedov didn't stop trying. Despite failing to take Tibau down even once, Nurmagomedov never gave up, and that was part of the reason he earned the win.

It's that tenacity in spite of the odds and obstacles in front of him that's allowed Nurmagomedov to reign supreme. He may not beat the current of the river, but he's not going to give up.

A cold, cold man in more ways than one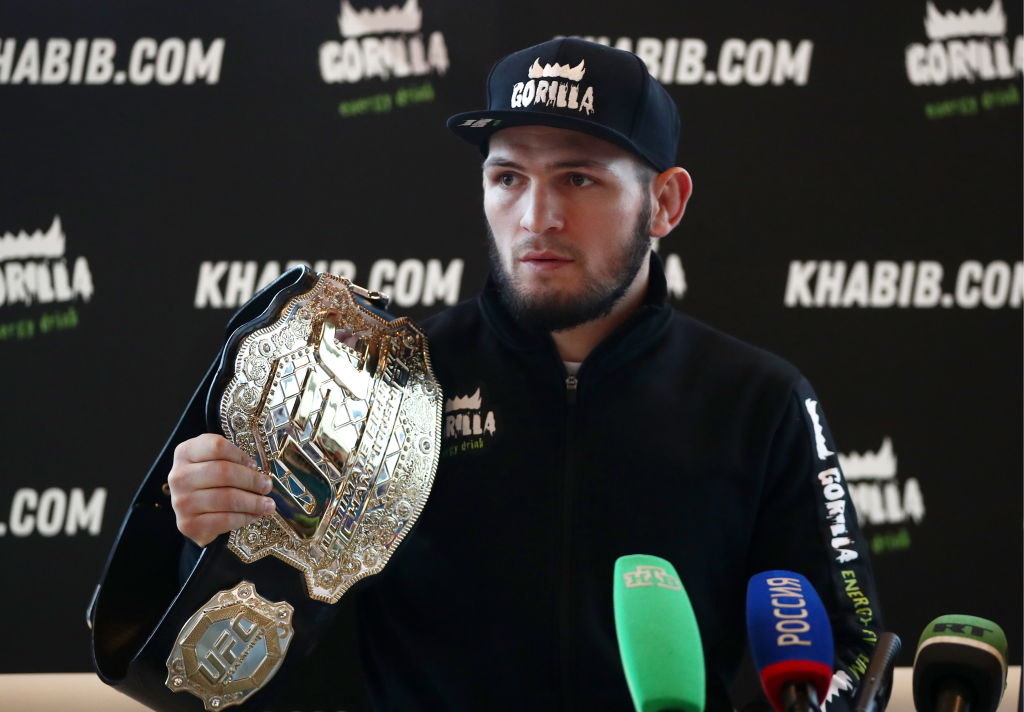 Lastly, the river that Nurmagomedov swam in was freezing cold, and that's exactly the type of mentality that Nurmagomedov has. Throughout the build-up to his fight with McGregor, McGregor unleashed the trash-talking that he's known for against Nurmagomedov. Nurmagomedov was unfazed by any of this.

Even when McGregor threw a dolly at the bus that Nurmagomedov was riding in, Nurmagomedov was unmoved. The only thing he said was that McGregor just needs to tell him where he wants to fight. And when the two finally fought, Nurmagomedov let it all out.

Every time that Nurmagomedov pummeled McGregor inside the octagon, he'd talk trash to him, too. This cold-bloodedness is not only something that Nurmagomedov shows off when he's swimming against the current of a cold Russian river but also when he's doing his job.

He's absolutely focused at doing one thing, and that's winning. He doesn't care about anything else, including how cold the water is or how offensive McGregor's words are. He wants to smash his opponents, and that's exactly what he does.