UFC's Amanda Nunes and Nina Ansaroff Share the Secret To Their Relationship: 'We Just Take Everything Out in Our Sparring Rounds'
Amanda Nunes, who's the greatest female fighter in the UFC, is about to become something more. In fact, she'll soon become the UFC's first mom champ, since Nunes' fiancé, Nina Ansaroff, is pregnant with their first child.
Unlike most couples, however, both women actively fight in the UFC, and here's a look at how they've been able to maintain such a strong relationship.
A recap of Amanda Nunes and Nina Ansaroff's relationship so far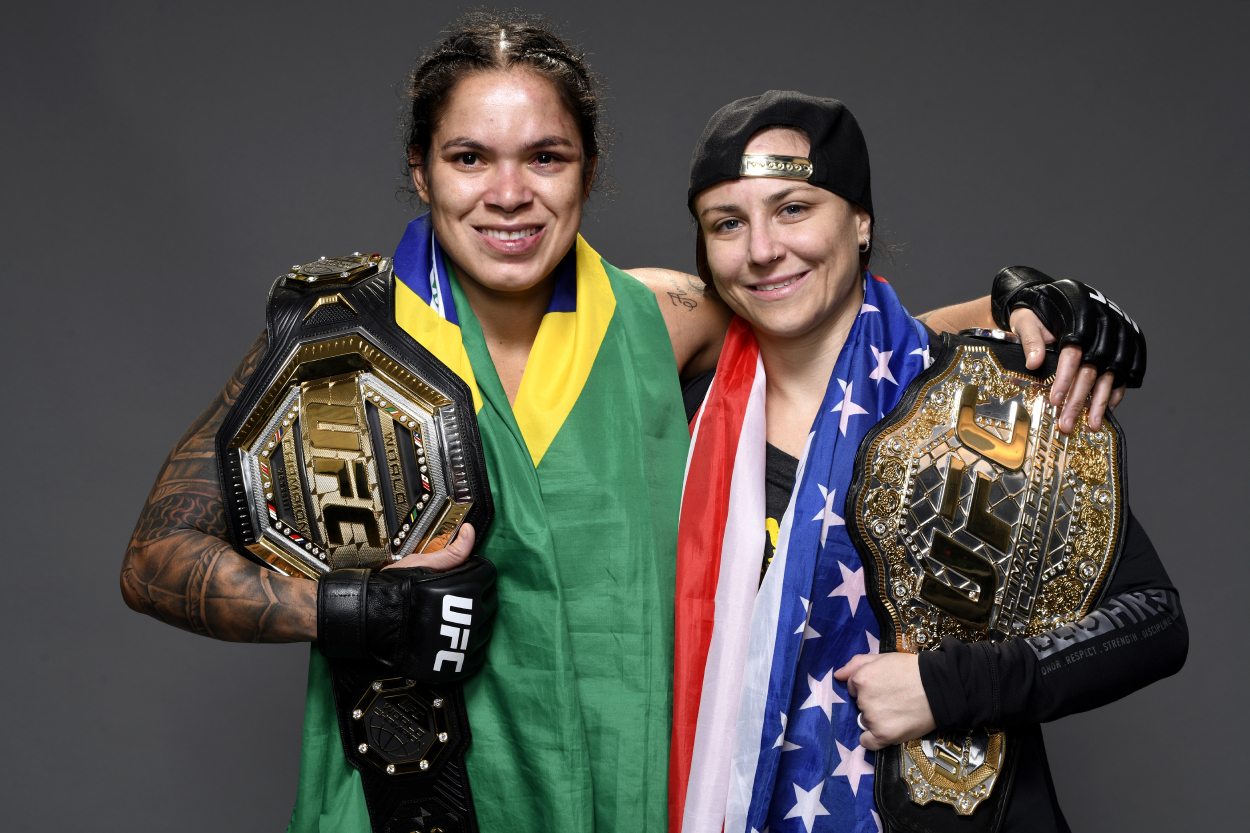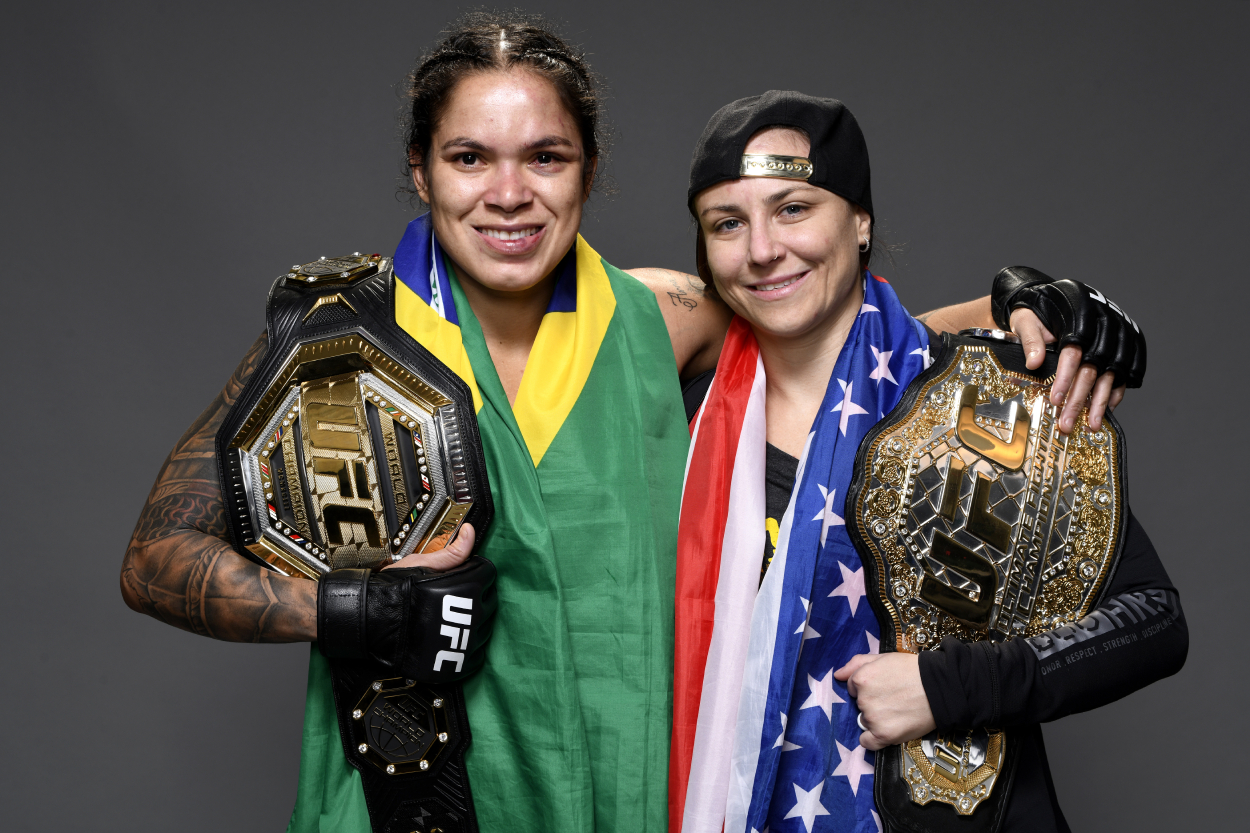 Back in 2012, when women still weren't allowed to fight in the UFC, women were forced to fight at smaller MMA promotions. Regardless, they still needed places to train, and MMA gyms were far more inclusive than the UFC was back in those days. That's where these two future UFC fighters would meet, according to People. 
However, a year later, the UFC changed its tune about women, and women were finally allowed to compete in the UFC. Both Ansaroff and Nunes joined the UFC at about the same time, but fortunately, they weren't competing in the same division. Ansaroff fought at the women's 115-pound strawweight division, while Nunes fought in the women's 135-pound bantamweight division. 
Both women have been quite successful in their UFC careers, but they've also been successful in their personal lives. Like People wrote, the two got engaged in 2018, and they decided to start a family not long after.
Ansaroff is currently pregnant with their first child, a daughter named Raegan Ann Nunes, and People said that the couple expects Ansaroff to deliver their child sometime in September 2020.
How they've been supporting each other
As some UFC fans may have noticed, whenever Nunes or Ansaroff fights, the other is in their corner, often giving them advice or just helping them recover between rounds. This type of support is rare in the UFC, since most fighters don't let their loved ones corner them during a fight. However, since both women are high-level fighters, they feel comfortable giving advice to each other. 
On top of that, the two women simply seem to have a lot of fun with each other. Like Bleacher Report wrote, they simply enjoy spending time with each other since they're "best friends" as well as lovers. One of their favorite activities to do with each other is fishing, but of course, since they're fighters, they also do something else. 
The secret to their relationship
According to Bleacher Report, Ansaroff said that they will often train with each other, and sometimes they'll even go a bit hard in their sparring sessions. In fact, Ansaroff went as far as to say that they, "just take everything out in our sparring rounds."
However, even though they're putting so much energy into sparring with each other, Ansaroff said that the best part about the whole thing is that they always end the sparring session with a smile. 
None of that energy or animosity leaves the cage or the gym, according to Ansaroff. As a result, she credits it with helping their relationship in the long run. That being said, they also aren't afraid to show some positive vibes in the cage.
Like Bleacher Report wrote, after Nunes knocked out Ronda Rousey in less than a minute, she talked about how Ansaroff was going to be a future champ. 
Plus, since they are often cornering each other, that also means that after victories or defeats, they are usually side by side with one another. Since Nunes just keeps winning, it also means that she gets to celebrate every win with her fiancé by her side. Since Ansaroff is pregnant, she won't be fighting for a while, but she does plan to return to the octagon soon after giving birth.