Ultimate Family Connection: UFC's Jon Jones Has 2 Brothers in the NFL
When it comes to sports, sometimes, greatness is genetic. In the case of the current UFC light heavyweight champion, Jon Jones, this is especially true since he has two brothers who are in the NFL. Here's a look at the Jones family and what makes them so great at sports. 
What makes Jon Jones so great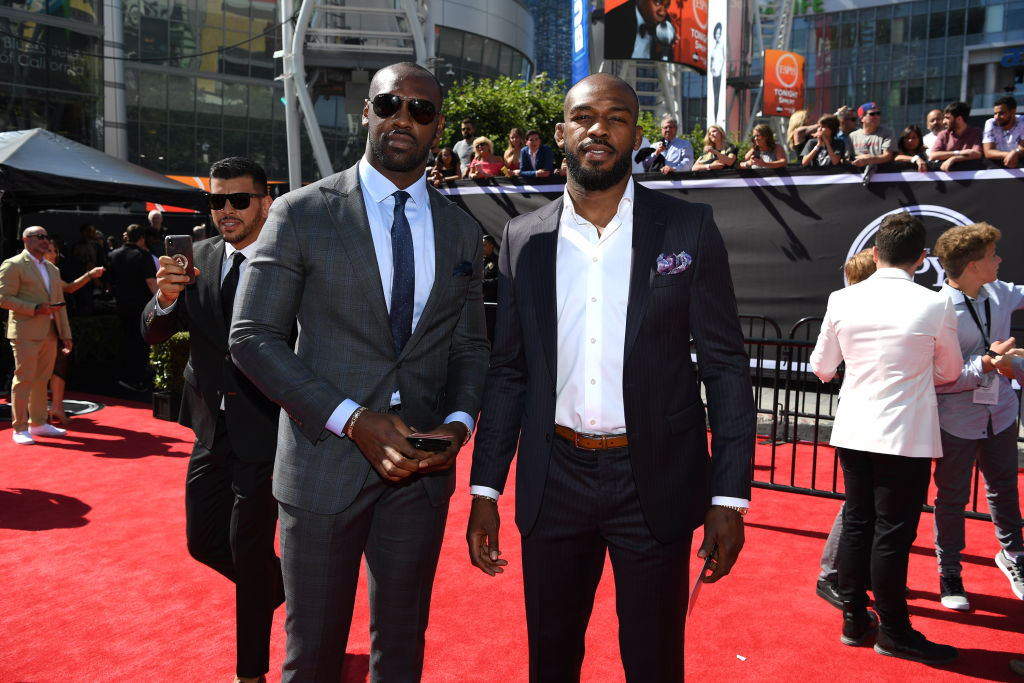 Jones is considered one of the greatest UFC fighters of all time. That's because he's basically undefeated since he started fighting. And he's been the dominant light heavyweight champion of the UFC. Not only this, but before he came onto the scene, his 205-pound division was heavily contested. It featured great fighters like Lyoto Machida, Quinton 'Rampage' Jackson, and Rashad Evans.
Not only was Jones the youngest UFC champion ever, but he also managed to beat all of those great fighters and then some. Few men have given him a hard time in the ring. But no matter what, he always managed to find a way to get a win. 
One of the reasons why he's been so successful in the octagon has been due to his wrestling abilities. He was never a national or Olympic level wrestler, but he's actually been wrestling for a long time. In fact, unsurprisingly, he's been wrestling with his brothers since they were kids.
A look at the Jones family
Arthur Jones, Jon's big brother, fought and wrestled with his little brother when they were younger, reports Fox Sports. Being the bigger brother as well as the defensive tackle for NFL teams like the Colts and Redskins, it's not surprising that Arthur said he almost always got the upper hand against his little brothers.
Jon told the NFL about what exactly they did growing up. "My brother is one of the best heavyweights in New York state wrestling history and I would wrestle him every day in high school and I would get my *** kicked by my older brother my whole life," Jon said. 
While Arthur is now retired from the NFL, his other baby brother, Chandler Jones, competes in the NFL, too. Like his brothers, Chandler is on his way to greatness. Recently he had the most forced fumbles in the league, according to the NFL. Chandler was drafted by the Patriots but he currently plays for the Cardinals. Like his older brother, he also plays defensive end. 
With so much success in the family, it's not surprising that they're all very proud of each other. As Jon told the NFL, "I believe my little brother was born to be a great football player. My older brother was born to be a great football player."
Why is the Jones family so good?
A theme among the three brothers is that they all rely on their wrestling abilities in one way or another. Since both Arthur and Chandler are playing defensive end, they rely on their ability to tackle their opponents. 
A tackle isn't that different from the type of wrestling that Jon uses in the UFC. The whole point of a tackle is to get the other person to the ground. This is exactly what Jon wants to do with his wrestling. Since the three brothers grew up wrestling with one another, they got to train with some of the best early on. This allowed them to be as good as they are today. 
That said, there's another similarity between the brothers. Jon has been caught using performance-enhancing drugs and so has Arthur. While Chandler hasn't been caught, this isn't a good look for the family.