Umpire Joe West Makes Himself the Show Again and St. Louis Cardinals Manager Mike Shildt Is Having None of It
Umpire Joe West set a Major League Baseball longevity record during the St. Louis Cardinals and Chicago White Sox series. But his ejection of Cardinals' manager Mike Shildt during the same series has the controversial game official under scrutiny yet again.
West can't seem to help himself. According to one former manager, West calls a game like he's the reason fans came. He's been controversial for a long time, considering he's been in the majors since before six current MLB managers were born. Only two managers, 76-year-old Tony La Russa of the White Sox and 71-year-old Dusty Baker of the Houston Astros, are older than the 68-year-old West.
Yes, Joe West has a very long history of behaving like he's more significant than the game.
What was on 'The Joe West Show' in Chicago?
Joe West inserted himself into the Cardinals and White Sox game during what would typically be a routine pitching change. Giovanny Gallegos was entering the game. Second base umpire Dan Bellino spotted something on the brim of Gallegos' cap. Cue West, who believed the curtain was opening for his latest act.
West asked Gallegos to change his hat. Shildt, confused, came out to ask what was happening. That was before Shildt erupted at West and drew an ejection. The umpires confiscated the cap, and Gallegos will probably get some disciplinary action for having whatever it was clinging to his lid.
St. Louis Cardinals manager Mike Shildt and a media availability for the ages
Since replacing Mike Matheny on an interim basis in 2018 as manager of the St. Louis Cardinals, Mike Shildt doesn't have a long track record of disputes with umpires. The ejection by Joe West in Chicago was his first of the season and just the sixth in 337 games as a big-league manager.
The skipper did not hold back when voicing his displeasure with the cap controversy.
"First of all, Gio wears the same hat all year. Hats accrue dirt. Hats accrue substances, you know, like just stuff. We pitched in a day game. So, did Gio have some sunscreen at some point in his career to … make sure he doesn't get some kind of melanoma? Possibly. Does he use rosin to help (his grip)? Possibly. Are these things that baseball really wants to crack down on? No. It's not. I know that completely first-hand from the commissioner's office."

Mike Shildt
In the vein of the above quote: Is a fine in Mike Shildt's future? Probably. Will it be worth every single penny? Definitely. Would people kick in for a crowdfunding effort to cover it? Possibly.
Joe West and his history of drama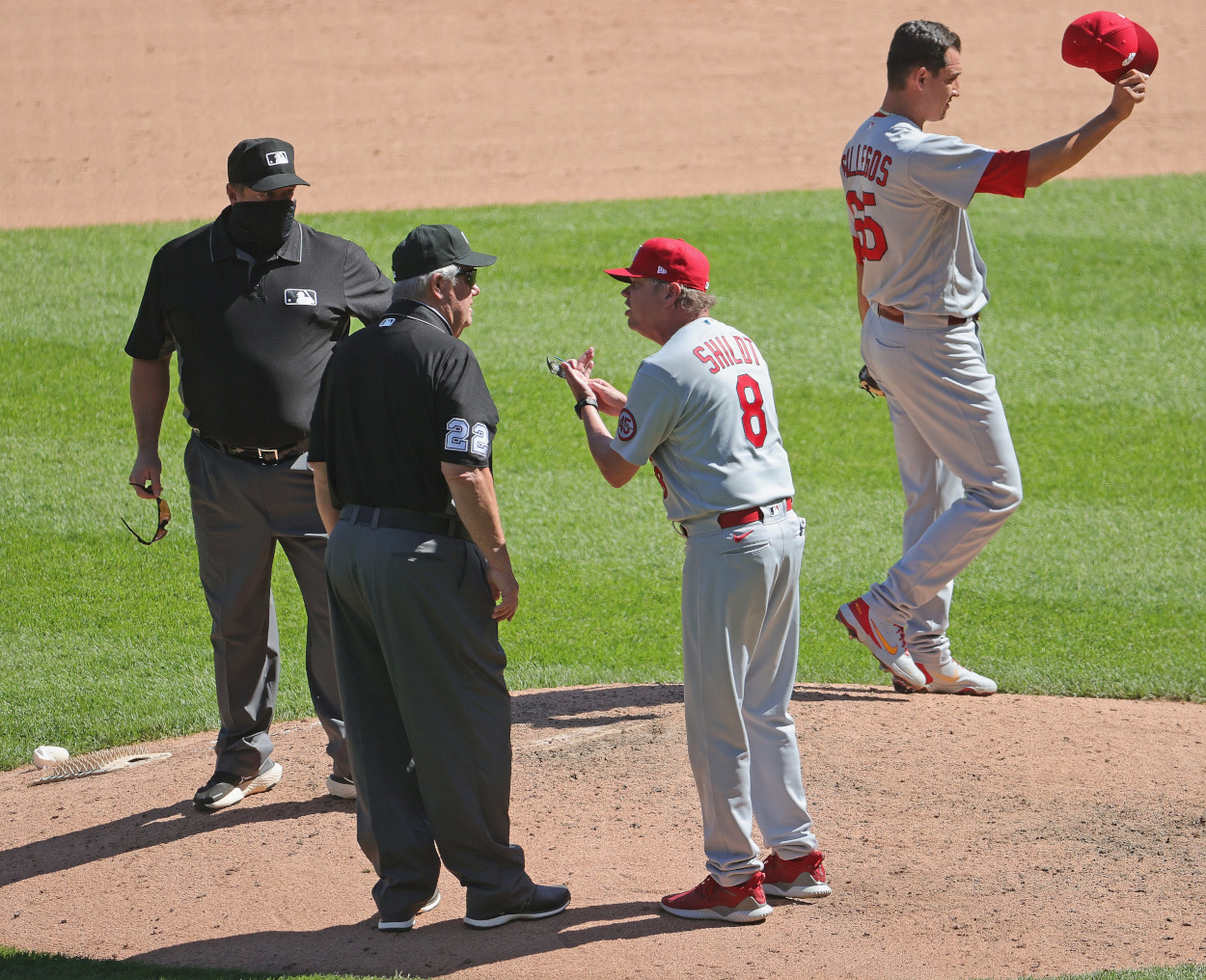 For his part of the latest controversy he helped cooked up, Joe West says his actions were all about the player, per pool reporter Jeff Jones of the Belleville News-Democrat.
"We didn't let him put himself in jeopardy. … We want the players to play the game, we don't want anybody to be accused of cheating or any of that stuff. So it was smarter to just remove the cap than to let him pitch and have somebody come out and complain."

Joe West
It would ring a bit more true if West didn't have a rap sheet six miles long of incidents where he made himself the crux of everything. According to the Chicago Tribune, the National League once ordered West to stop trying to remove players from brawls. That action came after he violently threw a player to the ground during a dust-up between the New York Mets and Philadelphia Phillies.
Telling a reporter that former Texas Rangers third baseman Adrián Beltré was the biggest complainer in the game got him a three-game suspension. Even Beltré agreed it was a joke, but it's not a particularly funny one.
West shoving former Atlanta Braves manager Joe Torre and grabbing the jersey of pitcher Jonathan Papelbon each earned him suspensions. He even invoked his support for former President Donald Trump to explain ejecting Washington Nationals general manager Mike Rizzo in 2020.
Unfortunately, there are game officials who appear to like to make themselves the center of attention. Fans and contestants alike are never shy about expressing their displeasure. Having an official behave as if they believe fans came just to see them, however? That crosses a line to injecting themselves into the game itself. Supposedly objective observers have to be better.
Managerial biographical information courtesy of Baseball Reference.