UNC Basketball: The Tar Heels Desperately Need RJ Davis to Be the X-Factor If They Hope to Make a Run in March
College basketball's biggest month is finally upon us. Conference tournaments are nearing the finish line, and Selection Sunday is approaching fast.
Most years that would mean North Carolina envisioning its path to the Final Four. This season, though, UNC didn't have its sights set on the NCAA Tournament at all until the beginning of March.
The Tar Heels have the on-paper talent to make a run through the ACC Tournament and past the first weekend of the big dance.
But sophomore guard RJ Davis is the key to getting them there.
UNC may finally be gearing up for a deep March run
Hubert Davis's first year in charge of the program saw some wild ups and downs.
Until a gigantic upset of Duke at Cameron Indoor Stadium in the regular-season finale, it wasn't a guarantee UNC would even sniff the NCAA Tournament.
But now Carolina is rolling. The win over the rival Blue Devils was the cherry on top of its tourney resume.
The Heels won 10 of their final 12 games, and beating then-No. 4 Duke made it 11 of 13. UNC faces Virginia Tech in the ACC Tournament semifinals on March 11 and hasn't lost since Feb. 16.
(Mike Krzyzewski's team faces Miami in the other semifinal, so we could be getting a Duke-UNC rematch in the ACC Tournament title game.).
All signs are pointing up for Carolina. But if the team is finally going to unlock its postseason potential, Davis needs to be the key.
RJ Davis has to be the Tar Heels' X-Factor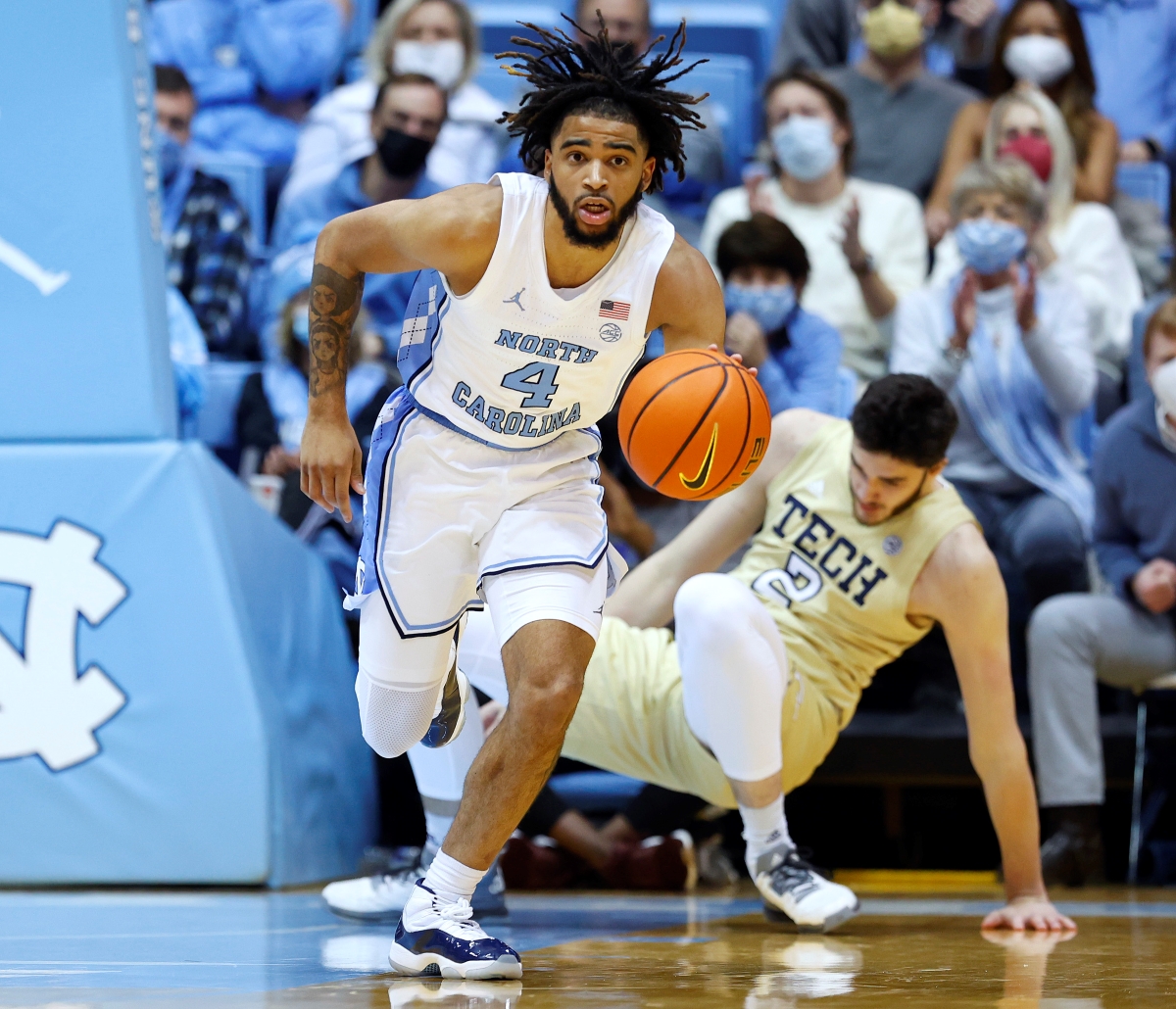 Junior forward Armando Bacot is the Tar Heels' best player. The 6-foot-10, 240-pound big man has made two All-ACC teams and is averaging 16.4 points and 12.4 rebounds this year, which leads the conference.
Sophomore guard Caleb Love is scoring 15.6 points a night, while graduate transfer Brady Manek is averaging 14.6.
That leaves Davis, whose 33.2 minutes per game are second only to Love's 33.5. RJ is a more efficient player than his backcourt partner but is often the team's fourth option on offense.
When Davis plays his best, though, the Tar Heels play their best.
The 6-foot guard was UNC's most valuable player in the win over Duke. He had 11 first-half points, including a buzzer-beating three. He added 10 more in the second half and never left the floor.
Davis has morphed into the Heels' primary ball-handler, and against the Blue Devils, controlled the pace and only turned the ball over twice. It was a game reminiscent of recent UNC lead guards like Joel Berry and Marcus Paige.
Nearly as important, if not more important, is that Davis has shot 45.8% (11-of-24) from three in the six games since Carolina's last defeat. For a team rather devoid of deep threats, that's a good sign.
RJ's ability (admittedly, that may be potential ability for now) to initiate the offense, shoot consistently from three, and be a second scoring guard next to Love, could mean the difference between a first-round NCAA Tournament exit and a run past the Sweet Sixteen.
Davis may not be UNC's best player, but he has an important role to play
Bacot and Love are perhaps more talented, and Manek is more established and experienced. But RJ brings an overqualified role player to the court that the Tar Heels haven't had regularly this season.
Cole Anthony and Coby White have come through the program recently, but both were scoring guards more than point guards. Carolina hasn't had a steady floor general since Berry in 2018.
Against Duke, Davis played both of those roles. If he can be that guy — like he has been over the past few weeks — UNC could turn an up-and-down, disappointing season into a possible Final Four run.
All statistics courtesy of ESPN.com.
RELATED: UNC Legend Tyler Hansbrough Savagely Trolls Mike Krzyzewski's Cameron Farewell Celebration After Tar Heels' Upset Win