UNC Basketball: Tar Heels' Upset of Duke Could Be Catalyst for Postseason Run
The North Carolina Tar Heels were an NCAA Tournament bubble team at one point during head coach Hubert Davis's first season in charge. But something clicked at the end of January, and since then, UNC has been a different basketball team entirely.
The Heels ripped off 11 of their final 13 regular-season games, culminating in an upset of rival Duke in coach Mike Krzyzewski's final game at Cameron Indoor Stadium.
Any UNC basketball win over Duke is significant. But for a team that struggled early and capped off a late-season run with a dramatic win under college basketball's brightest lights, it could be a springboard for a deep postseason push.
The Tar Heels upset Duke in their regular-season finale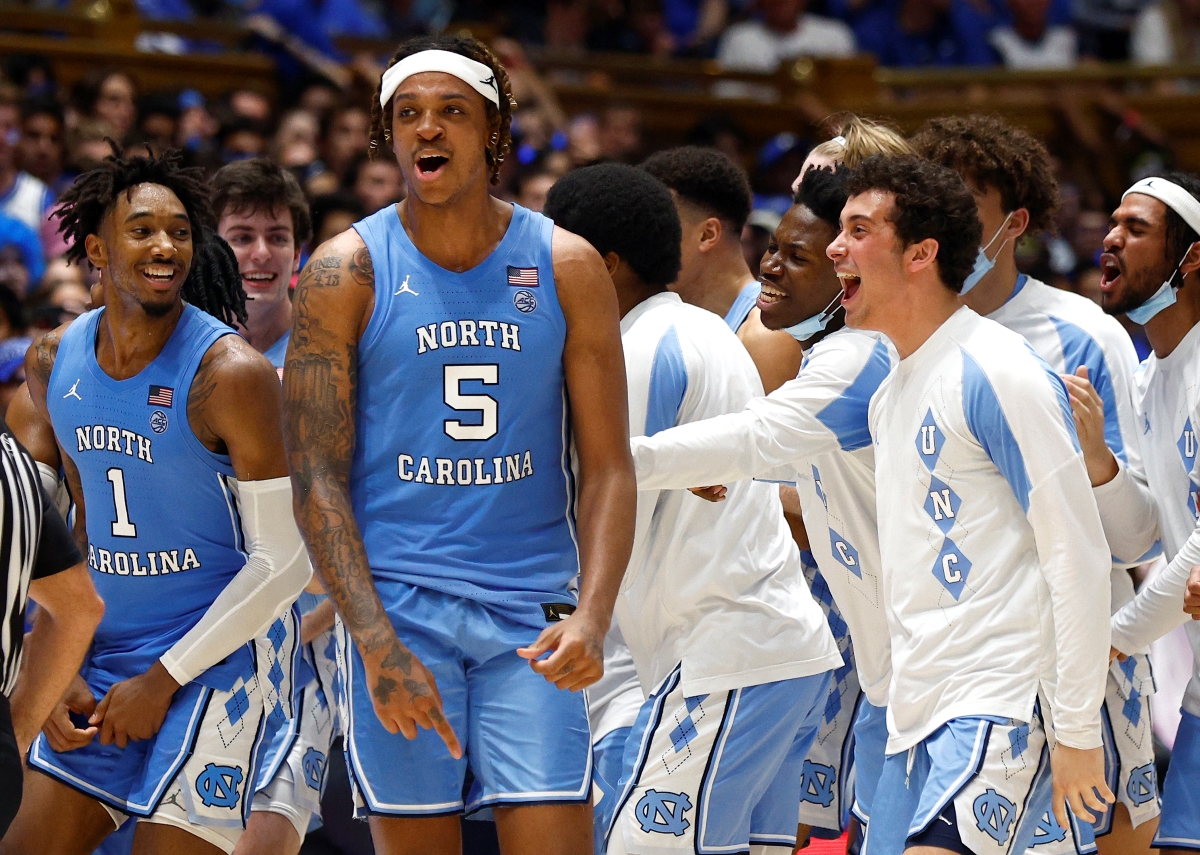 It was Coach K farewell day at Duke, an entire Saturday filled with Krzyzewski celebrations and capped off by the Hall of Fame coach's final game against the Tar Heels at Cameron.
UNC spoiled that last part, though, upsetting the then-fourth-seeded Blue Devils 94-81. The Heels led by just two with 5:30 left in the second half but rolled down the stretch.
"All week, we just talked about our competitive fight," Davis said via ESPN, "that we had to do three things: We had to plant our feet, we had to stand our ground and we had to fight. … I just felt like, as the game went on, we started to just gain more and more confidence."
"We know how good of a team we are," junior forward Armando Bacot, who had 23 points in the win, added. "We know at times we've had lapses. But we came in and we knew we were going to win the game."
Three key things from Bacot's statement:
On paper, UNC is a good team
They've had far too many lapses and inconsistencies
Bacot needs to play well for the Tar Heels to win
Davis and his squad put together the right recipe against Duke. Now they have a chance to use the victory to their advantage.
That win could be a catalyst for a surprise postseason run
The win in Cameron would have been considered season-changing had it come in December.
But to end the year with that kind of a bang, coupled with UNC's run over the final month of the season as a whole, has the Tar Heels peaking at the right time.
It may be construed as coach speak, but playing your best basketball heading into the conference and NCAA tournaments is key to a potential National Championship run. That's the case whether you're a college basketball blueblood or a mid-major that rides a late wave.
Bacot finished the regular season seventh in the ACC in scoring at 16.6 points per game and led the conference with 12.5 rebounds a night.
Sophomore point guard Caleb Love had 21, 16, 16, 21, and 22 points in UNC's final five games, all wins. Fellow sophomore backcourt mate RJ Davis was in double figures for four of those games including 21 points on 56% shooting and 50% from deep in the win over the Blue Devils.
Outside of Bacot, graduate transfer Brady Manek has been the Heels' most consistent offensive weapon. He averaged 14.4 points and had 14, 17, 16, 22, and 20 in that final five-game stretch.
The guys in Carolina blue finished the regular season on a hot streak, capped it off with a dramatic rivalry win on a big stage, and are peaking heading into the postseason.
Those are all confidence boosters that could send UNC rolling downhill into tournament time.
UNC has the talent to play deep into March
The four mentioned above are the Tar Heels' best players, but the rest of the cupboard isn't bare.
Leaky Black is the glue that holds everything together. The senior is Carolina's best defender at a rangy 6-foot-8 and has developed into a 40% shooter from three.
Sophomore Kerin Walton is the team's most talented deep threat as its sixth man. Puff Johnson is right there with him in terms of shooting ability. Sophomore guard Anthony Harris provides depth off the bench when it's needed.
As per usual, UNC is loaded with on-paper talent. However, inconsistencies have held the team back for chunks of the year. But it appears the Heels are playing their best when it matters most.
And the Duke win could be the icing on the springboard cake, if you will.
All statistics courtesy of NCAA.com.
RELATED: Michael Jordan Was Just Called the 'Biggest Fraud in the History of Sports' as Fellow Ex-Tar Heel Fires a Brutal Shot at MJ While Backing Scottie Pippen