An Under-the-Radar Miami Dolphins Quarterback Surprisingly Skyrocketed His Value Against the Bengals
The Miami Dolphins quarterback position has been a hot topic for debate this offseason.
First, there's Tua Tagovailoa. The second-year QB had an up-and-down rookie season and made a handful of mental mistakes during his first preseason game. Those mistakes had some Dolphins fans questioning his ability to take a step forward in 2021.
Second, there's Deshaun Watson. Obviously, Watson is a member of the Houston Texans, but his name has frequently been connected to the Dolphins in light of his trade request. However, his current off-the-field legal issues have prevented any serious traction thus far.
Finally, there's former undrafted free agent Reid Sinnett, a player few knew of before the Dolphins' preseason win over the Cincinnati Bengals.
Reid Sinnett had a jaw-dropping preseason performance
Sinnett's NFL career got off to a lackluster start as he was an undrafted free agent who initially signed with the Tampa Bay Buccaneers in 2020.
He signed with the Bucs for a measly $152,000 and was waived during final roster cuts. Soon after, Sinnett was signed to the Tampa Bay practice squad, only lasting three days before being outright released from the Bucs organization. By September, he was completely out of a job.
However, Sinnett got scooped up by Miami less than a week after being released from Tampa Bay. The Iowa native spent the year on the Dolphins' practice squad. He was elevated to the active roster in Weeks 12 and 17 but didn't play a snap during either game.
After signing a future/reserves contract in January, Sinnett found himself as the Dolphins' QB3. He is wasting little time grabbing firm control of said role.
The Dolphins got a surprisingly strong performance out of their third-string QB
Getting the start during the Dolphins' third preseason game, Sinnett took command of the afternoon and flashed some impressive quarterbacking skills.
Sinnett threw for 343 yards and two touchdowns, including a ridiculous game-winning throw on 4th-and-15.
It was a preseason game against third- and fourth-stringers, who are likely to be cut in the coming days, but it was still a promising performance for the Dolphins backup. Praises for Sinnett came raining down after the game from various media members:
Sinnett played the whole way for the Dolphins, who decided to rest Tua Tagovailoa and veteran backup Jacoby Brissett along with practically every other projected starter. He became the first NFL quarterback this year to reach 300 passing yards in a preseason game. Sinnett finished with 343 yards, adding a two-point conversion pass to Malcolm Perry after Myarick's touchdown.

Alain Poupart via SI.com
The Dolphins should continue to work with and develop Sinnett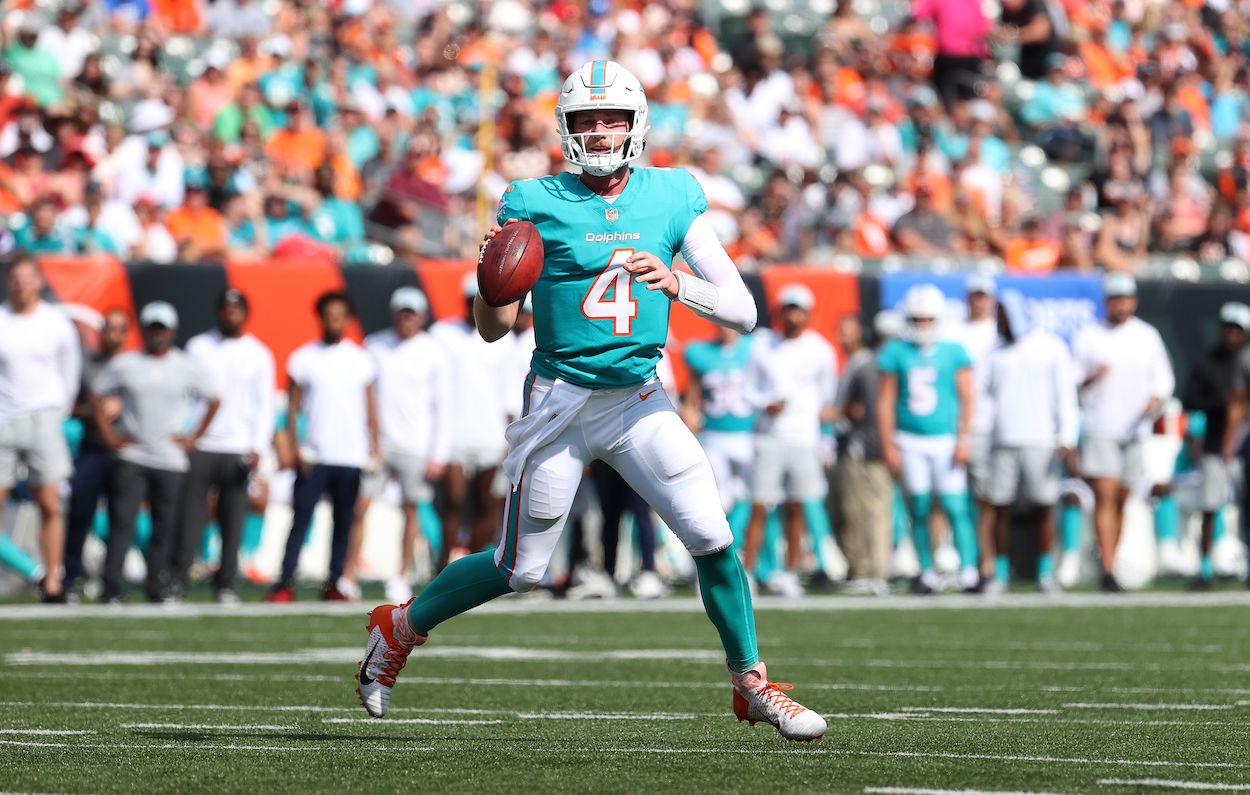 Believe it or not, having a developmental quarterback stashed away on the roster is an underrated need in today's NFL.
Not only does Sinnett have the potential to blossom into a QB2 following Jacoby Brissett's expected departure in the offseason (the Dolphins' current backup), but he also has the potential to fetch a draft pick via trade should another team take notice.
The Philadelphia Eagles just traded the Jacksonville Jaguars a Day 3 pick for Gardner Minshew II. That's proof that teams will pay up for young backup quarterbacks.
Either way, Sinnett's development is a major win for the Dolphins. His presence gives the front office significant roster flexibility moving forward.
All stats courtesy of NFL.com.