An Underrated Superstar Should Finally Get the Respect He Deserves After Embarrassing the Los Angeles Lakers With His Own Big 3
Forgive NBA fans for ignoring the Oklahoma City Thunder. Other than the fact general manager Sam Presti has acquired 75,000 picks and pick-swaps, OKC has been an afterthought. At least from the outside, the team seems to be more focused on developing and acquiring young players than winning actual games. But somewhat secretly, Thunder point guard Shai Gilgeous-Alexander is developing into a legitimate superstar.
Gilgeous-Alexander was a lottery pick, so it's not like his rise is coming entirely out of nowhere. When he was included in the OKC-Los Angeles Clippers trade that sent Paul George to LA and Shai back to Oklahoma City, however, he fell off the national radar.
The former Kentucky standout has steadily improved his game and shot himself into the national spotlight, though, with a dominant performance in a win over the LA Lakers. Gilgeous-Alexander was the best player on the court, even with Anthony Davis and Russell Westbrook on the floor with him.
Shai Gilgeous-Alexander has become an under-the-radar NBA star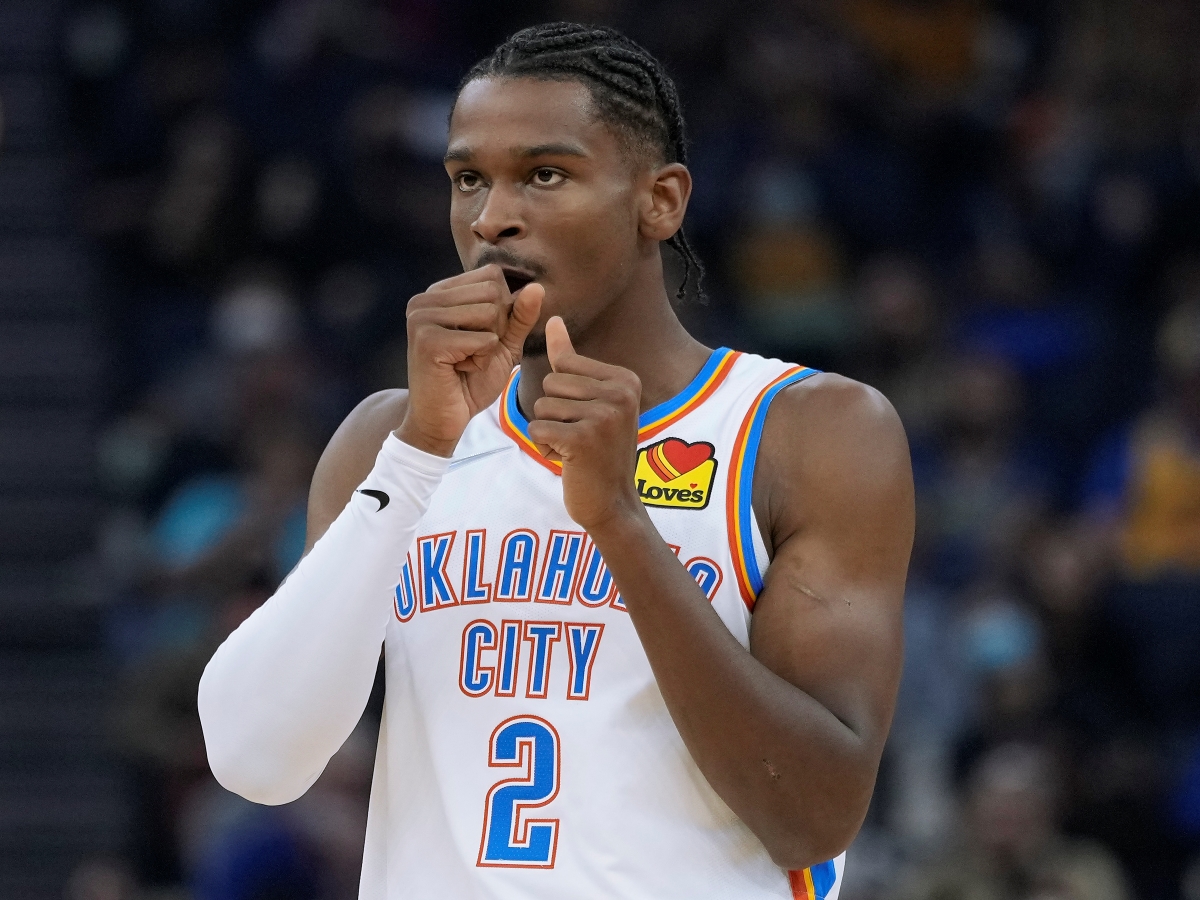 Toiling away on a rebuilding franchise with little-to-no playoff expectations tends to toss young players off the NBA hype train. But it's time the league recognizes the Thunder's key building block.
SGA was the No. 11 pick in the 2018 draft. He was named to the All-Rookie team that season after showing potential as an immediate starting point guard. In his initial NBA campaign, Shai Gilgeous-Alexander started 73 of the Clippers' 82 games with a stat line of 10.8 points, 2.8 rebounds, 3.3 assists, and 1.2 steals. Shai had an effective field-goal percentage of 51.2 and shot 36.7% from three.
LA made its big Kawhi Leonard-George move the following offseason, and the Canadian point guard was shipped off to Oklahoma City.
Since arriving with his new organization, Shai has started every game and improved in nearly every statistical category.
But 2021-22 appears to be his "I've arrived" season, and his most significant moment as a pro to this point came in the Thunder's come-from-behind win over the Lakers.
SGA sealed the deal with a 'Big 3' in a comeback win at Staples Center
Strangely, OKC's only two wins this year have come against the Lakers. The Thunder were supposed to dwell at the bottom of the Western Conference, while LA was a popular championship pick. Go figure.
The biggest play of the night — and essentially the dagger in the Thunder's comeback — came in the final minutes with Oklahoma City up three. At that point, Gilgeous-Alexander had already led his team back from a 19-point deficit.
Then Shai pulled up from the "L" in the Lakers logo at midcourt and drained a 29-footer to put the Thunder up by six with 1:18 to play. OKC went on to win 107-104.
SGA was feeling it, so he decided to fire off the long-range bomb that essentially sealed the win, according to ESPN:
"(It was) just a momentum shot. I was feeling good.

"I usually don't shoot that shot in a game. We shoot that shot at the end of every practice, though. I felt confident to shoot the ball."

Shai Gilgeous-Alexander on his deep three in OKC's win over the Lakers
Gilgeous-Alexander finished the night with 28 points — 11 of which came in the fourth quarter — and added six assists, three rebounds, and a steal.
Thunder guard Kenrich Williams, who had 13 points and eight rebounds off the bench, had complete confidence in his point guard's decision to try and put the nail in the coffin.
"Anybody else, I would have said something. But Shai, I'm cool with it. He is a special player."
Shai Gilgeous-Alexander is in the midst of his breakout season
The former Wildcat is tall and long — 6-foot-6 with a 6-11 wingspan — and also deceptively quick. Like the Dallas Mavericks' Luka Doncic, SGA won't wow anyone with his athletic prowess, but his start-and-stop maneuvers and offensive IQ allow him to get to his spots and find the shot he wants.
Through this season's first two games, he was averaging 15.5 points a night. Since then, though, the fourth-year guard has had games of 30, 29, 28, 28, and 27 points. He's shot better than 45% from deep in four of those games and has racked up 27 assists.
Shai could very well choose to dominate the ball with a lesser supporting cast around him. But Thunder head coach Mark Daigneault is impressed with the way his franchise point guard has been willing to facilitate and defer at the right moments, according to SI.com.
"I've said before, his awareness and investment in the team and his teammates is pretty special for a really ambitious young player.

"He's just got unbelievable balance between his own ambition and his willingness to plug into the team, and it's a contagious effect."

Thunder head coach Mark Daigneault on Shai Gilgeous-Alexander
OKC's centerpiece might be relatively unknown to the casual fan, but his breakout is coming, and it just began with a big three to earn a win over Hollywood's glamourous Big Three.
All statistics courtesy of NBA.com
RELATED: Shai Gilgeous-Alexander Signed With Converse to 'Build His Own Lane'