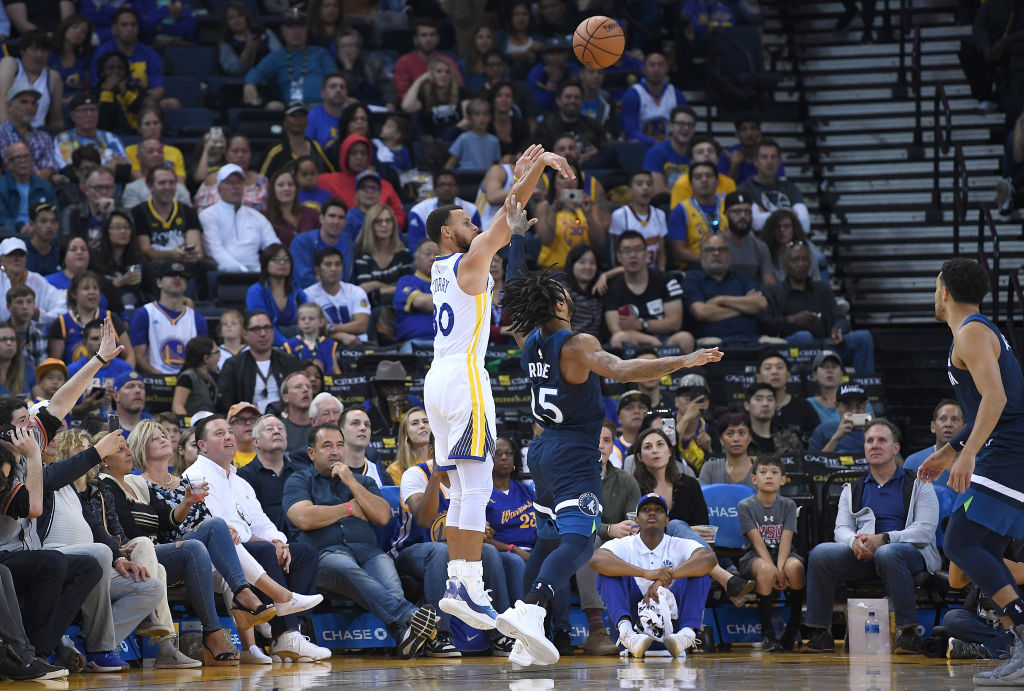 5 Nearly Unguardable NBA Players
These five unguardable NBA players have plenty of moves in their arsenals. and they are hardly slowed down by the game's best defenders.
The NBA is full of highly skilled players, but there are only a handful of players that are unguardable. The players listed below can score with high efficiency, each with an arsenal of moves rivaled by only the greatest players the game has ever seen. Let's take a look at five unguardable NBA players who are hardly slowed down by the game's best defenders.
James Harden — Houston Rockets
Reigning MVP James Harden has been one of the most unguardable NBA players for quite some time. While he was utilized as an exceptional sixth man in Oklahoma City, his career trajectory took off when he became the focal point of the Houston offense. Harden is averaging more than 36 points per game this season and uses an array of moves to get to the basket with ease.

He can also beat you from behind the arc, and his step back is one of the toughest moves to defend. Once Hardin gets you into an isolation situation you can only hope that help defense will come if he blows by you, or that you don't end up as a meme by getting crossed over.
Stephen Curry — Golden State Warriors
The thing that makes Stephen Curry so tough to defend is his ability to shoot from anywhere on the court. He's become so good at shooting from deep that he plays better than his video game counterpart, and we have seen 2K sports adjust their gaming code to try to make video game Steph imitate real life Steph.

Once he crosses the half-court mark you just have to hope that he doesn't have a foot of space to get off a shot because if he does there's a 40% chance it's going it.
Kevin Durant — Golden State Warriors
Standing nearly 7 feet tall, Kevin Durant's ability to dribble like a point guard makes his arsenal so hard to stop. He can hit you with a pull-up shot at any moment, and his hesitation when setting up his crossover is so fluid that defenders have a tough time deciding whether to take a few steps back (hoping he doesn't beat them by driving to the hoop) or wait to see if he decides to pull up from deep.

Durant's length also gives him an edge against defenders. He can grab a rebound and take the ball coast to coast without much distance between him and the other end of the court. The former MVP has four scoring titles to his name, and clearly shows why he ranks as one of the most unguardable NBA players.
Kyrie Irving — Boston Celtics
Irving doesn't have the best shooting touch as some of the other players on this list, but it is widely believed around the league that he has the best handle in the game. When Irving has a mismatch the crowd simply anticipates whether or not he will make the defender turn around and do a 360, or if he will simply have them fall to the floor with a devastating crossover.

Once he gets his dribble in rhythm it's like watching someone do yo-yo tricks before using a quick first step to get to the hole.
Giannis Antetokounmpo — Milwaukee Bucks
The Greek Freak has developed his offensive game each season he's been in the league. He doesn't have the flashiest crossover, and while he is still improving as a shooter, isn't a huge threat from deep like Curry. However, the toughest thing to stop in his arsenal is his when he is going full speed down the court on a fast break.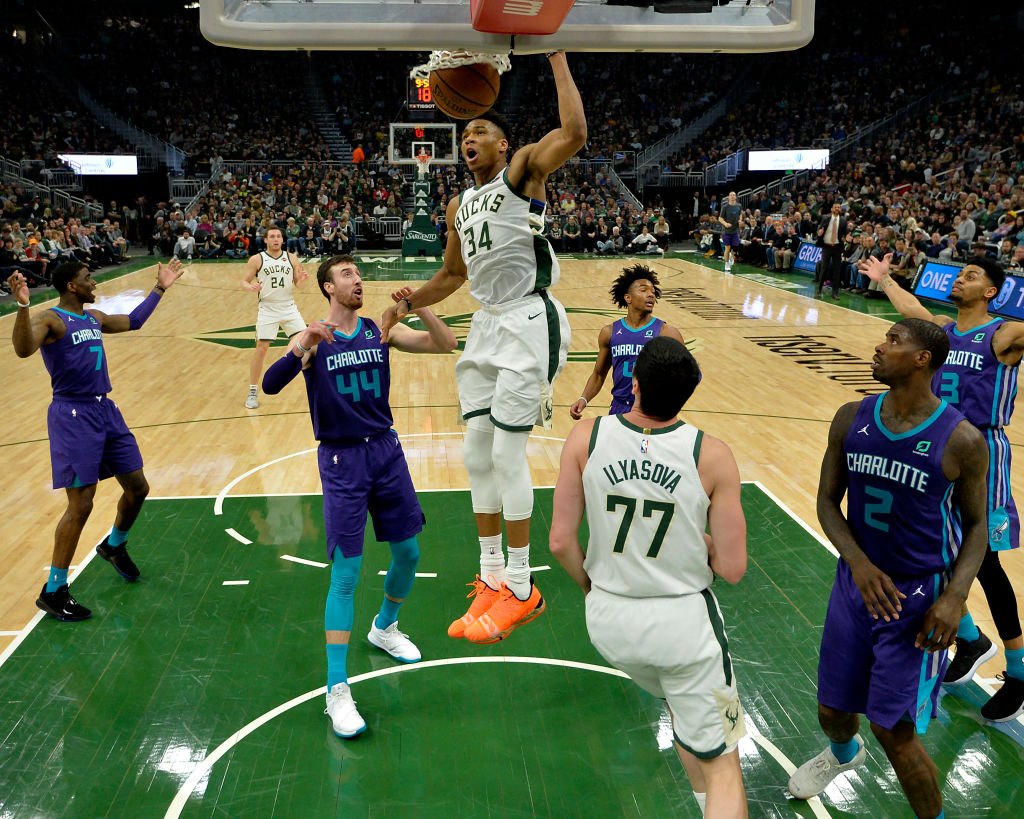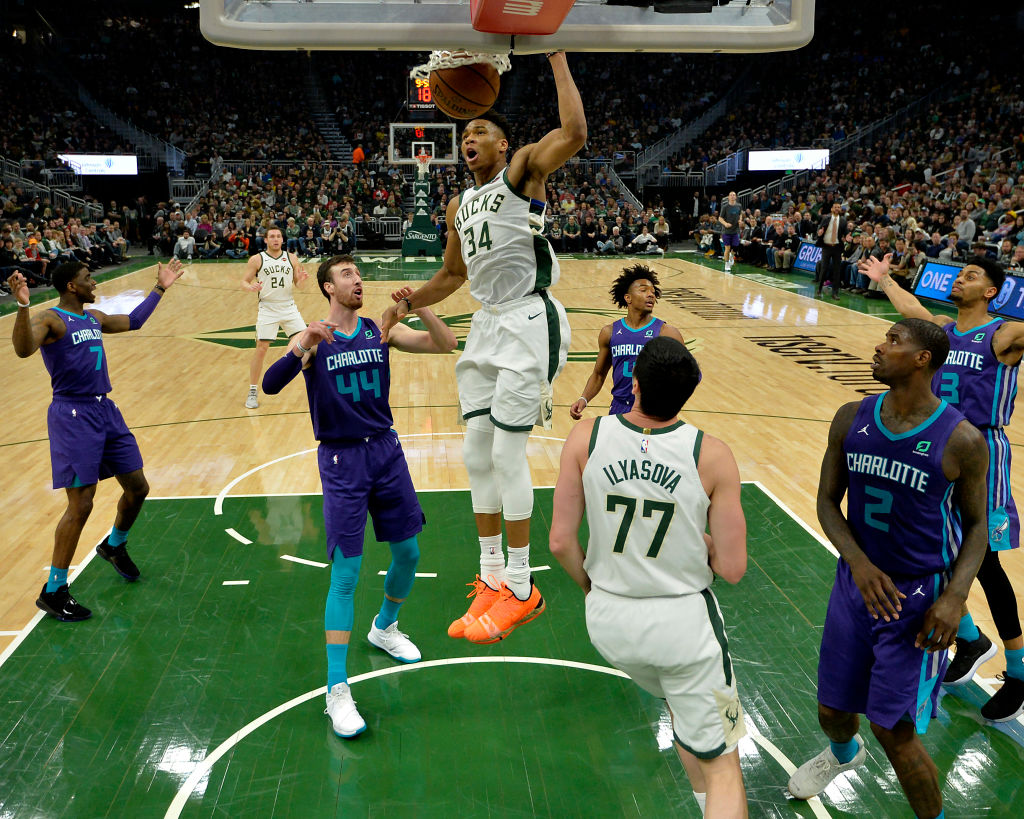 He can get to the hoop in one dribble after crossing the half-court line, as his length and immense wingspan allow him to finish a drive without much impeding his progress from the defensive end.

Giannis averages 12 rebounds per game, so he has plenty of scoring opportunities off the dribble. With Antetokounmpo leading the way, the Bucks have one of the best offenses in the league this season.
What other players do you think are unguardable?
Having a look at our list of the most unguardable NBA players, who do you think is missing from the list (if anyone)? We are a few short weeks away from the playoffs, and all these players have spots waiting for them in the postseason. Maybe we'll see some of those unstoppable moves under the playoff spotlight.