A Band of Unknowns Are Proving the Philadelphia 76ers Don't Need Ben Simmons: 'This Group Is Really Close, They Don't Have Any Distractions, and They Play Hard'
The Ben Simmons drama has been a dark cloud hanging over the Philadelphia 76ers' roster since the conclusion of last season. Since the team has actually taken the court and started producing wins, however — and as Simmons has disappeared from the franchise altogether — the story has at least mostly shifted to the team as a whole.
Franchise center Joel Embiid, head coach Doc Rivers, and the remaining members of the organization have kept the Sixers afloat. Actually, better than just afloat.
Philly is getting production from a ragtag bunch of role players who are proving that the sum is truly greater than the parts.
Philadelphia is 8-2 and atop the Eastern Conference
Philadelphia has begun the season with eight wins in its first 10 games. The Miami Heat are 7-2, and then a handful of teams come in at 6-3.
As a franchise, the Sixers have been Embiid and Simmons over the past few seasons. When healthy, JoJo is one of the most dominant players in the league. Simmons has been one of the league's best defensive stars and a high-level facilitator.
But the pairing never led to significant title contention.
Now that Simmons is gone and any timetable (or possibility, for that matter) for his return to the team is entirely unknown, Rivers has been forced to look further down his bench for production.
And he's gotten it — plenty of it — from a bunch of relative unknowns who, along with Embiid, have drowned out almost all of the Simmons conversation in the best way possible — on the scoreboard.
The Philadelphia 76ers have one of the most balancd rosters in the NBA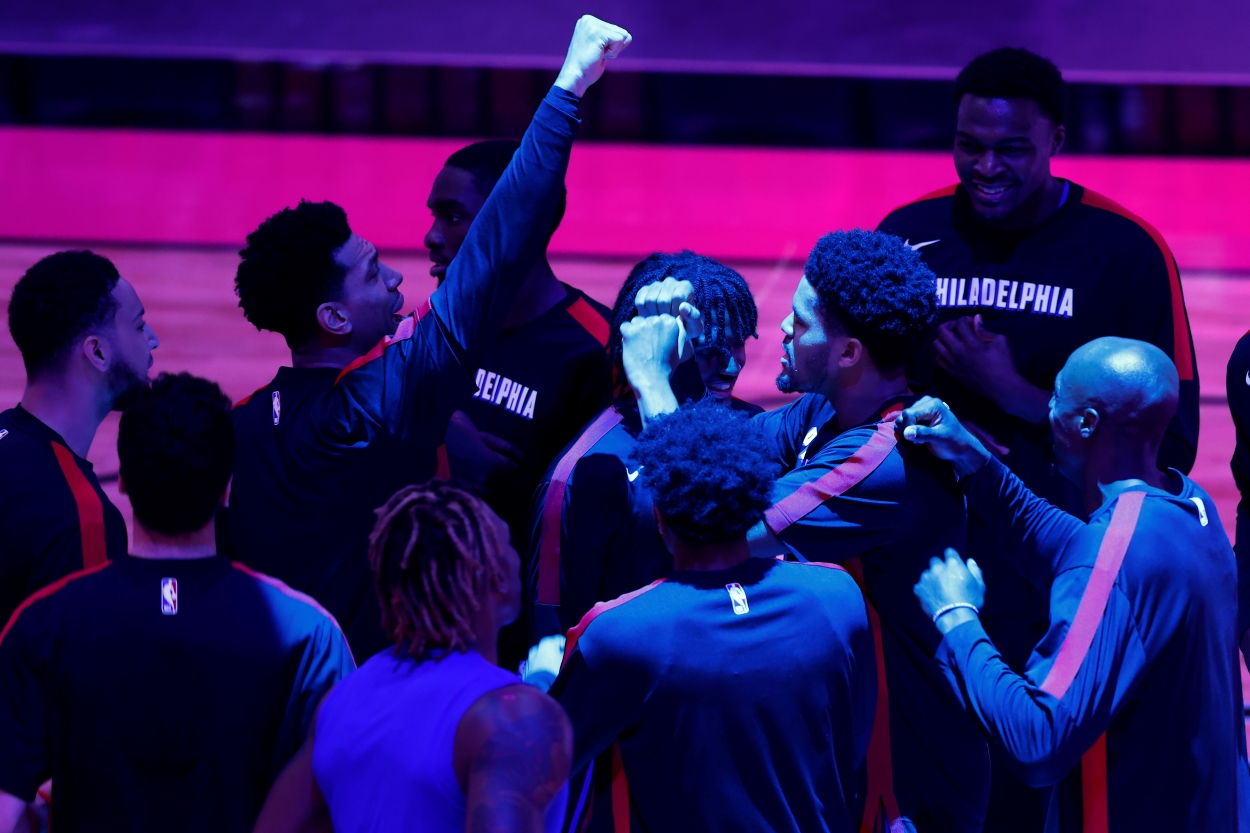 Embiid, naturally, has been Philly's leading scorer and rebounder so far in 2021-22. The 7-foot Cameroonian is averaging 21.4 points and 9.4 rebounds. But it's the following nine names in Rivers' rotation that are carrying the team.
Tobias Harris was always the third wheel alongside Simmons and Embiid. Now, he's filling the Robin role alongside the franchise's center (piece) and scoring 19.8 points per game on better than 54% shooting.
Seth Curry has long been one of the best shooters in the league and has upped his scoring production to 17.1 points a night on 50% shooting from three, good for the third-best mark in the NBA.
Tyrese Maxey has been the team's newest starter in the backcourt and is averaging 14.2 points per night. Career role player Furkan Korkmaz is scoring 12.4 points per game on 42.6% shooting from deep. Five-year journeyman Georges Niang is playing 22.7 minutes and averaging 11.9 points.
Shake Milton is adding 11.7 points per night on 41% shooting from beyond the arc.
There's also Matisse Thybulle, maybe the best perimeter defender in the league. The Washington product is averaging 2.3 steals and 1.7 blocks per game — both team highs.
As Rivers said via ESPN:
"This group is really close, they don't have any distractions, and they play hard."

Doc Rivers on his 2021-22 Philadelphia 76ers team
It was assumed this year's iteration of the 76ers without Simmons would be Embiid and then everyone else. But instead, it's been Embiid plus everyone else.
It appears to be addition by substraction for Philly
Simmons and Embiid, along with Harris, were the team's leading scorers a season ago. Only three other players on the Philadelphia 76ers roster averaged double digits.
This year, a much deeper and more balanced team has also been more successful, both on the scoreboard and win column.
Rivers seems to be pushing all the right buttons. Maybe that's easier with Simmons gone. Certainly, the roster general manager Daryl Morey has put together, and Rivers' use of that rotation allows for more spacing, shooting, and a better offensive flow altogether.
Curry won't hit half of his 3-point attempts over an entire 82-game season. Niang and Milton will likely regress closer to their career means. Ditto for Korkmaz.
Philly just appears to be a better team this year than last, and it's because of that band of role players who have mostly toiled away in obscurity during their careers.
But they won't for much longer.
All statistics courtesy of NBA.com.