An Unlikely Hero Saved the Packers' Secondary and Ruined the Cardinals' Undefeated Season
While Thursday Night Football has developed a reputation for showcasing less-than-stellar games over the past few years. Week 8's game between the Green Bay Packers and the Arizona Cardinals had the makings of an instant classic on paper.
On the one hand, Kyler Murray and the Cardinals were undefeated. On the other hand, Aaron Rodgers and the Packers had rattled off six straight wins.
While most Cardinals fans left the game feeling sick to their stomach, the Thursday showdown undoubtedly lived up to the hype.
An unlikely hero saved the Packers
We saw a little bit of everything during this NFC clash. Arizona WR DeAndre Hopkins played through pain the entire evening. Recent Cardinals acquisition Zach Ertz caught four passes. Packers running back Aaron Jones racked up 100-plus yards. Both Murray and Rodgers showcased spurts of MVP-caliber talent.
However, despite the star-studded affair, it was an unlikely and unheard-of individual who ended up sealing the deal for Green Bay.
With the game on the line and Murray and the Cardinals just a few yards away from walking off with a win, Packers cornerback Rasul Douglas came away with an end-zone interception. It was a somewhat silly-looking play, seeing as Cardinals WR A.J. Green never even turned around. However, Douglas was in the right place at the right time and made the play to ruin Arizona's chances of completing an undefeated season in 2021.
How Douglas ended up a starting cornerback for Green Bay during a crucial NFC matchup is quite the story.
Rasul Douglas had a long road before landing in Green Bay
Hailing from West Virginia University, Douglas was first drafted by the Philadelphia Eagles in 2017. While he did slightly contribute to the team's Super Bowl win as a rookie, Douglas' Philly career was unpleasant.
He spent most of his time with the Eagles bouncing around between a starting and bench role. He was a poor fit for defensive coordinator Jim Schwartz's scheme, ultimately being released during training camp in 2020.
Douglas landed on his feet with the Carolina Panthers that same year. However, his success was short-lived. Despite performing admirably well in Carolina's secondary, he found himself without any job offers the following offseason. He spent time on three practice squads in 2021 (Las Vegas Raiders, Houston Texans, Cardinals) before being claimed by the Packers on October 6.
Douglas was thrust right into the Green Bay lineup due to a lack of depth. His last-second heroics against his former team will surely buy him extra leeway with the Packers moving forward.
Can Douglas stick in the Packers' secondary?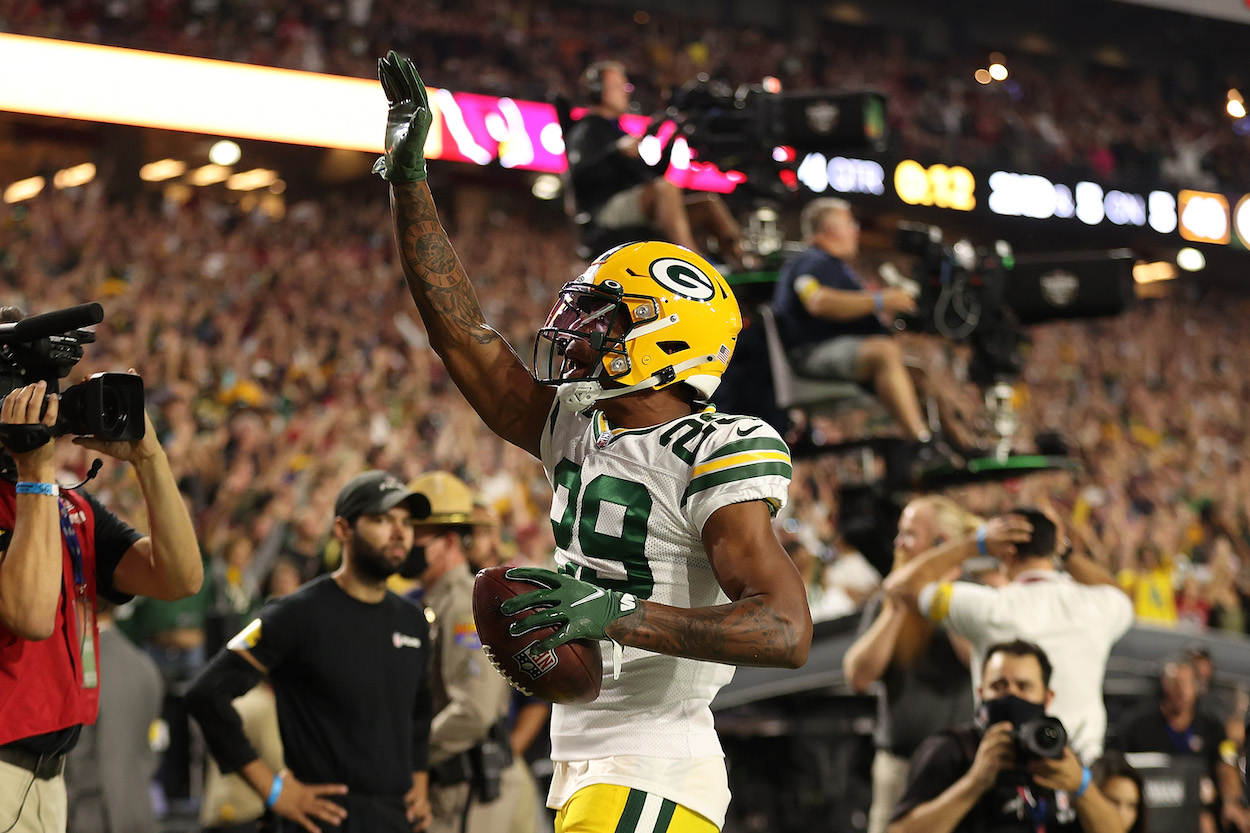 The Packers' lack of defense has been an issue for a few years now. They're seemingly desperate for a boost in any which way they can get.
So, can Rasul Douglas be that boost?
Common sense suggests no based on how his Eagles career ended and his lack of free agency interest this past offseason. Douglas is a slower, big-bodied corner who struggles on deep passes. He's only proven serviceable on passes around the line of scrimmage.
However, maybe Green Bay is just the fresh start he needed. Douglas is only 26 years old. There's definitely the opportunity for growth.
Regardless, he made a massive play on Thursday Night Football against the Cardinals and deserves some time to feel good about himself. He'll likely get a further opportunity in Green Bay due to that lone interception.
Like Sportscasting on Facebook. Follow us on Twitter @sportscasting19.
RELATED: A Controversial 49ers Draft Decision Is Under Fire Following Terrifying Reports of Potential Season-Ending Surgery