Upset Alert? 4 CFB Teams That Need to Play Well in Week 3
When it comes to a jam-packed college football Saturday, the question isn't 'if' an upset will happen, but 'when.' So as Week 3 of the 2014 season gets underway, which schools in the Top 25 need to bring their A game if they hope to stay unbeaten? We came up with four games where underdogs could possibly pull a massive surprise — or at least put a scare into the favorite. Which matchups would you add to our list?
It's time for this week's "Upset Alert."
(All rankings based on the Week 3 AP poll. Games are listed in chronological order.)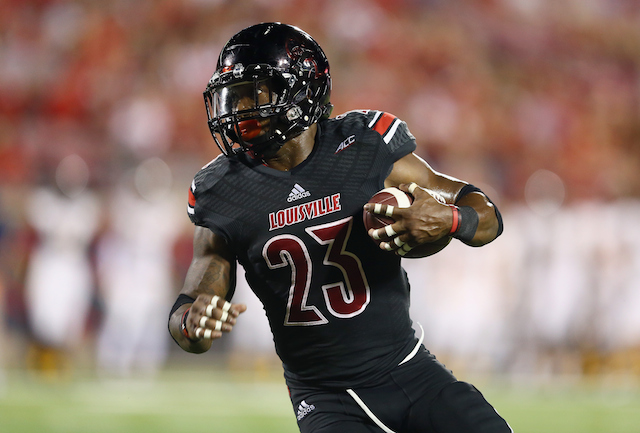 No. 21 Louisville at Virginia, Saturday, 12:30 p.m. ET
It can be easy to take an opponent lightly that just won for the first time in 350 days, as the Virginia Cavaliers did by beating Richmond Saturday. However, the Cavaliers could be a tricky opponent for new league foe Louisville. Virginia won't be intimidated by the Cardinals after playing top-10 UCLA tough in a one-score defeat to open the season. Louisville is looking for its ninth consecutive win, but nothing will come easy for Bobby Petrino's team as they adjust to the grind of the ACC in their first conference road game.
UVA has not one, but two quarterbacks capable of moving the chains and putting points up on the board in Greyson Lambert and Matt Johns. As coach Mike London said: "I'm content with anybody that can help us win or whoever the guy is back there — making it happen for us … right now it's been productive for us, and we'll continue to do that until it proves otherwise." Virginia will need both signal-callers to play well in hopes of controlling the time of possession and keeping Louisville's high-powered offense off the field — the Cards put up 66 against Murray State their last time out.
No. 6 Georgia at No. 24 South Carolina, Saturday, 3:30 p.m. ET
It's often been said that a team needs to play a perfect or near-perfect game to upset a highly ranked opponent. From our point of view, a Top 25 program is better suited than most to do just that. When South Carolina hosts Georgia Saturday afternoon, the Gamecocks will be looking to even their SEC record after a surprising 24-point defeat in Week 1 vs. Texas A&M. It's the first conference game of the year for the Bulldogs, and Williams-Brice Stadium is always an extremely difficult place for Georgia to win; Mark Richt's team has been outscored by a combined 52-13 in its last two visits.
The biggest key in this game: can South Carolina slow down Todd Gurley and Georgia's talented stable of running backs? "We're going against four really great running backs that could probably start for any team in this conference," Gamecocks defensive line coach Deke Adams said. "It's going to be a challenge for us to contain them, but we're going to do our best." Gurley set the Georgia record with 293 all-purpose yards in a win over Clemson and added four touchdowns for the Bulldogs.
No. 12 UCLA vs. Texas at Arlington, Texas, Saturday, 8:00 p.m. ET
This isn't necessarily the most convincing argument in history for why a team could pull an upset, but it's still true. For the Texas Longhorns, they can't really play much worse. One of the proudest programs in college football laid an egg in a 41-7 home loss to BYU (and it wasn't even that close), so the law of averages says a team as traditionally talented as the Longhorns has to be more competitive when they square off with the Bruins in Arlington.
UCLA hasn't exactly set the world on fire to this point, as the Bruins are still looking for their first double-digit win of the year despite starting the season ranked No. 7 in the country. A nationally televised game on one of the biggest stages of the season (the Dallas Cowboys' AT&T Stadium) could provide an early signature win for the Charlie Strong era — if his team can slow down Heisman hopeful Brett Hundley, that is.
No. 9 USC at Boston College, Saturday, 8:00 p.m. ET
On paper, the USC Trojans shouldn't really struggle with Boston College, but the recipe for an upset is still here. Potential letdown/trap game after a crucial Pac-12 win at Stanford? Check. Cross-country trip? Check. Off-field distraction? Check. Missing a star player for half the game? Check. Major conference opponent on the road? Check.
Keep an eye on Boston College QB Tyler Murphy, who can make plays with his arms and legs both — Murphy is averaging more than seven yards per carry. He'll need to play the game of his life if the Eagles want to stun the Trojans, and absolutely must get off to a great start in the first half (with USC linebacker Hayes Pullard watching from the sidelines).