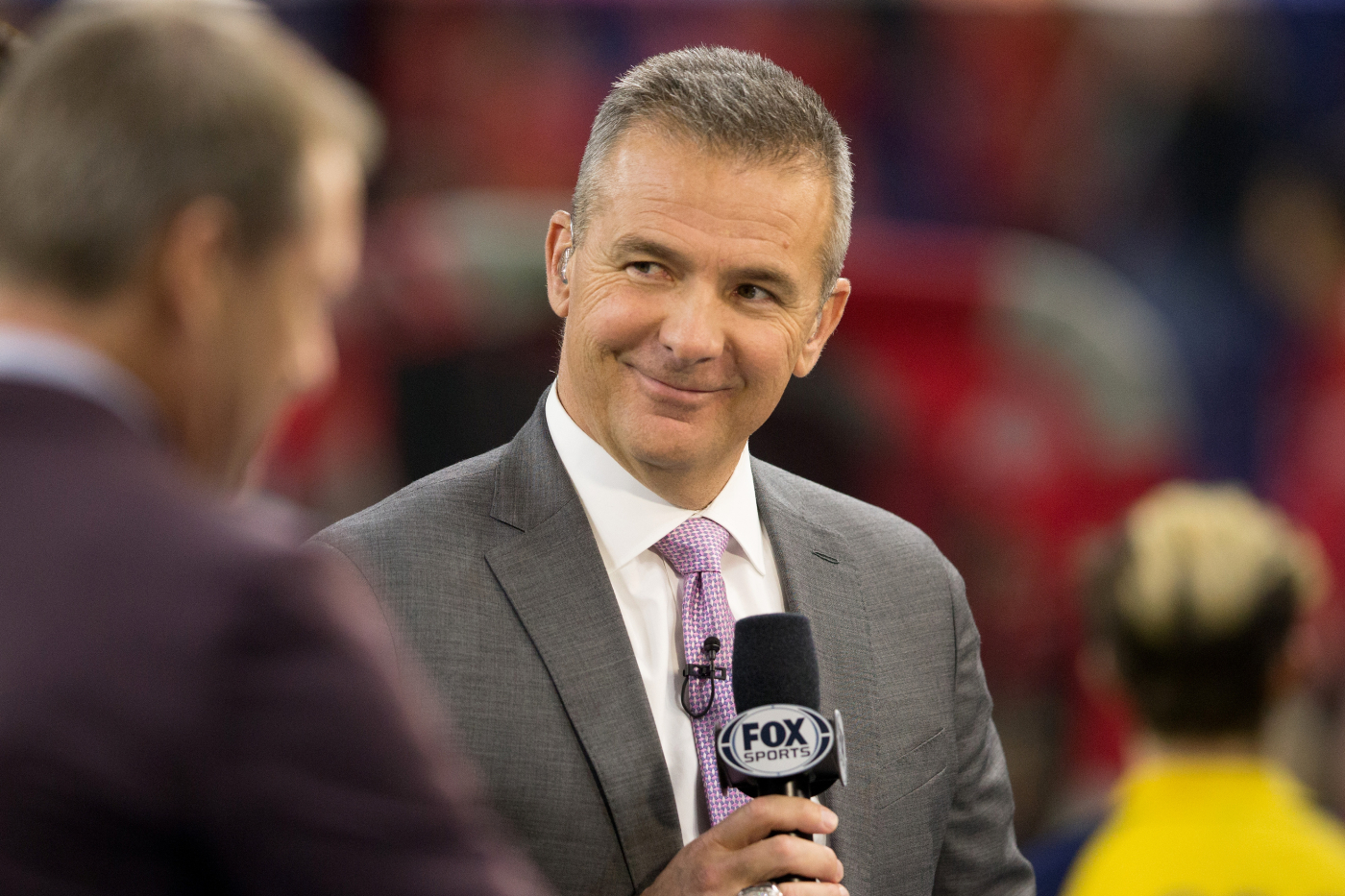 Urban Meyer Could Potentially Be Done on TV
Urban Meyer has become a successful analyst on FOX after having success as a coach at Ohio State and Florida. Could he be done on TV, though?
Urban Meyer has become a pretty good TV analyst after having an excellent college football coaching career at schools like Ohio State and Florida. However, he could potentially be done on TV pretty soon. In fact, Meyer could actually be back on the sideline soon, just not the college football sideline.
Urban Meyer was a successful coach at Florida and Ohio State
Before becoming a big-time coach at Florida, Meyer coached at Bowling Green and Utah. Meyer ultimately had Alex Smith as his QB during his two years at Utah, which led to the team having a lot of success. Utah went 10-2 and won in the Liberty Bowl in 2003, and then went 12-0 and won the Fiesta Bowl in 2004.
In 2005, though, Meyer began coaching the Florida Gators. He ultimately led them to a 9-3 record in 2005, but in 2006, he made them the best team in college football. The Gators ultimately went 13-1 that season and won the BCS National Championship. 
That year was the start of a dominant run at Florida for Meyer, too. After going 9-4 in 2007, Tim Tebow and Meyer led the Gators to a 13-1 record again in 2008. They also won in the BCS National Championship game again.
Then, in 2009, the Gators went 13-1 again. They, however, only went to the Sugar Bowl.
Meyer only spent one more year at Florida in 2010 before taking a step back from coaching for the 2011 season. During the 2012 season, though, Meyer became the head coach at Ohio State. They ended up going 12-0 during his first season there, too.
The Buckeyes then went 12-2 in 2013, but in 2014, Ohio State was the best team in the country. Players like Ezekiel Elliott, Michael Thomas, and Joey Bosa led Ohio State to a 14-1 record that season. They ultimately won in the Sugar Bowl over Alabama before winning in the College Football Playoff national championship over Oregon.
Meyer spent four more seasons at Ohio State and reached the CFP one other time but didn't win another championship. He retired from coaching following the 2018 season.
He has been a successful analyst on FOX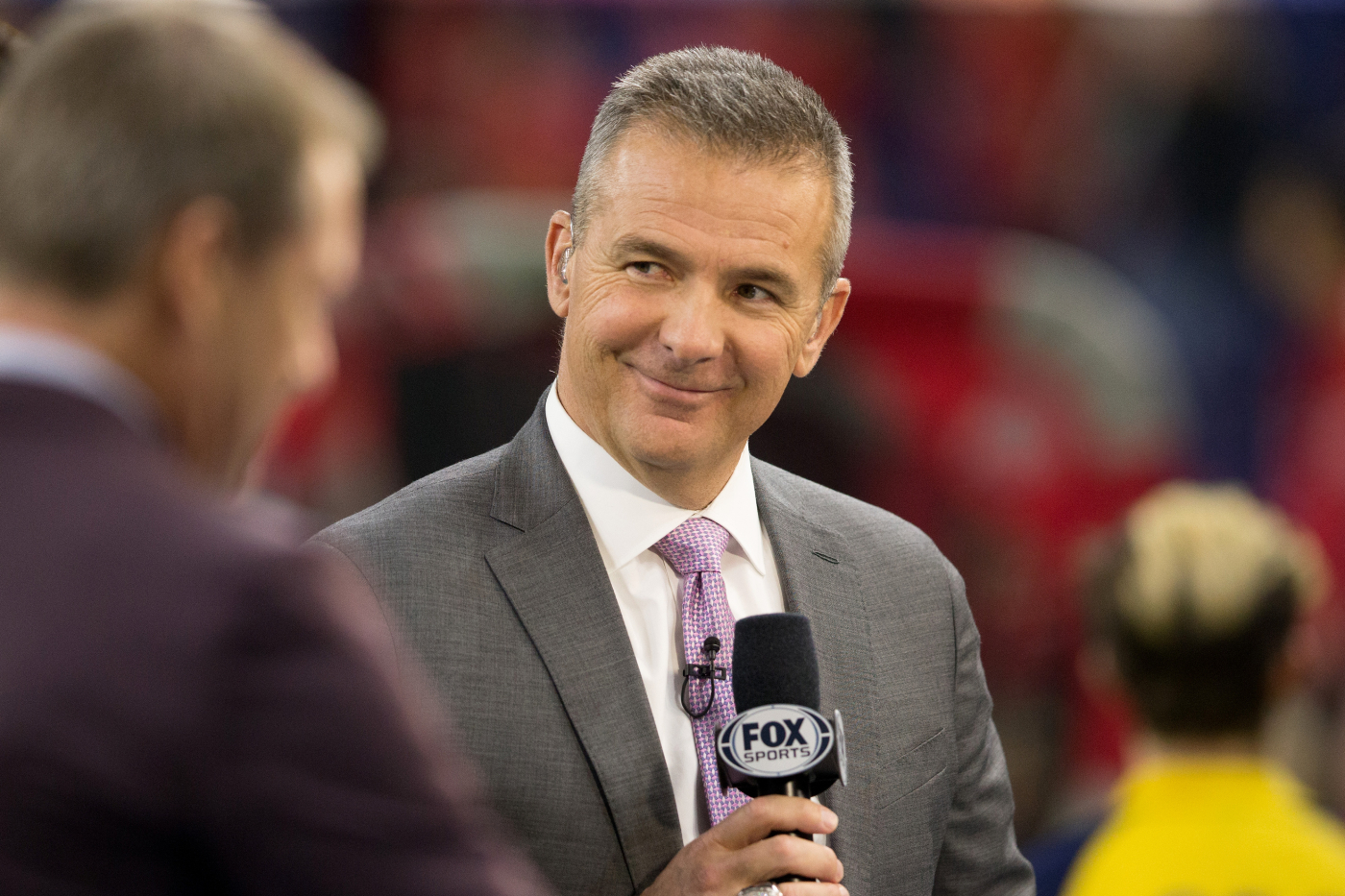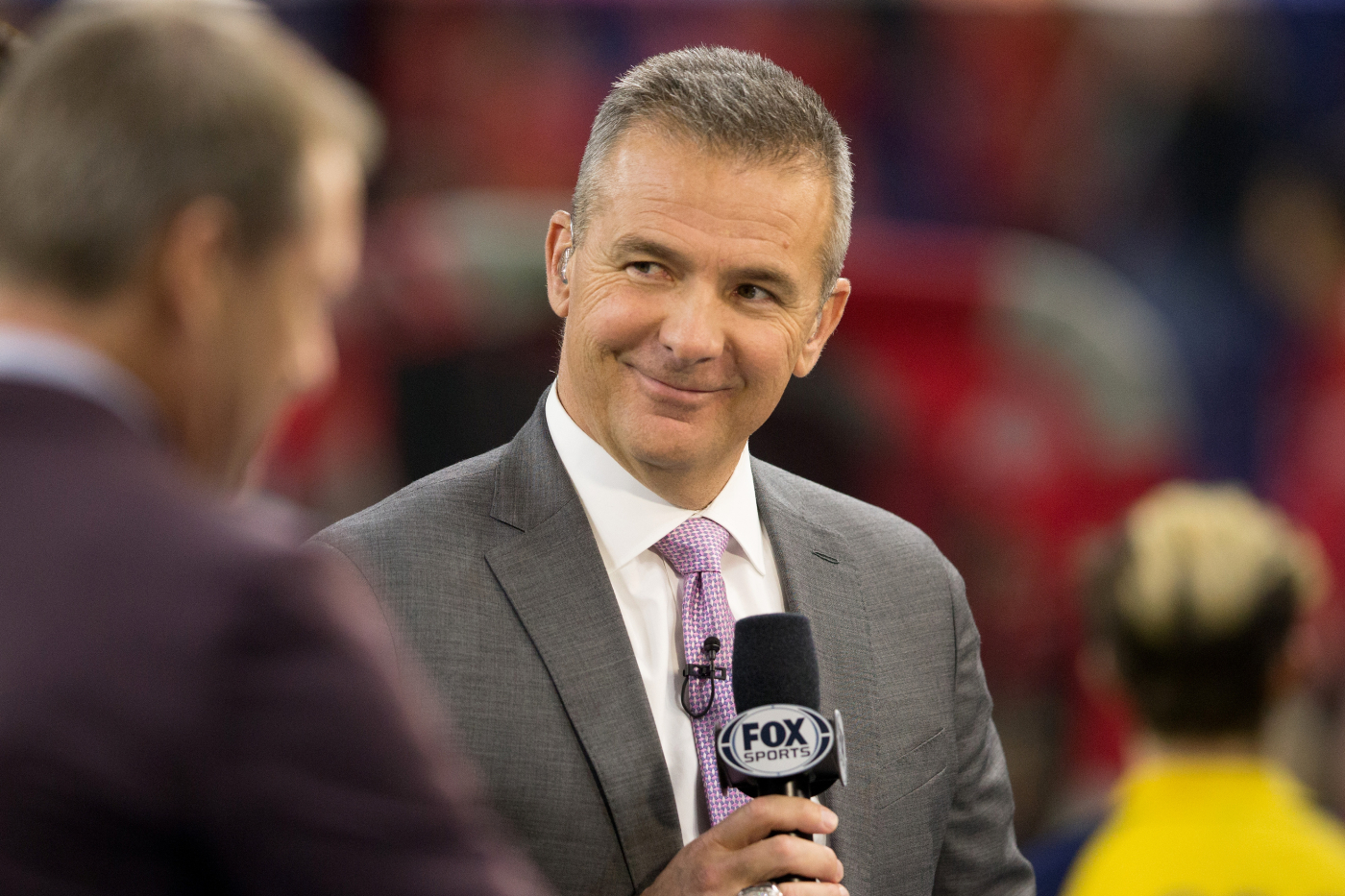 After the 2018 season, Meyer joined FOX as a college football analyst. Meyer and former College Football stars Brady Quinn, Reggie Bush, and Matt Leinart have made FOX's Big Noon Kickoff comparable to ESPN's College GameDay due to Meyer, Quinn, Bush, and Leinart's insightful analysis.
This isn't Meyer's first TV gig, though. After he resigned as the coach at Florida following the 2010 season, Meyer was an analyst at ESPN during the 2011 college football season.
Meyer's knowledge of the college game has helped make him very successful on television. However, his time on TV could potentially be over soon.
Urban Meyer could go back into coaching
According to ESPN's Adam Schefter, Meyer could be coaching again soon.
"At least two NFL teams have reached out to Urban Meyer to see whether the former Ohio State coach would be interested in interviewing for — if not accepting — a head-coaching job at the next level," Schefter wrote.
Schefter also reported that a source said that Meyer has not dismissed potentially becoming a coach in the pros, either. His decision could come soon, too, as he plans to decide before the end of the NFL's regular season.
So, where could he go? Well, as Schefter reported, the Jacksonville Jaguars could be an ideal fit for Meyer. He coached the Gators, and Jacksonville is not too far of a drive from the university.
What makes the Jaguars really intriguing, though, is that they have the No. 1 overall pick in the 2021 NFL draft. Most coaches have problems in the NFL because they don't have a talented quarterback to work with. The Jaguars will most likely select Trevor Lawrence, who many people consider to be one of the best quarterback prospects in recent memory, with the No. 1 overall pick. Lawrence could make Meyer's transition to the NFL much easier.
Some college coaches have had success in the NFL. Jim Harbaugh certainly did, but Nick Saban did not. If Meyer makes the move to the pros, it will be interesting to see how he does at the highest level.
If he does, in fact, take an NFL job, sure, he could come back to TV later. But it appears that Urban Meyer might soon be done on TV for now if he ends up going back into coaching.
Stats courtesy of Sports Reference