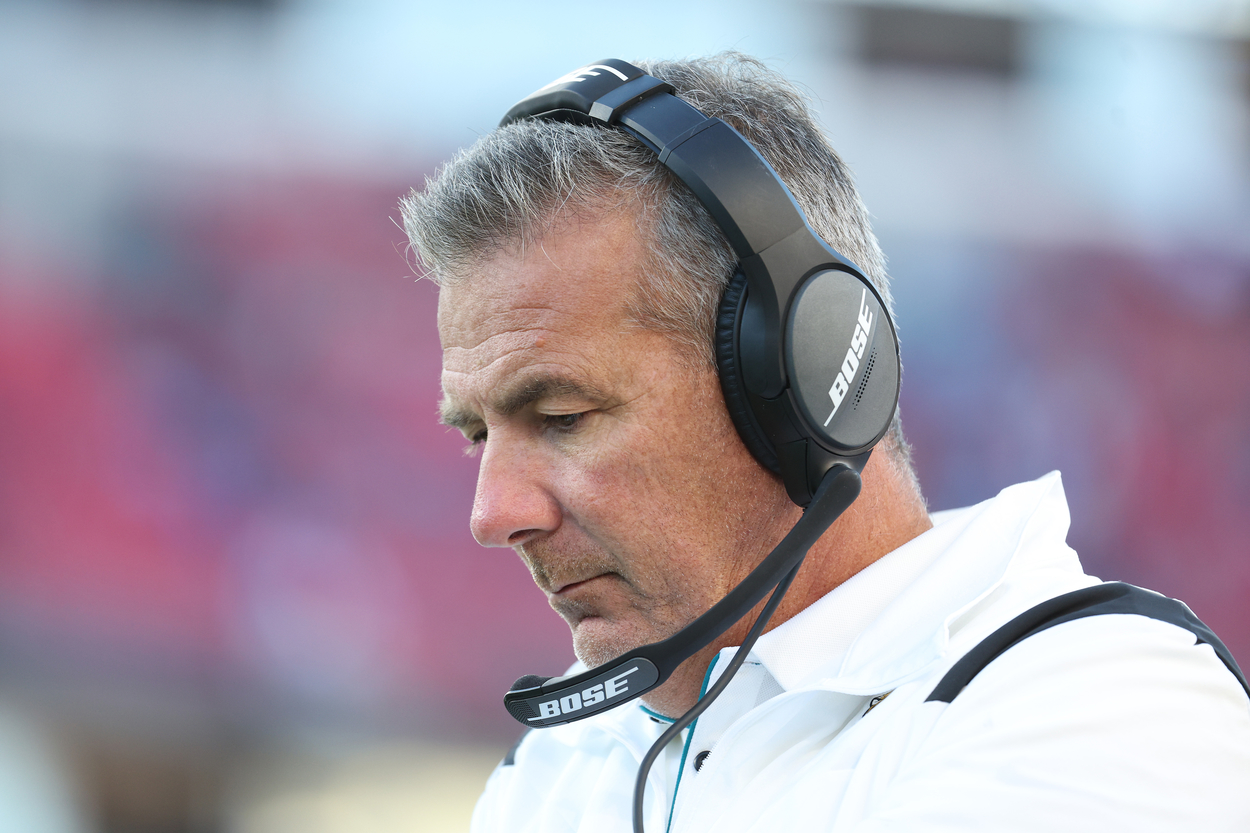 Urban Meyer Didn't Hold Back in Describing His Terrible Jaguars Stint: 'It Eats Away at Your Soul'
Urban Meyer is still discussing what went wrong with the Jacksonville Jaguars, and he even called it the worst experience of his legendary coaching career.
Article Highlights:
Former Jacksonville Jaguars coach Urban Meyer is still speaking out about his failed stint in the NFL
The three-time national champion told Outkick his time with the Jaguars ate away at his soul
Meyer still hasn't realized that saying nothing might be the best solution
Sometimes, the best thing to say is nothing. Former Jacksonville Jaguars head coach Urban Meyer still hasn't grasped that lesson. 
When the Jaguars fired Meyer in mid-December, he almost instantly made it clear he had no plans of going gentle into the sometimes-chilly Jacksonville night. Over a month later, the veteran head coach is still fighting to retake the narrative about where things went wrong in his failed NFL stint — and, much like his weekly gameplan, things aren't going well.
Urban Meyer said his time coaching the Jaguars ate away at his soul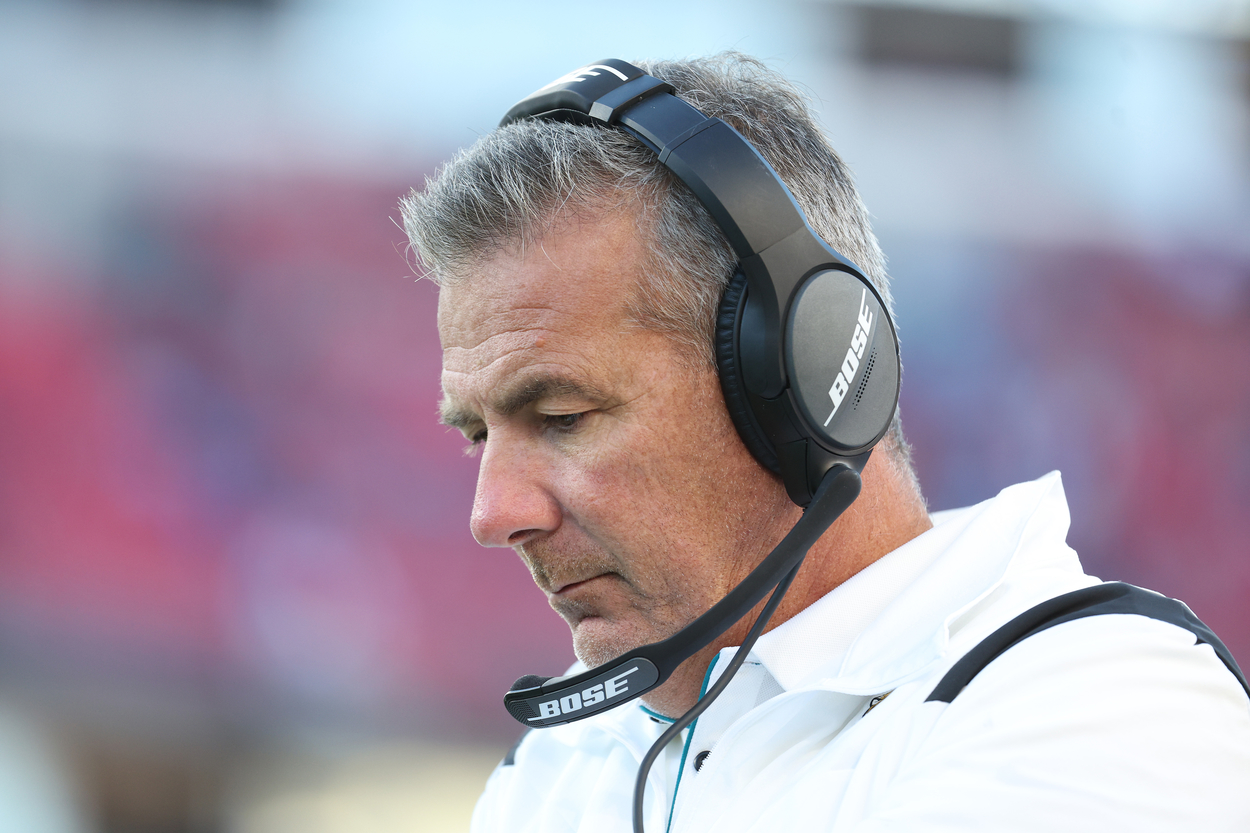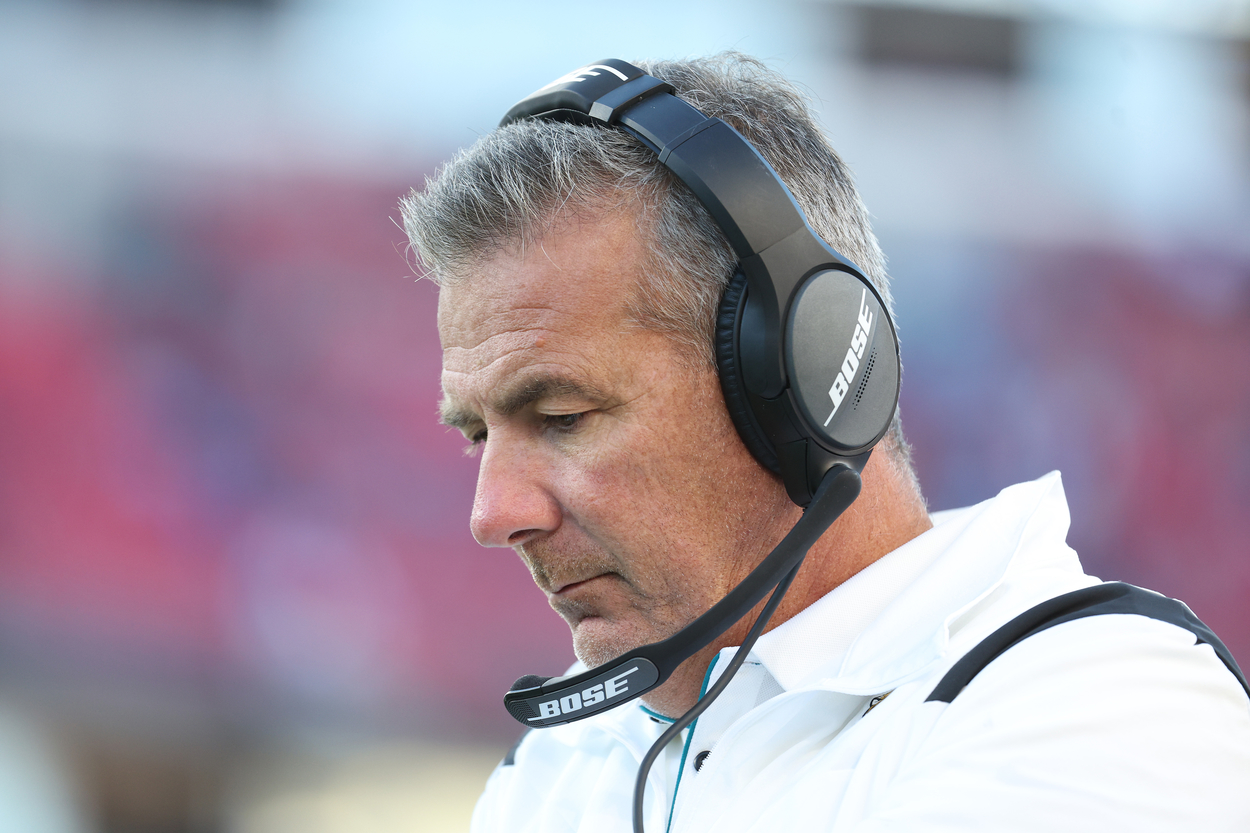 The Jaguars knew they were playing with fire when they hired Meyer, a highly-successful retired college head coach, to try turning a long-suffering franchise into an AFC powerhouse. However, no one in the football world likely imagined things would be as disastrous as they turned out.
Meyer's eventful 11 months in Jacksonville began with the controversial hire of former Iowa strength coach Chris Doyle, who reached a separation agreement with the school in 2020 after allegations of racism and harassment; Doyle stepped down only a day after the Jaguars named him director of sport performance.
Things never improved on or off the field, and the Jaguars' constant losing stuck with Meyer. In a Jan. 24 appearance on Outkick's Don't @ Me With Dan Dakich, the 57-year-old admitted his mental health suffered throughout the 2021 season.
"I went through that whole depression thing, too, where I'd stare at the ceilings and [think] 'Are we doing everything possible?' Because I really believed we had a roster that was good enough to win games. I just don't think we did a great job."

Urban Meyer
The Jaguars were 2-11 when the team fired Meyer in December. Conversely, he went 187-32 in 17 years as a college head coach and never lost more than five games in a single season.
Meyer even told Dakich his time in Jacksonville was the "worst experience" of his professional career.
"It eats away at your soul," Meyer said. "I tried to train myself to say it happens in the NFL."
Meyer still hasn't realized that saying nothing about his Jaguars tenure might be the best solution
On the one hand, Meyer should be commended for speaking openly about his mental health and what went through his head during the Jaguars' losing streaks. Despite his various controversies, he's a human being who, by his own admission, might have been out of his element in the NFL.
The problem isn't what Meyer said about mental health or his time with the Jaguars eating away at his soul. Instead, it's his continued attempts at either making excuses for what went wrong in Jacksonville and his habit of speaking too brazenly about why he only won two of his first 13 games.
When he spoke with Dakich, Meyer said he struggled with the lack of recruiting and how winning in the NFL is "all scheme, and it's all roster management." The problem with that argument is Meyer coached in the SEC and the Big 10, the two highest levels of college football. He had some of the country's top players at both stops and won five conference titles across his time in those leagues.
Meyer didn't win conference championships solely because he recruited the country's best players. He did so because of scheme and roster management; he knew which players worked in which roles and how to maximize the most out of student-athletes who were never going to play in the NFL.
In a December 2021 interview with NFL Media's Ian Rapoport, Meyer lamented society changing and things being "so fragile right now." His conversation with Dakich proved he is yet to take any type of responsibility for seemingly refusing to adapt and grow with the times.
Meyer made it clear he still has nothing against those in the Jacksonville organization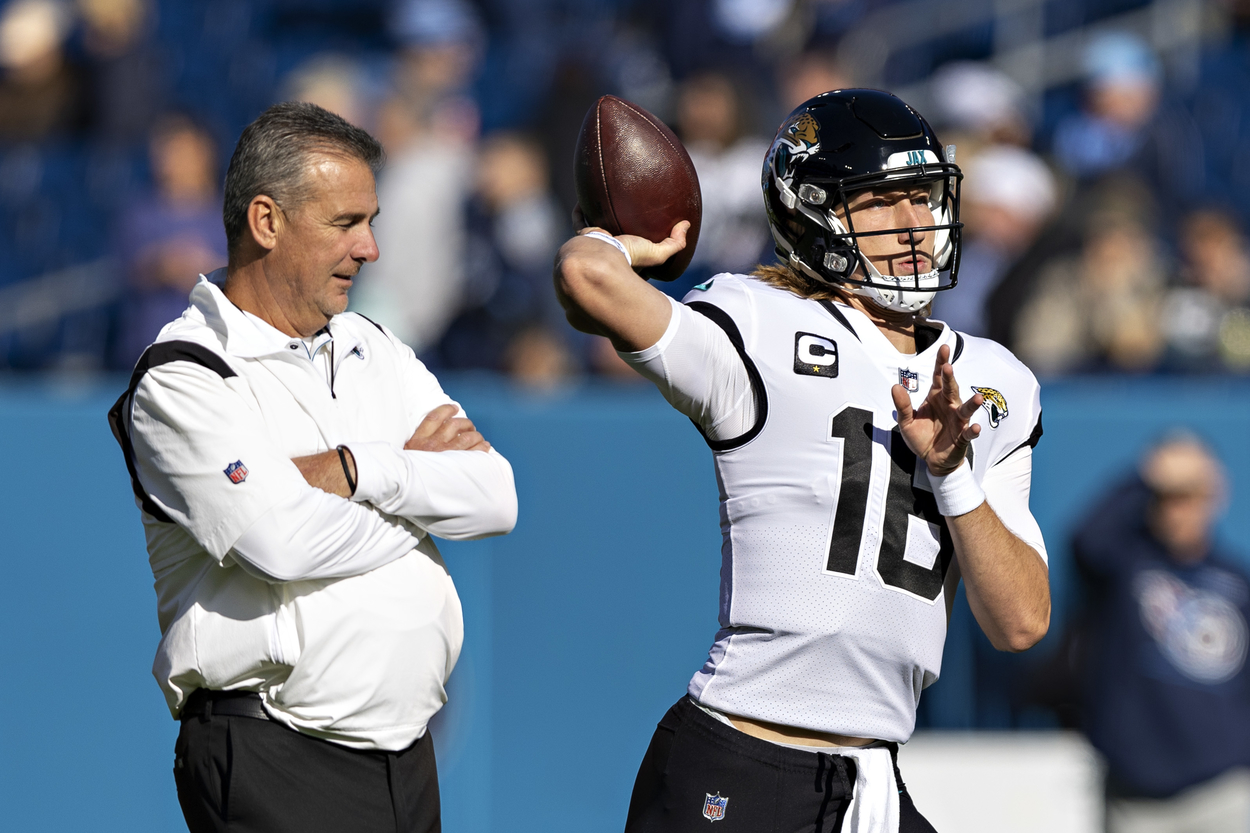 Dakich asked Meyer if the veteran head coach would ever consider writing a book about his year in Jacksonville. Although Meyer said he doesn't know if it'd be a book, he didn't sound opposed to the idea of continuing to share more information.
With that said, Meyer isn't rooting for the Jaguars to continue losing and failing. He told Dakich he still loves and respects "almost everybody" still affiliated with the organization.
"I went in there as hard as I possibly [could] … to try to win and turn things around and maybe push some people the wrong way," Meyer said. "But, you know, I'm a pusher; I'm a guy that's always going to push me, push hard, and [sometimes] that's not comfortable for people, but winning is not comfortable."
Meyer also admitted that growth and change are not comfortable. If he ever returns to coaching, perhaps he should prioritize learning to become comfortable with the uncomfortable in an ever-advancing world.
Or, of course, he can simply stop talking about his time in Jacksonville and move on to the next chapter of his life.
Like Sportscasting on Facebook. Follow us on Twitter @sportscasting19.