Urban Meyer Doesn't Mince Words When Replying To Dabo Swinney's Ohio State Comments
While COVID-19 has affected all sports, it has really affected the responsibilities of the College Football Playoff selection committee. One team hoping the selection committee chooses them to be in the playoff is Dabo Swinney's Clemson Tigers. However, Swinney recently said he doesn't think the team that his Tigers barely beat in the CFP last year, the Ohio State Buckeyes, should make the cut this season. Well, now, former Buckeyes coach Urban Meyer has something to say about that.
The College Football Playoff rankings are messy
The College Football Playoff rankings for the week of Dec. 15 have the Alabama Crimson Tide at No. 1, the Notre Dame Fighting Irish at No. 2, the Clemson Tigers at No. 3, and the Ohio State Buckeyes at No. 4. After the Buckeyes are the Texas A&M Aggies, Iowa State Cyclones, Florida Gators, Georgia Bulldogs, Cincinnati Bearcats, and Oklahoma Sooners.
However, due to COVID-19, college football teams haven't played the same number of games this season. So, because of this, Alabama (10-0), Notre Dame (10-0), Clemson (9-1), Iowa State (8-2), and Florida (8-2) have all played 10 games. Georgia (7-2) and Oklahoma (7-2) have both played nine games, and Texas A&M (7-1) and Cincinnati (8-0) have played eight games.
Ohio State, on the other hand, has only played in five games, as they are 5-0. This has led to many people questioning whether they should be in the top four once the final rankings come out, even though the Buckeyes made the CFP last season and are almost always one of the country's top programs.
Dabo Swinney doesn't think Ohio State should make the College Football Playoff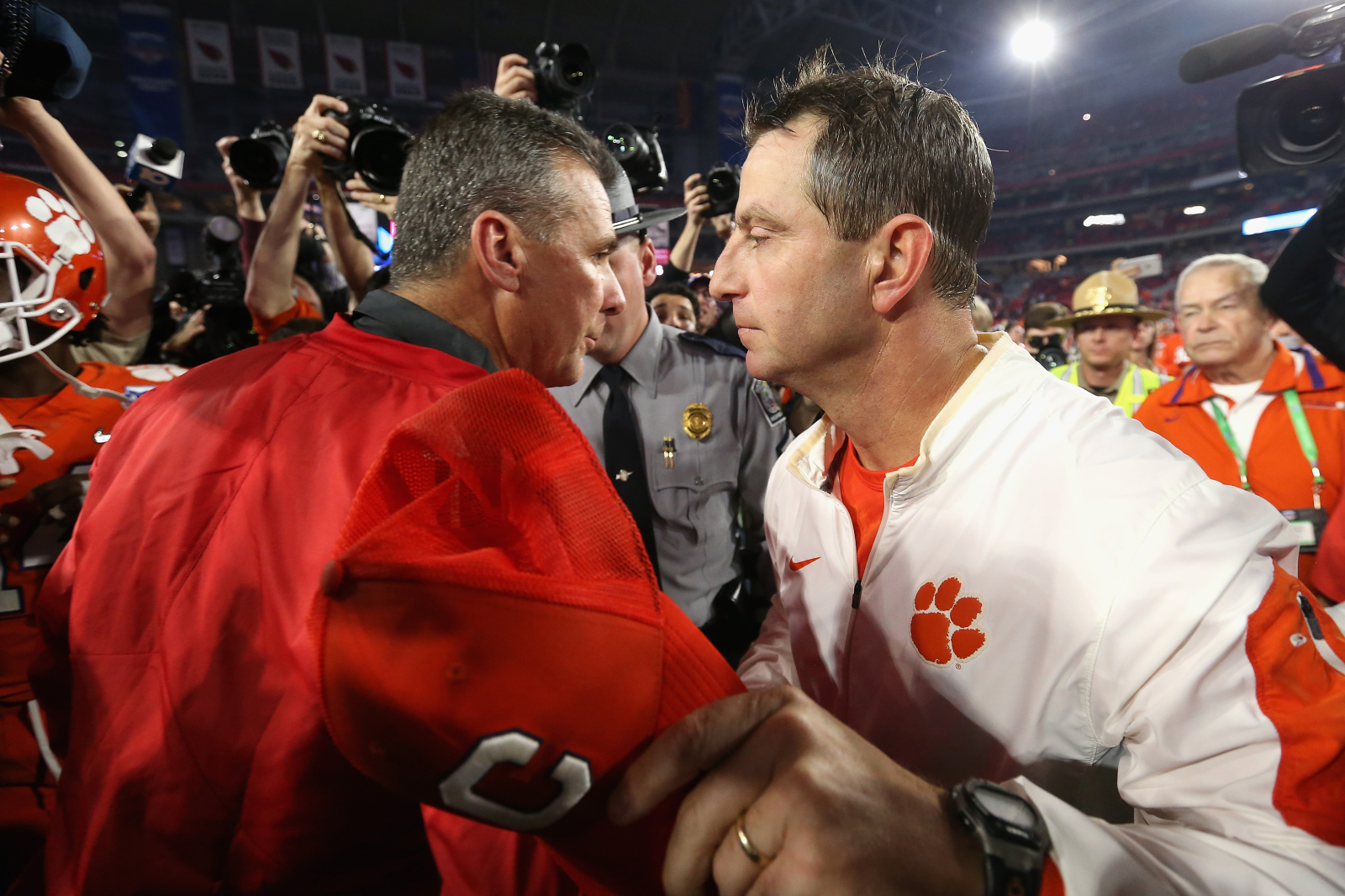 Last week, Dabo Swinney appeared on The Rich Eisen Show, and he essentially said that he doesn't think the Buckeyes should be one of the top four teams in the College Football Playoff.
"We feel like we're definitely one of the best four teams in the country and there's nothing that's going to happen in that game next week for Clemson or Notre Dame that's going to change that in my opinion," Swinney said, according to Sports Illustrated. "And that's based on data. It's almost like you've got to have 120 hours to get a business degree and yet these people over here only need 60 hours to get a business degree."
He continued: "I think any time you step in between the lines, in the game of football, there's a lot that can happen — a lot. I mean, heck, in 2017, we lost to a 3-win or 4-win Syracuse team and still went to the playoffs. So anything can happen. … So I think the fact that we're going to have 11 games as well as the SEC teams."
Swinney also said that "it would be hard" for him "to leave out a 10-1 Texas A&M or an 11-game Florida team over a team that's played six games." However, that doesn't mean he doesn't think that Ohio State is good enough to win the title.
"It doesn't mean they're not a great team and couldn't win the whole thing," he said, according to Sports Illustrated. "I just think that there has to be — I just think from a big-picture standpoint, I would lean toward rewarding the teams that have been all in because it's been an incredible challenge."
Urban Meyer responds to Dabo Swinney's comments
Urban Meyer won the first College Football Playoff national championship with the Ohio State Buckeyes. He no longer coaches at OSU, but he still holds his former team in high regard.
Meyer weighed in on the issue on Big Noon Kickoff over the weekend.
"I think, the job of the College Football Playoff committee: get the four best [teams]," Meyer said. "There's no doubt, they're one of the four best [teams]. The argument should stop there. NFL talent all over the place. One of the best offenses in America."
He continued: "I think the College Football Playoff committee, like we've been saying for the last three or four weeks, those two awful words, the 'look test,' they're going to have to look at the look test because everything is unequal."
Meyer is standing with his former team. He certainly makes a great point, too. The Buckeyes have big-time offensive weapons surrounding one of the best quarterbacks in the country, Justin Fields.
It will be interesting to see what the committee decides to do with the top four teams.
Rankings courtesy of ESPN