Urban Meyer's Failure With Joe Burrow Proves He's Terribly Unfit to Lead Trevor Lawrence and the Jaguars
Urban Meyer is off to an incredibly rough start to his NFL coaching career.
The current head coach of the Jacksonville Jaguars, Meyer has led his team to an 0-3 start to begin the season. Amongst those losses includes an embarrassing Week 1 blowout at the hands of the rebuilding Houston Texans. Expectations weren't exactly high for Meyer making the transition from college to the pros. However, early results are shockingly bad.
Urban Meyer's NFL struggles date back to Joe Burrow and Ohio State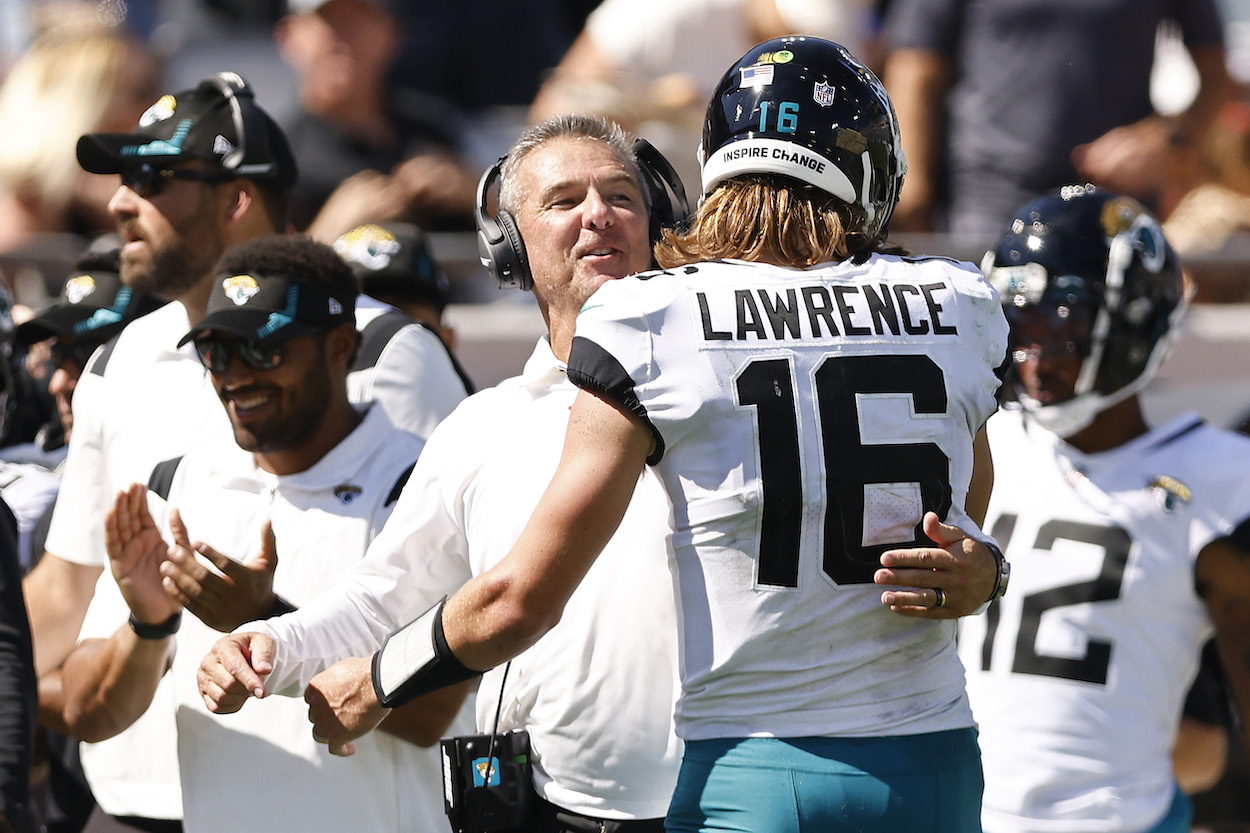 Meyer is one of the greatest college football minds ever to exist. There's no debating that. However, the NCAA and NFL are wildly different beasts, and there were red flags regarding Meyer's ability to make the switch dating back to 2015.
While running the Ohio State program, Meyer recruited a long list of athletes who would become NFL prospects. One of those prospects was former No. 1 overall pick and starting QB for the Cincinnati Bengals, Joe Burrow. While Meyer may attempt to claim he played a role in getting Burrow to where he is today, the truth of the matter is that all of Burrow's success came upon transferring away from Meyer and Ohio State.
During a recent story by ESPN's Ben Baby and Michael DiRocco, Burrow's backup status under Meyer is emphasized.
Burrow was behind Barrett in 2016 and 2017. He appeared in 10 games for the Buckeyes, throwing 39 passes for 287 yards and two touchdowns.

But Burrow hit his ceiling at Ohio State. A broken hand suffered right before the start of the 2017 season put him at a disadvantage to be the team's top backup. The injury gave teammate and current Pittsburgh Steelers quarterback Dwayne Haskins, a 2019 first-round pick, a leg up on the long-term battle with Burrow, one Haskins eventually won when he was given the starting job after Ohio State's 2018 spring camp.

"It was close, and obviously Dwayne beat him out and Dwayne threw for 50 touchdowns," Meyer said.

Burrow transferred to LSU, set a slew of records and had a 2019 campaign with the Tigers that almost couldn't be scripted: a Heisman Trophy, a national championship and the No. 1 overall pick.

Ben Baby and Michael DiRocco, ESPN
Urban Meyer wasn't able to see Burrow's NFL potential
Meyer started both J.T. Barrett and Dwayne Haskins over Burrow during his few years at Ohio State. While Meyer did experience a great deal of success with Barrett and Haskins over this time period, the brutal reality of the situation is that he failed to see what was right under his nose.
Burrow had elite NFL potential. No. 1 overall pick potential, to be exact.
Burrow transferred to LSU and broke every record imaginable, coasting to a top selection in the 2020 NFL Draft. Both of Meyer's quarterbacks, Barrett and Haskins, would also be drafted in the NFL, yet neither could hang onto a starting job. Burrow has experienced some growing pains since making his pro debut (torn ACL last year). However, just a few games into the 2021 NFL season, he looks the part of being the Bengals' franchise QB.
What does this mean for Trevor Lawrence and the Jaguars?
So, what does this mean for the Jaguars' development of Trevor Lawrence? Well, it means they have a head coach whose mind isn't geared toward developing NFL-style players and offenses.
He's a college coach pretending to be an NFL coach. His 0-3 record and an overall abysmal string of decisions since joining Jacksonville prove as such.
Lawrence is a generational talent. There's a half-decent chance he's able to overcome Meyer's college mentality and thrive in the NFL. However, it's becoming a borderline conclusion that Meyer will always be holding back Lawrence in some aspect moving forward.
Like Sportscasting on Facebook. Follow us on Twitter @sportscasting19.
RELATED: Trevor Lawrence Joins Tim Tebow in Embarrassing Territory