Urban Meyer Has Followed the Tim Tebow Disaster by Continuing a Disturbing Trend
Urban Meyer's leap to the NFL has not gone according to plan thus far, to say the least.
The newest head coach of the Jacksonville Jaguars, Meyer has been caught up in controversy and criticism since he stepped foot on an NFL practice field. Between poor draft picks, signing Tim Tebow, bad play-calling, and full-blown rumors about quitting, things appear to be trending in the wrong direction for Meyer.
If his latest decision tells us anything, it's that the former Florida Gator has no intentions of changing his ways anytime soon.
Jaguars brought in former Gator Trey Burton for a workout
Right off the bat, it's worth acknowledging that Trey Burton is actually a pretty decent tight end. He's caught 159 passes for 1,532 receiving yards over the course of a seven-year NFL career. Burton had stints with the Philadelphia Eagles, Chicago Bears, and Indianapolis Colts.
Most will remember Burton for his role in the Eagles' "Philly Special" play during Super Bowl 52. He was the one who actually lobbed the touchdown pass into Nick Foles, a play that ultimately helped secure Philadelphia their first-ever Super Bowl.
If the Jaguars are in the market for tight end depth, Burton makes sense on paper. He's an experienced veteran who's proven capable of performing in multiple different NFL schemes. He's also just 29 years old — he could hang around in Jacksonville for another few seasons, in theory.
However, it's the logic behind Meyer's decision to give Burton a tryout that's so concerning. To put it bluntly, Meyer is still treating things like he's in college.
Urban Meyer won't let go of his college roots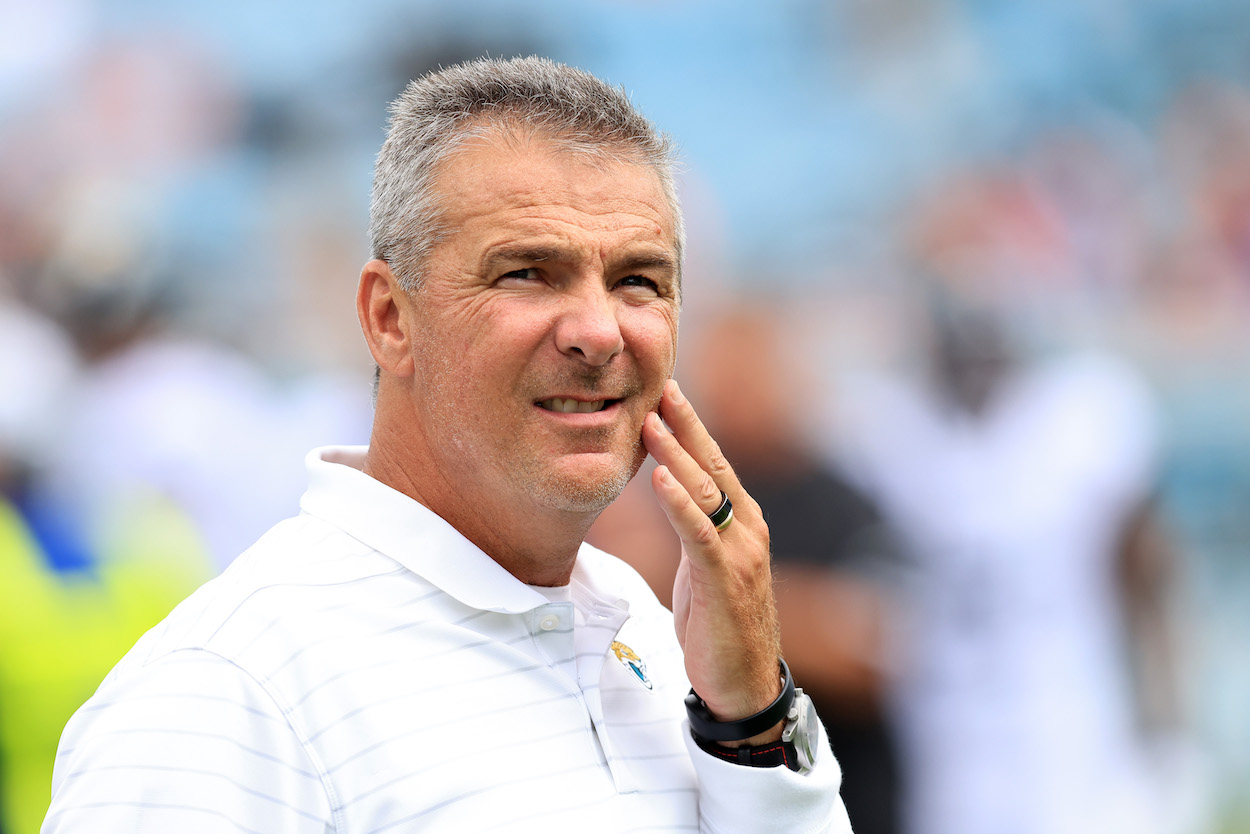 There's nothing wrong with hiring a successful college coach to takeover your NFL team. However, there's always a chance they aren't able to adjust. Chip Kelly, for example, had a lot of early success with the Eagles before fizzling out and getting fired due to his abrasive approach with players.
We're only two games into the 2021 season, but early signs point to Meyer facing a similar fate shortly.
The Tim Tebow debacle has been well documented up to this point, but it's worth reflecting just how much of a mess it turned out to be. Tebow took up a crucial Jaguars' roster spot during training camp only to end up on First Take with Stephen A. Smith. With Jacksonville already short on TE depth, the decision to waste time on Tebow during the offseason looks even worse in hindsight.
Additionally, many of Meyers' first few roster moves painted the picture of someone who wants to run a college-style offense in the pros. He drafted running back Travis Etienne in the first round and attempted to move him to WR. It was a bizarre decision, especially considering the Jaguars' weak offensive line.
Etienne is done for the year with a foot injury, which isn't Meyer's fault. However, it's likely the Jaguars wish they could have a do-over on that pick.
Burton is the latest example of Urban Meyer's Florida bias
Burton would presumably improve the Jaguars' TE room. However, that doesn't negate that he was awarded a tryout primarily due to his Florida background.
Meyer continues to show us time after time that he wants to run the Jaguars like a college team, picking favorites and leaning on past relationships. It's a model that does not work in the NFL.
Maybe Burton latches on with the Jaguars. Maybe he doesn't. However, this seemingly minor tryout shows us that Meyer has yet to experience his NFL wake-up call. Maybe another couple of losses will cause him to adjust his ways.
All stats courtesy of Pro Football Reference.
RELATED: Tim Tebow's Surprising Move After Being Released From the Jaguars Involves Joining Forces With a Popular Media Figure