Urban Meyer: Former Jaguars Coach Joins Sad Roster of NFL's Most Embarrassing Coaching Tenures
The late-night news on Wednesday that the Jacksonville Jaguars had decided to part ways with head coach Urban Meyer ended one of the more turbulent and awkward coaching tenures in recent NFL history. In less than a year after the Jaguars hired the former Ohio State and Florida head coach, Meyer was asked to leave after a 2-11 start and several off-field embarrassments, right up to Josh Lambo's claim of being kicked by Meyer before a preseason game that sealed his fate with owner Shad Khan.
The Meyer drama encapsulated all the themes that were part of some other infamous NFL coaching tenures in the past 50 years: The lack of NFL experience, the poor relationship with the media, the off-field scandals, the looming possibility of returning to the college level. It was all there in Jacksonville. Here is a look back at those other coaching fails:
Lou Holtz, New York Jets 1976 (3-11)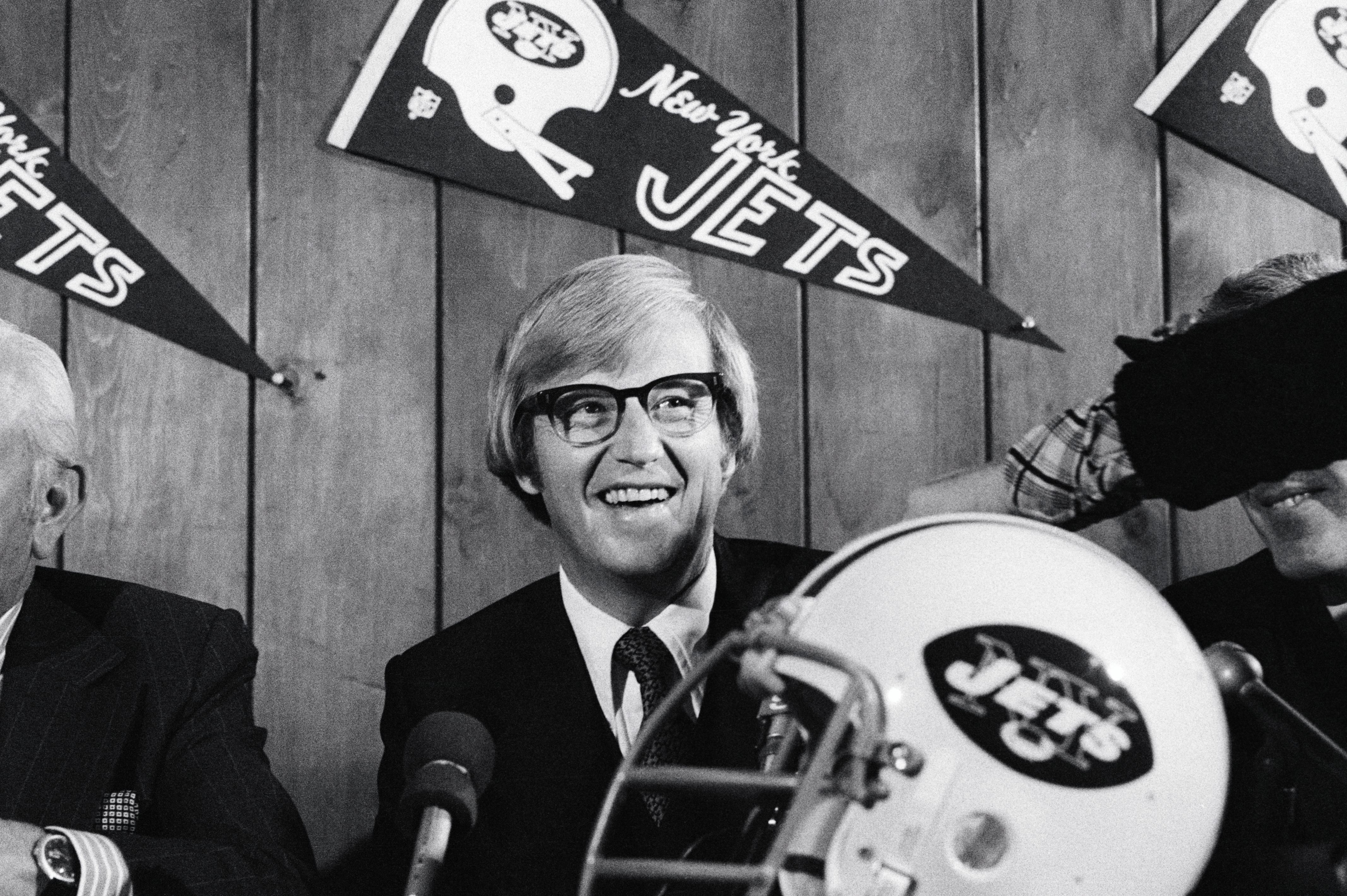 The New York Jets have a long, rich history of terrible head-coaching hires, including a hire named Rich. Who could forget the Rich Kotite era of the mid-1990s?
And has there ever been a more bizarre head-coaching "tenure" than that of Bill Belichick in 2000? Hired to replace Bill Parcells, Belichick lasted literally a day in January 2000 before resigning, then taking the Patriots job days later. The Jets got a first-round pick as compensation. The Patriots got two decades, and counting, of Super Bowl celebrations.
But the Jets coaching fail champion stands the test of time and turns away all challengers. Lou Holtz's arrival and departure in 1976 is the gold standard by which all other Jets management blunders shall be judged for eternity. After success at Notre Dame and a lucrative career as a broadcaster, it's hard to remember the spectacular fail that was his Jets tenure.
Hired in February 1976 after leading N.C. State to four straight bowl games in his four seasons, Holtz arrived with no NFL coaching experience. And it showed. The Jets were 3-11 the season before Holtz got there, and they repeated that record in Holtz's one season.
But the Holtz 3-11 was particularly impressive for how bad it was. Holtz's college teams succeeded in running a quarterback option offense. Now, he would try it with the painfully immobile shell of what was once Joe Namath, and the results were an offense that generated an average of 12 points per game. This, in 1976, was an era where the pass interference rules had been enhanced to create more offense. But not for Holtz's Jets. Conversely, on defense, they allowed almost four touchdowns a game. Do the math.
Ray Handley, New York Giants 1991-92 (14-18)
We recently passed a famous anniversary in New York Giants football lore. No, it wasn't a Lawrence Taylor sack, a Phil Simms touchdown to Mark Bavaro, or even an Eli Manning clutch pass against the Patriots.
Instead, it was an end-around, run unsuccessfully by head coach Ray Handley on Nov. 25, 1991, the day after Simms led the Giants to a big win in Tampa. Simms' big day was actually a big problem for Handley, in his first season as the successor to legendary coach and multiple Super Bowl winner Bill Parcells.
Following up a legend is never easy, but Handley made life on himself so much harder by trying to pick fights with the New York media. Pro tip: Don't pick fights with the New York media.  
That second Parcells Super Bowl win in his final season of 1990 is remembered best for Scott Norwood's missed field goal that would have won it for the Buffalo Bills. But the other big story that night in Tampa was Giants backup quarterback Jeff Hostetler, having replaced the injured Simms, leading Big Blue to the title.
Now fast forward a few months, Handley is now the rookie head coach, the Giants were back in Tampa, and Simms was once again starting. But Hostetler was soon to return from his own injury, and the day after the Giants' 21-14 win, the media wanted to know from Handley, who would be the starter when Hostetler was ready to return?
Instead of punting, Handley called a rather unfortunate audible, sparring with the reporter who asked the question, making mocking gestures, then walking out of the media session altogether. He came off looking like a coach who couldn't handle the job, and, guess what? He couldn't.
Handley went 14-18 in his two seasons at the helm before being fired after Season 2.
Rod Rust, New England Patriots 1990 (1-15)
There are now several generations of New England Patriots fans who have no idea who ghastly terrible the franchise once was. All the 30-and-under crowd knows is Bill Belichick and Tom Brady, and yeah, there was that one other Super Bowl with Parcells and Drew Bledsoe, but they lost that one and we're all about the rings, baby.
But right before Parcells and owner Robert Kraft literally saved the franchise – the Patriots were one foot out the door to St. Louis as late as 1994 when Kraft bought them – there were essentially two decades of embarrassment and turmoil. Even their one Super Bowl appearance in 1986 ended in humiliation.
But the absolute rock bottom in Patriots history was the 1990 season. The team brought back Rod Rust, their defensive coordinator from the Super Bowl team who had never been an NFL head coach before, and after winning its second game of the season, proceeded to lose the next 14 to finish with a 1-15 record.
Of course, the on-the-field disaster paled to what transpired off it. The 1990 Patriots are synonymous with one of the worst scandals in NFL history, as three Patriots players sexually harassed a Boston Herald reporter named Lisa Olson in the locker room. Patriots owner Victor Kiam compounded the incident with a series of derogatory comments about Olson, resulting in an official NFL investigation, the firing of general manager Patrick Sullivan and fines for the players involved.
Rust was fired after the season and Kiam eventually put the team up for sale, leading eventually to Kraft's purchase and a new trajectory for a disgraced franchise.  
Bobby Petrino, Atlanta Falcons 2007 (3-10)
Bobby Petrino's tumultuous tenure in 2007 with the Atlanta Falcons was doomed from the start. Petrino arrived in Atlanta mired in controversy, having left the University of Louisville for the Falcons just six months after signing a 10-year, $25.6 million contract.
The Falcons brought in Petrino specifically to work with quarterback Michael Vick and tailor the offense around that collaboration. But Vick would never play for Petrino, having been arrested on dog-fighting charges that summer that would eventually lead to Vick's guilty plea to a conspiracy charge and federal prison time.
Now relying on the likes of Joey Harrington at quarterback, the season quickly unraveled, and Petrino left the Falcons pretty much the way he arrived, bolting from the team and a huge contract before the end of the season, this time to coach at the University of Arkansas, ironically the same school that welcomed Lou Holtz upon his premature departure from the Jets in 1976.
Stats courtesy of Pro Football Reference