Urban Meyer Gave the OK for the Jacksonville Jaguars to Star in 'Hard Knocks'; Would HBO Ever Make It Happen?
HBO's Hard Knocks struggled to find viewers last season. This year, they understandably went with a safe choice: the Dallas Cowboys. With Dak Prescott gearing up for a promising comeback tour, it will likely be an entertaining season. But Urban Meyer quickly becoming embattled as the Jacksonville Jaguars' new head coach could've been the more exciting story to follow through the NFL season. The 57-year-old former Buckeyes coach even gave permission for the Jaguars to become TV stars.
Urban Meyer's NFL transition is already stranger than anyone predicted
The narrative of the former Ohio State head coach making his way to the NFL was juicy enough for a potential Hard Knocks run. But Meyer's often baffling early decisions have led to reams of critical headlines. It's surprising to see so many controversies before a new coach even takes their team to the field — if not unprecedented.
USA Today reports that Meyer has a long record of triggering turmoil from job to job. He left Florida abruptly with the program in worse shape than he came in.  He covered up an abuse scandal at Ohio State, which he directly lied to the press about.
That made some NFL teams wary about transitioning Meyer to professional ball. They were likely correct to assume trouble would come with him. With the Jaguars, The Oregonian reports that one of his first decisions involved hiring a strength trainer who the University of Iowa recently fired due to racially charged bullying.
The increased scrutiny didn't prevent Meyer from testing NFL regulations, as well. At the beginning of July, he ran afoul of organized team activity (OTA) violations. ESPN reports that Meyer personally took on a $100,000 fine. It all indicates a wild season is coming for the long-suffering Jaguars — the type of situation Hard Knocks thrives on.
Coach Meyer was ready for 'Hard Knocks,' but HBO didn't follow through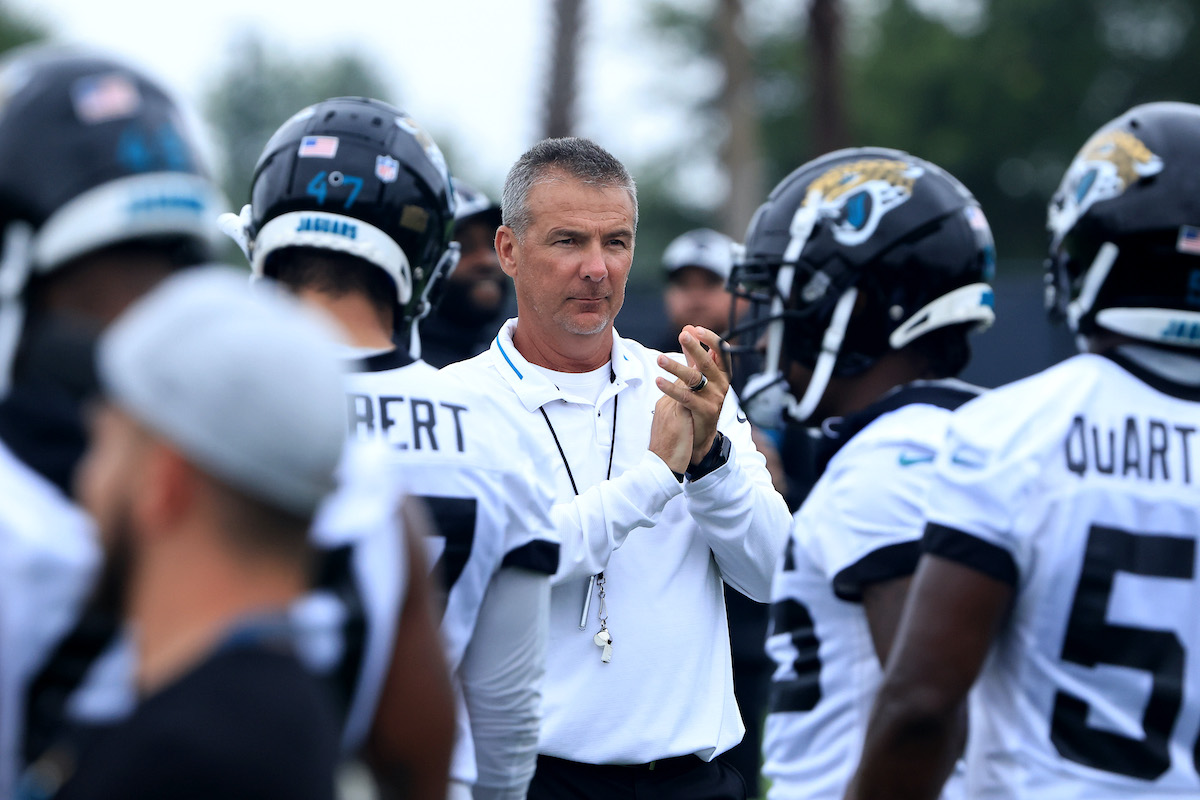 Meyer himself welcomes the scrutiny. On the Rich Eisen Show, the Jaguars head coach received a question about whether he'd allow his team to appear on the show. He confidently replied, "I do believe this is an interesting story here. […] I wouldn't mind the world knowing that we have some really good players and some really good people here."
With a .854 career winning percentage, according to Sports Reference, Division I teams were willing to keep working with Meyer. In the NFL, Meyer has yet to prove his worth. He's behaving as though he has carte blanche, however, and no decision makes that clearer than his insistence on bringing Tim Tebow in as a player.
The Tim Tebow-shaped elephant in the room must be addressed
Meyer coached Tebow during his college days, implying some shorthand and camaraderie between the pair. The sensible reasoning ends there. Tebow hasn't played in a regular-season NFL game in nearly a decade according to The Ringer, and last worked as a pro with the Philadelphia Eagles in 2015.
He spent much of that time trying to recapture a magical 2011 season with the Broncos and did the entire run at quarterback. Meyer thinks his former QB has a shot in the NFL at tight end, a position Tebow never played professionally or in college. It's a widely-criticized move, one that HBO could've leveraged for great television drama on Hard Knocks.
Instead, HBO went with a different organization. The Cowboys, with their America's Team branding and long-term issues under owner Jerry Jones, aren't going to make for boring television. Whether Prescott soars or definitively crashes, the narrative arc will be worth following. That will all be easily followed by simply watching the Cowboys' season play out on the field. The 2021 Jaguars under Meyer could've given Hard Knocks a story that only behind-the-scenes access could ever fully reveal.