Urban Meyer Is Already Playing Mind Games Regarding Trevor Lawrence's Development
Jacksonville Jaguars rookie head coach Urban Meyer sticks to old habits when the conversation turns to Trevor Lawrence, Tim Tebow, or any of his new players.
A longtime college football coach, Meyer is used to providing meaningless responses and half-truths when speaking with the media. If anyone thought that would have changed with the three-time national champion now in the NFL, we have quite the surprise for you.
Meyer gave a meaningless answer about Lawrence's development
When the Jaguars clinched the No. 1 overall pick in December 2020, it would have taken a severe injury or an act of God for Lawrence not to start for the team in Week 1 of the 2021 season.
But we forgot about Meyer and his generic coach-speak. In a recent interview with USA Today, the topic of Lawrence's progression as a quarterback and recovery from a labrum injury came up.
Would Meyer provide a significant update on his quarterback's health? Come on, think about that question again before reading what he actually said.
"He's not ready yet, but he doesn't have to be ready yet. We got a long training camp coming up. He's probably advanced, maybe a little quicker than we would've thought, so which was a positive … So you can see the retention, he's got a really good work ethic, and he's progressed very well."

Urban Meyer
So just to be clear, Lawrence isn't ready yet, but he's progressing quicker than the team thought. But the Jaguars don't need him to be ready just yet.
What?
Meyer should be beyond these types of mind games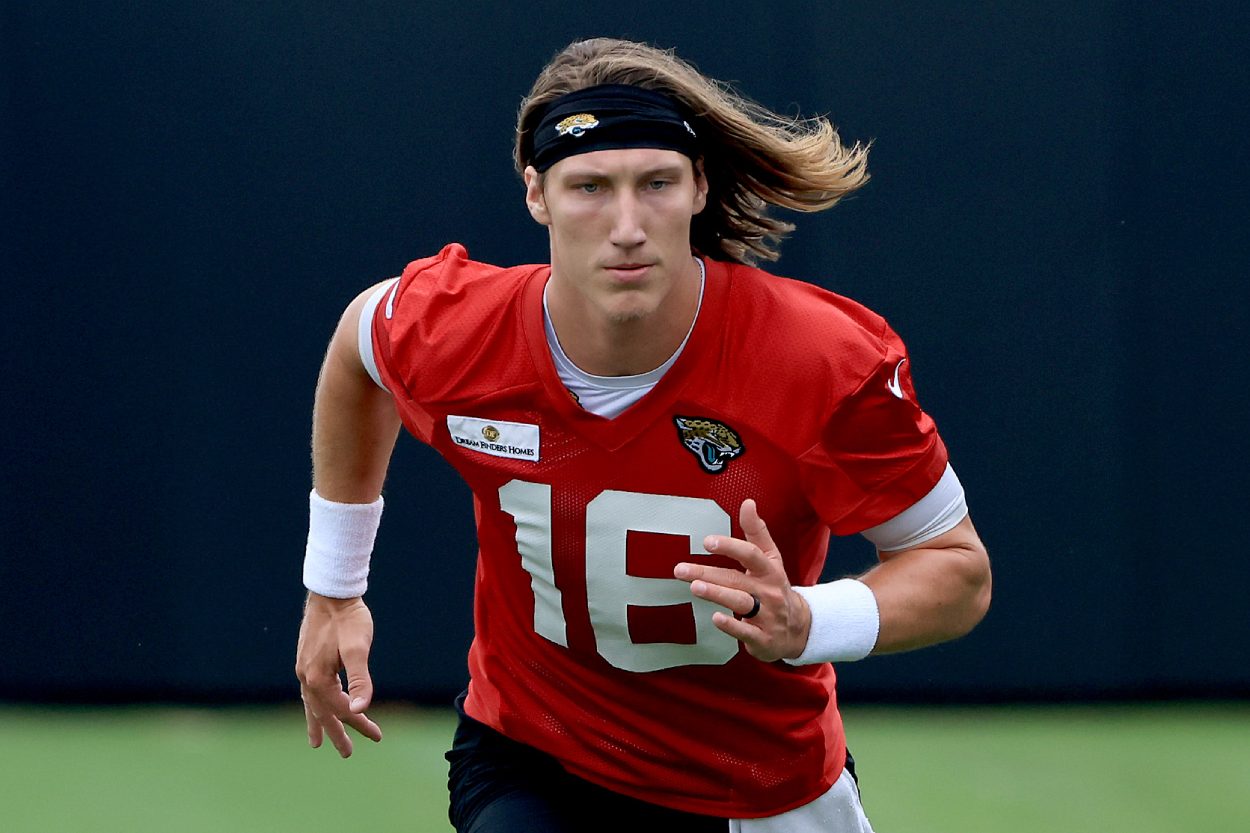 Meyer didn't win three national championships in college by accident. He is an excellent coach and a proven recruiter, although he's earned a negative reputation for signing players and coaches with questionable character and backgrounds.
But for once, can Meyer avoid resorting to these generic cliches and coach-speak? Why does he need to play these types of mind games? Just provide a relatively meaningful answer about Lawrence's progress and how excited the team is to see him play.
Of course, the Jaguars don't need him to be ready yet. When USA Today published those comments, the Jaguars' first regular-season game in the Lawrence and Meyer era was still well over two months away. No one expects their rookie to throw five touchdowns against the Texans as fireworks fly on July 4.
Meyer should be past the mind games and nonsense. The only things realistically stopping Lawrence from starting against the Texans in Week 1 is a significant setback in his labrum or an off-field issue. We all have been aware of that fact since the 2020 season ended, so let's accept it and move on.
The best thing the Jaguars can do is just let Lawrence prepare
Instead of creating confusion, Meyer and the Jaguars just need to go easy and place faith in their quarterback. Interestingly, that's what the rookie head coach did after he tried being cute with his comments.
Meyer spoke glowingly of Lawrence as a person and his "focus on being a good husband." He said his new quarterback had adapted well to installing the new playbook after three years at Clemson. Those are all positive things that fans need to know.
Now, if Meyer really hasn't already decided that Lawrence will be his Week 1 starter, then there are severe problems in Jacksonville. But we're going to opt on the safe side and suggest Meyer is just being difficult for the sake of being difficult and clever.
Enough with the cleverness. It helps no one, and it only creates further questions about if Meyer is mentally prepared to coach in the NFL. Just announce Lawrence as the starter if he's healthy and move on, for all of our sakes.
Like Sportscasting on Facebook. Follow us on Twitter @sportscasting19.
RELATED: Deion Sanders Sees Glory Days Ahead for Trevor Lawrence and Urban Meyer on the Jaguars Despite the 'Hiccups'