Urban Meyer Just Made a Stunning Admission About Tom Brady's Role on the Patriots
The Jacksonville Jaguars may have Urban Meyer, but they can only wish they had Tom Brady around.
Meyer, the former title-winning head coach at Florida and Ohio State, never coached Brady. But their paths have crossed along the way, and Meyer recently shared an interesting anecdote about Brady's time with the New England Patriots.
Urban Meyer made a stunning admission about Tom Brady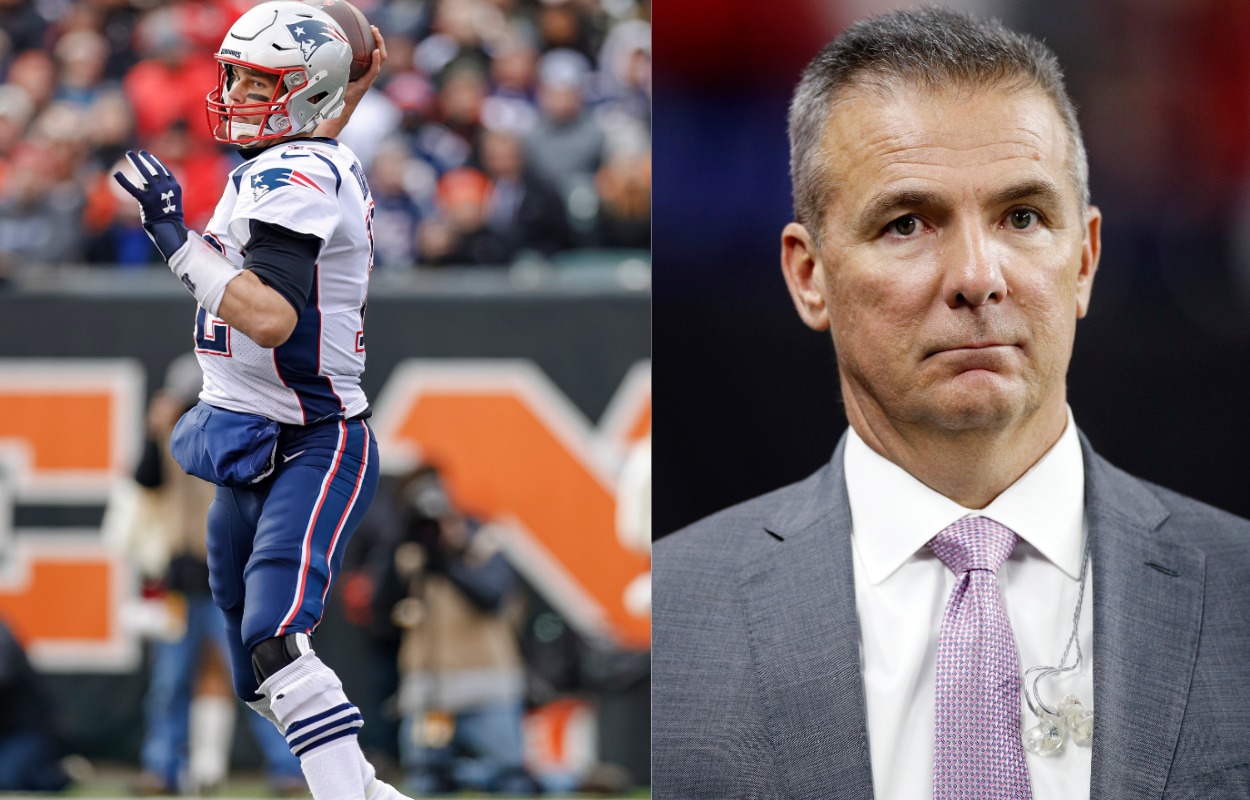 RELATED: Tom Brady Left Bill Belichick a Cold Reminder of His True Value by Earning a Painfully Ironic Amount of Money This Season
Bill Belichick has run the show for decades in New England, and he'll continue to do so until he hangs his hoodie up on the hanger.
According to Urban Meyer, Tom Brady had his own level of power while with the Patriots. In a recent interview with NBC Sports' Peter King, Meyer recalled visiting a Patriots mini-camp practice. Meyer didn't specify when his visit took place, but it would had to have been between 2002-19.
Meyer said he was "blown away" by Brady that day, specifically at how the star quarterback approached the final day of mini-camp like the Super Bowl. In his conversation with King, Meyer mentioned sitting in on the Patriots' film sessions.
Interestingly, it wasn't Patriots offensive Josh McDaniels who ran the meeting. Instead, Brady gathered the offense in a room and led the session.
"He was in there running the film. He had the offensive line sitting there, running backs, receivers, and Tom Brady was running the clicker and watching practice film, dissecting the plays with the offense. Think about that for a minute. You can say he throws a great pass. But people that really understand the game—there's much more than that that makes him the best of all time."
Meyer said he shared his experiences that day — including how Brady "ran around the field like a child" in jubilation after a two-minute drill — with his own quarterbacks.
Brady has legendary preparation and workout habits
RELATED: Bruce Arians Has a Simple But Painful Plan to Prevent Tom Brady and the Buccaneers From Suffering a Super Bowl Hangover
Urban Meyer's admission is stunning on some fronts, in large part because it shows how much power and respect Tom Brady truly commanded in the locker room.
Offensive coordinator Josh McDaniels would typically be the one with a clicker in hand and pointing out what went wrong. But in the offseason, Brady took charge and walked his teammates through a film session.
Given how strongly Brady takes his preparation, maybe we shouldn't be too surprised. Between his TB12 methods and Brady's dedication to practice, he's always been someone who is never content with the basics.
Urban Meyer should hope Trevor Lawrence is his Tom Brady
RELATED: Urban Meyer Just Realized He Hates A Certain Aspect of Being an NFL Head Coach
Fortunately for Urban Meyer, the Jacksonville Jaguars will not play Tom Brady and the Tampa Bay Buccaneers in the 2021 regular season.
Assuming the Jaguars don't go from 1-15 to AFC champions, that would leave only the preseason as a place where both teams can square off. And if they play one another in the summer, attention could be on a two-drive matchup between Brady and Trevor Lawrence, the Clemson quarterback who is expected to be selected with the first pick in April's draft.
NBC's Peter King asked Meyer if there was any "real mystery" that the Jaguars have officially decided on drafting Lawrence. Meyer saw no reason to lie.
"I'll leave that up to the owner when we make that decision official," Meyer replied. "But I'm certainly not stepping out of line that that's certainly the direction we're headed."
Like Sportscasting on Facebook. Follow us on Twitter @sportscasting19.