Urban Meyer's Latest Coaching Blunder Involves Brutally Stripping a Jaguars Team Favorite of His Leadership Role
It seems like no matter what Urban Meyer decides to do these days, it's the wrong decision.
Between wasting an offseason roster spot on Tim Tebow to leading the Jacksonville Jaguars to an 0-5 start, Meyer is quickly tumbling out of favor in Florida.
Ownership already released one statement condemning Meyer's behavior in an Ohio bar earlier this month, and it appears the Jaguars' locker room isn't too far away from jumping ship themselves.
Urban Meyer is clearly in over his head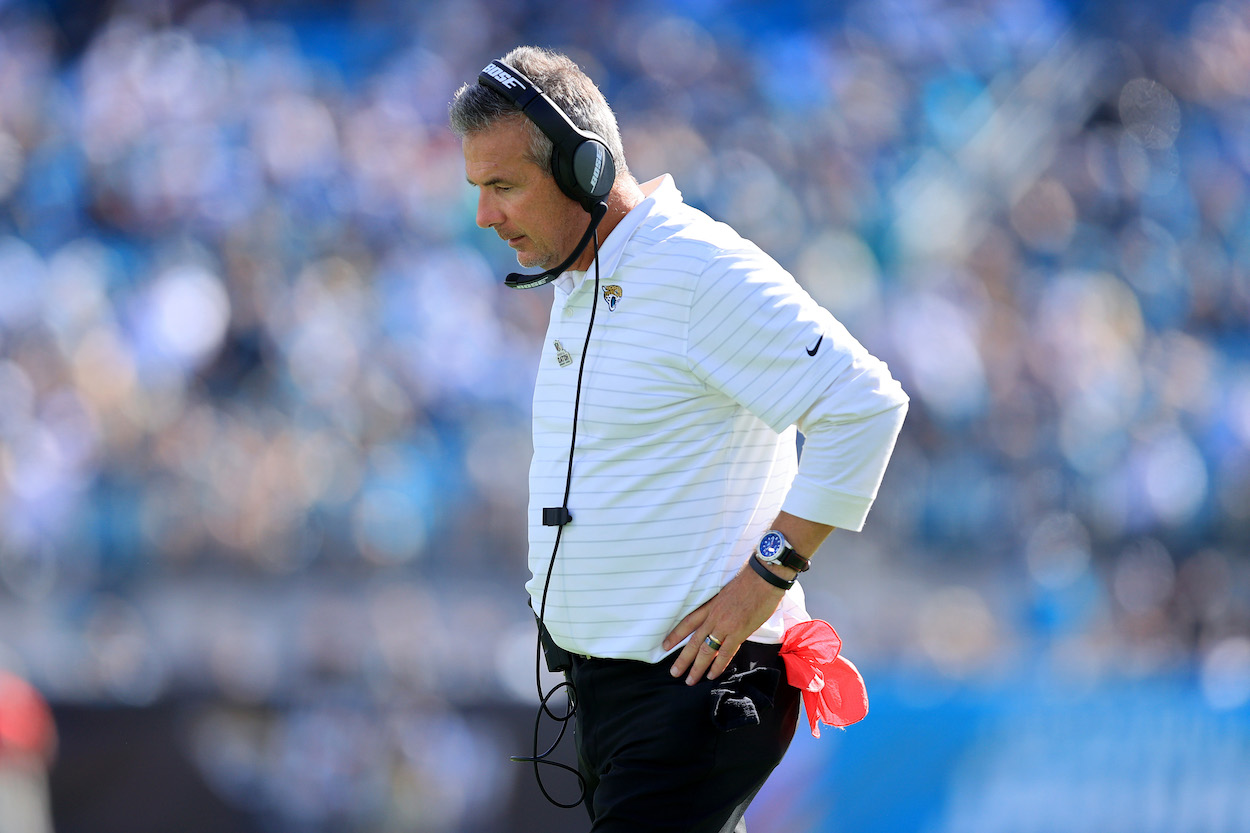 Before even addressing Meyer's latest bone-headed decision, it's important to highlight just how horrible this Meyer experiment is going for the Jaguars. Jacksonville was never expected to be a good team in 2021. However, it doesn't even look competitive under Meyer's guidance.
The Jaguars are winless through their first five games, and a few of their losses have been ugly blowouts. Trevor Lawrence is struggling to live up to the generational-type talent he was burdened with coming into the draft, and the Jaguars can place a large amount of the blame for that on Meyer and his faulty scheme.
This season, Lawrence has thrown eight interceptions compared to just six touchdowns, and his completion rate sits below 60%. The longer Meyer is the guy calling the shots in Jacksonville, the more likely it seems Lawrence will end up on a Sam Darnold-type career arc.
Additionally, the once-great Jaguars defense (it used to go by the nickname "Sacksonville") isn't making noticeable improvements. It ranks fifth-worst in total yards allowed and third-worst in yards per play allowed. The Jaguars also traded away 2020 first-round pick CJ Henderson.
Meyer's latest coaching decision only adds more fuel to the fire.
Urban Meyer stripped Myles Jack of play-calling duties
Obviously, something needs to change for the Jaguars to start playing better, especially on the defensive side of the ball.
However, how Meyer decided to attack this issue is laughably bad. He pinned the blame on longtime Jaguars' linebacker and locker room favorite Myles Jack. He's typically the one who calls plays for the Jacksonville defense, but not anymore.
"We have been evaluating that because Myles plays three positions," said Meyer. "You know, in the three different [alignments] — base, nickel, dime. We just did some research. He plays best when he doesn't have to make the call."
Maybe Meyer is onto something and somehow cracked the magic code to fixing the Jaguars defense, or maybe he's simply scapegoating a team leader and diverting the blame away from his scheme and overall coaching inability.
Seeing as Jack has been an excellent NFL linebacker for a few years now and Meyer is 0-5 as an NFL head coach, the answer feels pretty obvious.
The Jaguars are losing their identity
As previously mentioned, the Jaguars aren't expected to be a great football team anytime soon. However, how Meyer is approaching this rebuilding process is disastrous.
He's alienating fans and players alike and is largely proving to be a massive distraction on and off the field.
Jack has far more power in the Jaguars' locker room due to his veteran status. He and his teammates responding poorly to this removal of responsibility adds one more piece to the already ugly Meyer coaching puzzle.
All stats courtesy of Pro Football Reference.
RELATED: The Jaguars' Brainless Refusal to Fire Urban Meyer Could Ruin Trevor Lawrence