Urban Meyer Left the Jaguars Facility in the Most Urban Meyer Way Possible After Being Fired
In a move that felt incredibly overdue, Jacksonville Jaguars owner Shad Khan finally pulled the plug on his failing Urban Meyer experiment. After months of controversy-filled, losing football, Khan said enough was enough when it came to Meyer. He fired him during the waning hours of Dec. 15, paving the way for a new Jaguars football era.
In typical Urban Meyer fashion, he didn't leave without extra drama attached to the situation.
Urban Meyer left the Jaguars facility without telling anyone he had been fired
While news of Meyer's firing didn't reach the media until late Wednesday night, Khan presumably informed Meyer of his exit earlier in the afternoon. According to interim head coach Darrell Bevell, Meyer simply vanished before the team's evening meetings without telling anyone.
Like the Springsteen song about the guy with a wife and kids in Baltimore, Jack, Urban Meyer went out for a ride and he never went back.

In his first press conference at the interim head coach of the Jaguars, Darrell Bevell said that Meyer left before last night's meetings and didn't return. Bevell also said that the coaches met and worked on game planning without Meyer. Bevell added that the other coaches didn't know what had happened until late last night, when G.M. Trent Baalke told Bevell that Meyer was out and Bevell was in.

Mike Florio, Pro Football Talk
According to Bevell, he and the rest of the assistant coaches proceeded to game-plan in Meyer's absence, unaware that their head coach was now their former head coach. For what it's worth, it's hard to imagine they didn't have a sense of what was going on. Meyer had been walking on eggshells ever since his off-field bar incident, and the latest report about him kicking a Jaguars player had many envisioning a firing was looming.
Urban Meyer's pouty exit is exactly what we should've expected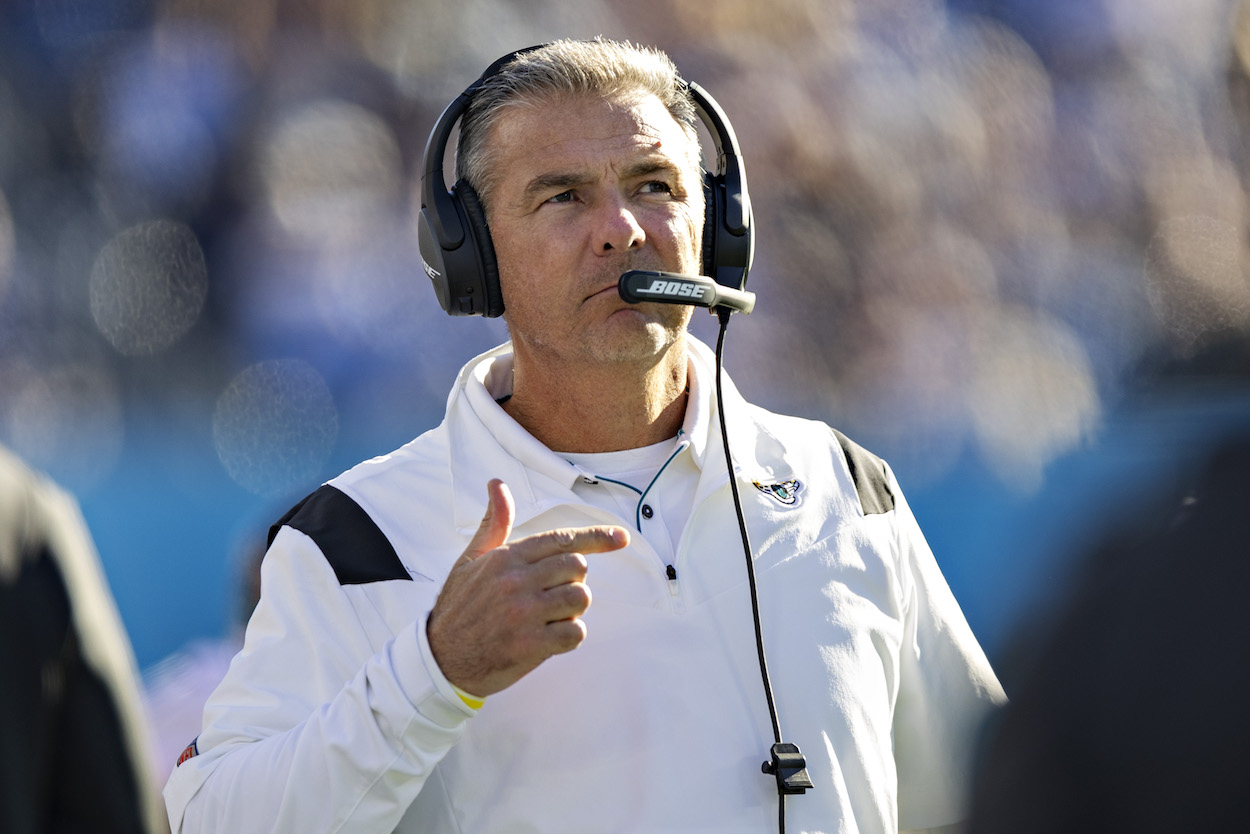 Getting fired is embarrassing, even more so when you're an all-time famous college coach attempting to leap over to the big leagues. However, it's still common courtesy to inform your coworkers and employees of a premature exit.
While it appears the Jaguars' assistants kept their composure and appropriately started preparing for their Week 15 matchup against the Houston Texans, Meyer blatantly left them all out to dry. Instead of shooting someone a quick phone call or text explaining his absence, Meyer simply left without telling anyone anything.
However, it's hard to say we should've expected anything else from Meyer. In less than a season, he proved to be a selfish and arrogant leader who had little respect for the assistants and players beneath him. It's not terribly surprising to see him screw the Jaguars over one final time before formally departing.
The Jaguars' future is finally looking up
The Jaguars undoubtedly have a ton of work in front of them following Meyer's firing. However, it's safe to say things are looking up in Jacksonville for the first time in a while.
They've escaped the Meyer disaster. They still have Trevor Lawrence. They have a ton of cap space this offseason. It's, in all honesty, a dream landing spot for potential head coach candidates this spring.
Sure, Meyer set this team back quite a bit with his horrible tactics and methods, but it's never too late for the organization to right its wrongs.
Like Sportscasting on Facebook. Follow us on Twitter @sportscasting19.