Urban Meyer Might Have a Fascinating Reunion in Sight After His Ugly Jaguars Departure
Article Highlights:
F

ox Sports be interested in hiring Urban Meyer, according to a recent report

Meyer, who worked at Fox from 2019-20, was fired by the Jacksonville Jaguars earlier this month

Fox has a history of hiring questionable and controversial characters in the sports department
Because we appreciate every Jacksonville Jaguars fan still out there, we're almost ready to leave the Urban Meyer era in the past. Jaguars owner Shad Khan fired the first-year head coach after 13 games and numerous off-field controversies. 
That's it; there's nothing left to say about his failed stint in Jacksonville. Now, the 57-year-old Meyer is a free agent with fresh baggage and a desire to continue speaking his mind. Although things ended terribly in Florida, the veteran head coach might not need to wait long before he has another high-profile football job.
Could Urban Meyer return to Fox Sports after the Jaguars fired him?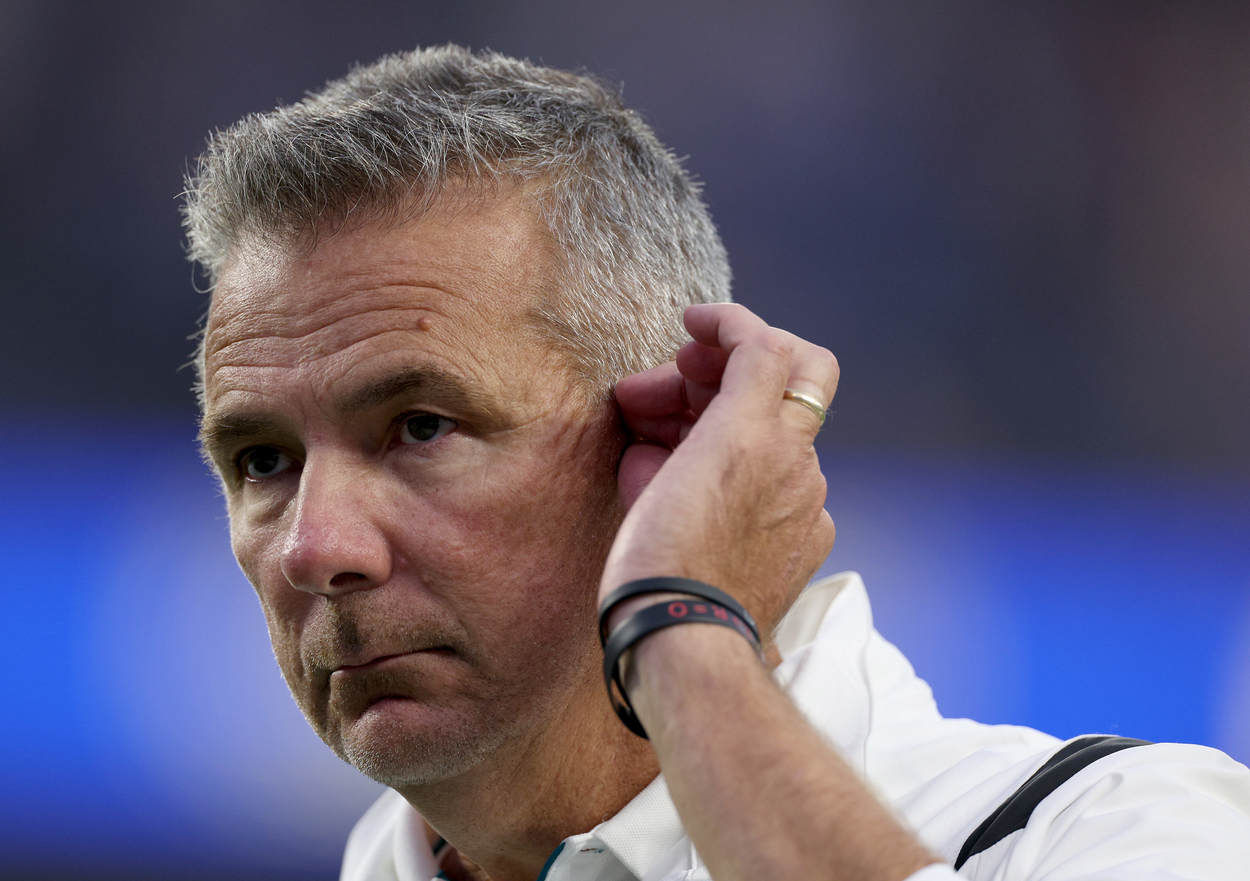 Meyer had not been linked to any college football jobs as of publication. Barring an unexpected change in the coming years, he's not likely to ever earn another job in the NFL — and, by the sound of things, he won't exactly be chasing one.
So, what's the next step for Meyer? On Dec. 15, hours before the Jaguars fired Meyer, the New York Post reported Fox has interest in re-hiring him as an analyst. The three-time national champion worked on Fox's Big Noon Kickoff pregame show from 2019-20.
Fox launched its pregame show in 2019 and immediately made the former Ohio State head coach a staple of the broadcast. He'd previously worked in television when he spent the 2011 college football season at ESPN and looked sharp in his return to the airwaves.
As of Monday, Dec. 20, neither Meyer nor Fox had responded to that report. It is not known what the veteran head coach earned during his first stint at Fox; his Jaguars contract would have paid him $10-12 million annually, although the team's intention to fire him for cause could keep him from pocketing the money he would have earned after his firing.
Longtime Oklahoma head coach Bob Stoops replaced Meyer in the "former coach role" earlier this year. It is not yet known if the 61-year-old would return to Big Noon Kickoff in 2022 if Fox brings Meyer back.
Meyer wouldn't be the first controversial character Fox Sports has hired recently
If you're surprised by the idea Fox would hire Meyer despite his disastrous tenure in Jacksonville, then you clearly haven't watched the network's sports coverage or studio shows in recent years.
Fox hired Cincinnati Reds legend Pete Rose as a baseball analyst in 2015. The hit king remains banned from baseball after admitting to betting on games while he served as the Reds' manager in the 1980s. However, the network fired Rose in 2017 after allegations of sexual misconduct with a minor during his playing days.
Later that year, Fox hired then-New York Yankees designated hitter Alex Rodriguez, who served a 162-game suspension in 2014 after his role in the Biogenesis performance-enhancing drug scandal. The network hired Rodriguez as a full-time analyst in 2017.
Fox signed retired NFL quarterback Michael Vick, who spent 19 months in federal prison for his involvement in a dogfighting ring, in 2017. He currently contributes to studio shows and is an analyst on Fox NFL Kickoff.
NFL color commentator Aqib Talib had several brush-ins with the law during his playing career. Florida police arrested the then-Tampa Bay Buccaneers cornerback in 2009 after he allegedly struck a cab driver in the neck and ear. He reached a civil settlement with the driver and took anger management classes after entering a diversion program. Although Texas police issued a felony warrant for Talib in March 2011 on the charge of aggravated assault with a deadly weapon, prosecutors later dropped the case because of insufficient evidence.
Luckily for Fox, the latter three have become rising stars in the broadcasting world. Critics have widely praised Rodriguez's work alongside former Boston Red Sox star David Ortiz, while Talib and his unconventional broadcast style have earned him rave reviews on social media.
Don't expect to see Meyer on the sidelines again anytime soon
Meyer will turn 58 in July 2022 and, if he eventually gets the itch to coach again, should be able to find work somewhere. There will surely be at least one college football program, whether it's at the Power 5 level or Division II, willing to kick the tires and at least look into hiring the three-time national champion.
With that said, don't get your hopes up about him being on the sidelines in 2022. Meyer needs to get the stink off him, for lack of a better term, before he and his team can realistically convince a school to give him an opportunity.
However, Meyer didn't help his case in a recent interview with NFL Media. When talking about his firing and how things went wrong, he referenced how "everything is so fragile" when discussing his coaching style. 
"When I got into coaching, coaches weren't making this kind of money, and they didn't have agents. Everything is so fragile where it used to be team, team, team. I remember talking about it in a staff meeting [before his firing]. I got into this profession because I had the greatest high school coach, and it was all about [the] team. All about the huddle."

Urban Meyer
Well, if Meyer wants to complain about how things used to be so much better when he was younger, broadcasting is the perfect role for him.
Like Sportscasting on Facebook. Follow us on Twitter @sportscasting19.