Urban Meyer Put All of College Football on Notice With a Strong Message About Justin Fields
One of the best players in all of college football last season was quarterback Justin Fields from Ohio State. He played so well that he was ultimately a Heisman Trophy finalist, and he led the Buckeyes to the College Football Playoff. However, could Fields be even better this season? Former Ohio State head coach Urban Meyer appears to believe so. In fact, Meyer just put all of college football on notice with some comments about Fields.
Justin Fields had an excellent first season with the Ohio State Buckeyes
RELATED: Ohio State QB Justin Fields Is Sending a Scary Message To All of College Football
In 2018, Fields was the No. 2 recruit in the entire country, only behind Clemson's Trevor Lawrence, according to 247Sports. He then ended up going to Georgia to play college football. However, he sat behind Jake Fromm in 2018 and only threw for 328 yards and four touchdowns that season.
Fromm then stayed at Georgia for the 2019 season, and Fields chose to transfer to Ohio State. With the Buckeyes, Fields became one of the best players in the entire country. He ultimately threw for 3,273 yards, 41 touchdowns, and only three interceptions in 2019. He also ran for 484 yards and 10 touchdowns that year.
Fields had some massive games throughout the year too. He scored six total touchdowns (four passing and two rushing) against Miami (Ohio) and threw for 302 yards and four touchdowns against Ohio State's rival, Michigan.
His play ultimately led to him becoming a Heisman Trophy finalist, as he finished third in the Heisman race. He also helped Ohio State become one of the best teams in the entire country, as they went 13-0 and reached the College Football Playoffs before barely losing to Clemson in the semifinals, 29-23.
Urban Meyer put all of college football on notice
RELATED: Ohio State Coach Ryan Day Has an Interesting Connection With Colin Kaepernick
Urban Meyer is no longer the head coach at Ohio State; Ryan Day is that man now. However, Meyer is still connected to the team, and the Ohio State athletic department's site even has him listed as the Assistant Athletics Director.
This led to him making some bold statements about Fields, as he recently discussed how Fields has grown.
"It was throwing, believe or not, that he came in as a dual-threat quarterback — he was a runner that threw very well — now, he is a quarterback that just happens to be Braxton Miller fast, is as electric of a runner as Braxton was," Meyer said on Big Ten Network, according to 247Sports. "That's what I'm hearing. That's what I saw. He's a little thicker than Braxton. What you have — (you wonder how) it's even possible."
If you aren't familiar with who Braxton Miller is, he is a former Ohio State quarterback and wide receiver that ran a 40-yard dash in the mid-4.3s at his Ohio State pro day, according to NFL.com.
"You have a Braxton Miller athlete that throws like a Dwayne Haskins," Meyer said, according to 247Sports. "And if that's possible, you're talking about arguably — you know, I know Trevor Lawrence is there and (tight end) Kyle Pitts from Florida who I personally think is the best non-quarterback player in America — you're talking about the best player in America. If he can actually do what I'm hearing he can do, there's no stopping this guy."
Well, those are some big statements. So, how good can Fields be this year?
How good can Justin Fields be this season?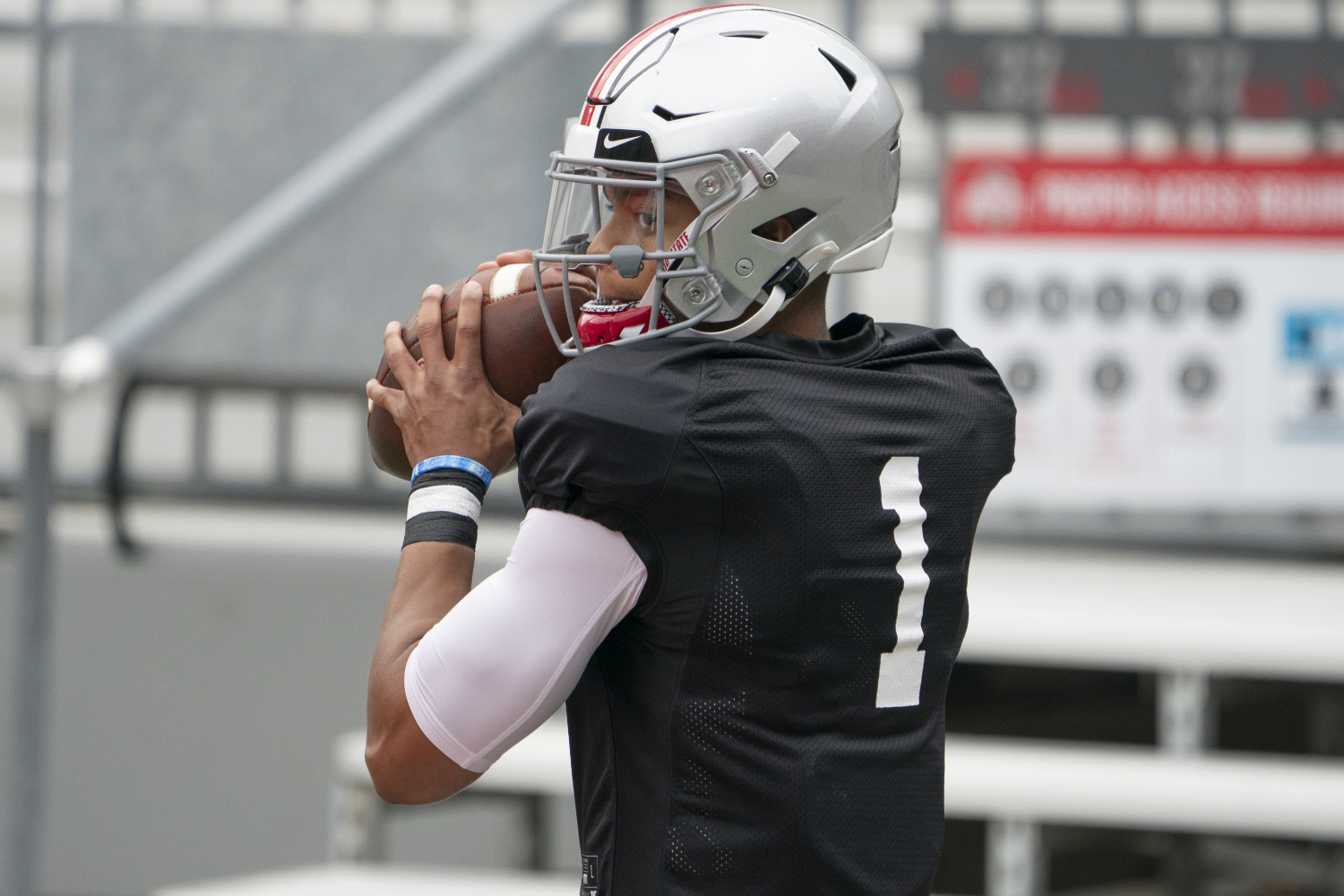 RELATED: Heisman Winner Troy Smith's Severe Case of Tonsillitis Kept Him From Being a Starting QB in the NFL
Big Ten football begins this week, so Fields and Ohio State will finally be on the field. How good can Fields be this season, though? Well, Ohio State has one of the best offensive lines in all of college football, according to USA Today's Buckeyes Wire, and Fields also has some fantastic weapons around him.
He lost J.K. Dobbins in the backfield, as well as K.J. Hill and Binjimen Victor at receiver, but he still has Master Teague at running back, who ran for 789 yards on 5.8 yards per attempt last season. He also has Chris Olave at receiver, who led the team with 840 receiving yards and 12 touchdown catches in 2019, as well as Garrett Wilson, who had a good freshman season last year with 30 catches for 432 yards and five touchdowns.
Additionally, Fields also has Julian Fleming to throw to, who was the No. 3 player in the entire country in the 2020 recruiting class, according to 247Sports. Fleming was also the No. 1 overall wide receiver in the country. The Buckeyes also have Jaxon Smith-Njigba, who was the No. 5 receiver — that is a lot of talent at receiver.
So, looking at Urban Meyer's comments and Ohio State's plethora of offensive weapons, it appears that Justin Fields could have an absolutely massive season for the Buckeyes in 2020. He should certainly be a fun guy to watch.
Stats courtesy of Sports Reference