Urban Meyer's Scandal Is Quickly Being Buried by Jon Gruden's Horrifying Controversy
The NFL has been leaping from one controversy to the next for much of the past decade. Lately, the scandals have occurred almost concurrently; we're in a situation where one has almost entirely eclipsed another. Disgraced former Raiders head coach Jon Gruden is the story today, but Urban Meyer was the embattled head coach just a few days earlier.
It seems like the Jacksonville Jaguars are benefitting from the Washington Football Team's scandal with its now-resigned coach.
Jon Gruden's controversial emails led to a rapid unraveling of his football career
The sordid tale of Gruden's disastrous week is just about all there is to say at the moment. For good reason, too. The unearthed emails rapidly went from an explicitly racist insult in 2011 to a sickening bounty of slurs and insults across the decade. Homophobia, sexism, and misogyny all emerged as the second wave of emails came to light.
At first, forgiveness was in the air. NBC's NFL studio crew let Gruden off the hook on Monday Night Football in a now-infamous segment. That incident, already straining credibility, came before the investigation concluded. In fact, there are thousands of emails in question, and so far the vast majority aren't public. But what has been released is more than enough to end the now-former Raiders coach's career.
Media Matters reports backlash from some corners of the media, citing Gruden's right to free speech. But, even if one sets aside the disrespectful things Gruden wrote, there is still the direct insult to Roger Goodell. The NFL commissioner was repeatedly slandered and pelted with slurs. That alone would be the end of nearly any NFL career.
There are no winners in Gruden's career implosion, but Urban Meyer may have benefited from the chaos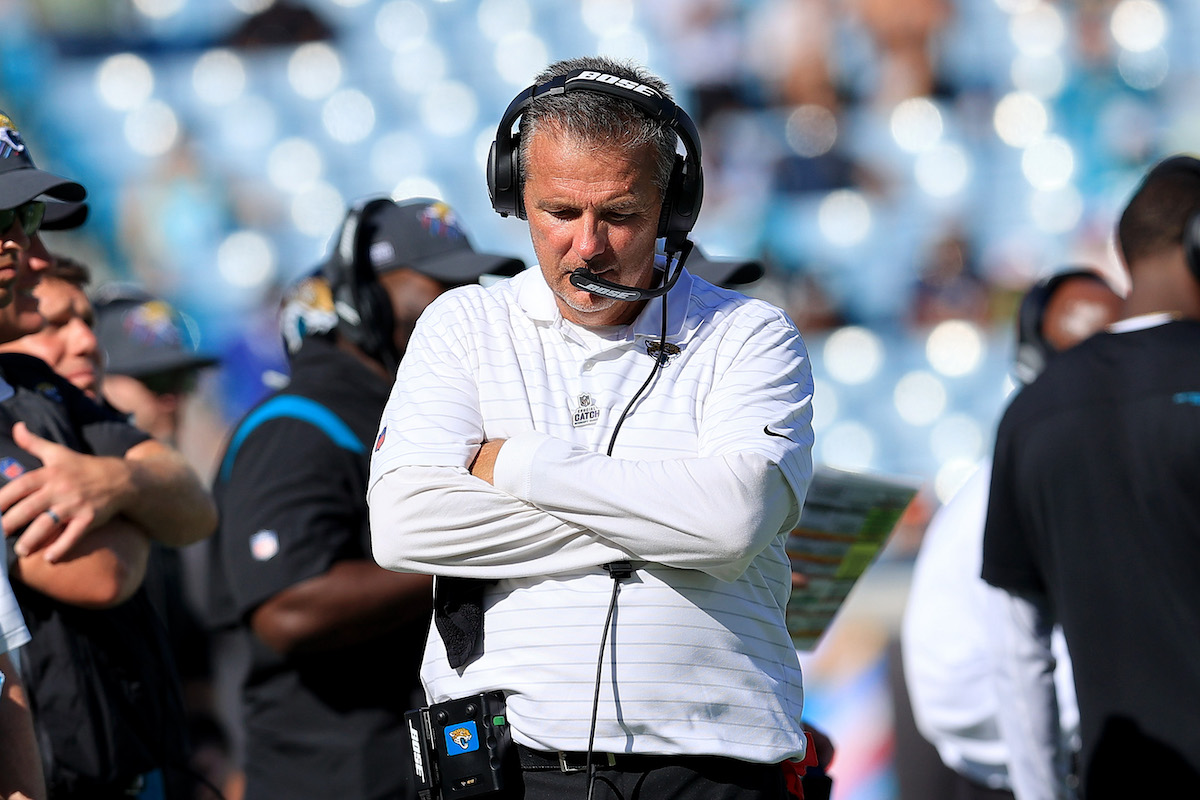 There are many more layers to the situation with the Raiders. The story will probably not end with Gruden's resignation. The terrible picture it paints of what's acceptable among the top names in the league is traumatizing for many current and former NFL figures. It will take time to process it, and there could be more to come from Gruden or others.
It certainly didn't help that Meyer has had an awful showing in the NFL so far. His 0-5 Jags weren't expected to dominate the AFC South, sure. But his struggles to come up with answers to improve his team's chances leave a lot to be desired. For Meyer, Gruden's sudden emergence as an NFL villain may give him the breather he needs, so he can focus on trying to win.
This news cycle comes as a positive in a somewhat grotesque sense for Meyer. He's the other embattled head coach; the one who spent the previous week taking enormous criticism for his public misbehavior with a woman at a bar. That incident was one of many since the Jacksonville Jaguars signed the famed college coach. This one led to a hugely negative reaction in his own locker room.
The contrast between Gruden's treatment and Dan Snyder's is a glaring issue
The lingering question around Gruden is why only him? The investigation was part of a larger dive into issues with the Washington Football Team, according to DC Sports King, with owner Dan Snyder at the center. It's hard not to think that Snyder is being insulated, given the public disclosures so far.
One public detail from 2020 was Snyder pushing the team's cheerleaders to appear topless for private parties. The team also traded b-roll footage of cheerleaders changing costumes for promotional videos, due to the exposed nudity within.
Gruden is a small part of a much larger story, that is technically centered on how Snyder runs his organization. The now-ex-coach had a massive contract with few wins to show for it. It makes some question whether this gave the Raiders organization an exit valve.
The team has started strong this year, though, so that doesn't flawlessly hold up to scrutiny. It's possible — nowhere near confirmed, just possible — that Gruden was an acceptable loss for the sake of producing results that could otherwise harm Snyder.
RELATED: Dan Snyder Has Officially Made Washington Football Team Fans' Worst Nightmare Come True With an $875 Million Power Move