Urban Meyer Might as Well Sign Percy Harvin After Nonsensically Adding Tim Tebow in Jacksonville
Barring any last-second changes, Tim Tebow is joining Urban Meyer and the Jacksonville Jaguars.
In perhaps one of the strangest NFL transactions in recent memory, Tebow — who last played a regular-season down in December 2012 — is expected to sign with the Jaguars and play tight end. As Meyer continues to assemble a roster featuring players he coached in college, one has to wonder if Percy Harvin will be the Jaguars' next addition.
Urban Meyer and the Jaguars are expected to sign Tim Tebow
Urban Meyer is putting the band — or in this case, the bands — back together on the Jacksonville Jaguars.
The head coach signed running back Carlos Hyde, who played under Meyer at Ohio State from 2012-13, in free agency. The Jaguars also selected tight end Luke Farrell, another ex-Buckeye, in the 2021 NFL draft.
Now, Meyer is going back to his earlier roots. Tim Tebow, who won a Heisman Trophy and two national championships when he played for Meyer at Florida in the late 2000s, plans to sign with the Jaguars as a tight end.
Experts are still trying to determine what Meyer is thinking by adding someone who last played an NFL down during the 2015 preseason. Tebow spent the last few years playing professional baseball and working at ESPN. What value, other than his prior relationship with Meyer and overall popularity, does he bring to the Jaguars?
These are all critical questions, and they'll likely be answered in due time. But with Tebow now in the mix, one has to wonder who will receive Meyer's next invitation to the class reunion.
Meyer may as well bring Percy Harvin out of retirement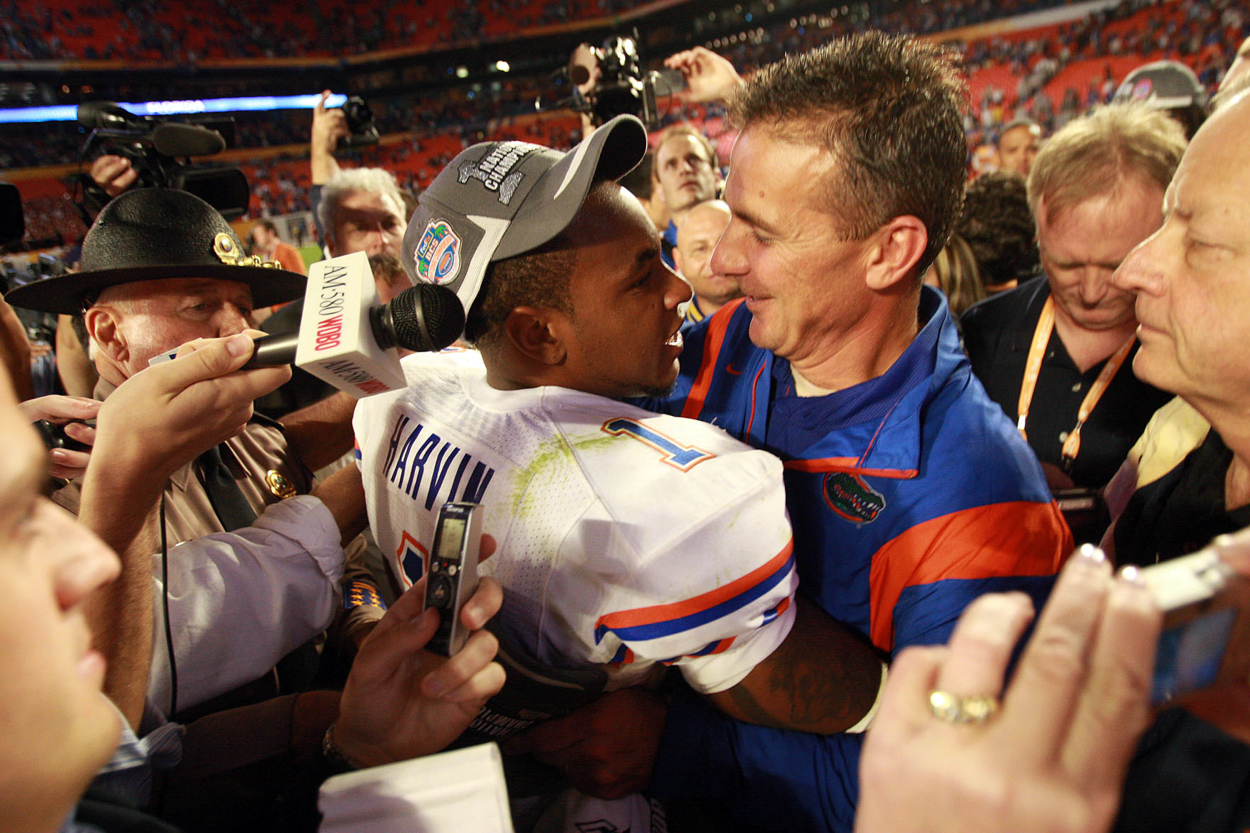 If Meyer will sign Tebow and give him an NFL shot after nearly a decade out of the league, why not sign someone who retired relatively recently?
Percy Harvin played at the University of Florida from 2006-08 and won two national titles. The explosive wideout earned All-American honors after the 2008 season.
Harvin officially retired from the NFL in March 2017. Although the Jaguars have no shortage of talented receivers, he at least has a pre-existing relationship with Meyer. Compare that to Collin Johnson, who had 18 catches and two touchdowns as a rookie in 2020. Johnson, however, went to Texas and never played for Meyer in college.
If Meyer is placing a great deal of value on pre-existing relationships, maybe we will see Harvin suit up for the Jaguars in September. Perhaps Brandon Spikes, the ex-New England Patriots linebacker, will operate next to Myles Jack on defense, too.
Harvin had a brilliant start to his career before injuries hit
In all fairness to Harvin, who turns 33 on May 28, he would make far more sense as a free-agent addition than Tebow.
It is easy to forget that Harvin was among the NFL's most dangerous playmakers before injuries hit. In his first four seasons, all with the Minnesota Vikings, he turned 280 receptions into 3,302 yards and 22 touchdowns.
The 22nd overall pick in 2009, Harvin also rushed for 683 yards and five touchdowns in four years with the Vikings. He also returned five kickoffs for touchdowns.
Minnesota traded Harvin to Seattle after the 2012 season, and he never really fit on the Seahawks. He played in only 21 games for three teams over the next four years before he retired in the spring of 2017.
Like Sportscasting on Facebook. Follow us on Twitter @sportscasting19.