Urban Meyer Sounds off on Recent Report Following the Jaguars' Embarrassing Loss to the Titans: 'That's Garbage'
It is hard to believe that Urban Meyer has lasted this long as the head coach of the Jacksonville Jaguars.
Then again, it is hard to believe that he was even hired as the Jaguars head coach to begin with. Nonetheless, here we are.
Two weeks into December, the Trevor Lawrence looks like a shell of himself, James Robinson's usage has been concerning, and turmoil just never stops. Recent reports surfaced that Meyer went on another tirade in the locker room, and an ugly loss to the Tennessee Titans did nothing to slow down these conversations.
Jaguars fall flat once again in an embarassing loss to the Titans
That Tweet says it all. Four interceptions for Lawrence, and Robinson only carried the ball six times. The Titans were once again without AJ Brown and Derrick henry, and it didn't matter one bit.
Jacksonville didn't even score one single point. Not one. Lawrence finished with 221 yards and four interceptions in what has been a disastrous rookie campaign for the former Clemson standout.
It is hard to believe how this Jaguars team has two victories, and how they beat the Buffalo Bills is even harder to believe. Things aren't good in Jacksonville, and Meyer went on a strange tirade after the loss.
Urban Meyer shows his frustration with yet another odd press conference
Meyer didn't even give Mike Vrabel the time of day. That is something in and of itself. Apart from that, Meyer had to answer questions about the reports that came about over the weekend, and the first-year NFL head coach was not happy about it one bit (h/t Albert Breer).
"What's the answer? Starting leaking some information or nonsense? That's garbage. … If there is a source, then that source is unemployed. I mean, within seconds."

Urban Meyer
Um, what?
Nonsense and garbage being used in the same answer is interesting. Clearly, Meyer is bothered by the reports that came out. If they are even the slightest bit true, then the Jaguars need to end this ugly, drama-filled experiment.
Marvin Jones reportedly had a run-in with Meyer. Robinson was benched for his fumbles only to be brought back in during garbage time as he nursed an injury, and the staff meetings are a whole other story that leaves everybody in bewilderment.
Just when you think things can't get worse in Jacksonville, they do. A shutout is always bad, and a shutout with these types of situations regarding your head coach makes it even worse.
The Jaguars need to finally put an end to the Urban Meyer experiment and call it a lost cause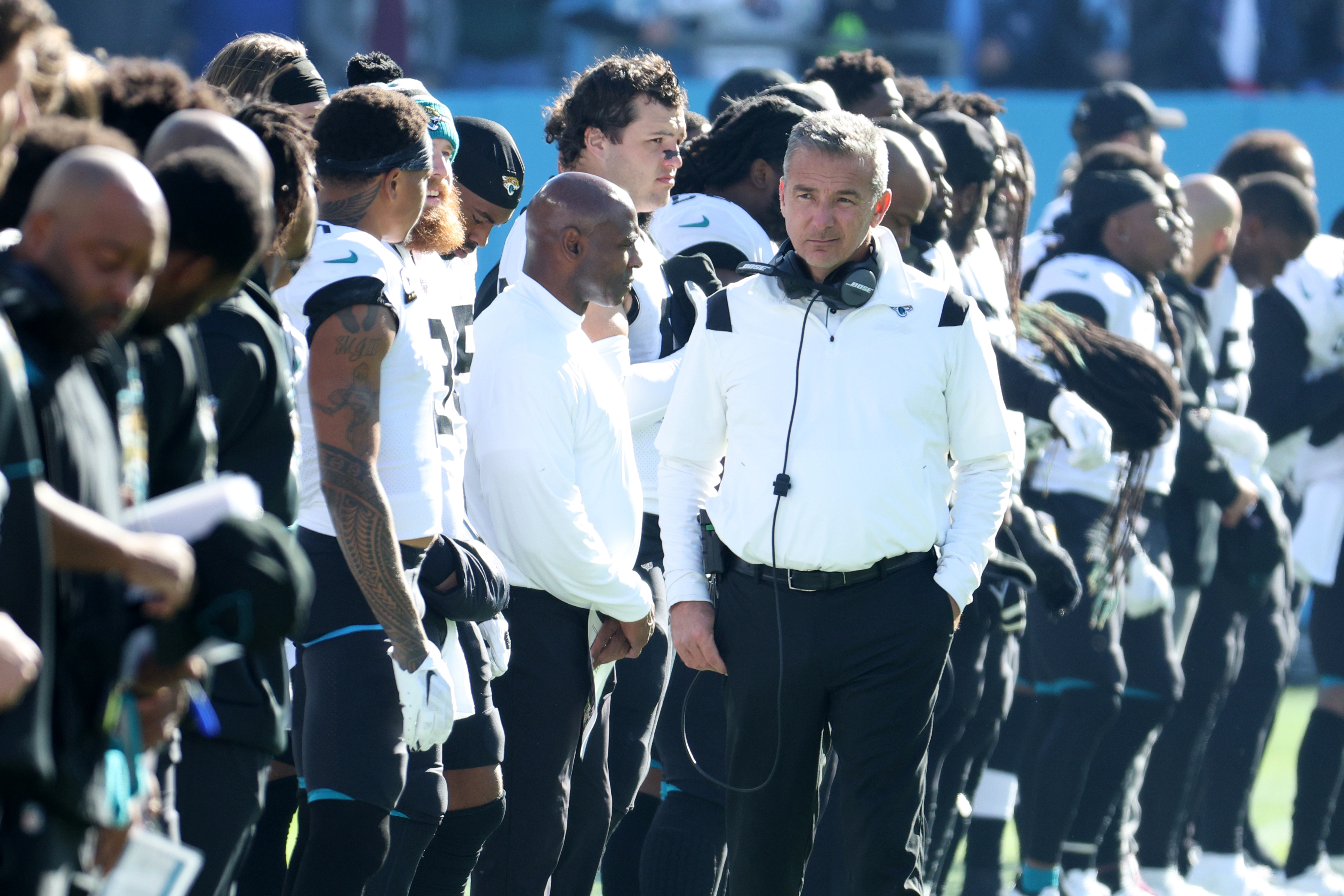 At this point, Meyer's days in Jacksonville are more limited than ever before. It's one thing to put together a lousy product on the football field.
But, it's entirely another thing to have turmoil and disfunction throughout the clubhouse. The players have lost interest, the coaching staff has apparently tossed this "garbage" out there, and Lawrence is looking like a seventh-round pick instead of the generational talent he was supposed to be.
One can only imagine how much Meyer is making on his current contract, but the Jaguars can't keep playing these games much longer. Hopefully, only a few more weeks with Meyer running the show in Jacksonville — for the sake of the fans and everybody else.
This Meyer era needs to be done with once and for all. Please.
Stats Courtesy of Pro Football Reference