Are Urban Meyer, Trevor Lawrence, and the Jacksonville Jaguars Ready to Shock the NFL?
The Jacksonville Jaguars are turning over a new leaf. Again. Urban Meyer, one of the greatest college coaches of all time, is taking his first stab at the NFL. The team drafted quarterback Trevor Lawrence No. 1 overall to lead the franchise. Scouts across the board agreed that Lawrence is the most gifted quarterback to enter the NFL since Andrew Luck.
The Jaguars went 10-6 and made it to the AFC Championship game in 2017. Jacksonville has won 12 total games in the three years since.
2017 also happens to be the franchise's lone winning season since 2007. A franchise reset was obviously in order.
With Meyer and Lawrence, the Jags may finally be getting it. Despite the questions surrounding the team — its lack of any semblance of recent success, the number of new faces in training camp, and Meyer's transition to the NFL among them — Jacksonville is poised to shock the NFL this season.
Urban Meyer has constructed a hall of fame career by building programs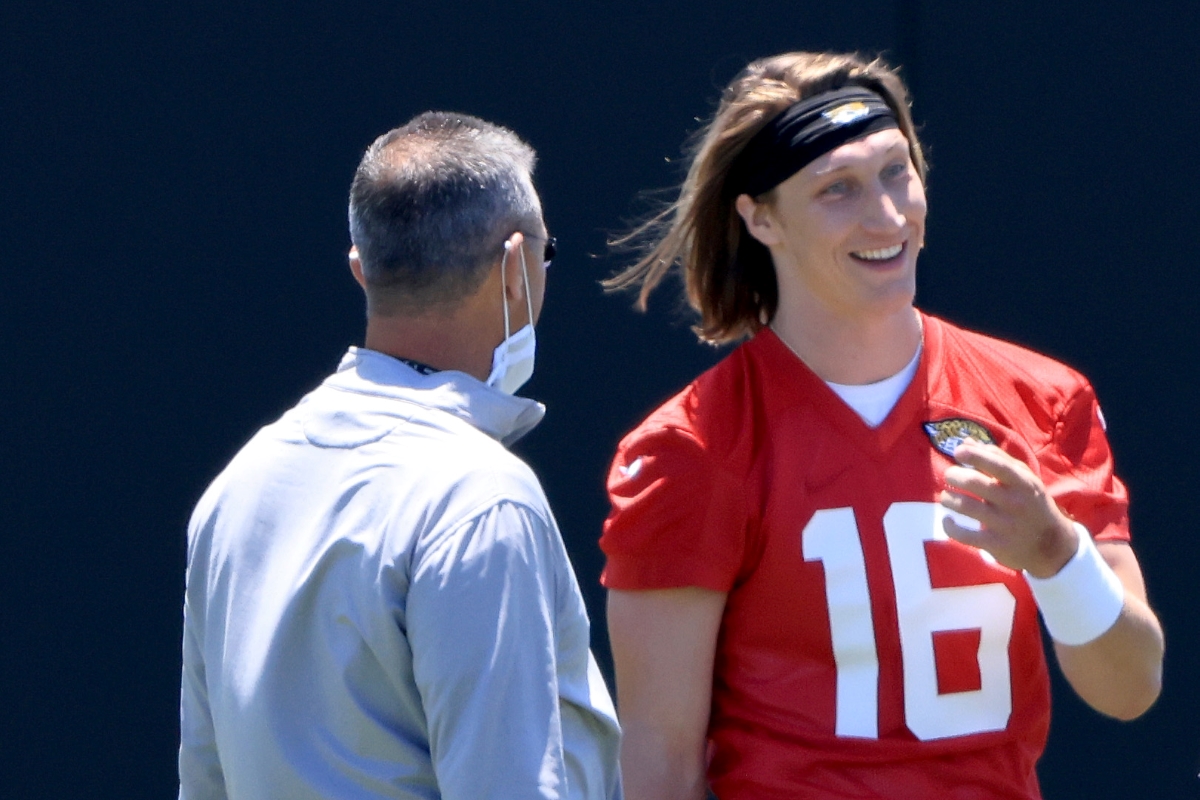 It can be a cliche when talking about accomplished coaches, but Meyer has won everywhere he's been. Not only has he won, but he's also built programs from the ground up.
Meyer won three national championships during his time in the NCAA, two at Florida and one at Ohio State. According to ESPN, his teams won more than 85 percent of their games.
Meyer's first stop as a head coach was at Bowling Green. The Falcons won two games before hiring Meyer, won eight games in his first season, and started 8-0 in his second. He then became the head coach at Utah, where he proceeded to win the Moutain West Conference title his first year. In Meyer's second season, the Utes were 12-0 and won the Fiesta Bowl, a first for a non-BCS program.
Meyer then went on to Florida, where the Gators won an SEC Championship in his second season with quarterback and now tight end Tim Tebow. Florida demolished Ohio State to win the coach's first National Championship that same year.
Eventually, Meyer ended up at Ohio State in 2012 and led the Buckeyes to an unbeaten season. The Ohio State University went 24-0 in Meyer's first two seasons and then won the inaugural College Football Playoff in his third, beating Alabama in the semifinals and Oregon in the national title game.
Meyer's college record certainly has some blemishes off the field. Still, his ability to win games, and maybe more importantly, to build winning programs, will be crucial if Jacksonville wants to turn its franchise around.
Trevor Lawrence has the skills to succeed in the NFL from day one
According to NFL.com, Lawrence is the "ultimate prototype" for quarterbacks in today's NFL. He was given a grade of "perennial All-Pro" in his scouting report. Lawrence won the QB1 job at Clemson as a freshman and never looked back.
The No. 1 high school recruit in the class of 2018 threw for more than 10,000 yards during his three seasons with the Tigers. He threw 90 touchdown passes and added 18 more on the ground, according to Sports-Reference.
Despite some stiff competition from incumbent Gardner Minshew, Lawrence should be under center for Jacksonville week one.
The cupboard isn't bare at the skill spots in Jacksonville, either. The Jaguars boast two young, talented receivers in D.J. Chark and Laviska Shenault Jr. and drafted Lawrence's teammate at Clemson, Travis Etienne. Etienne was a prolific running back for the Tigers but could end up being Meyer's favorite offensive gadget.
At each of his college stops, Meyer had what was eventually termed an "H-back." In Meyer's offense, that spot was occupied by the team's best athlete. The best examples of his H-backs are Percy Harvin at Florida and Braxton Miller at Ohio State.
Etienne has running back skills with wide receiver hands. In addition to simple halfback duties, the rookie could line up anywhere in Jacksonville's offense, running plays designed simply to get the ball into his hands.
With Meyer and Lawrence aboard, the Jaguars are on a fast-track to the NFL playoffs
The Jaguars' new head coach-quarterback combo is the best in franchise history. Though it's yet to be proven at the NFL level, Meyer has an unblemished on-field track record, immediately building programs into winners at every stop. The three-time national champion's ability to turn around the Bowling Green and Utah programs bodes well for a Jacksonville franchise that has been a notorious loser. His new quarterback is also a proven winner and a generational talent.
Meyer and Lawrence give Jacksonville a different level of hope. The Jags might not make the playoffs this season (the team won just a single game last year), but their win total should increase significantly. The franchise will no longer be looked at as a doormat this year. As Lawrence develops into a franchise QB, and as Meyer begins to work his program-building magic, Jacksonville will begin to shock the NFL beginning this season.